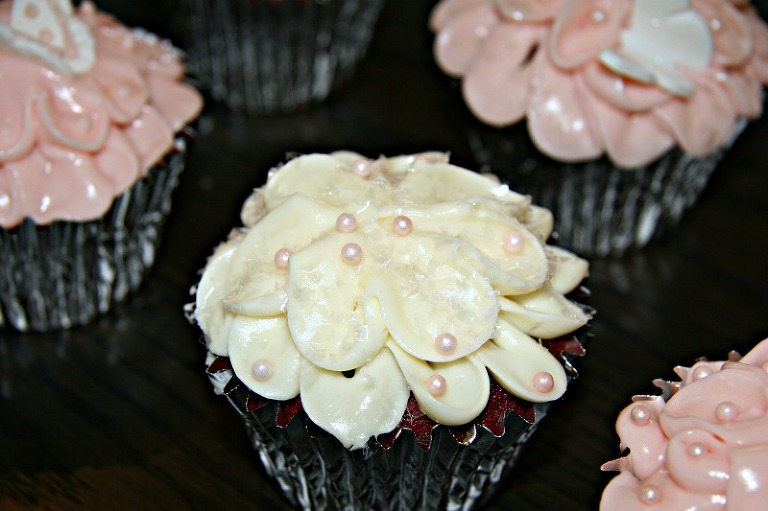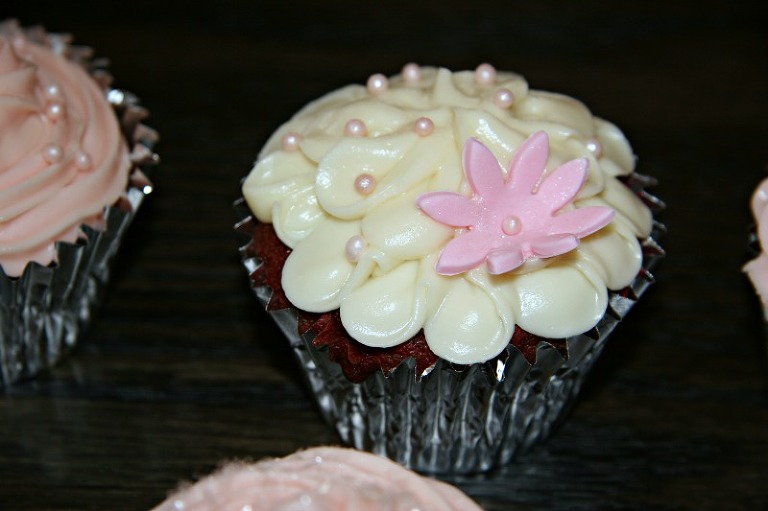 I have a new passion this past month – decorating cupcakes! My girlfriend Ruth-Anne was having a birthday and I was asked to bake the cake.  Now the idea of baking and decorating an entire cake was a bit daunting so I decided to try my hand at cupcakes! Well, that was just the beginning of a whole lot of fun and an entire shelf of my pantry is filled with icing bags, pastry tips and sprinkles!!  There's something about creating art that is beautiful… and edible!   Here are some of my favorite creations.
Magnolia Bakery Red Velvet Cupcakes
Petite Gateaux ~ Magnolia's Red Velvet Cupcakes with Cream Cheese Frosting
Ingredients
Cupcakes
3 1/3 cups cake flour
3/4 cup (1 1/2 sticks) unsalted butter, softened
2 1/4 cups sugar
3 large eggs, room temperature
6 tablespoons red food coloring
(1 food coloring = 2 Tbsp)
3 tbsp unsweetened cocoa powder
1 1/2 tsp vanilla extract
1 1/2 tsp salt
1 1/2 cups buttermilk
1 1/2 tsp cider vinegar
1 1/2 tsp baking soda
Frosting
2 8-ounce packages cream cheese, softened
6 tbsp unsalted butter, softened
1 1/2 tsp vanilla extract
5 cups sifted confectioners' sugar
Instructions
Cupcakes
Preheat oven to 350°F. Grease and lightly flour 3 muffin tins. Place cupcake papers in tins.
To make the cake: In small bowl, sift cake flour and set aside. In a large bowl on medium speed of an electric mixer, cream butter and sugar together until light and fluffy (about 5 minutes). Add the eggs, one at a time, beating well after each.
In another small bowl, whisk together the red food coloring, cocoa and vanilla. Add to the batter and beat well.
In a masuring cup, stir the salt into the buttermilk. Add to the batter in three parts, alternating with the flour. With each addition, beat until the ingredients are incorporated but do not overbeat!
In a small bowl, stir together the cider vinegar and baking soda. Add to the batter immediately and mix well on low speed. Using a spatula, scrape down the sides of the bowl, making sure all ingredients are well blended and batter is smooth.
Divide the batter among the prepared pans. Bake each tray for 20 minutes, or until a cake tester comes out clean. Let the cupcakes cool in the pan for 1 hour. Remove and finish cooling on a wire rack.
Frosting
In a large mixing bowl, beat on medium speed until the cream cheese and butter are smooth.
Add the vanilla and beat well.
Gradually add the sugar, beating after each addition until smooth and creamy.
Separate portions and add food coloring to one half or one third to have a variety of colored icing tops.
Decorate with Gum paste flowers¹, dragees, sprinklers, all at Michael's or hobby stores/cooking shops.
*Note: If you plan to use an icing bag to frost, you will need to make the icing quite stiff with additional sugar. Refrigerating the dough at time helps to keep the icing decoration from melting as you make the swirls. Youtube has lots of video showing how to make these flowers. Here's just one http://youtu.be/E9qtZwHHmx4
*Note: This seemed to make an awful lot of icing. Leftover can be refrigerated for another use.
¹Gum paste flowers: purchase pre made gum paste from Michael's or a hobby shop. Pinch off a small bit, knead in food coloring with your hands, roll out and cut into shapes. The tinier the better, these aren't meant to be eaten.
My next project was for Jane's Christmas party.   I chose to do a Winter Wonderland Theme and then took it all to the next level by decorating a winter scape for the cupcake display.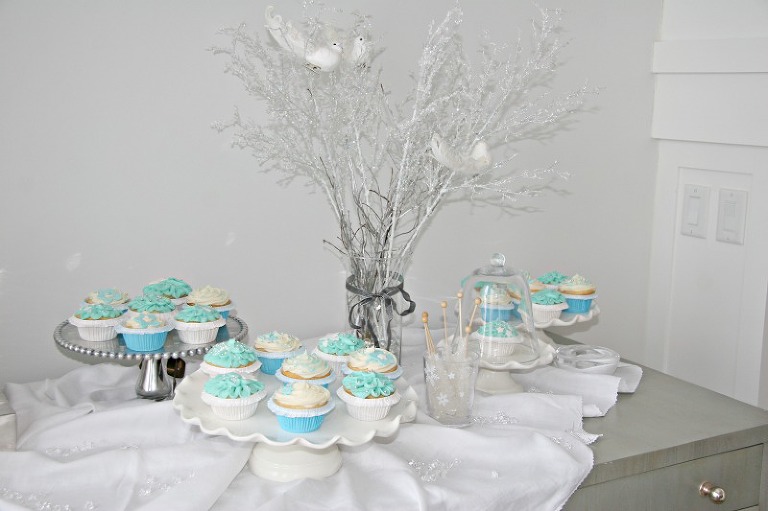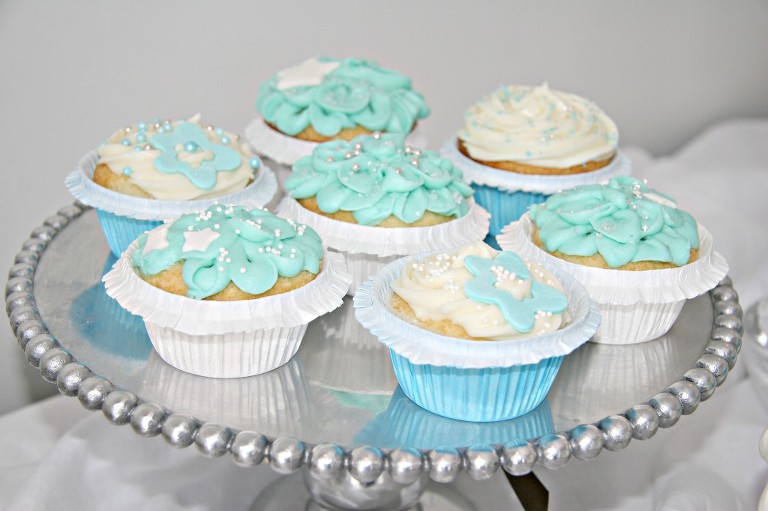 Just this week I made sweetheart cupcakes for a truly sweet girl's birthday, Erica!