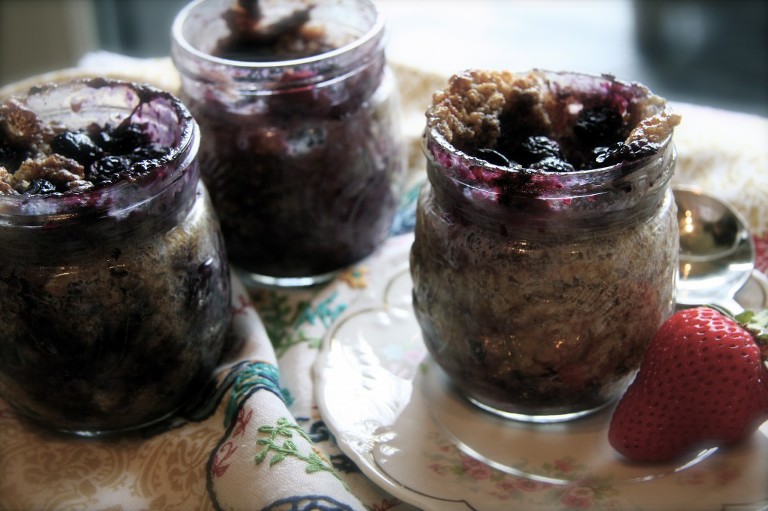 There is a saying that "If some things are better left unsaid, then maybe they too are better left undone."  This morning, I could add "If some recipes are better than yours, then perhaps they, too, should be  left alone."
I woke up with a craving for some comfort food, given the steady downpour of rain and gloomy overcast skies we've had for some time now.  I'd discovered this awesomely perfect little recipe for baked blueberry oatmeal on Lottie+Doof and also on the Sprouted Kitchen. But was I content to just whip up a batch… OH NO, I thought I could improve on the recipe and make it even yummier with the strange addition of Minute Tapioca and Bird's Custard.  Well, the jars are now in the oven as we speak  I write, madly simmering, puffing up and now voluptuously boiling over in all their glory. I don't often pray, but when I do I usually begin with the words  "Oh, God…what the hell did I do now?"
Well,  I am sure that you must be thinking (aren't you clever!) that the outcome just might be.. well,  (Insert blueberry mouthful here) ohh!  not too bad, actually.  Just, um, different in texture, density and more "desserty" in flavor.  In fact, I think you could call them "Blueberry Crisp in a Jar" or some such officious title.
Trial and error, mistakes… well "such is life" as my mother would say.  And, I do know that I'm the better for trying (Wink)  We'll see what my harshest critics say when they wake up and have a taste…
I've always loved learning things the hard way (a touch impetuous I guess)…  but now you don't!!  Here's the recipe just as it was meant to be…. with my additions typed in blueberry blue.  If you wish to improve on things with your own ideas.. feel free, just make sure you share your masterpiece with me!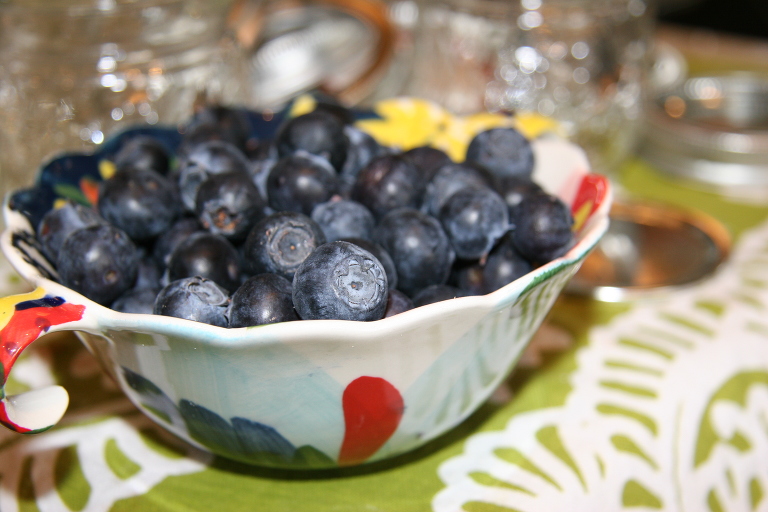 Baked Blueberry Oatmeal Brekky Comfort Jars
Ingredients
2 Cups fresh blueberries plus extra for garnish (plumper the better but they take up more space in the jar, I threw a few chopped strawberries for good measure)
2 Cups Old Fashioned Oats (I used organic quick cooking)
1 tsp. Cinnamon (I used 2 tsp, 1 just didn't seem enough)
1 tsp. Baking Powder
1/2 tsp. Sea Salt
1-1/2 tbsp Minute Tapioca (quick cooking, in a box)
1 tbsp Bird's Custard powder
2 Cups Whole Milk (1% milk, it was all I had on hand)
1 1/2 Tbsp. Melted Butter
1/3 – 1/2 Cup Maple Syrup (1/3 cup, trying to stay healthy)
2 tsp. Vanilla Extract
1 Cup Toasted Chopped Almonds (I didn't add these)
1/4 Cup Turbinado Sugar
6-8 small canning jars
Instructions
1. Preheat the oven to 375°F. Divide the berries between six small mason jars. (I did 8 because my blueberries were plump, almost ran out of the wet ingredients so I poured straight milk on two… so maybe stick with 6 jars:)
2. Mix the oats, cinnamon, baking powder and salt (and tapioca and Bird's Custard powder) in a bowl. Divide the dry mix between the jars, just layering on top of the blueberries, about 1/3 cup.
3. Mix the milk, butter, maple and vanilla together. Pour a scant 1/2 cup on top of the oats, letting it seep through to the bottom. Place all the jars in a baking dish, sprinkle a few fresh berries on top, and bake on the middle rack for about 30 minutes until the liquid is absorbed, tops are just browned but the oats are still moist.?(I let it go a bit longer, to ensure the filling overflowed and looked like the blueberries were happily simmering, puffy and plumped in their jars. They deflated while cooling on the counter.) Sprinkle the tops with the toasted almonds and a pinch of turbinado sugar and serve warm! (I skipped this step, they were delicious on their own… )
If you are going to be reheating them, I suggest under cooking them 5-8 minutes to avoid dry oatmeal. (This is probably true, but you could stir in a touch of milk before reheating.) Keep the nuts on the side until ready to eat.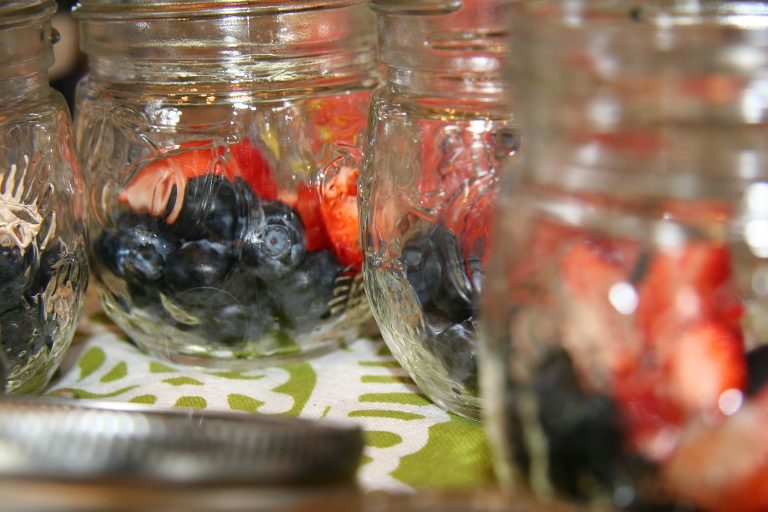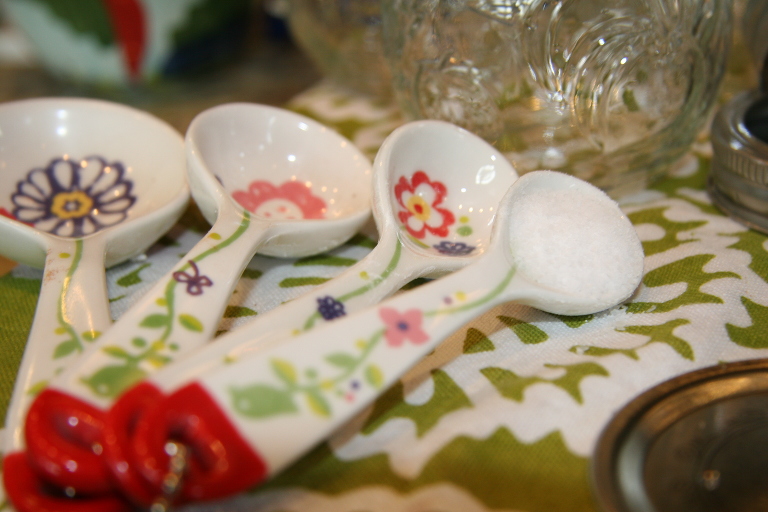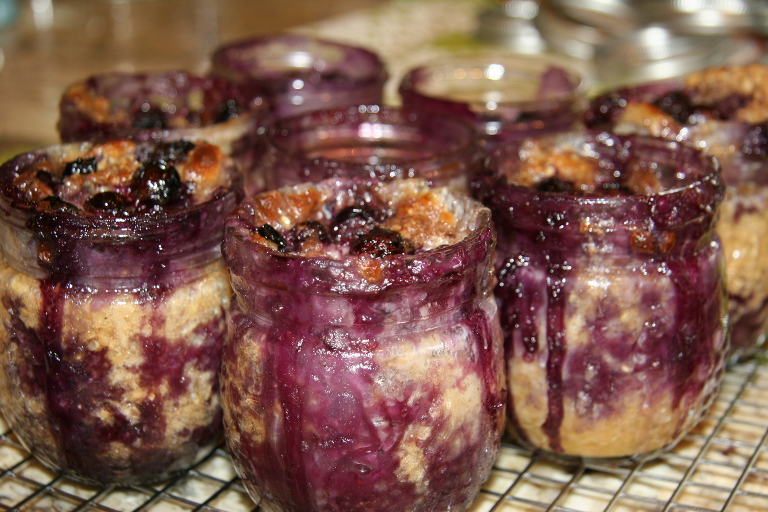 Oh, yeah… a bit messy so I had to wipe the sides of the jars clean.