♥
This week my second (and last) child will complete his final Diploma exam and I can finally stop making school lunches.  Of course this is a good thing, no more hastily thrown together P.B.&Jelly sandwiches and no more plastic petri dishes dropped back in the sink after languishing a month or two in a school locker.
Yet all parents know that is a bittersweet rite of passage.  Of course it's exhilarating to watch my children proudly celebrate their accomplishment (not many other degrees take 13 years to complete).  It is without question I am excited to watch them walk across the stage and take their first steps into adulthood.  Yet it is also a poignant turning point, as I must now close this chapter of my life and begin another.
I have scrap booked and saved every cheerio craft, awkwardly written story, and expertly drafted essay.  I have painstakingly pressed each crepe paper Mother's Day flower and hand print card,  but where do I store all of the fleeting memories and images of precious moments that were not captured on paper, photograph or video?
In my heart I guess.
I knew that couldn't go through this without spilling a few tears, but I can't help wishing that I could have a "do over"…  wishing that I could just jump back in time to some of those earlier days when life was so simple and mistakes or broken hearts could be patched up with a band aid, a hug, and a batch of chocolate chip cookies.
"Let me take you down, cause I'm going to Strawberry Fields.
Nothing is real, and nothing to get hung about.
Strawberry Fields forever."
Here is a simple spring Strawberry Fields Spring Salad recipe I'd like to share with you.  My daughter helped me make it for Father's Day:)  You just might want to pair it with a glass of Chardonnay and some of your closest friends… I've a feeling that we're going to need each other more than ever…
♥Barb Bamber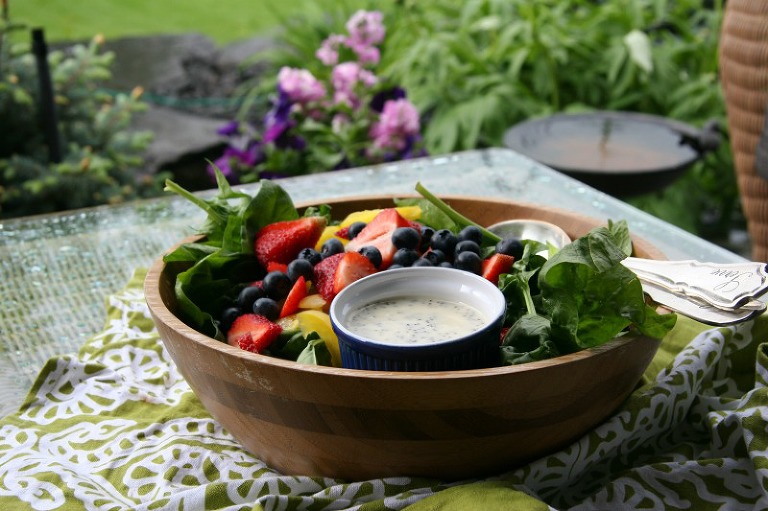 Strawberry Fields Spring Salad
Ingredients
Salad Ingredients
2 cups strawberries
1 cup plump blueberries
1/2 yellow pepper slivered
1/2 small red onion chopped
1 bag of farmer's market spinach
Dressing
1/2 cup mayonnaise
Scant 1/4 cup honey
4 tsp cider vinegar
1 tbsp poppy seeds
Instructions
Shake dressing ingredients in a jar and add just before serving then toss.