My mother, June, was born on the day that the earth is most directly inclined towards the sun.  It is no surprise then, that as her daughter I am honored to have been able to "stand still" in the rays of her "sun" while growing up… in her kitchen, her garden and her art studio.  Some say "the apple doesn't fall far from the tree"… mine would be an apple pie or, better still, cake♥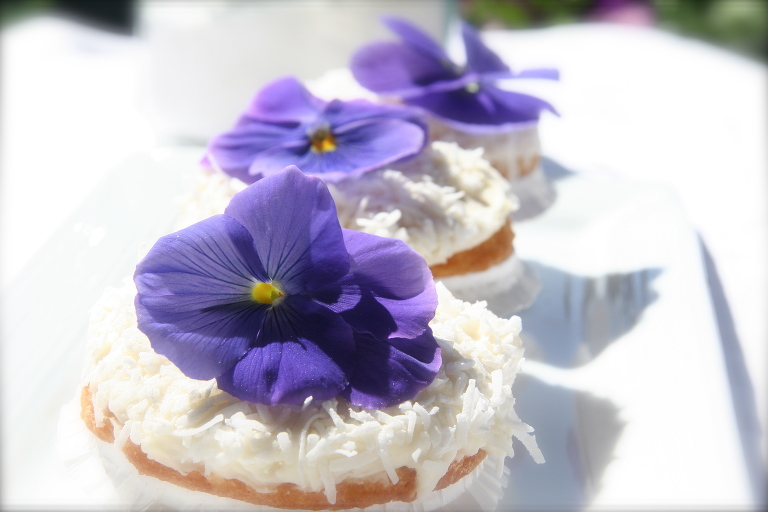 Every new project of my mom's is undertaken until mastery.  We have all experienced that awkward "beginner" stage one goes through while learning something new.  Well, my mom never let that stand in her way. Fearlessly she has become a master baker, gardener, and artist after countless hours of hard work. Because of my mom, I believe anything is possible, one only has to first try but then work at it long enough to feel a sense of accomplishment along the way.  That's the real celebration in my life… loved ones and the process of learning and creating.
So it stands to reason then, that I too would find pleasure in being able to bake something special to honor and  celebrate the birth days of those whom I am so glad were born!  It's just a little tradition I picked up along the way…♥
Coconut Cupcakes with Cream Cheese Icing..
These heavenly le petite gateau are perfect for special occasions and the recipe comes from Ina Garten!
The pretty, edible flowers were purchased at Community Natural Foods.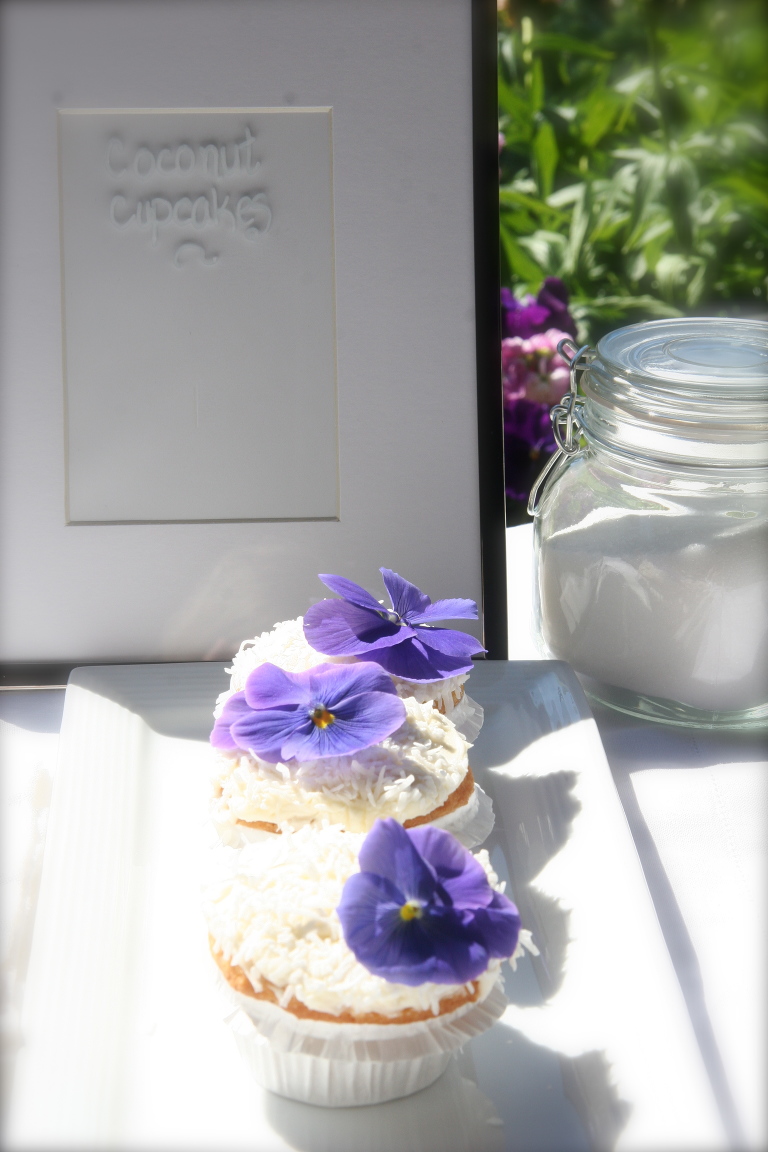 Coconut Cupcakes with Cream Cheese Icing

Coconut Cupcakes
Ingredients
¾ pound unsalted butter (3 sticks or 1 ½ cups) at room temperature
2 cups sugar
5 extra large eggs at room temperature (or warm in a bowl of hot water for a few minutes)
1 ½ tsp pure vanilla extract
1 ½ tsp pure almond extract
3 cups all purpose flour
1 tsp baking powder
½ tsp baking soda
½ tsp salt
1 cup buttermilk
14 ounces sweetened, shredded coconut
Instructions
Preheat oven to 325 F.
In bowl of electric mixer (paddle attachment), cream butter and sugar together until light and fluffy (about 5 minutes). With mixer on low, add the eggs one at a time, scraping down sides of bowl with each addition. Add the vanilla and almond extracts and mix well.
In a separate bowl, sift together the flour, baking powder, baking soda, and salt. In three parts, alternately add the dry ingredients and the buttermilk to the batter, beginning and ending with the dry. Mix only until just combined! Carefully fold in 7 ounces only of coconut.
Line a muffin tin with cupcake papers. Fill each cup to the top with batter. Bake for 25 to 35 minutes or until a toothpick comes out clean. Allow to cool in the pan for 15 minutes. Remove to a baking rack and cool completely. Frost with cream cheese icing and sprinkle with the remaining coconut.
By Ina Garten
Cream Cheese Icing
Ingredients
1 pound cream cheese
¾ pound unsalted butter at room temperature
1 tsp pure vanilla extract
½ tsp pure almond extract
1 ½ pounds confectioner's (icing) sugar sifted (I didn't sift)
Instructions
In the bowl of electric mixer with a paddle attachment, blend together the cream cheese, butter, and vanilla and almond extracts. Add the confectioner's sugar and mix until smooth.