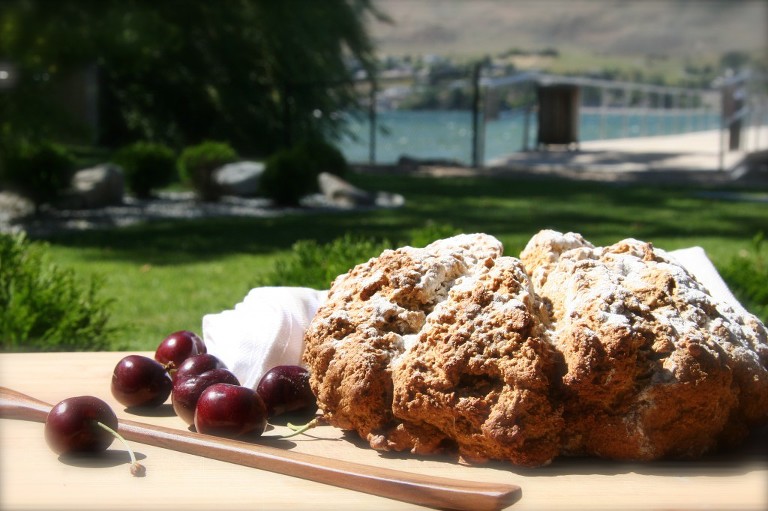 LAKESIDE ALERT… the newest guest to be welcomed into our lakeside home has abstained from sugar for 2 1/2 months now and henceforth…sugar shall be banned from consumption… well, at least for the next few weeks or days!  (Insert Prayer Here:  God grant me the strength… no I shouldn't waste his time.)  Whoa, I don't think I've gone a day without even just a wee, little smackeral of sugar??  However, I do believe I have the pluck to give it a go.
Enter guest number two: Heidi Swanson.
Well, not actually Heidi, herself, but I do have her new cookbook "super natural every day" with me.  One can read "My Everyday Pantry", "My Everyday Kitchen", "A Few Guidelines" and voilà!  It's as if she is standing right here next to you in your kitchen.
Technically, some recipes do have sugar, but I'll have to skip over those (at least until said guest departs).   What I love is that Heidi substitutes with natural ingredients… cane sugar or maple syrup.  All in all, it's a devastatingly lovely natural foods cookbook, unabashedly filled with wholesome, organic recipes just waiting to be tried.  Soooo, with a hostage guest and my family as guinea pigs, I shall share my experiences and experiments with you, my stalwart companions.
So "Fasten your seatbelts—it's gonna be a bumpy night" or week or day or two.   I'm so glad you are along for the ride♥
First up… This one was so simple, I could have made it blind folded… or not.  Just pick up rye flour and buttermilk the next time you're out… and perhaps a little honey…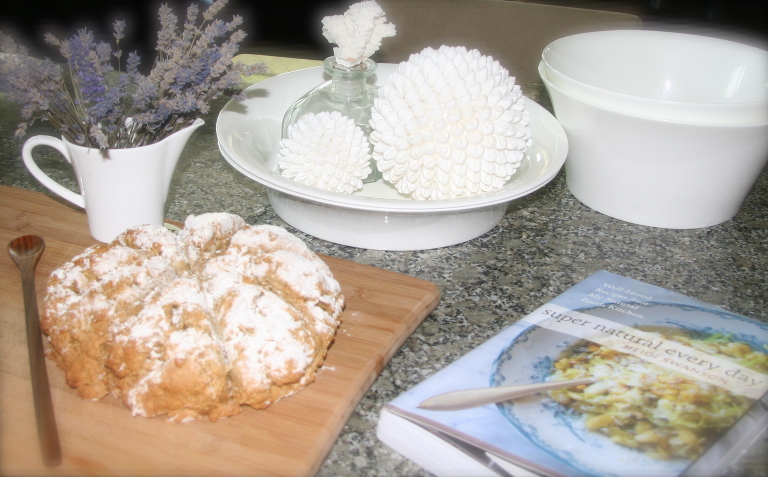 Rye Soda Bread
Bidding a Fond Farewell to Sugar
Ingredients
2 1/3 cups rye flour
1 ¾ cups unbleached all-purpose flour, plus more for dusting and kneading
1 ¾ tsp baking soda
1 ¼ tsp fine grain sea salt
2 cups buttermilk (500g) plus more for brushing
Instructions
Preheat the oven to 400°F, with rack in the middle of the oven.
Sift the flours, baking soda, and salt into a large bowl. Make a well in the flour and pour in the buttermilk. Stir just until everything comes together into a dough. Turn out onto a lightly floured countertop and knead for 30 seconds or so, just long enough for the dough to come together into a cohesive, slightly flattened ball without too many cracks.
Lightly flour a baking sheet and place the ball of dough on the flour. Brush all over generously with buttermilk and sprinkle generously with flour, 2 tablespoons or so. Slice four deep slashes across the top of the dough, two-thirds of the way through the loaf, as if you were slicing a pie into eight wedges, just be careful not to slice all the way through.
Bake for about 30 minutes, then quickly move the rack and the bread up to the top level and bake for another 20 minutes, until a hard crust forms and the bread is baked through. It will feel very solid and sound hollow when you knock on its' base. Cool on a wire rack and enjoy.