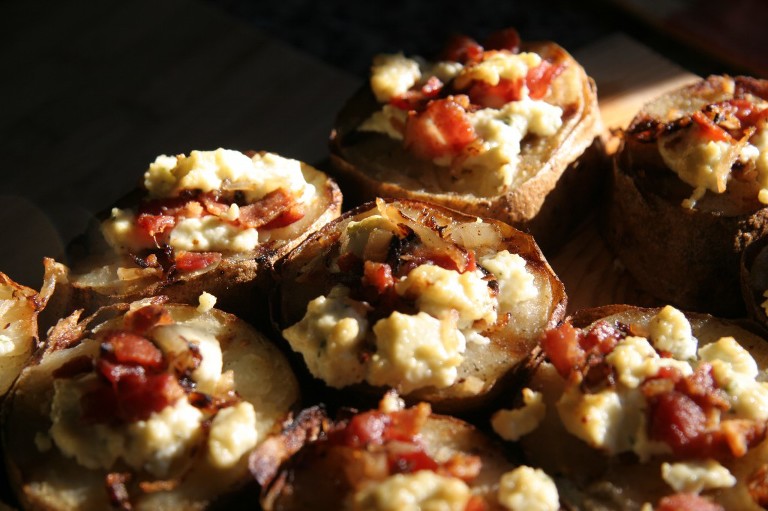 ….tea beside the fire, laughter to cheer you, those you love near you and all your heart might desire." (Irish Blessing)
Sometimes it rains… and sometimes it rains a lot.
And the dry earth heaves a sigh and opens wide…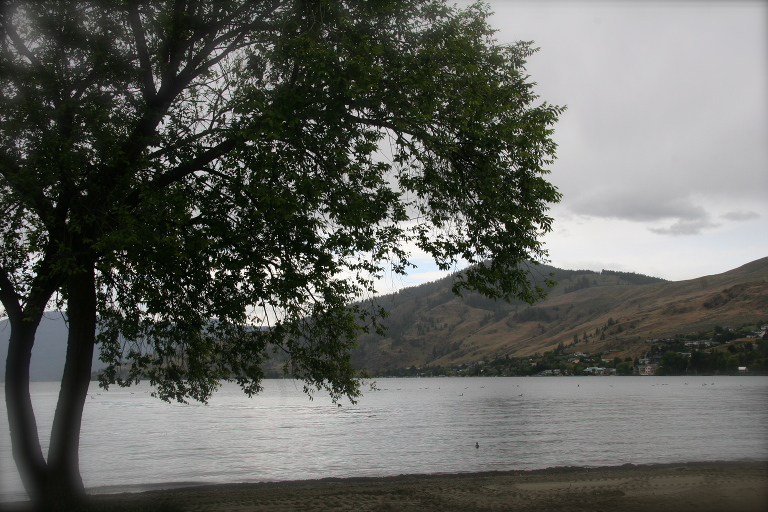 Beaches lie unruffled by bare toes…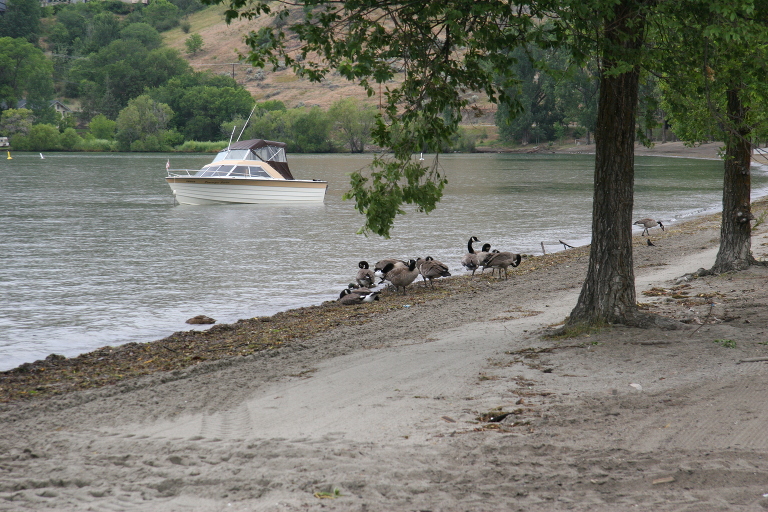 And ducks can convene and float undisturbed under the sheltering trees.
A rainy day, when it follows endless days of sunshine and heaps of activity under scorching heat, can be a respite… and an excuse to invite friends over for dinner.  Which is also an excuse to plan an interesting menu and try something new. Anyone who gets an invite to dinner in my home has to be ready for some experimental recipes.  Luckily, this time everything worked out… and the friends around our table made a gloomy rainy day seem that much more radiant…Given the chance I like to prepare most of the dishes in advance… it gives me the chance to enjoy the dinner along with everyone else ♥Our local fish monger talked me into bringing home a freshly caught shimmery filet of Arctic Char. This was a stretch from my usual salmon or trout entrée and I was nervous about how it would taste. The flesh was a soft glossy pink, the skin shimmery, translucent… scattered with tiny pink dots… and the taste was so subtle and light. I can't believe I forgot to take a photo for you… oh, well – a great excuse to make it again!
Anyway, I had sturdy cedar planks for the fish, so hmmm, what to do?? Then I recalled a stacked baked potato recipe from a few years ago and decided to reinvent it without all of my spices that are sitting back home. This version also became a "low-fat", not because of any special adaptation to the original recipe, but because I forgot to buy sour cream:)
Soak a cedar plank in water for at least 30 minutes. Give 2-3 evenly shaped, thick baker potatoes a good scrub and poke with a fork all over. Pop them in the oven at 375° F to bake, early in the day works just fine. Let them cool, they can even be refrigerated. Then slice them into 3/4″ rings, horizontally. Put the slices in a large bowl and toss with olive oil and seasoning.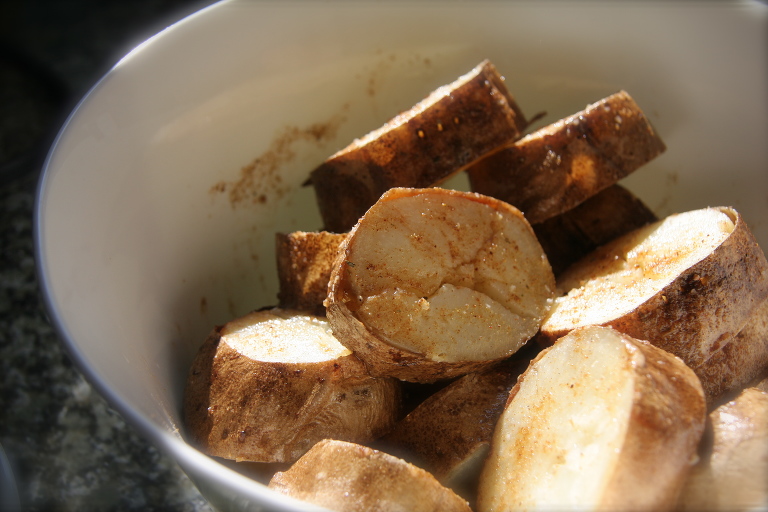 Fire up the grill and crisp both sides of the potato, then set aside.
Then crisp up about 5-6 slices of bacon, blot the oil then crumble. Toss 1/2-1 diced onion into the same pan and saute until golden brown. Mix the bacon and onion together. Dry off the well soaked plank and arrange the potato slices on them. Top each slice with a dollop of Boursin Cheese, a sprinkling of the bacon/onion mixture, then a touch more Boursin to hold the toppings on.
Place the plank on the barbecue on medium heat until the wood starts to emit it's fragrant cedar smoke, the potatoes are heated through and the cheese is melted. Finish with chives if you're feeling fancy.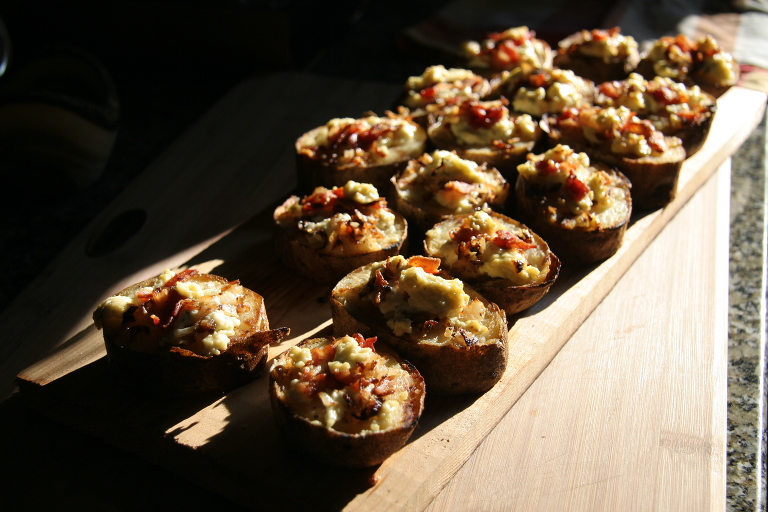 That's all for today, I'll give you the rest of the menu in Part 2, another day… time to take Lucky for a walk ♥
Cedar Planked Potatoes
Cedar Planked Potatoes
Ingredients
2 to 3 large baked potatoes, cooked, cooled and cut into ¾" inch slices
¼ cup olive oil
1 tbsp Everyday Rub (recipe to follow)
6 slices of diced bacon
1 diced onion
1 cup Boursin Cheese (garlic)
½ cup sour cream (optional)
Grilled tomato slices (optional)
Cedar planked soak in water for minimum of 30 minutes
Instructions
Potato Prep
In a large bowl, place the baked potato rings, add a splash of oil and a good pinch of the Everyday Rub. Toss gently and grill on a preheated barbecue on medium to high heat, turning two or three times.
In a skillet fry the diced bacon, remove fat and fry the diced onion together with bacon. Remove from heat and allow to cool.
Placed the grilled potatoes onto a seasoned cedar plank. Sprinkle with a little cheddar cheese. Top each with a bit of onion and bacon mixture followed by a little more cheese.
Place back on the upper barbecue rack over medium heat for an additional 4 to 6 minutes.
When ready to serve, top each ring with a dollop of sour cream and/or grilled tomato.
Everyday Rub
¼ cup sweet paprika
2 tbsp smoked paprika
¼ tsp chili powder
1 tsp ground black pepper
½ cup sea salt
¼ cup brown sugar
1 tsp dry sage
1 tsp dry thyme
2 tbsp onion powder
2 tbsp mustard powder
1 tbsp of cumin
1 tbsp cayenne pepper
Place all ingredients into a small jar. Shake well.
* I improvised with spices I had at the lake, paprika, salt, pepper, herbes de provence, brown sugar, mustard powder and they were just as delicious.
This is an excellent for seasoning meat, fish, poultry and vegetables. The rub will keep well for 3 to 4 months in an airtight container.