There's been a focus on cooking in volume these past few weeks, Super Store has become my new friend.  Gone are the leisurely strolls through the upscale organic food market."Whole Foods"? Try "Whole Wallet"! Workouts, hockey, wake surfing and voracious appetites left me no other option! except, perhaps, eating out hint hint
I had initially planned to mix up a batch of my favorite chili and then in a moment of  insanity exuberance decided to invite a friend and her four growing boys down for supper and a game of Yahtzee. Sally is the real pro at being an awesome mom and power shopping with massive grocery lists for her clan, so I thought I would give her a night off.
There's something rewarding about feeding growing teenagers but it's a challenge with our smaller fridges at the lake. Instead of doubling the recipe, I decided to pick up a few more groceries and try out a new one and do a "cook-off" to see which recipe scored the most points with my discerning audience. I ended up with waaay too much chili and almost forgot the ice cream… I had already forgotten it's the dessert that matters most to kids:)
So here is a version of my faithful old standby "The Ladle in Red" (from Janet and Greta Podleski's Eat Shrink & Be Merry) that took on the fast and flavorful Blue Ribbon Chili from All Recipes.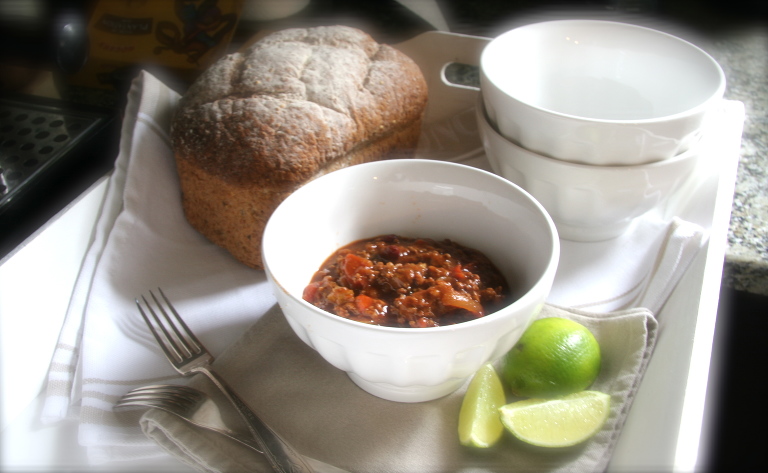 The Ladle in Red
The Ladle in Red
Ingredients
2 lbs extra lean ground beef
2 tsp minced garlic
1 cup diced celery
1 cup diced red pepper
1 cup diced red onion
1 ½ tbsp chili powder
1 ½ tsp ground cumin
1 ½ tsp dried oregano
1 tsp ground coriander
¼ tsp ground black pepper
1 19 oz can diced tomatoes, undrained
1 14 oz can tomato sauce
1 cup beef broth
1/4 cup hickory flavored barbecue sauce
1 19 oz can red kidney beans, drained and rinsed
2 14 oz can beans in tomato sauce
3 tbsp chopped fresh cilantro
juice from 1 freshly squeezed lime
2 tsp liquid honey
Instructions
Brown ground beef and garlic in a large pot until beef is no longer pink. Stir in celery, red pepper, and red onions. Stir and cook until the vegetables slightly soften.
Stir in chili powder, cumin, oregano, coriander, and black pepper. Cook for a few more minutes. Add undrained tomatoes, tomato sauce, beef broth and barbecue sauce.
Bring chili to a boil, then reduce heat, cover and simmer for 20 minutes. Stir occasionally.
Add beans and simmer, covered for 10 more minutes. Stir in cilantro, lime juice and honey.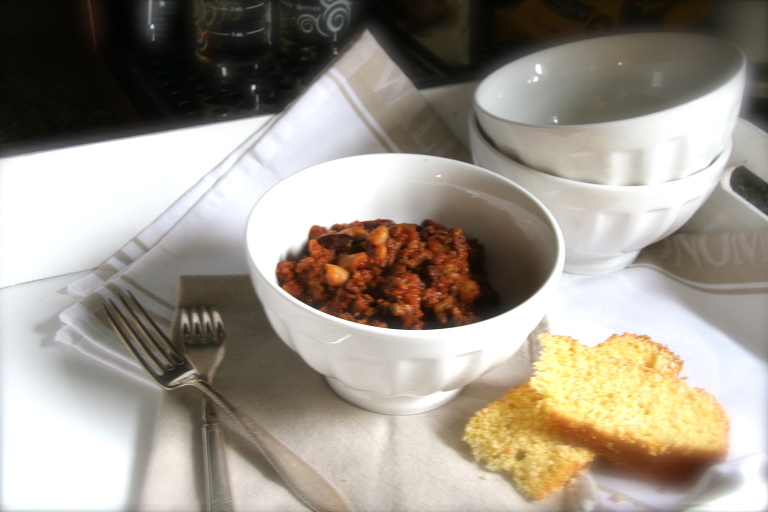 Blue Ribbon Chili
Blue Ribbon Chili
Ingredients
2 pounds ground beef
½ onion, chopped
1 tsp ground black pepper
½ tsp garlic salt
2 1/2 cups tomato sauce
1 (8 ounce) jar salsa
4 tablespoons chili seasoning mix
1-15 ounce can light red kidney beans
1-15 ounce can dark red kidney bean
Instructions
In a large saucepan over medium heat, combine the ground beef and the onion and saute for 10 minutes, or until meat is browned and onion is tender. Drain grease, if desired.
Add the ground black pepper, garlic salt, tomato sauce, salsa, chili seasoning mix and kidney beans. Mix well, reduce heat to low and simmer for at least an hour.
And it wouldn't be the same without being served with warm cornbread and a whole grain rustic loaf of bread.
And the winner?
Well, the vote is still out, both were delicious, just different.
As for the kids… it was all about making a chili dog, having ice cream, casting spells… "sectumsempra", and who would win at Yahtzee (yup, Sally again:). I had
as usual
 grossly overestimated the amount of food to make and, thankfully, our guests took some chili with them or we would be eating it for days…
The Blue Ribbon Chili gets my vote for ease and speedy delivery and had some nice jalapeno essence from the added salsa. The Blue Ribbon Chili has a much thicker texture. The  Ladle in Red is a lot more labor intensive but rewards with a more complex flavor due to the addition of lime and cilantro…you be the judge!
And here is the cornbread recipe as promised…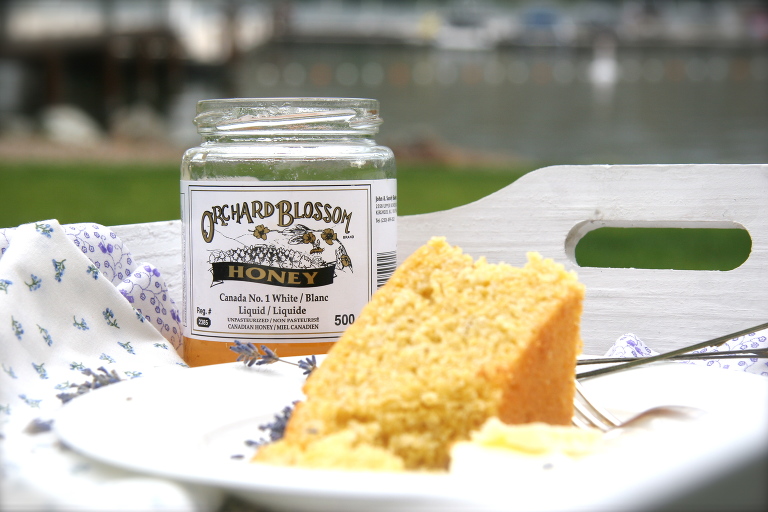 Gran's Cornbread 
Gran's Cornbread
Ingredients
1/2 cup butter
2/3 cup white sugar
2 eggs
1 cup buttermilk
½ tsp baking soda
1 cup cornmeal
1 cup all-purpose flour
½ tsp salt
Instructions
Preheat oven to 375F.
Lightly grease an 8 inch square pan with butter.
Melt butter in large skillet or pot. Remove from heat and stir in sugar.
Quickly whisk in eggs and beat until well blended.
Combine buttermilk and baking soda then add to the batter.
Stir in cornmeal, flour, and salt and gently stir to blend. Do not overblend, some small lumps will remain. Pour batter into the greased pan.
Bake for 30 to 40 minutes, or until a toothpick inserted in the center comes out clean. The top will be fairly evenly golden brown and the sides will be slightly pulled from the edge of the pan.
If not serving with a savory meal, try sprinkling some ground lavender leaves into the batter… it makes a delicious switch up from the traditional scone…