We stood on a wooden porch under the insouciant rays of the mid-morning sun. He held a craggy oyster the color of mica and it fully fit the palm of his generous hand. Then with a stab and a twist, he set free the brackish amuse-bouche. With encouragement and trepidation followed by a hearty heave-ho, I dared to let it sail down, unadulterated with condiments, and it was an all too brief, fleeting wave of salt-brined heaven.
Tim and Elisa's daughter Emily was the purveyor of the freshest and finest of oysters that morning. I was one of the lucky recipients and I still have that shell, a scrubbed up and shiny work of nature's art in my studio. My reward for a week's worth of Music Theory… not bad!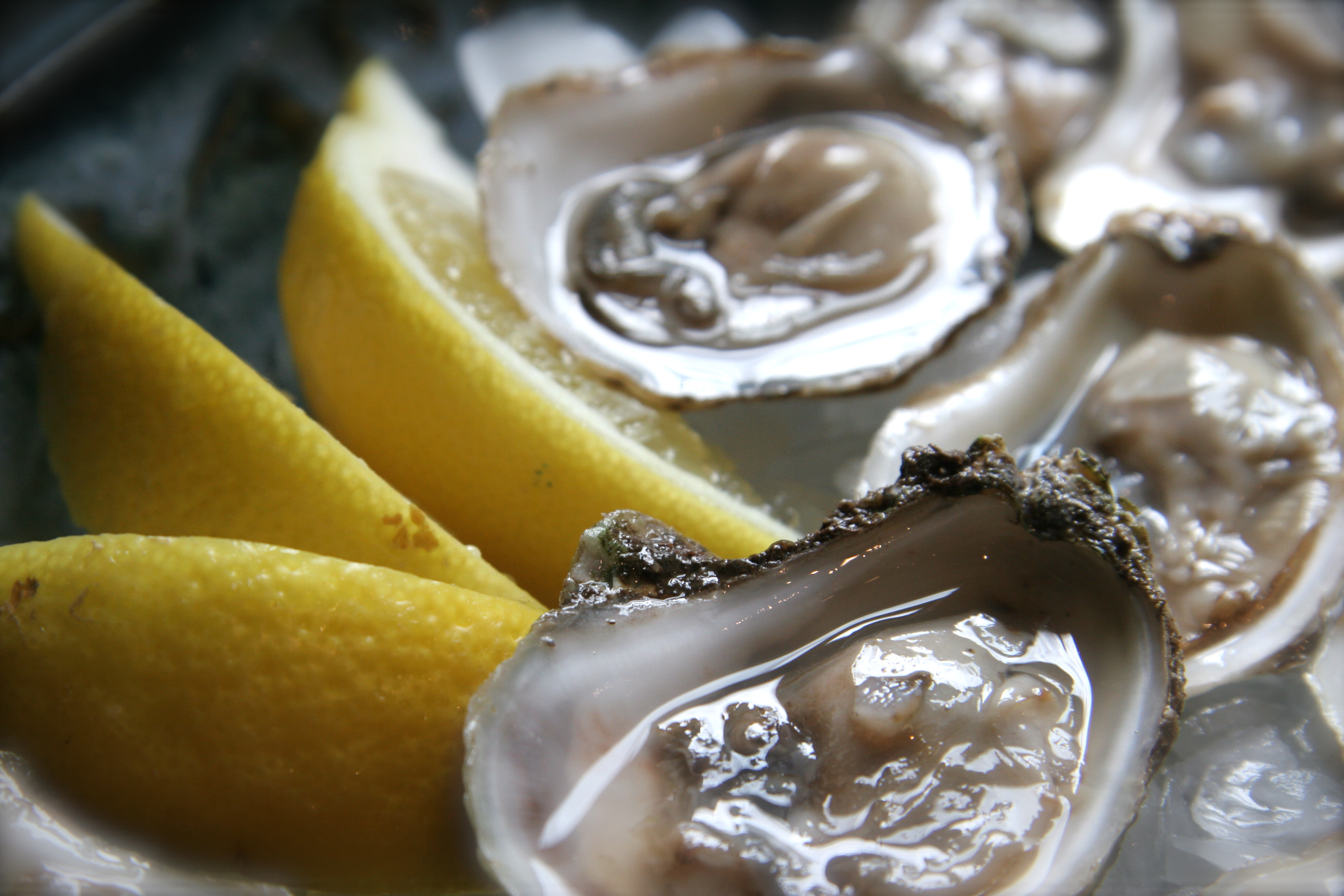 The oyster is thought to be an acquired taste, something one has to "think about" before trying. It's up there with wasabi, caviar, and strange food in foreign countries for most people. Once you've tried them, I guarantee you'll be hooked! There's something primordial about eating a raw oyster, just scooped up from the sand and waves of the ocean.
Alas, when one is a prairie landlubber, the freshest of oysters can be as difficult to acquire as a freshwater pearl. With courage in my heart, I decided it was time to tackle this challenge, once and for all. Fortunately fresh oysters are in abundance at the local fishmonger's and I selected a dozen that had traveled across the country, all the way from Caroquette Bay, New Brunswick to greet me. They were much smaller, perfectly shaped specimens with light sea glass green tinted shells. Then it was off to Fisher's Hardware to pick up some garden gloves and an oyster-shucking tool.
 The oysters waited patiently for a whole day before I could muster up the courage to try. Thoughts of "What if I give everyone food poisoning?" ran through my mind. I had been warned to wear gloves so I wouldn't slice my hand. What if I couldn't pry those little suckers apart?
After a little prodding from my son, I took glove, oyster and shucker in hand and gave it a shot. I think all those warnings were just a conspiracy theory designed to keep us new oysters shuckers away from the plunder. Shucking oysters is surprisingly easy! When it's your turn to serve them, just make sure to tell the uninitiated how difficult it was!
Fill a platter with crushed ice, about 1/2" depth. Slice up wedges of lemon, set out Louisiana hot sauce and horseradish as condiments.
Pour the oysters into a metal colander, you'll love the sound that makes! Rinse generously with cold water. I scrubbed them a bit just to ensure the sand is off.
Then take up your first oyster, it should be held with the deeper basin shaped side in your gloved palm. Take that shucking knife and give the top of the oyster a good whack! (Maybe this stuns the oyster?) Using the point of your knife, gently and persistently plunge it into the tiny opening at the base of the shell. Be patient and press forward, you'll feel a small give in the shell. Once you've gained a small access, take the knife and twist it sideways to prod the shell fully apart. If you aren't having any luck, try another shell. Some have an easier give than others.
Gently scrape the oyster free from the top and set the shell top aside. Tenderly free the oyster from the bottom shell, taking care to conserve the lovely brine inside. Continue with the rest of the oysters.
Serve with champagne or a light, dry, cold and crisp white Sauvignon Blanc. Better still, sit on a blanket on the beach and chase each oyster down with a chilled shot of Stoli vodka, now that's a night you'll never forget!