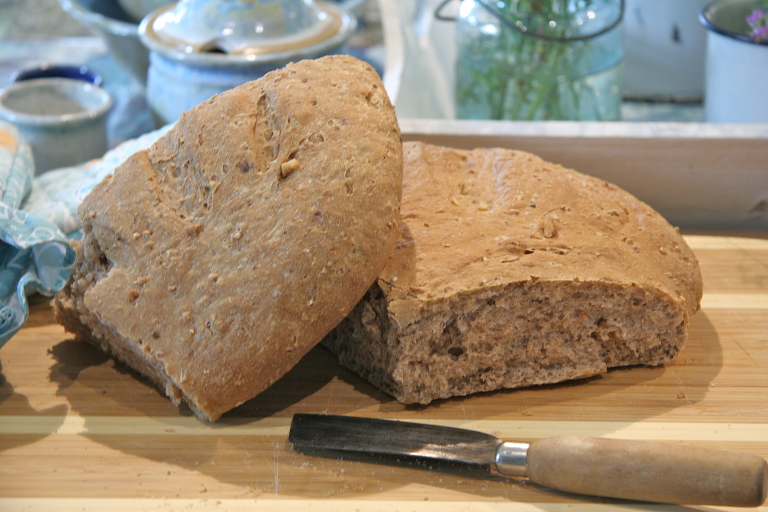 I was still feeling flush from the great pizza dough escapade this past weekend, so when I spied a few packets of yeast languishing in my cupboard I thought it was time for a new go. I absolutely love the heady, yeasty smell of yeast and leavening bread. Given that I was nursing a slight hangover from a few too many glasses of wine the previous night (in my defense, the conversation was dazzling) I thought it might be time to bake something, er, healthy.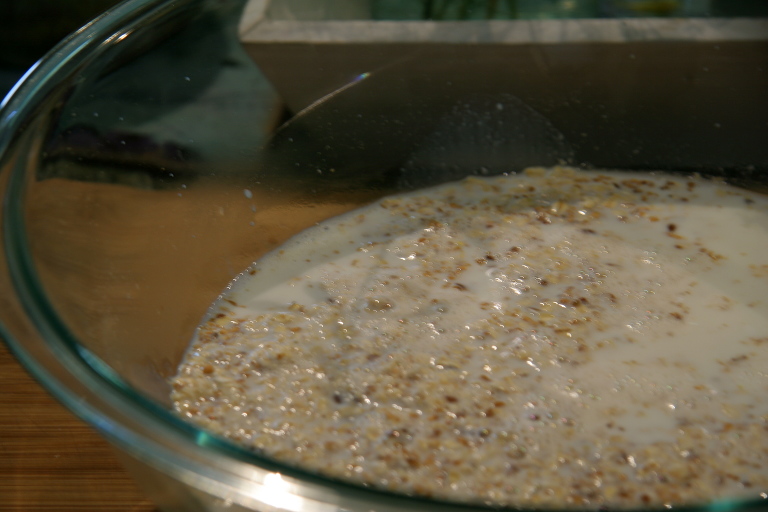 Enter my "Bread-Making" workshop notes from my Cookbook Company Cooks class with Gail Norton last year. "This should be fun and easy, I've done this before!" were my exact words. I had purchased the necessary ingredients beforehand, so everything was a go. With the end of summer vacation nearing, it has always been my goal to bake, cook and recycle everything in my pantry in order to forestall:
hauling everything back to Calgary
chucking everything out
foisting lurid ingredients on unsuspecting neighbors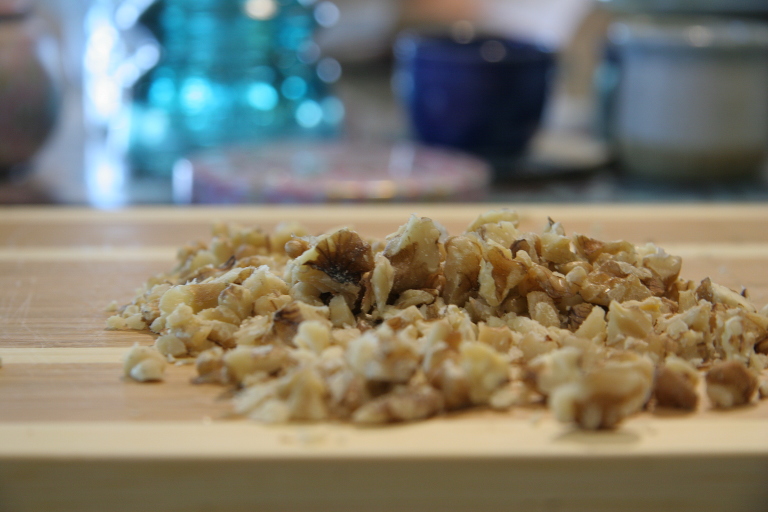 Still in my pj's, I discovered that I was missing a few key ingredients. I was tempted to throw on some sweats over my nightie and hope no one in the cashier's lineup noticed, but I was reluctant to give in and make the trek.
"Did I even read the damn recipe before I made my shopping list?!!" I admonished myself. Undaunted, it was off to the cupboard for substitutions. I was not going to let this Crunchy Health Bread get me down.
"What could I substitute for sesame seeds… hmm, perhaps chopped walnut halves? Fermipan Instant yeast?  I only have regular yeast packets, so that meant that I would have to adapt the instructions, no prob. Wow, no wheat germ either… oh boy, this could get ugly…" To top it all off… I didn't read the recipe and left out the oil and molasses. Well, at least I knew these would be healthy loaves of bread!
I'm not going to lie, I did make one more fatal bread-making error. Note to self: one mustn't nap when waiting for said bread dough to rise to double in size. Or it will inevitably triple and spectacularly collapse (much like my body on the couch that morning).


I could tell you a little white lie, cut a slice, take a pretty photo and pretend it never happened. But like my fellow blogger twittered, "just keepin' it real" is a better way to go.
On the bright side.. it was light and fluffy in texture and tasted so delicious. So here it is… in all its' nutty, fragrant, and recumbent flat glory. Kind of looks like a door stop. My only saving grace… well, it was one of the best healthy loaves I've tasted… and if you learn from my mistake, your loaves will turn out just perfect ♥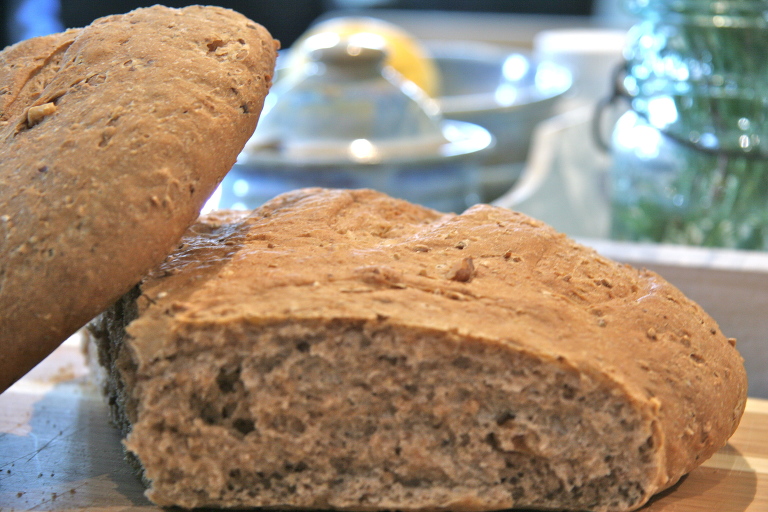 Crunchy Low Fat Health Bread
Crunchy Low Fat Health Bread
Ingredients
2 1/2 c scalded whole milk
1 cup quick oatmeal flakes
1 cup Red River or Sunny Boy Cereal
1 1/2 cup warm water
2 packets regular yeast
1/2 cup walnuts
2 tsp salt
2 tbsp brown sugar
1/2 cup oil (optional)
1/2 cup molasses (optional)
3 cups whole-wheat flour
5 cups all-purpose flour
Instructions
Scald milk in a saucepan over medium-low heat. Mix Red River and oatmeal flakes together in a very large bowl. Stir together and allow it to cool until lukewarm (to have crunchy bread, do not heat the milk).
Meanwhile, in a two cup measuring cup, add two packets of yeast to 1 1/2 cups warm water. Stir and allow yeast to bloom (foam) for approximately 10 minutes.
Add walnuts and salt. Stir in 3 cups whole-wheat flour. Add all-purpose flour, one cup at a time until the dough forms a manageable ball. Move dough to a lightly floured counter top. Knead, adding all-purpose dough until the dough no longer "absorbs" or needs flour and is not sticky to touch. Try not to add too much flour, it makes a drier bread. I used about 4 1/3 cups all-purpose flour.
Knead for 10-15 minutes until dough makes a nice smooth, soft ball. Cut into four and shape each piece into a round artisan loaf, tucking sides under to stretch the top of the loaf into a round shape. Place on parchment paper on two baking sheet in a warm location and allow to rise until double in size. Space them so they have room to rise without touching.
Preheat oven to 375° F.
Bake for approximately 20 minutes. Reduce the heat to 350°F and continue to bake for about 20-25 minutes.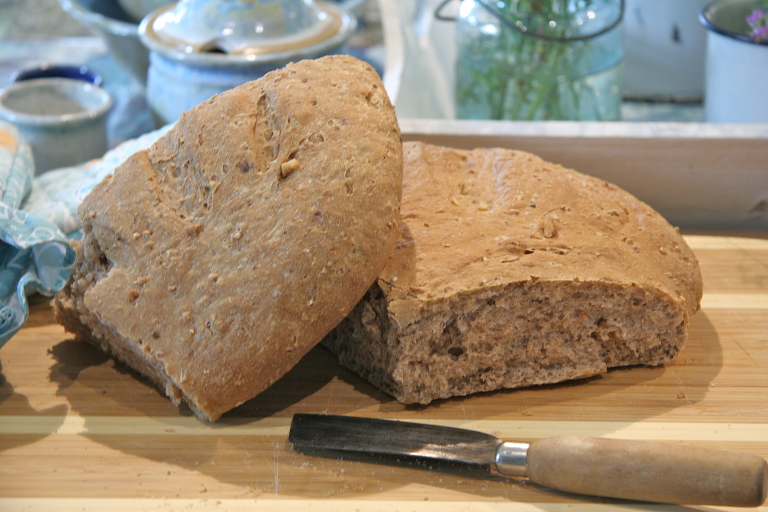 ps guests at the dinner party had to answer the question "What is one thing that happened since last summer that you are excited about?" It was interesting to hear what people highlighted from their year. It was easy for me to answer – it was my new blog and the orchestra of course!