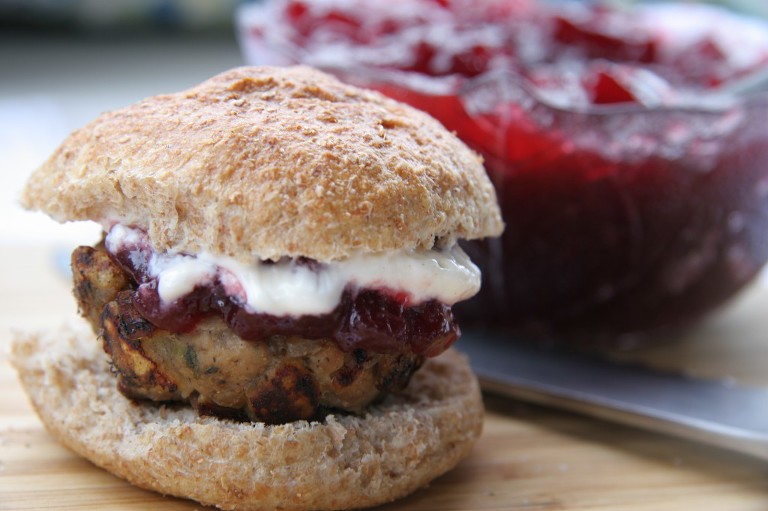 Where do all good recipes come from? Well, Virginia, maybe there is a recipe fairy.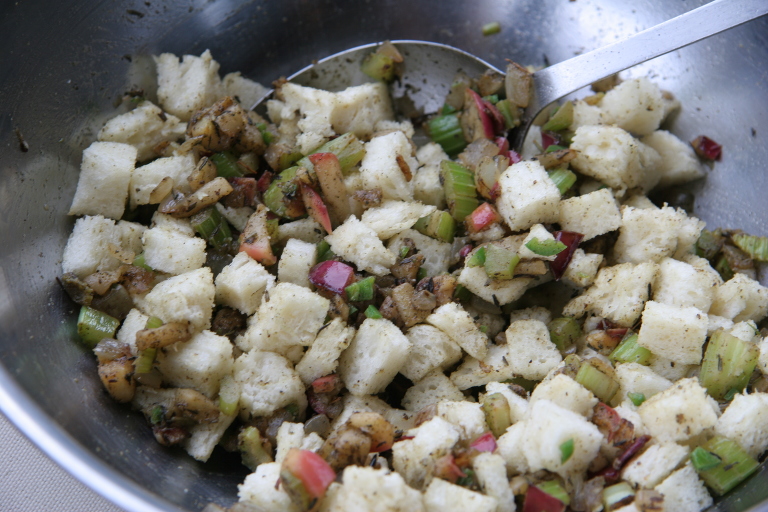 I can always rely on the tried-and-true cards from Gran's recipe box or my mom's meals that I remember from childhood. As you can imagine, (stationery hoarder) I also have scads of cookbooks and food magazines that are well-thumbed through and dog-eared for inspiration.  Then there's always the Food Network… and, of course, the internet.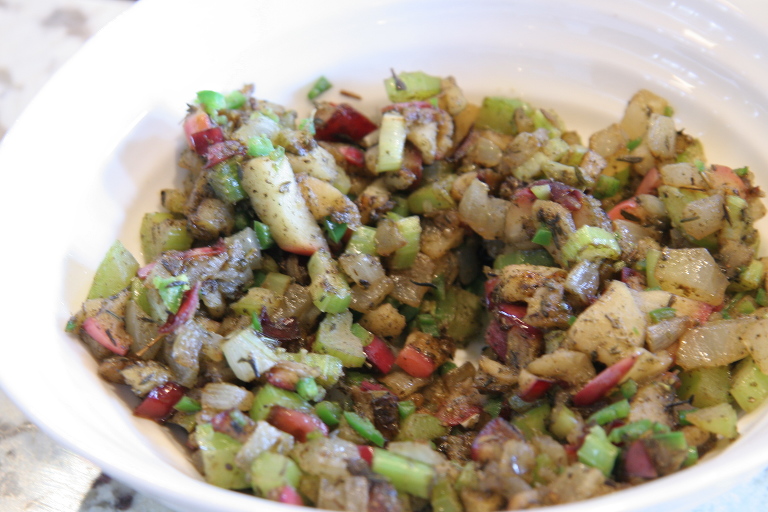 Occasionally, a completely new recipe idea will just pop up in my head uninvited (love when that happens!). I may be out hiking or in the middle of a bike class when presto, a new food creation appears out of nowhere! I suspect that my food-related brain synapses must be covertly firing away under cover of sleep (and the odd daytime nap).  I mull the ingredients over, make a tweak or two and then I can't wait to try it out!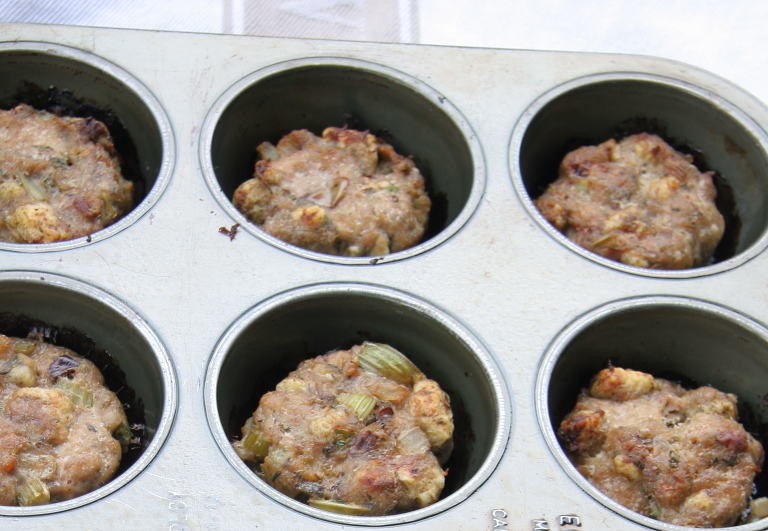 There have been a few "fails" for sure. But, trust me, this Turkey Slider is a keeper. Perhaps you can't wait for Thanksgiving or maybe you're a university student unable to make it home and in a kitchen too small to make your own turkey.  Well, this recipe is for you.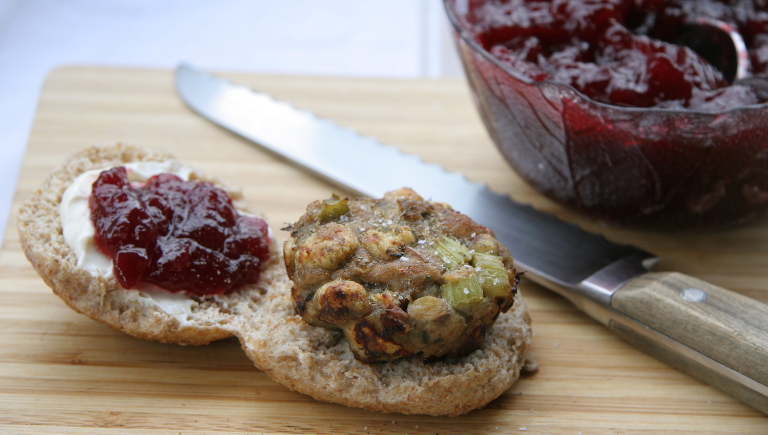 Think turkey, sausage bread stuffing, cranberry sauce and even the dinner roll — all in one heavenly bite. They're just the right size for a fall picnic or tailgate party. A simple green salad and you would have a delicious and easy lunch to take to work. Best of all, you will already know the ingredients by heart if you've ever stuffed or watched your mom stuff a turkey.
Just remember to say grace or a word of thanks before you scarf them down.
Tailgate Turkey-Stuffing Sliders
Tailgate Turkey~Stuffing Sliders
Ingredients
1 lb (500 g) (1 package) ground turkey
1 mild uncooked Italian sausage (Spolumbo's)
2 thick slices sourdough bread, crusts removed
1 large apple, diced
2 celery sticks diced
1/4 large onion diced
1 tsp thyme
1 tsp garlic powder
1 tsp sea salt
1/2 tsp pepper
1 tsp sage
1 tsp poultry seasoning
1 tbsp dried parsley
1/2 minced, seeded jalapeno pepper (optional)
olive oil or butter
cooking spray
small dinner buns
cranberry sauce (homemade is best)
mayonnaise
Instructions
Heat 1-2 tbsp olive oil or butter in a frying pan. Add diced onion, celery and apple. Stir and cook until all ingredients are lightly browned. Add all seasonings and continue to brown. Remove from heat and let mixture cool to room temperature in a large bowl.
Cut bread slices into tiny cubes, about 1/2-1/4". Add to cooled onion mixture, mixing thoroughly. Add additional poultry seasoning to taste.
Add package of minced turkey to the bread crumb mixture. Remove sausage from the casing and add. Using your hands, gently blend until all ingredients together without crushing the bread pieces.
Spray a muffin tin lightly with cooking spray. Take out a scoop of the turkey mixture and roll gently. Then press lightly into bottom of muffin tin, about 1/2 -3/4 full. Repeat until all of the turkey is used.
Bake in 375° F oven for approximately 20 minutes. Check around 15 minutes, turkey sliders are done when cooked through and no longer pink in the middle. Overcooking will dry out the turkey slider, so keep an eye on them!
Serve on small slider or dinner buns with cranberry sauce, mayonnaise, salt and pepper and any other condiment you wish.
Makes about 12-16 sliders.
[yumprint-recipe id='201′]