Still lots of Autumn "nesting" going on over here in the Smidgen kitchen. The bottomless granola bin ran dry and so it was time to whip up a new batch. Not that this was any trouble, the smell of toasting granola, maple syrup, honey and cinnamon is always heavenly on a Sunday afternoon.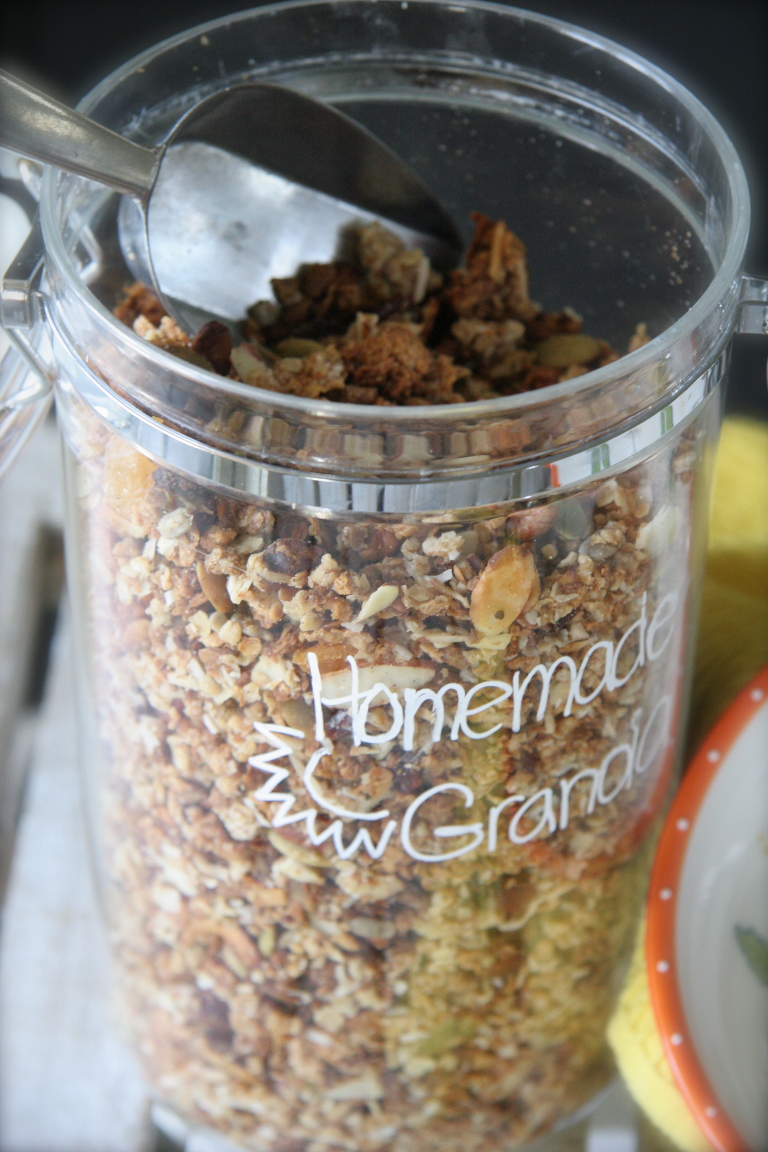 It was also the perfect opportunity to confirm the ingredients and measurements in my recipe and, much to my chagrin, boxed sizes have changed yet again. What I have always loved about this recipe, is that the measurements coincide with entire packages… so it is very easy to shop and very minimal measuring is involved.
Hmmm, the packages contain more product now, so…now we can be charged more than the amount accounts for? Better still, there is the incredible shrinking game, where the entire contents and packaging are reduced in scale so that we don't realize we are charged the same price, but actually getting much less.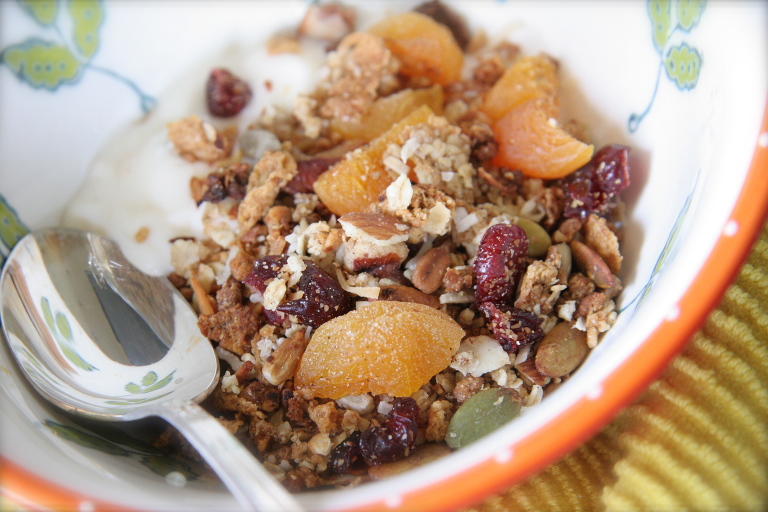 I had to rub my eyes a few times to ensure that the packaging grams were so inaccurate from my last written recipe. If there were enough hours in my day, I'd follow this sort of thing… but there aren't.
So here is Smidge's Granola Recipe, aptly renamed, tweaked and photographed (I shudder to look at some of my earlier food photos). I also recommend that you purchase 1 or 2 super-sized metal mixing bowls from a restaurant supply shop if you are determined to make the full batch at one go. I also highly recommend stirring granola into a cup of yogurt… very satisfying!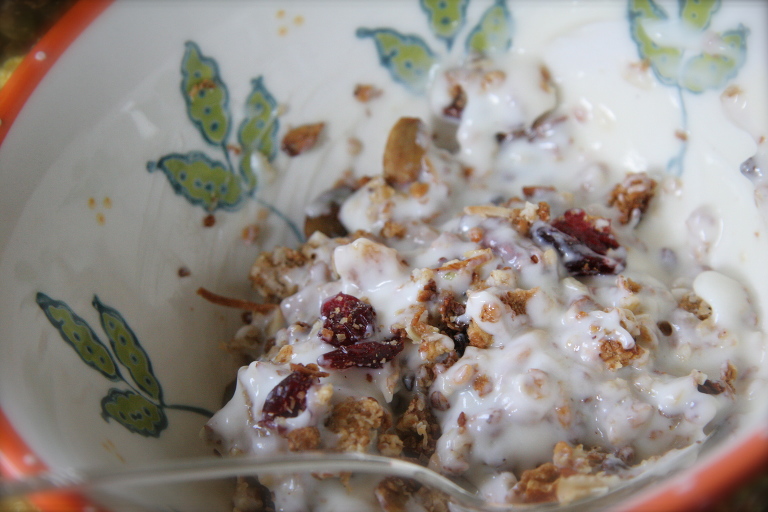 Smidge's Granola Recipe
Ingredients
1-2 oversized restaurant grade mixing bowls
2.25 kg rolled oats
520 g box of All Bran Flakes
680 g box of Grape Nuts
1 cup All Bran Buds
1 cup Pure Natural Wheat Bran
1 1/2 cups Oat Bran
1 cup wheat germ
4 cups pumpkin seeds (if using salted/roasted then I omit the salt below) from the bulk section of the supermarket
2 cups sunflower seeds (bulk section)
2x 400 g medium unsweetened coconut (baking section)
6x 100 g natural slivered almonds (optional)
3x 100 g chopped pecans (optional)
5x 250 g dried apricots
4x 250 g cups dried cranberries
1 kg of honey
2x 250 g maple syrup (plus ½ cup)
500 ml canola oil
3 cups water
3 tsp vanilla
3 tsp salt (optional)
3 tbsp cinnamon
Instructions
Preheat oven to 350°F.
Spray all roasting pans with a non-stick cooking spray. *This recipe may be halved or quartered for convenience. Just a little extra measuring would be required.
In a large mixing bowl, combine the dry ingredients from the oats to the chopped pecans, inclusive. Dried ingredients can be mixed by hand, in fact I find it easier. Then I transfer some of the ingredients to a second large mixing bowl.
Meanwhile, in a large saucepan, combine the last set of ingredients, beginning with the honey. The amount of cinnamon can be adjusted to taste. Heat for approx. 5-10 minutes.
Carefully pour the liquid over the bowl of dry ingredients.
Using a spoon or your hands, mix everything together until all dry ingredients are well coated.
Divide the mixture into separate roasting pans. This can fill 2 large roasting pans and 3 9×13 cake tins. I tend to bake in batches.
Bake in the oven at for approximately 1 hour or until lightly browned, (to taste). Over-cooking makes a crunchier granola, under-cooking gives a softer, chewier texture. Check and stir every 15 minutes or less to ensure even browning.
Let the granola cool enough to handle. Stir in chopped dried apricots and dried cranberries. Substitute with raisins, dried figs or any dried fruit of your liking.
Store in large ziploc bags. Granola can be frozen until needed. Serve with yogurt or milk or sprinkled on… anything!
Makes approximately 10 kg, so 1 kg per large ziploc bag to freeze.