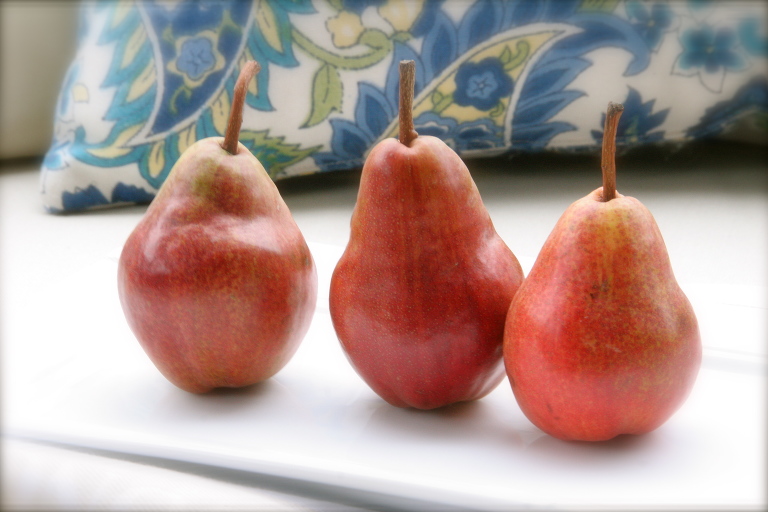 Thanksgiving Dinner arrives today… and with it my prodigal hockey player. I can't wait to hear the door slam followed by a boisterous hello and a hug… it's been far too long. I think that as long as I continue to make turkeys, mashed potatoes, and pumpkin pies my kids will never stray too far from home. I know my daughter doesn't plan on leaving soon and that's a good thing because she's my carrot scraping, pot-stirring sous chef. She studied for hours on end yesterday just so that she can cook with me today. Soon our kitchen will be filled with the heavenly fragrance of fall – sage, thyme, cinnamon…
I'll have to manhandle the 25 pound turkey then follow-up with the standard sidekicks. I'm most looking forward to baking a traditional Pumpkin Pie. After perusing all of my cookbooks, the internet and the newspaper, I've settled on Rose Levy Beranbaum's "Great Pumpkin Pie", you can't argue with crushed gingersnaps!
Until I have those photos to share, here is a spin on a traditional fall soup, Roasted Butternut Squash Pear Soup. I've had plenty of bowls of Butternut Apple, but thought it was time for it to be reinvented with sweet red pears and spices. The squash could be steamed in the microwave, but roasting it first doesn't take too much effort and the results are worth it. Try to find the prettiest little red bartlett pears you can at the market, then it'll feel like a Canadian Thanksgiving in your kitchen too!
Autumn Roasted Butternut Squash Pear Soup
Ingredients
1 butternut squash
1 tbsp olive oil
1/2 sweet white onion, diced
3 small carrots, diced
3 cups chicken stock
2 cups pear nectar
2 red bartlett pears, cored and diced
1 tsp cinnamon
½ tsp nutmeg
1/2 tsp powdered ginger
4 thyme sprigs, stems removed
Instructions
Preheat oven to 350F.
Line a baking sheet with non-stick foil. Cut squash in half then half both pieces again down the center. Using a spoon, scrape seeds out. Lay squash face down in pan.
Roast until squash is cooked through and softened. About 45 minutes.
Meanwhile, pour a splash of olive oil in a large soup pot and put it on a medium to medium high heat. Lightly saute onion and carrots until translucent and only lightly browned.
Remove squash from the oven, let it cool and then scrape out the pulp. Add to the soup browned vegetables. Pour in chicken stock and nectar.
Add pears (I didn't peel these, I thought the red skin was to pretty to remove).
Season the soup with cinnamon, nutmeg, ginger and leaves from the fresh thyme sprigs.
Allow the soup to simmer on medium low heat until pears have softened and flavors have blended.
Add a splash of nectar or stock if soup needs to be thinned.
Allow to cool somewhat then using an immersion blender, gently pulse and blend the soup right in the soup pot.
Serve with dollop of cream fraiche or a sprig of thyme.