Nothing like traipsing around a new foodie store to perk up the old taciturn spirits! I had been dying to venture over to The Silk Road Spice Merchant Store store in Inglewood. First a quick detour to the bottle depot (ewww, now that was a reality check after my mope day) and then off I went, latte and gingerbread biscotti in hand.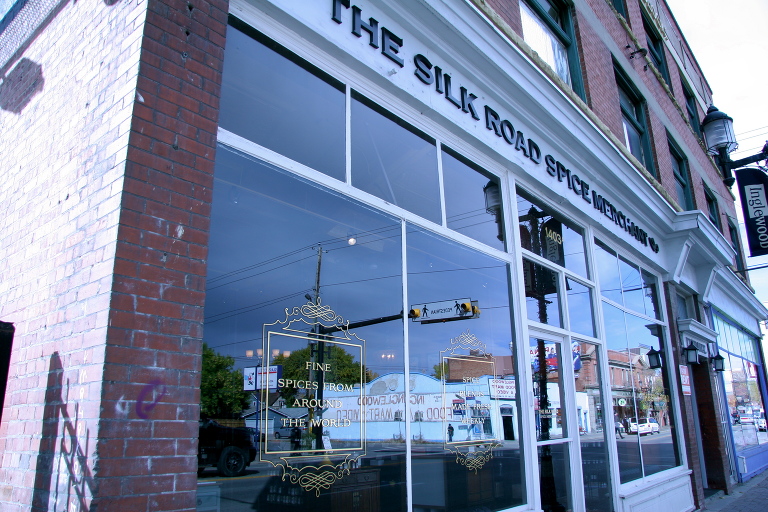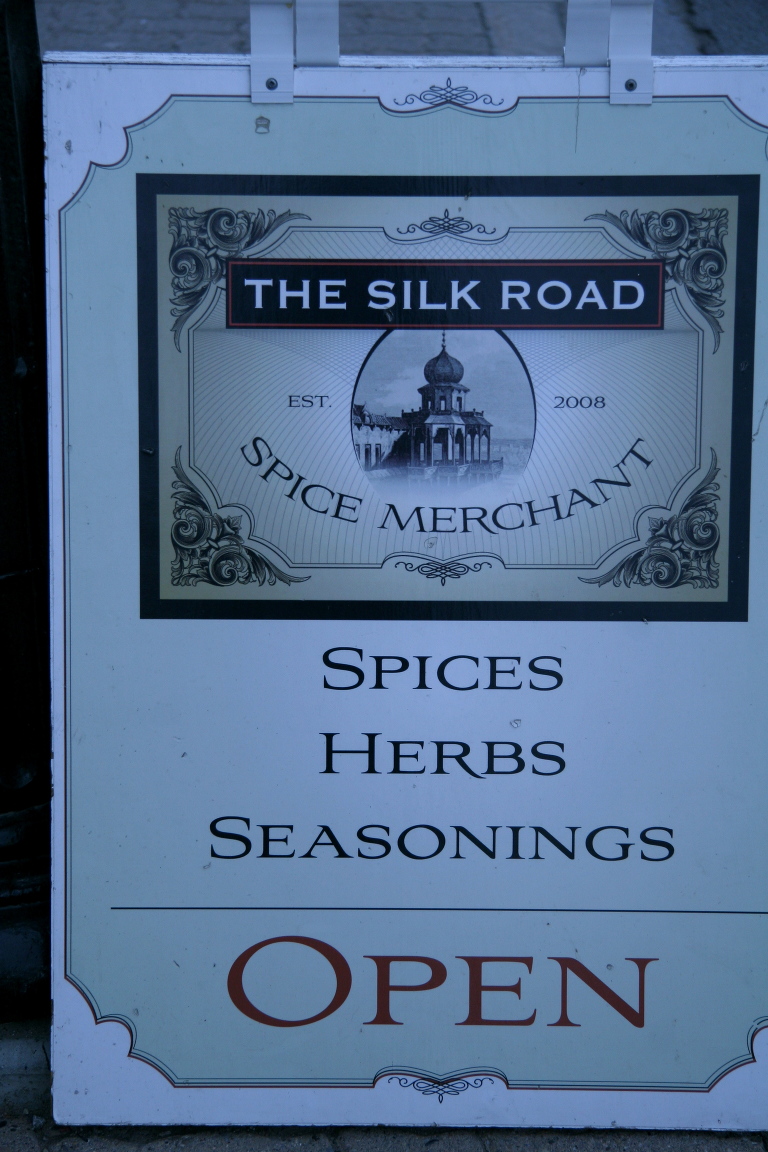 They even had free parking right out front (at least, I think it was free… oops)! That was awesome, just in case I felt the need to "back the truck up" for my haul.
There was a trove of treasure inside.. just what I had imagined. Rows and rows of neatly stacked crates and canisters beckoned. Of course they had salt: pink, red and black crystalline nuggets and flakes glistening in glass jars like treasure plundered from the sea. Aleppo Chiles, Sumac, Tonka Beans, Juniper Berries, Grains of Paradise, South Coast Jerk Spice, Lovage, (I need to stop now) all freshly transported… so that your senses can be transported as well!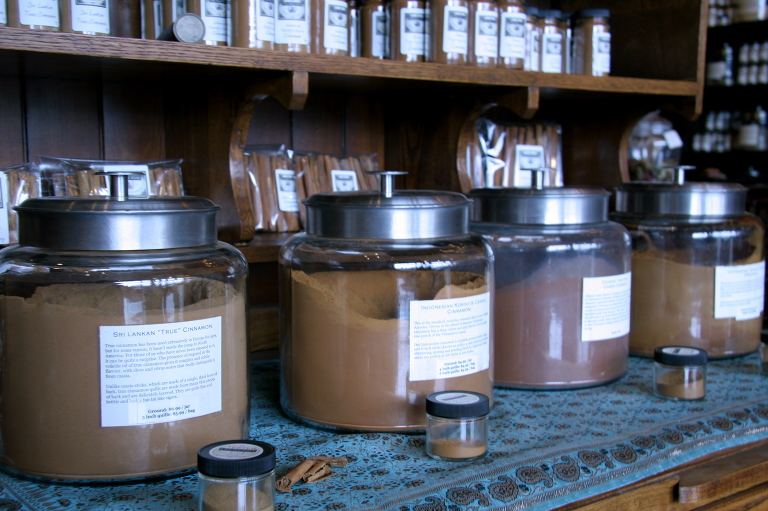 Thinking of making pumpkin pie? (well, maybe I should try again) They had an array of cinnamon from every corner of the planet. Each spice had a little tester so you could inhale with your sniffer and relish in the tumaceous scrumptiousness.
If you wanted something more convenient, the owners offer their signature blends that would help simplify any recipe (think barbecue rubs, pumpkin pie spice, etc)!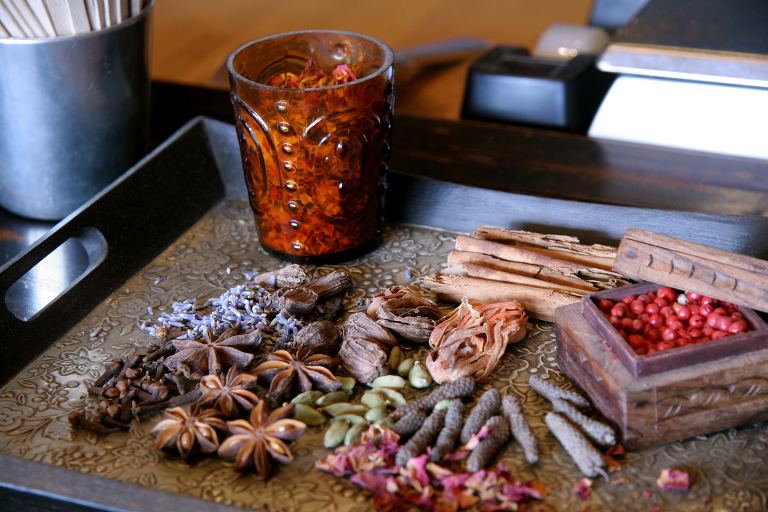 One couldn't help being drawn in by their garam marsala spice, the cardamom pods, the cumin… and so it was settled. I'd decided it was high time I dove back into Meena Pathek's "Indian Cooking" recipes. Not to bash fall and turkey dinners, but there's nothing like adapting one of her dishes and letting it bubble away in the kitchen, redolent with the bouquet of a curry…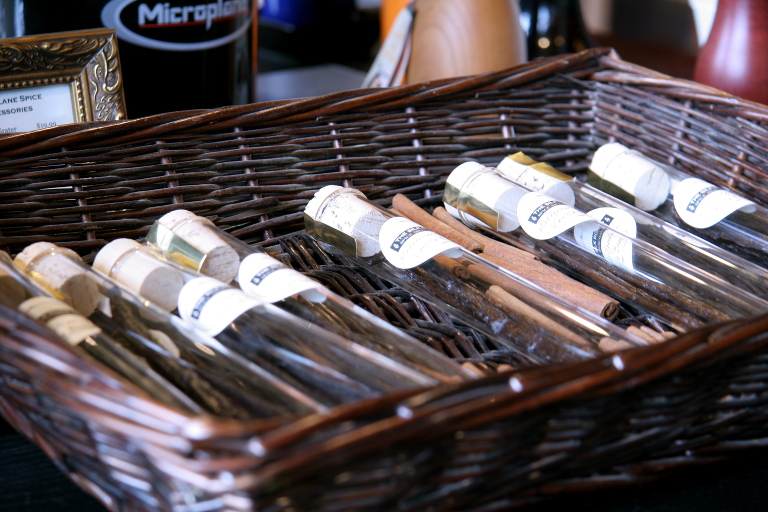 One day I shall venture out on an expedition to explore some of the exotic countries on the Silk Road, but for now I'm content to plunder the Spice Merchant's treasure!
I thought this recipe could have used some hot sauce to spice it up! Also, if you have a nut allergy, it would be delicious without:)
Sesame Garlic Chicken with Peanut Sauce and Coconut Rice
Sesame Garlic Chicken with Peanut Sauce and Sweet Coconut Rice
Ingredients
2 packages skinless, boneless chicken thighs (about 16)
2 tbsp olive oil (or canola)
1 large onion, chopped
1 tbsp sesame seeds
1 tbsp black freshly ground pepper
1 tsp ginger, minced
3 cloves garlic, minced
2 large or 3 smaller tomatoes, diced
1 tbsp ground coriander
1/2 tbsp ground cumin
1 tsp ground turmeric
3/4 tsp paprika
100 g baking peanuts (shelled, chopped)
1 tsp salt
2 tbsp green onions (garnish, optional)
Instructions
Heat oil in a large frying pan, saute pan or wok.
Sear and brown the chicken thighs on all sides. Remove the chicken from the pan and set aside on paper towel.
In the same pan, fry the onion until it is softened and translucent.
Add the sesame seeds and allow to brown. Stir in pepper, ginger, garlic and allow to slightly brown.
Add tomatoes, coriander, cumin, turmeric, paprika, peanuts and salt. Bring to a simmer.
Add back the chicken thighs and simmer, covered for about 15-20 minutes or until the chicken is no longer pink inside.
If the sauce dries and the chicken starts to stick to the pan, splash with water or a dash of coconut milk to loosen.
Serve with coconut rice.
Sweet Coconut Rice
Ingredients
2 cups Kokohu Rose rice or long grain white rice
1/2 tbsp butter
1 14 oz can coconut milk
1 cup water
1 tsp sugar
1/4 tsp salt
1/4 cup coarse unsweetened coconut
Instructions
Mix all ingredients together in a rice cooker or a large saucepan with a fitted lid. Bring to a boil then reduce and simmer until rice is tender and cooked through, about 10-15 minutes.