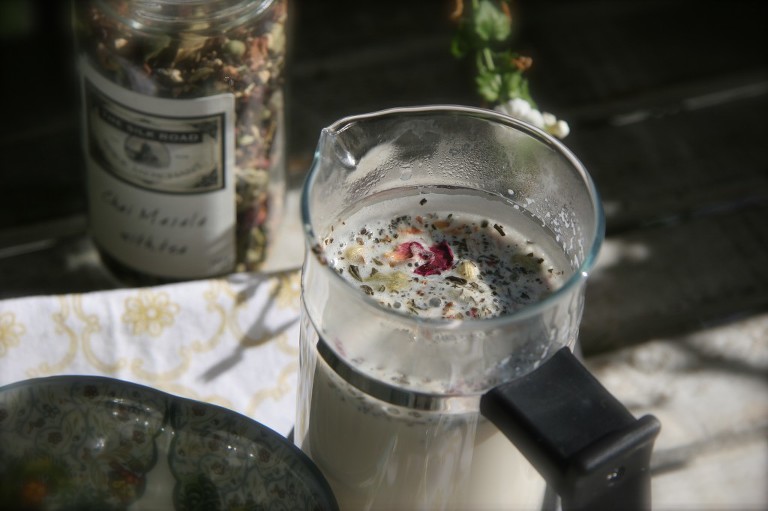 I may need to go on a liquid diet for a few days. No, not the fun "Hey! All the beer and tequila shooters you can drink!" liquid diet. The boring kind, like… chicken noodle soup, or tomato soup… or soup with soggy crackers crushed on top.
It appears my one rogue tooth isn't very happy with me and has decided that it's payback time. No, I didn't floss enough and yes, I do love sour cherry blasters. Who knew such a tiny little thing could be such a pain in the, er, mouth! It hurts to laugh, it hurts to cry, it hurts to smile (didn't realize how often I smile), and it hurts to eat (curses). I've doubled dosed myself with Ketorolac Tromethamine and have given up on moping.
I've become a somewhat swollen and sore (sorry) cheeky little l..ass and I'm now on a hunt for something soothing to sip on. I considered designing a new flavor of milkshake (or hitting Peter's Drive-In), but that wouldn't help with the fit of my jeans.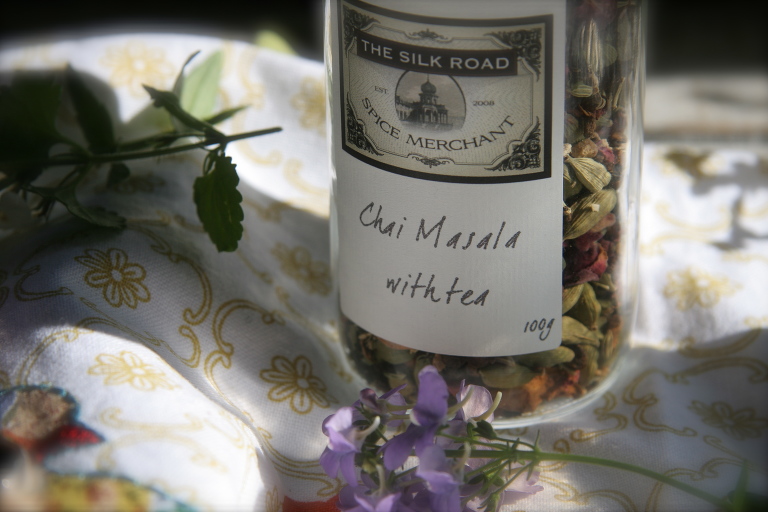 With a newly purchased jar of Masala Chai languishing (sympathy languish?) in the cupboard, perhaps a milk chai tea latte might just be the ticket today. Maybe there's some ancient herbal remedy buried in the leaves and pods that will just put an end to my misery, a little magic perhaps?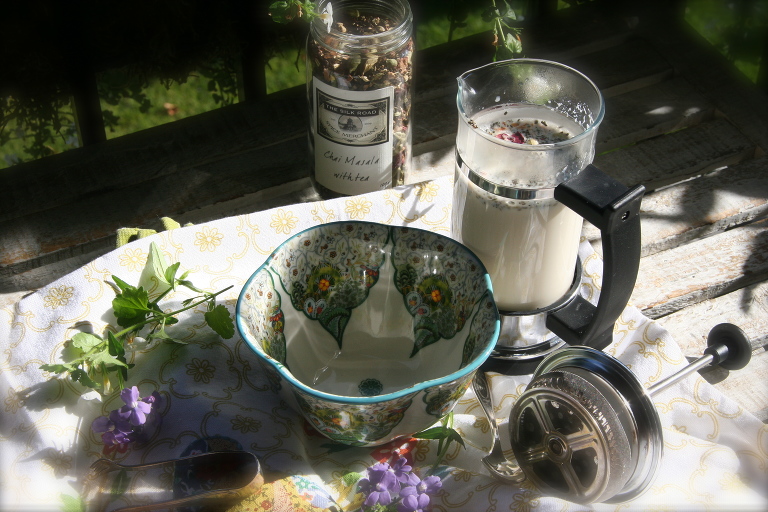 Om.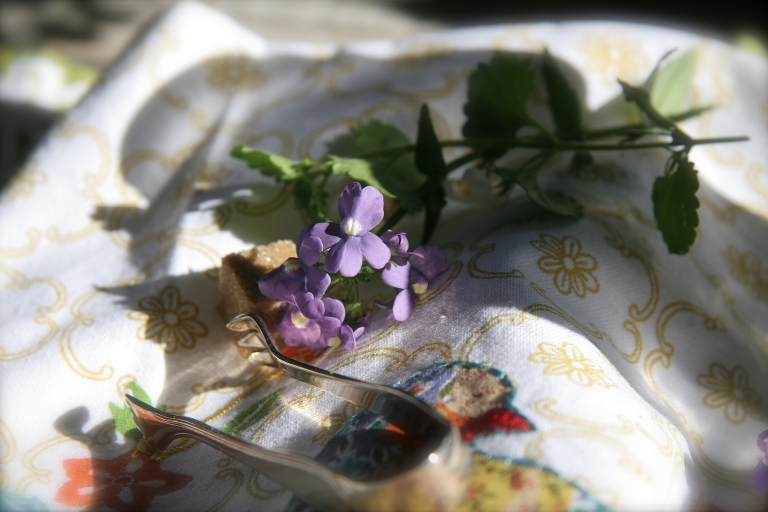 And… as I sat writing this post, a little friend stopped in to see me..
I think he wanted to tell me something, but I'm not sure what… If you were sitting at my desk, you'd know there is only one narrow window in front of me. He'd had to have worked hard to perch in that exact spot and stare in at me.
He let me take a few photos and went on his way. A common name for the Northern Flicker Woodpecker is "Gawker" and "Wake-Up"… maybe he was telling me to "snap out of it"?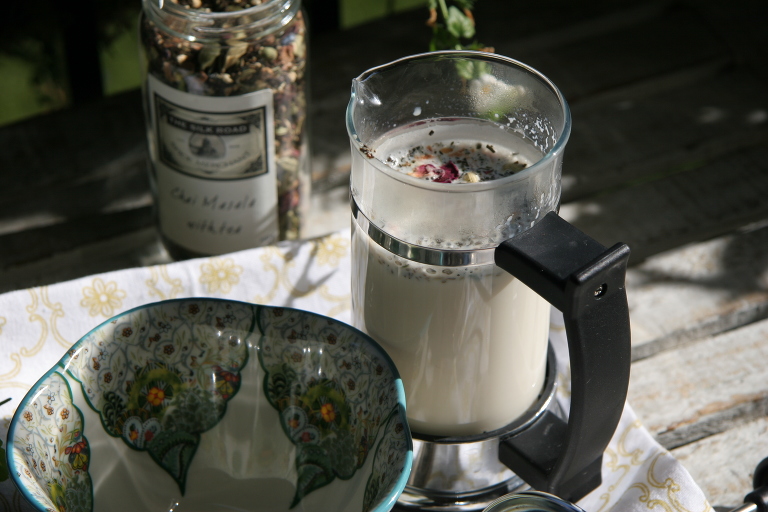 Isn't it wonderful how something so simple can reframe your mind?
Back to the Chai…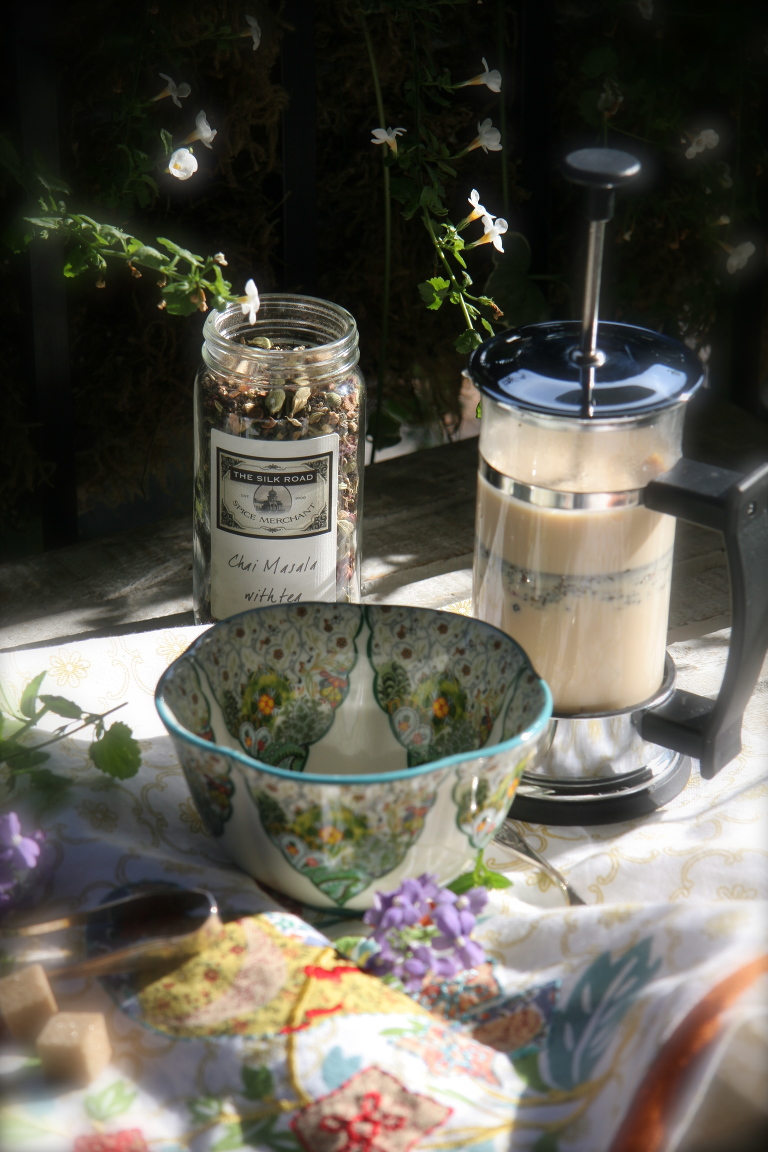 A fellow blogger, Lana, over at Yes, I Want Cake,  posted a recipe for a french pressed Milk Brewed Coffee that called for warm milk and a sprinkling of vanilla infused peppermint sugar (yum). It brought back memories of the first Chai Masala Tea latte I'd ever tasted at the Good Earth… it, too, was served up in a french press.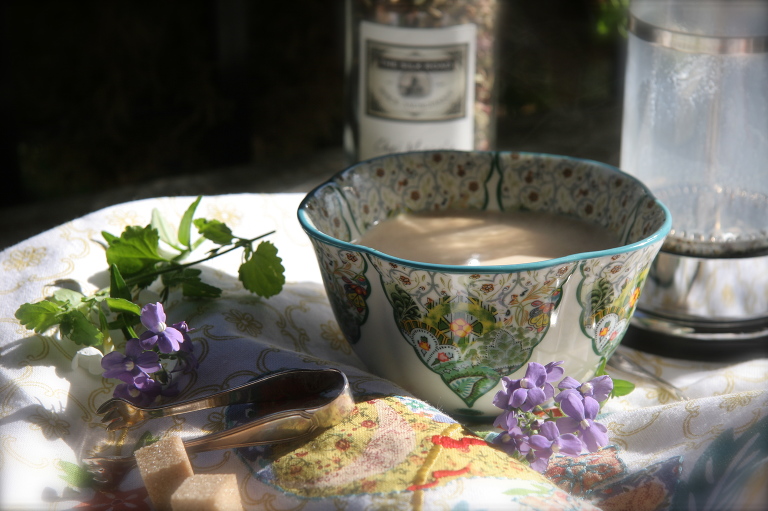 So… I'm taking the easy way out on my recipe today… because I am was cranky and because I can. "It's my blog after all," she whimpered, "I will use that ready to go, pre-mixed Chai Masala with Tea blend from The Silk Road, tweak that recipe and (insert fervent prayer here) french press my way to Chai Bliss."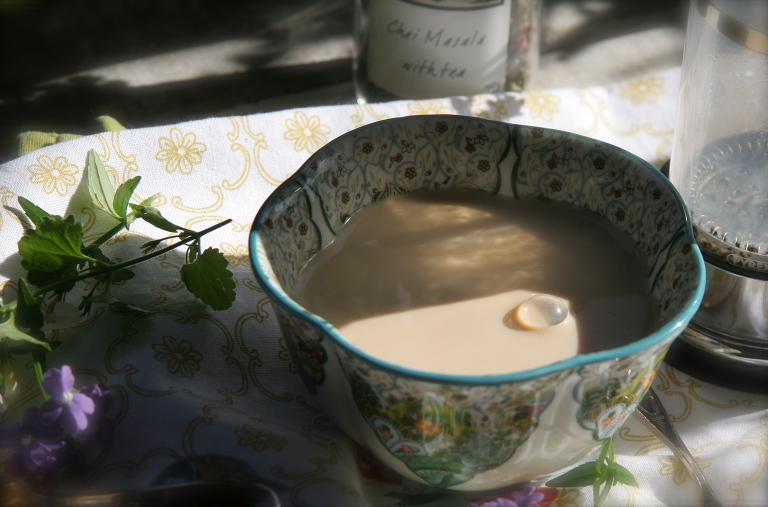 I would absolutely love to give you the recipe for the spices… but I can't. I do know it is a bouquet of rose petals, mint, cloves, cinnamon, fennel, black pepper, ginger and ajowan (caraway) blended with black assam tea. I can tell you that it looked so pretty in the french press with the rose petals floating on a froth of warm milk in the sunlight.. it completely reframed my mind…
Here is the Spice Merchant recipe, my simpler one will follow:
Chai Masala Tea
Ingredients
2 1/2 cups water
3 tbsp of the spice and tea mixture
1/2 cup whole milk
1 tbsp of sugar
Instructions
Lower the heat and simmer for 5 minutes.
Slowly stir in the milk and sugar.
Bring back to a simmer and then pour into french press (make sure your press has been washed of all coffee residue and oils)
Let sit for 1-2 minutes with the spices and tea submerged, then press and pour.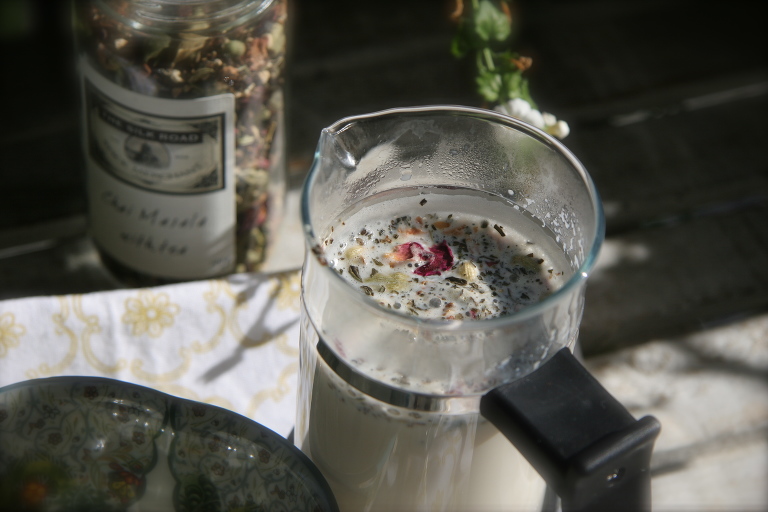 Northern Flicker Chai Masala Tea
Ingredients
1 cup whole milk
1 slightly heaping tablespoonful of chai tea spice blend
1-2 cubes raw sugar
Instructions
Steam milk until just before the boiling point. Pour into a "single serving" french press. Toss in the spices and sugar. Put the lid on and slightly submerge tea. Allow to brew for a minute or so (until desired intensity) then pump the french press a few times to blend the melted sugar.
Pour and serve in a beautiful chai cup while sitting in the sun in your favorite chair.
Meditate on why you are so fortunate…
Om
Note:  If you've no access to a Chai Masala Tea blend in your neck of the woods, I can suggest trying to create your own. There are so many different ways to make Chai, it would be worth experimenting. There is one website 
here
, that seems to offer a wealth of recipes to get you started.