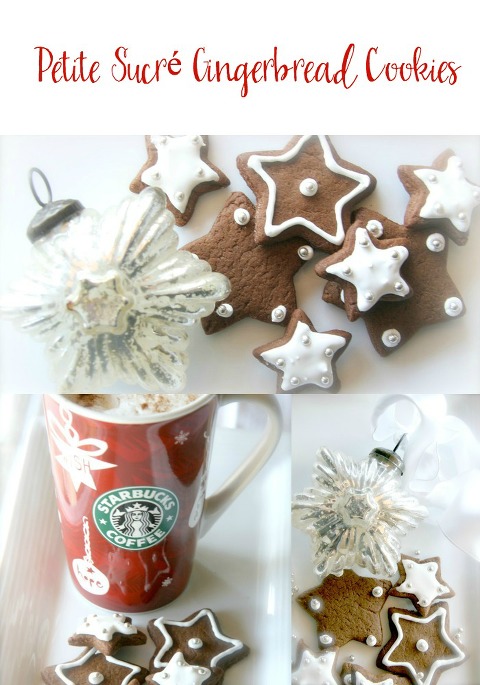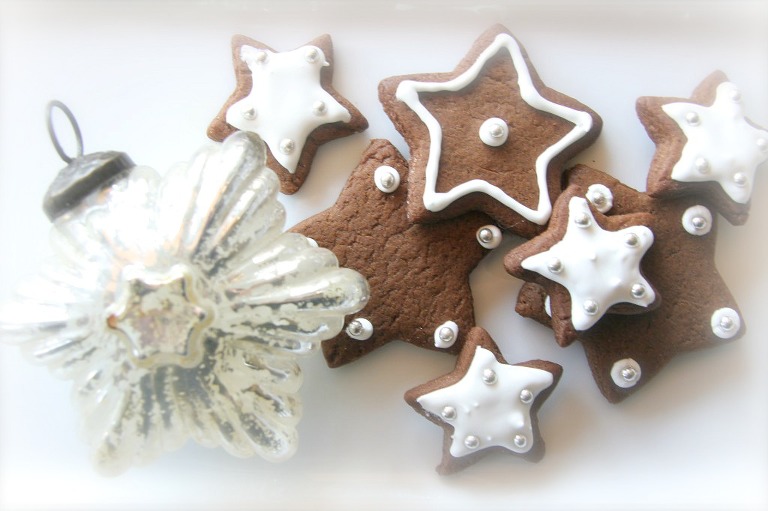 With relief I could finally relax, lay down my cello and bow, brush the hair out of my eyes, stretch, and make my way to the "Snack Table". (Yes, we have "Snack Time" at Orchestra and it is a very eagerly anticipated juncture in our Monday night practice.) Some musicians might say that it is the best part of the evening because we finally get to chat and one could definitely say that is also a well-earned respite from our hard work.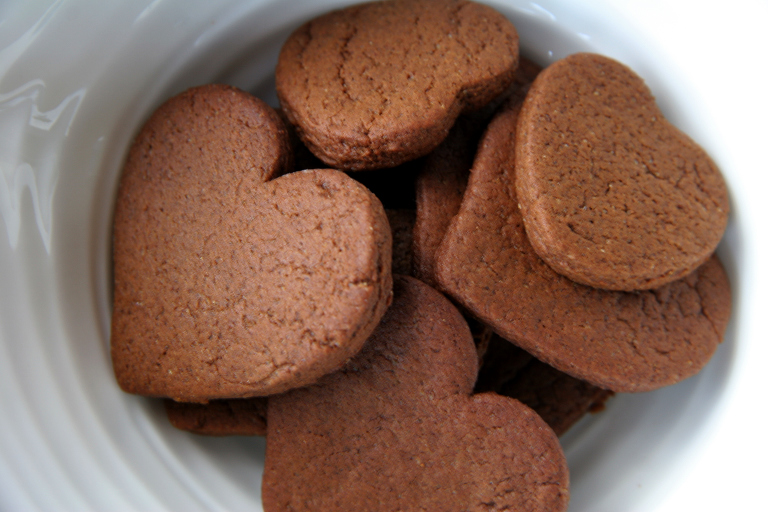 As always, I was on the prowl for inspiration or a new recipe. Emily, a lovely young and talented viola player, happened to mention that she enjoys making recipes that are scaled down and "just enough" for one or two people. This was a new concept for me, having come from a family of 6. Sadly, our own little family is now temporarily down by one (although our dog Lucky would argue otherwise) and the remaining members don't always want copious amounts of baked goods readily accessible. Thus, necessity being the mother of invention, my Petite Sucrée page was created and gradually will be filled and overflowing with recipes designed for anyone not wanting to cook up a whole "batch" of something.
(Those of you in countries yet to celebrate Thanksgiving, can read the rest of this post in a few weeks if it distresses you too much:)
I have noticed everywhere, recently, that the "season" is starting to creep up on us. Some of us coffee addicts celebrated the advent of the Starbucks Red Christmas Cups this week. I've taken to making my own lattes, lately, but we have our own reusable "Red Christmas Cup" that my daughter purchased last year. It seems University students like to have one of these popular festive cups at home for their coffee and tea because it brings them Christmas cheer as they toil while studying for exams.
Perhaps these pretty little gingerbread cookies would cheer them up as well ♥
Petite Sucrée Gingerbread Cookies
Petite Sucrée Gingerbread Cookies
Ingredients
1 cup all-purpose flour
3/4 tsp cinnamon
1/2 tsp ginger
1/4 tsp baking soda
1/4 tsp salt
1/8 tsp nutmeg
1/4 cup white sugar
1/4 cup shortening/margarine
1/4 cup molasses
1+1/2 tbsp beaten egg (one beaten egg=3 tbsp)
Instructions
Preheat oven to 350 F.
Fork stir flour, cinnamon, ginger, baking soda, salt and nutmeg in a medium sized bowl.
In a large bowl (or mixer fitted with a paddle attachment) cream sugar and shortening together. Beat in molasses and egg.
Slowly add flour mixture then beat well.
Gather dough into a small ball, wrap in plastic wrap and refrigerate for about one hour or until fairly firm.
Take a portion of the dough ball and roll out with a rolling pin until about 1/8-1/4" thickness. Cut out shapes with a cookie cutter. Move to cookie sheet. Repeat with remaining dough.
Bake for about 8 minutes or until the cookies have baked but not overly browned. Remove from the oven and leave on the pan for a few minutes until they firm up. Transfer with a spatula to a wire cooling rack.
Notes
This recipe made about 2 cookie sheets full of smaller gingerbread cookies (stars and hearts).
Prepare Royal Icing and pipe to decorate using dragées (silver balls) or candied nonpareils (candy sprinkles)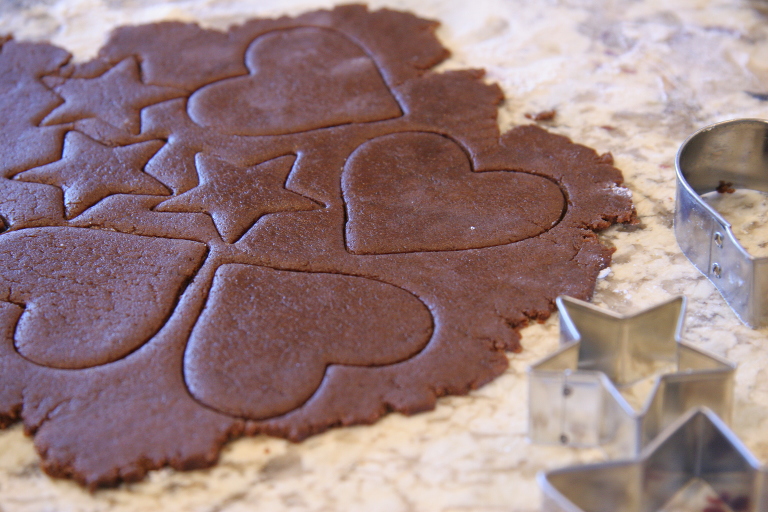 This recipe made about 2 cookie sheets full of smaller gingerbread cookies (stars and hearts).
Prepare Royal Icing and pipe to decorate using dragées (silver balls) or candied nonpareils (candy sprinkles)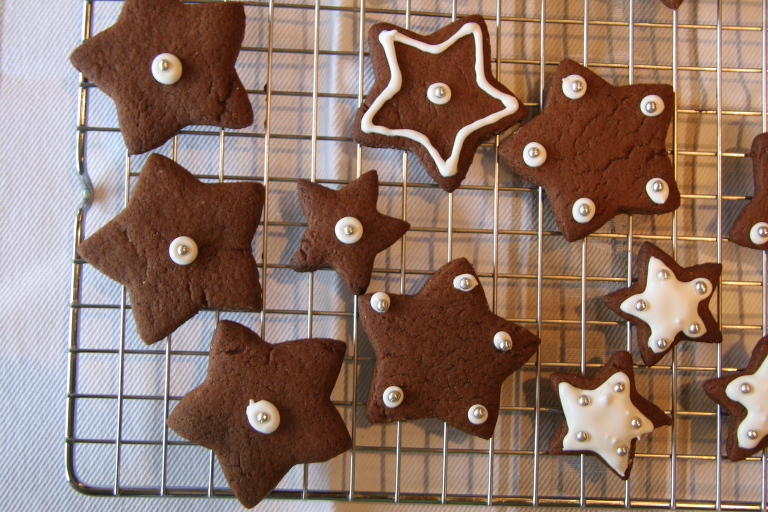 Petite Sucrée Royal Icing
Petite Sucrée Royal Icing
Ingredients
1 egg white
1 cup icing sugar
Disposable plastic icing bags (I use Wilton 12 inch disposable, they are sold in a box of 24)
Icing Tip #2
Instructions
In a mixing bowl, using the whisk attachment, beat egg white until foamy. Add icing sugar and beat until mixture is thick and creamy. If too runny, add a touch more icing sugar to get desired thickness.
Open the top of the icing bag and push icing tip down to the point. Using scissors, cut the tip of the bag just enough to push the metal icing tip through snugly. Holding the plastic icing bag, turn the top edge down over your hand and open up the top. It will be about 3-4 inches turned down. Using a spatula, scrape the icing into the plastic bag. Then push the icing down until the plastic is "taut" and twist the top to keep pressure on the icing tip. Using two hands, gently squeeze the bag to ice the cookies. After icing, sprinkle immediately or press in dragées as this icing will get hard very quickly. I often practice on parchment paper before icing the cookies.
Notes
The use of eggs whites necessitates refrigeration of these cookies or you could eat them all right away… or punch a hole and use them to decorate your tree.
Other recipes on-line show how to pre-heat the egg whites so that refrigeration is not needed.
Icing Bags and a variety of tips can be found at most culinary shops or craft stores, such as Michael's here in Canada.
Royal Icing can also be made from a meringue powder that can be purchased and used in place of this recipe. It is sold in a powdered form and once made does not require refrigeration. Instructions for preparing that icing is found on the packaging.

*Having made royal icing since these cookies using powdered meringue, I find that method absolutely the easiest! Check out my other Royal Icing cookie recipes for directions.