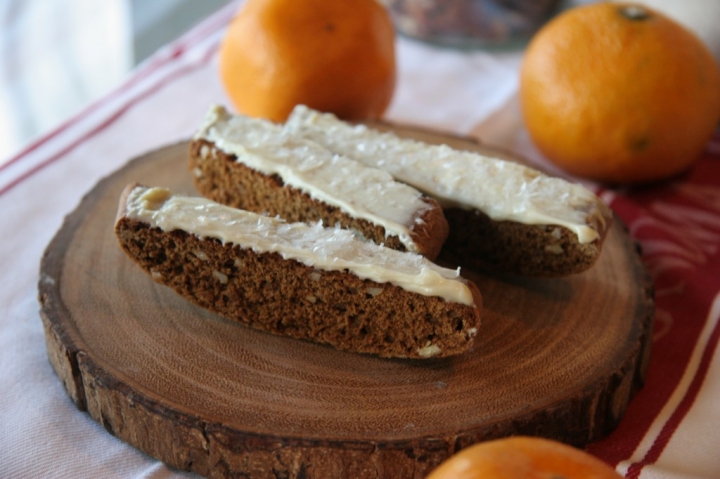 Biscotti, affectionately also known as "little nook" or cantuccini in Italy, are twice baked, sweet and fragrant little cookies, perfect for dipping into… just about anything. Make no mistake, she's not just another pretty face and would make a sturdy little companion for a cross-country ski excursion.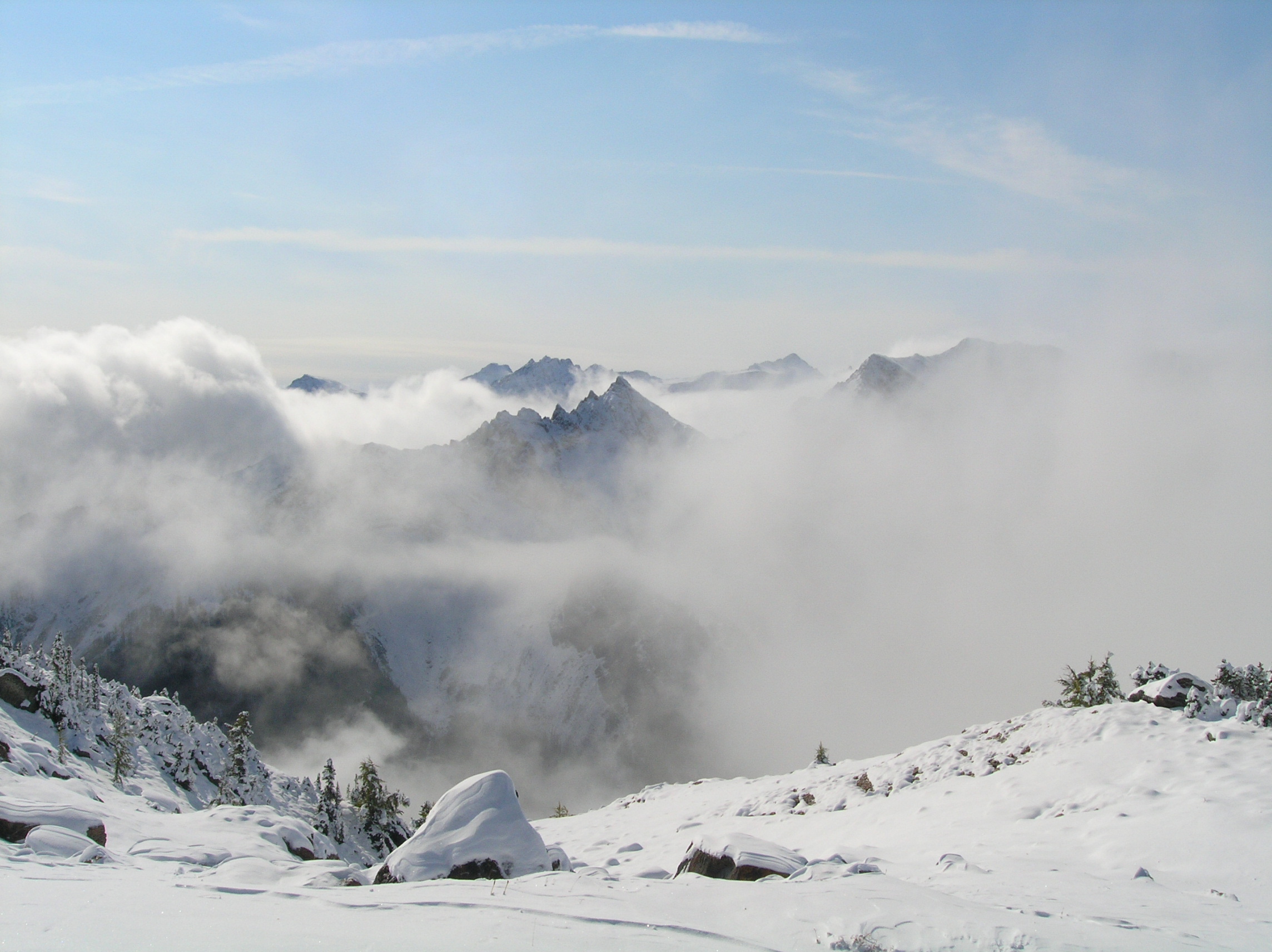 With heavy white stratus clouds icing the tops of our craggy mountains, it's only a matter of days before we can don woolen toques and mitts, chuck the skis in the truck and head out.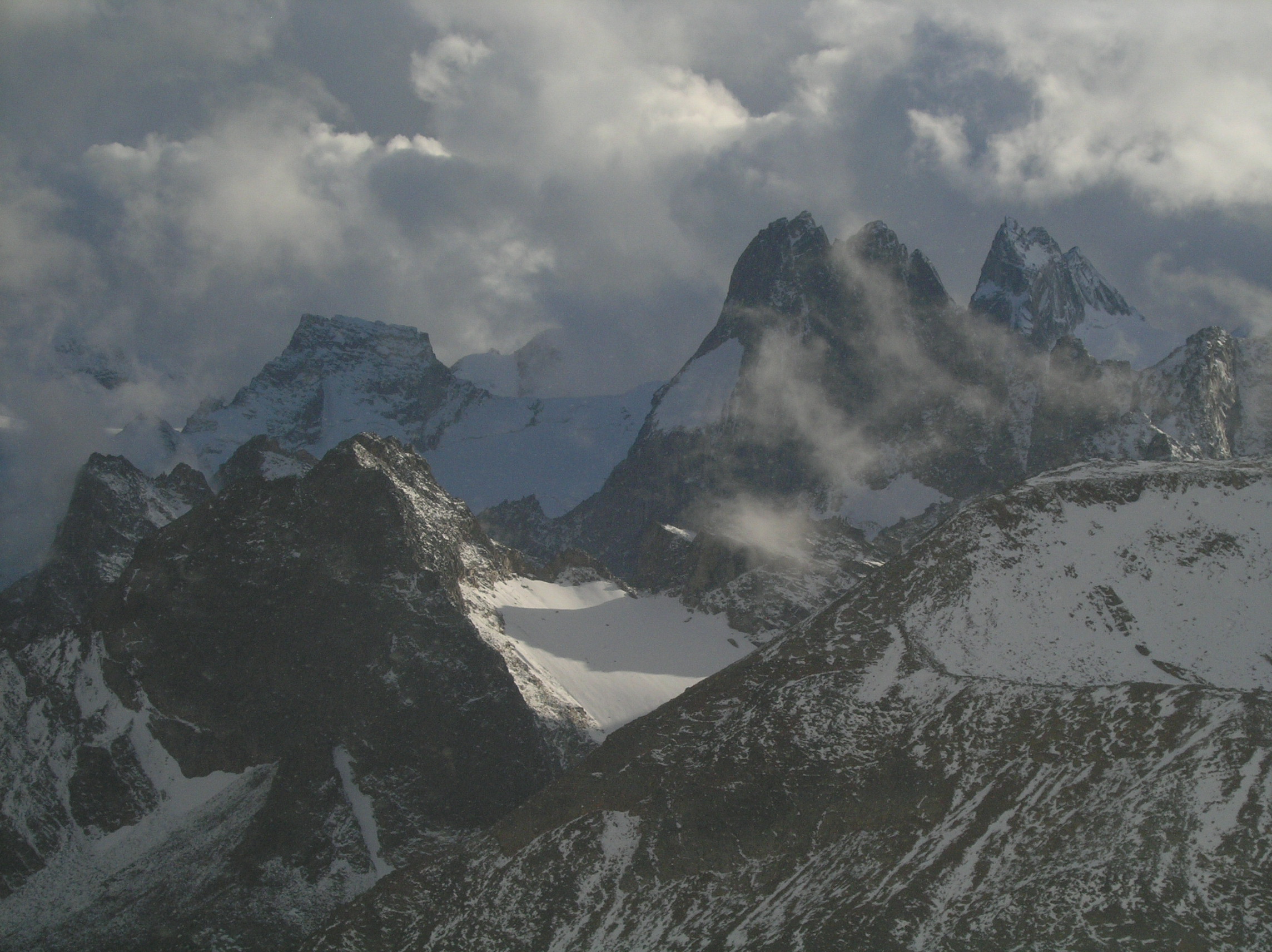 In a perfect world, the sun would be shining, the snow yielding and powdery, sinking beneath our boots as we tramp to the trailhead with our gear. Of course, hoarfrost is a must and every tree would be dressed in their finest for us.
The first few minutes might cut with the cold, but a shushing glide and kick ignites deep heat that radiates out to tingling fingers and toes. Exposed ice crusts lashes and hair and every breath is a milky swirling nimbus.
Exhausted, exhilarated there would be time for a rest, unzipping packs filled with white chocolate studded trail mix, Christmas oranges, a hot thermos lid filled with something naughty and…
Swix Gingerbread Biscotti
Sigh…
Time to snap out of it… a girl can't always be out on a mountain trail, so a latte and gingerbread biscotti from Starbucks while running errands has to suffice. They've come out with a new version this Christmas.
Most of the recipe "interpretations" online left out one important ingredient listed on the packaging… orange. My recipe is a compilation of a few.. a little bit of this recipe and a little bit of that thrown in… and the result was more satisfying and Christmasy spicy than even I could have dreamed up!
Just a heads-up, the dough was quite sticky… even after refrigerating, so a little flour worked in helped in the handling. The logs looked so pathetically cold and shivery going in, but then the oven heat worked its' magic and they puffed up with pride! A quick cooling off period, followed by slicing on the diagonal, then back into the oven they went for their final bake. Another cooling off period and they were dipped in a hot spring bath of white chocolate.
One bite and there I was… dreaming of that mountain trail again.
I dare you to eat only one…
Swix Gingerbread Biscotti
Swix Gingerbread Biscotti
Ingredients
1 1/4 cups all-purpose flour
1 cup spelt flour
1 tsp baking powder
2 tsp ground cinnamon
3/4 tsp ground ginger
1/4 tsp ground nutmeg
1/4 tsp ground allspice
1 egg, lightly beaten
2 egg whites, lightly beaten
2/3 cup brown sugar, packed
1/4 cup molasses (treacle)
2 tsp vanilla extract
zest from 1 large orange
1/2 cup pecans, chopped
Drizzle
4 oz white Callebaut chocolate
Instructions
Preheat oven to 350F.
In a mixing bowl, using the paddle attachment, beat eggs. Add brown sugar, molasses, vanilla and orange zest. Beat to mix in thoroughly.
In a large mixing bowl, mix together flour, spelt flour, baking powder, cinnamon, ginger, nutmeg and allspice. Whisk to blend.
Slowly add the flour mixture to the eggs mixture, mixing at a low speed and just until blended. Stir in pecans. Cover and refrigerate for 30 minutes.
Remove from the fridge, separate into two and form into balls.
Using your hands, shape each ball into a long rectangle about 1 1/2? x 12" (I found it easiest to form right on the silpat lined baking sheet, the dough was less likely to stick. If too sticky, add a bit of flour.)
Bake these two logs on a nonstick baking sheet or on a silpat lined sheet for about 25-30 minutes, or until firm to the touch. Remove to a wire rack and cool.
Reduce oven temperature to 300°F.
Once logs are cool enough to handle, slice with a serrated bread knife on the diagonal. (This makes the biscotti longer. If you wish to have tinier biscotti, just cut straight across.)
Lay the cookies on their side, cut side up on the cookie sheet. Bake again for about 10-15 minutes, or until lightly browned. Bake for less time for slightly softer and less dry biscotti. Lay cookies on wire cooling rack.
Once completely cooled, drizzle with melted white chocolate or brush on with a rubber spatula.
Melted Chocolate
Fill a saucepan 1/3 full of water. Bring to a simmer. Place a wide-mouthed metal bowl over top of the saucepan. Loosely chop white chocolate and place in the metal bowl. Stir until melted. Be careful, chocolate burns easily.
I thought the sprinkles looked like snowflakes…
http://justasmidgen.com/2011/11/17/swix-gingerbread-biscotti/