imaginings
anticipation
is
an alloyed blessing…
while we
envisage future events of our lives
in a series of stop-motion
images
depicting the future
in vivid hue,
emotions can entwine,
escalate
as the moment approaches…
perhaps
agitation, elation or joy…
Should the world of substance be so encumbered?
Can it measure up with our fictitious imaginings?
it could disappoint…
or be so much more…
Is it better
to temper and restrain
desires and dreams so that our hearts
might be surprised…
Should we choose
authentic, austere sensibility
or
unfettered fabrication?
Perhaps
our imaginings allow events to unfold in a safe place…
a mental dress rehearsal of sorts
for life…
for when we are to meet, perform…
or sample…
I think it's safe to let your imagination go wild in this instance…just a little bite into these soft marshmallow pillows of cherry Christmas heavenliness 🙂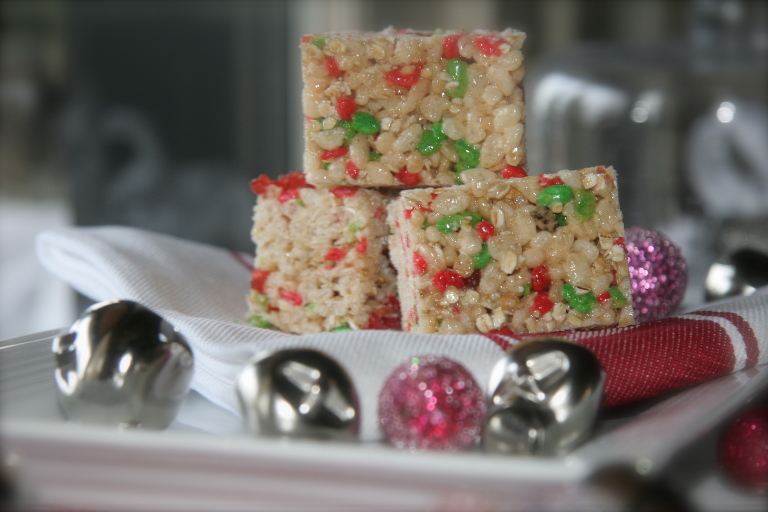 Christmas Cherry Rice Krispie Squares
Christmas Cherry Rice Krispie Squares
Ingredients
1 cup quick-cooking oats
1/4 cup butter
1 package (250g) 40 regular-sized
marshmallows
1 tsp vanilla
5 cups Christmas Rice Krispies
1 cup glazed cherries, chopped
Instructions
Preheat oven to 300 °F. (yes, 300)
Line one 9×9 baking pan with parchment paper.
Spread rolled oats on a large cookie sheet. Bake for about 10 minutes until lightly toasted but not browned.
In a large pot, melt butter over low heat.
Add marshmallows, stir constantly and melt until mixture is smooth.
Stir in vanilla.
Quickly add oatmeal, Rice Krispies, and cherries.
Press firmly into parchment lined baking pan. Let cool then cut into squares.