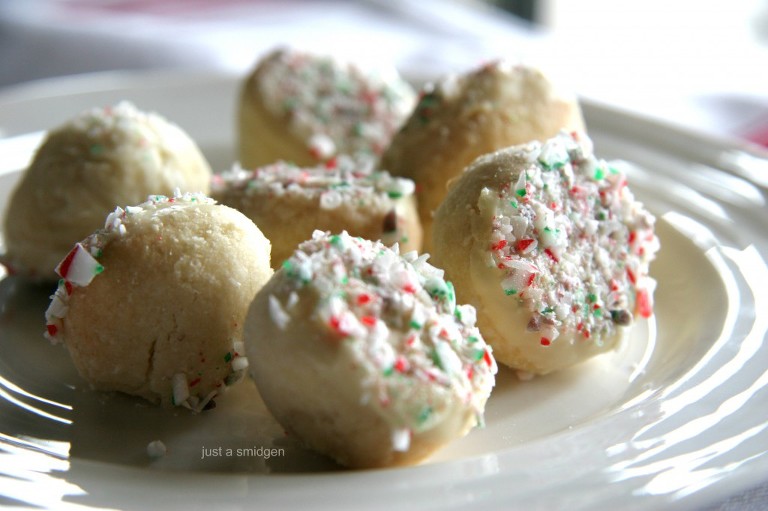 Pockets Full of Poseys
Pockets
Full of poseys
Crayons, pennies and
The Candy's Store sweets
Lullabies and hush a byes
All falling down
Together
Pockets
Filled with heat
Mittened hand warmed with love
Tucked safe inside
My Dad's pocket
As we roamed the hills
Near home
Pockets
Full of coins
As we snuggled in
After Daddy's long day's work
Stretched out beside the old
wooden stereo cabinet's
soft music
 Pockets
Stuffed with
Shy hands, sideways
Glances, giggles and nervous
Lingering smiles
Coaxed out to hold
And skate
Pockets
Of moist hands covered with
Sticky kisses from tiny sweet lips,
Then tucked in tight to save for later
So the wind couldn't
Blow you away
From me
Pockets
Full of sixpence and rye
Polly Pockets and lockets
Curls Made from sugar and spice
And cinnamon swirls
Pony tails and blankies filled
With joy
Pockets
Hide a Candy Cane
Surprise (Yay!) and an afternoon
Spent together lingering, chatting
Mixing, stirring, dipping and sprinkling
In the warmth of our kitchen
Making tiny Christmas kisses
Of love
As of late, my daughter and I are often able to while away an afternoon together… she with her cute little nose tucked into a text-book while my nose gets covered in flour. I had been inspired by cooking-spree's beautiful Mexican Wedding Cakes Cookies and decided to make the logical jump to a Melting Moments Cookie. Melting Moments are cookies that appear disguised as Mexican Wedding Cake Cookies, but they differ in both their absence of nuts and the addition of cornstarch (hence… the melting texture in your mouth).
Katie and I both thought they were awesome and loved the way they started out tasting like a shortbread but then vanished into thin air… in fact all the cookies seem to have vanished…
(keep reading… there's a second recipe today ♥ What do you think of these snowflakes? Pretty cool, eh?)
Melting Moments Recipe
Melting Moments
Ingredients
1 1/2 cups all-purpose flour
1/2 cup cornstarch (corn flour)
1/4 teaspoon salt
1/4 cup confectioner sugar
(icing sugar)
1 cup unsalted butter at room temperature
1 tsp vanilla extract
Topping
1/2 cup confectioner sugar icing)
Instructions
Preheat oven to 350°F.
In a medium bowl whisk the flour, cornstarch and salt together.
In a large bowl, beat the butter and sugar until smooth and creamy (about 2 minutes). Add the vanilla extract. Slowly mix in the flour mixture and beat just until incorporated. Cover then refrigerate the batter for an hour or two, or until dough is firm.
Using a spoon, scoop dough, roll to shape into balls then place the cookies on parchment or silpat lined baking sheets. Space cookies about 1 inch apart, being careful not to let them roll when moving to the oven.
Bake for about 10 – 14 minutes or so until the edges of the cookies barely just start to brown. Move to a wire rack set over parchment paper and let cool for about 3-5 minutes. Spoon some confectioner (icing) sugar in a fine strainer and sprinkle a dusting over the tops of the cookies.
Store in an airtight container between sheets of wax paper and they will keep a couple of weeks.
Adapted from Joy of Baking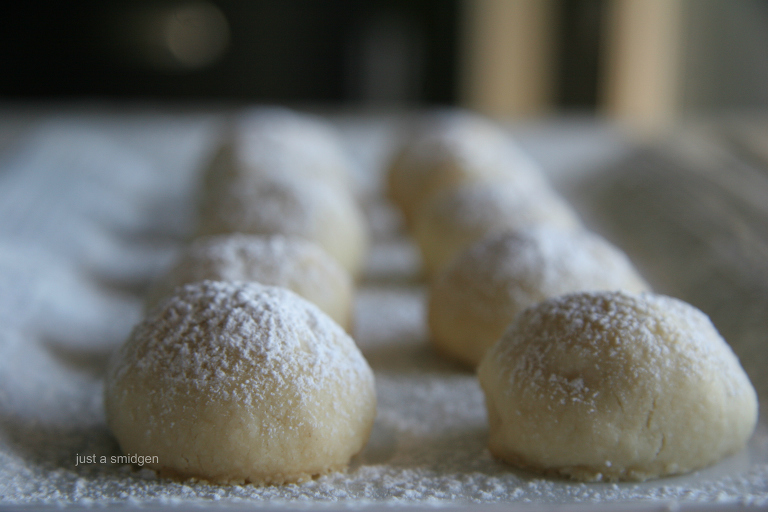 In an attempt to be creative… we discussed variables for creating a peppermint version. Some peppermint extract was added, a few crushed candy canes sprinkled over and yet they failed to have that peppermint zing one would expect. At Katie's suggestion, Bernard Callebaut white chocolate was melted in a bain marie, then each cookie's bottoms were quickly plunged into a molten chocolate bath and then quickly dipped into a mountain of crushed candy cane and… that sure did the trick!
Katie's Christmas Kisses
Katie's Christmas Kisses
Ingredients
1 1/2 cups all purpose flour
1/2 cup cornstarch (corn flour)
1/4 teaspoon salt
1/4 cup confectioner sugar
(icing sugar)
1 cup unsalted butter at room temperature
1 tsp peppermint extract
4 candy canes, crushed fine
4 ounces white chocolate, good quality
Additional icing sugar (optional)
Instructions
Preheat oven to 350°F.
In a medium bowl whisk the flour, cornstarch and salt together.
In a large bowl, beat the butter and sugar until smooth and creamy (about 2 minutes). Add the peppermint extract. Slowly mix in the flour mixture and beat just until incorporated. Cover then refrigerate the batter for an hour or two, or until dough is firm.
Using a spoon, scoop dough, roll to shape into balls then place the cookies on parchment or silpat lined baking sheets. Space cookies about 1 inch apart, being careful not to let them roll when moving to the oven.
Bake for about 10 – 14 minutes or so until the edges of the cookies barely just start to brown. Move to a wire rack set over parchment paper and let cool for about 3-5 minutes. Meanwhile, melt the chocolate in a metal pan placed over simmering water, stirring constantly. Dip the bottoms of the cookies into the chocolate and then quickly into the crushed candy cane. Lay on their "sides" until chocolate sets. Tops may be sprinkled further with a dusting of crushed candy cane or a sprinkling of icing sugar.
Store in an airtight container between sheets of wax paper or freeze.