Some mornings we wake up with, or are woken up by a nasty surprise… an ailment of some sort or other (my friend Randy likes to call it "a Malady"). Alas, this was the case for me this past Saturday morning. The flu is definitely making the rounds in our neck of the woods.  In some extreme circumstances, however, one may awaken with an acute case of…  Lamonia (rhymes with pneumonia).
Lamonia is a serious affliction often visited upon those who either work too hard or play too hard. You know you have "Lamonia" when you just want to lay in bed all day.. and moan.
Given the relative "newness" of this affliction, here are some tips to keep in mind when caring for someone stricken with a dire case of "Lamonia":
open the door quietly, being careful not to disturb the invalid's sleep
ensure lights are either off or sufficiently dimmed so as not to startle
fluff up the pillows and ensure that blankets are pulled snugly up under the chin
offer to call the invalid's place of employment or school to let them know just how bad it is and that they may not be back for a day.. possibly two
rub his/her back and say "Tut tut, you poor thing, you must feel just bloody awful… I bet you wish you hadn't… insert one of the following:  drank that last shot of tequila, smoked that cigar, stayed up all hours working on your project, sat next to that sick person on the bus, etc.
offer to provide a glass of ginger ale (bubbles stirred out) or water and a Tylenol or two
a cute little puppy or kitten to cuddle always helps
offer to play or put on a melody that will sooth the nerves
and bring them a warm bowl of soup ♥
One of my favorite cookbooks is Laura Calder's "French Taste"… her recipes are simple, fresh creations and I just love her sensibility..
"I am realistic about my body: I have a curvy one and I figure there's no point trying to force it to be anything else. 'Normal' may not sell bikinis, but I can tell you one great thing about it: 'normal' is relatively easy to maintain."

and she goes on to say…
"… we should buy natural ingredients as much as possible, cook from scratch, never eat alone (that could get tricky), only eating and drinking is allowed at the table, eat sitting down (would laying down in bed be all right on occasion?), don't lay a guilt trip on your invalid appetite and…
relish every bite!"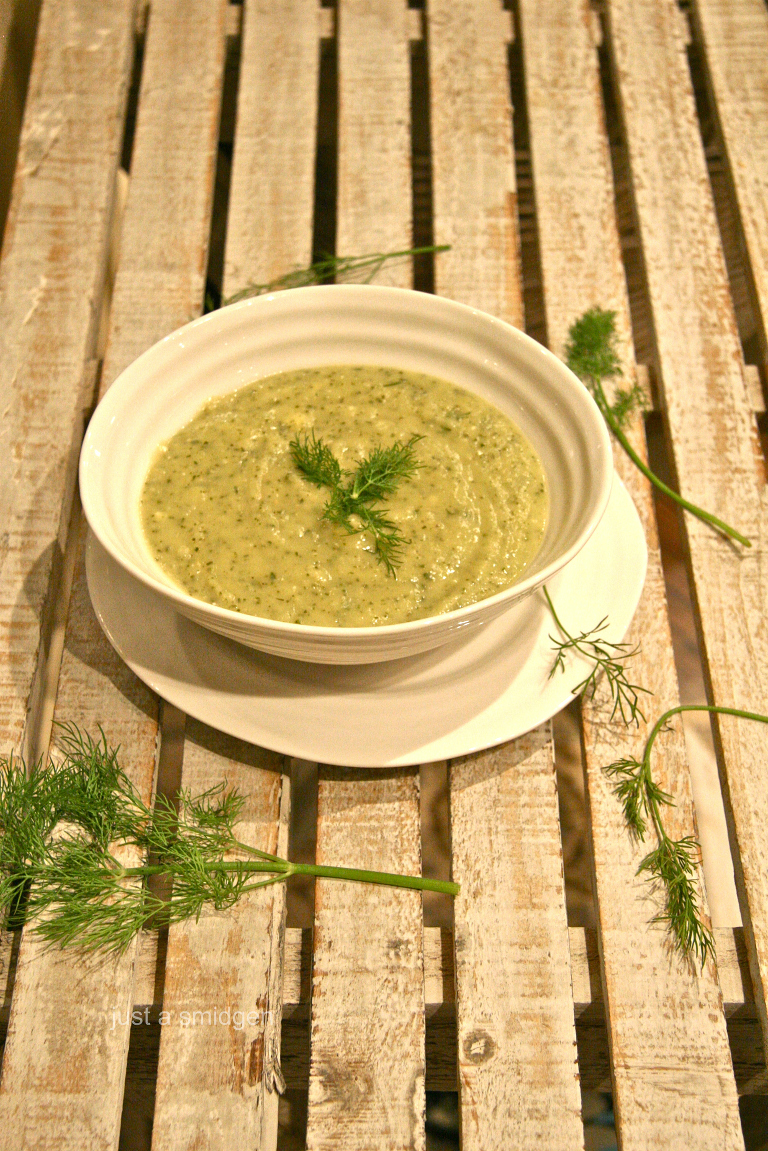 While none of this has absolutely anything whatsoever to do with treating a person stricken with Lamonia, I do belief this soup might be the perfect antidote..  Just the other day I visited one of my favorite bloggers, Chgo John's "From the Bartolini Kitchens" and found another scrumptious recipe for being nursed back to health by his mother's Quadretti Pasta Soup. What I would have done for a bowl of that soup on Saturday!
I love Laura's soup recipe, both for its' delicious flavor, ease of preparation, its' healthful ingredients and most of all, for its' delightful name… "Vâche Qui Rit Soup" (in French) which means "Laughing Cow" (duh, in English).
It is a lovely green (much like the color of the invalid's face) zucchini soup that will "warm the cockles of your heart" (as my mom always used to say). I'm not sure it's the cockles that need warming… but in any event, a warm bowl of soup never hurt anyone… and just might be the cure for a bad case of Lamonia…

This recipe has been adapted to include some white cannellini beans (white kidney beans), the extra protein will make it a more complete meal.
Vâche Qui Rit Soup
Laughing Cow Soup

Laughing Cow Soup or Vâche Qui Rit Soup
Ingredients
2 small onions, diced
6 medium sized zucchini, chopped
19 oz can cannellini or white kidney beans, rinsed and drained
900 ml chicken stock
kosher salt and cracked black pepper to taste
6 triangles La Vâche Qui Rit ( Laughing Cow Cheese)
or 6 tbsp Boursin or Cream Cheese
pinch cumin (optional) (I didn't use)
A small handful of herbs (mint, chervil or dill)
(I used dill)
Instructions
Heat a small amount of olive oil in a stock pot then add the onion and zucchini. Heat on medium-low until onions and zucchini are softened. Cover with chicken stock, add beans and simmer for about 15 minutes, until thoroughly cooked and softened.
Chop cheese triangles and toss in, simmer to allow cheese to melt. Puree using an immersion blender or blend in batches once the soup has slightly cooled (fill blender only 1/3 full to blend each time).
Gently reheat and add herbs to taste. Garnish with herbs to serve.