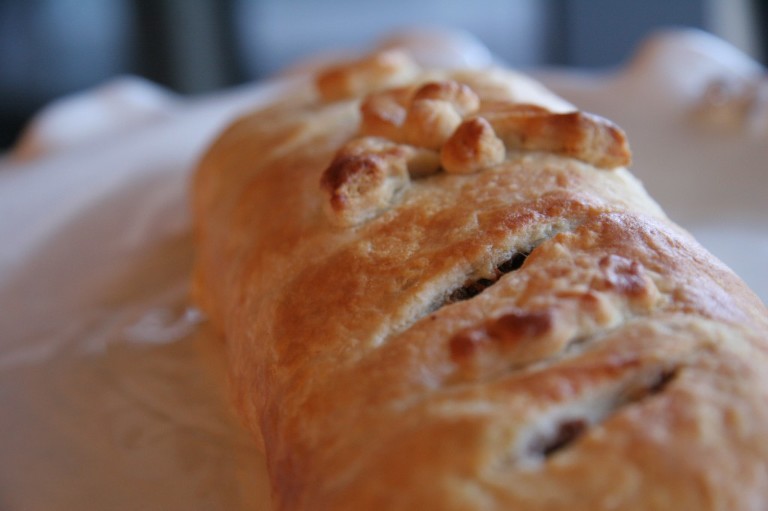 I have always had a passion for anything French… it began in 4th Grade with the formal introduction of M. et Mme Patapouf and Monsieur Thibeault. Oh, how I adored "la langue française" and worked feverishly to decode what was written. I fervently, no, painstakingly studied numbers to 20 and lists of nouns and verbs.
"Tragiquement", it was sympathetically revealed by my consoling teacher, my marks just did not align with my passion and it was (oh so subtly) hinted at that I just didn't have "the knack". The following semester, my French option was usurped by Home Economics.. baking and sewing.
In another instance, years later, I would inquire of my accomplished lute-playing, Professor of Music friend the feasibility of my taking up a stringed instrument. "C'est absurde," I was told, "Stringed instrument instruction must begin when one is 4 years old." And so, "naïvement confiants", my musical aspirations and longings were shelved indefinitely.
It was then I determined, "If my grandfather painted, even took art classes with Eli Bornstein (see his painting below)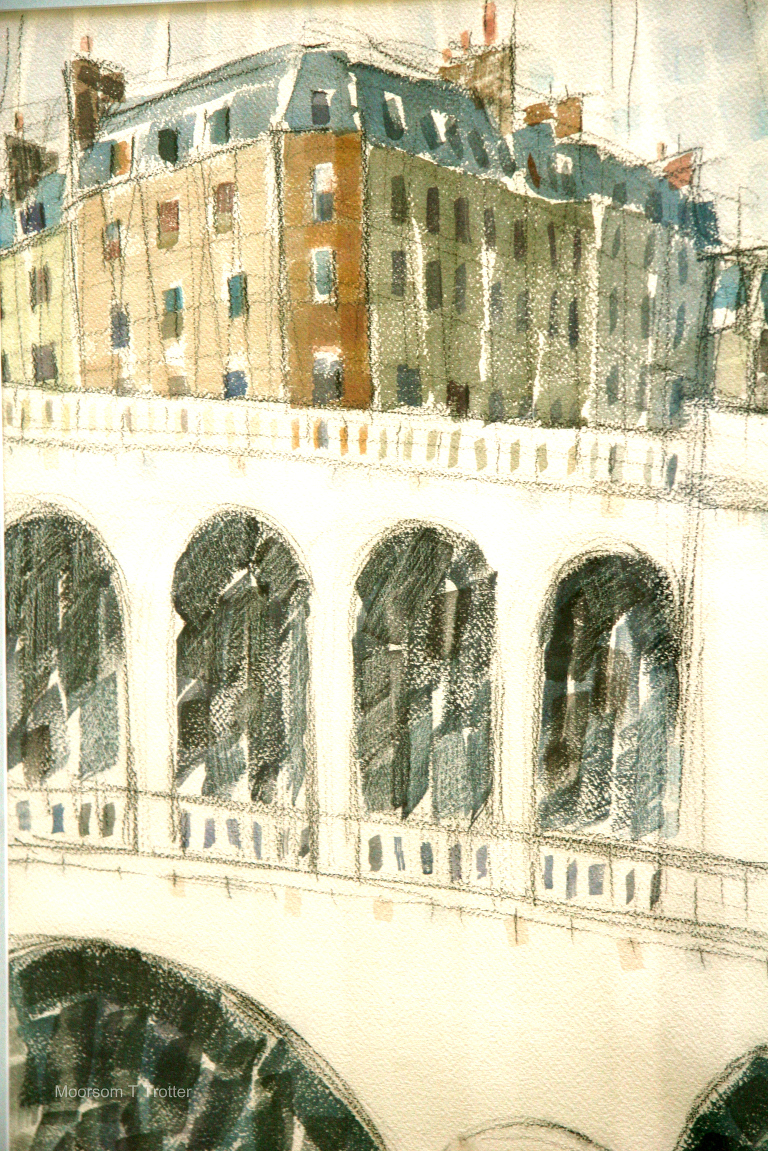 and my mother paints glorious landscapes laden with flowers..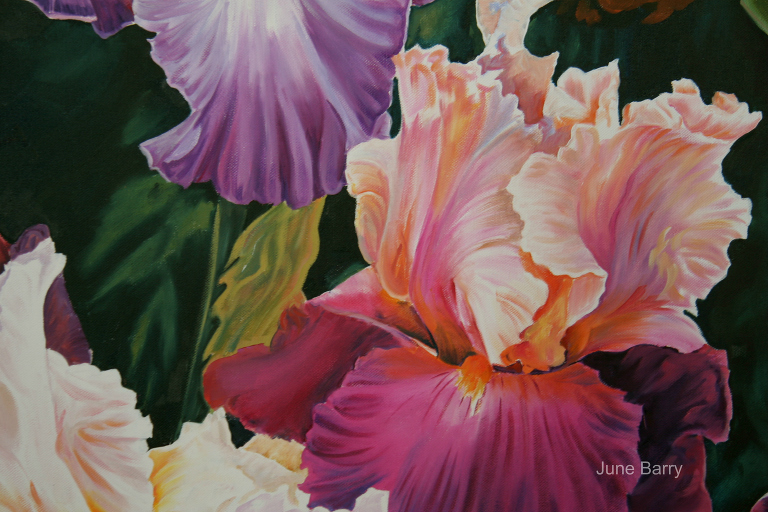 therefore," I deduced, "I must be… a painter!" For a few years I bathed in oil rich canvases, watercolored papers and sketches…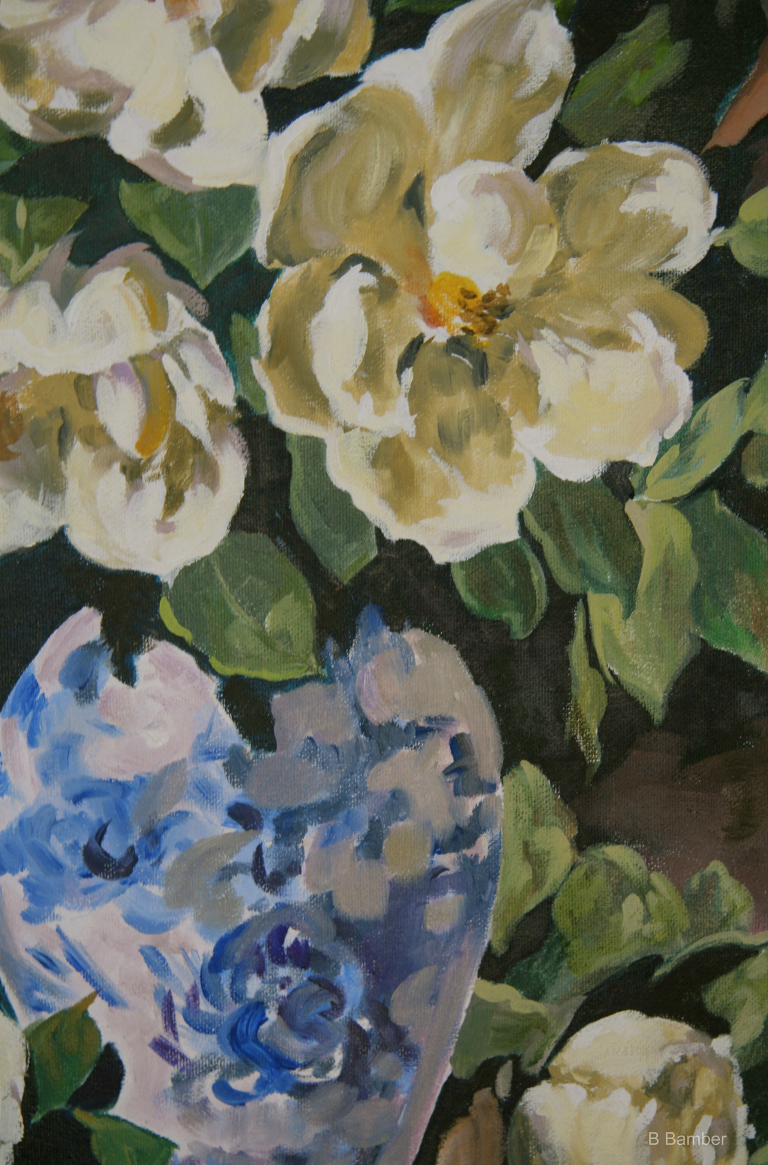 And yet…
music quietly abided in me..waiting…  a beautifully dressed wall-flower standing in the wings just longing to be asked to dance.
Until one day, in the depths of winter, I began to muse…
"Must one be born with a "knack" for things… an innate talent, gifted from our parents?"
"Absurdité", I thought, and decided to just go for it and throw caution to the wind…
Within a day I had rented a cello, found an instructor and booked my first lesson… everyone thought I had gone mad. After four (or is it five) years of bliss… my cello and I have been "les amoureux inséparables". It would be remiss not to acknowledge that my first instructor, Bruce Radmacher gave me hope and my second, Kirill Kalmykov, won't allow me to give up hope. I am so fortunate to have found these inspirational teachers…
Playing my cello resonates for me… it is "mon coeur".
Perhaps I was a musician in another life…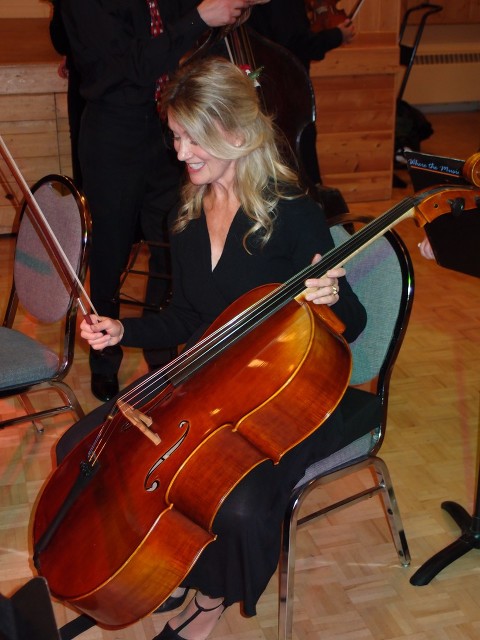 What do I think now?  That if one has the passion and desire, and is willing to work 'til the ends of the earth,  you must believe… that anything is possible…
I occasionally wonder.. what if I had kept my French language option? Well, that's a door I haven't opened… yet! I still dabble a bit in "French"… by traveling to Paris, then driving through the Provence region, sipping French wines and, of course, there is "la cuisine française"..
Today, I have for you my own "twist" on Laura Calder's lovely dish "Tourtière with a Twist". Canada, specifically Quebec, has the bragging rights for this "pâté à la viande" or "meat pie". Imagine layers of fluffy butter pastry replete with a stuffing of braised meats seasoned with savory, sage, cinnamon and thyme.
Usually constructed as a pie, Laura has wrapped her filling in a pretty pastry log… and I'm going with her inspired version. It's so much prettier to serve and perfect for Christmas. It's also wildly popular at New Year's… but I say…"qui se soucie".. make it whenever you wish!
p.s. I also swore I'd never give up trying to making pie crust… and today… success!
Tourtière, avec l'Amour
Ingredients
1 pound (450g) ground pork
1/2 pound (225g) extra-lean ground beef
1 large onion, diced
2 cloves garlic, chopped
2 tsp savory
2 pinches ground cloves (optional)
1/2 tsp cinnamon
1/2 tsp sage
1/2 tsp thyme
salt and pepper
6 tablespoons (50g) spelt (or regular) bread crumbs
1 recipe savory tart dough (below)
milk, for brushing
Instructions
Make your pastry dough (see recipe below) ahead and refrigerate.
In a large bowl, mix thoroughly the pork, beef, onion, and just the seasonings.
Pour 1/2 cup of water into a large saute pan. Heat until water just begins to boil then add the meat mixture. Cover and continue to simmer until the meat is cooked. Lift the lid occasionally to break apart any clumps. Uncover and continue to cook until all liquid is absorbed. This should take about 20 minutes.
Once the meat is cooked, remove it from the heat and stir in the spelt bread crumbs. Check the seasonings and allow to cool completely.
Heat the oven to 400°F.
Lightly flour your surface then roll out one of your pastry disks. Gently shape into a rectangle about 1/8" thick, turning and flouring the surface as you go so it doesn't stick.
Spoon half of the meat mixture down the center, heaping in the middle and leaving about 1" at the ends. Tuck in the ends, then fold up the center and press to stick together. Where the corners are thick with pastry, using a sharp knife or scissors, cut off excess pastry. Make sure everything is pinched closed and flip over onto a baking sheet lined with silpat or parchment paper.
Using excess pastry, roll and cut out shapes as desired. Cut slashes into the top wth a sharp knife.
Repeat with remaining pastry to make a second Tourtiere log.
Brush the tops with milk to ensure a golden crust.
Bake until the pastry is crispy and lightly browned. This should take approximately 25 minutes.
Slice and serve warm or at room temperature.
Galette Pastry
This is from Laura Calder's book, "French Taste". It is a pastry recommended for use on any tart that is baked on a baking sheet, without using a tart mold.
Galette Pastry
Ingredients
2 1/4 cups flour
1/2 tsp salt
1 cup cold, unsalted butter, cut into pieces
1/3 cup ice-cold water, plus extra as needed
Instructions
Put the flour and salt in a medium-sized bowl. Whisk to blend.
Using a knife, cut butter into the flour mixture. Using your fingers, gently and quickly pinch the flour to make a crumb mixture. I finished using a pastry cutter, briskly cutting until a crumb mixture forms. Make a well in the center of this mixture.
Quickly pour the water into the well, quickly blend together using your fingers to create a dough that just sticks together. Because flour types vary, I had to sprinkle added ice water to get mine to come together. Do not over mix as this will toughen your pie-crust.
Separate into two and form each into a disk shape. Wrap snugly with plastic wrap and refrigerate. Chill for at least 15 minutes before rolling out.