'Twas the night before Christmas and all through the house, not a creature was stirring… and you can be darn sure I wasn't!  I always relish the exhausted descent onto my cushy bed (I know, it seems like I'm there a lot these days… grin)and then lay there and revel in the highlights of Christmas eve:
My son's crazy expression every time I tried to take a photo of him (do you think it was because I've had my camera pointed at him 24/7 since he came home?)
My mom's "cryptic" story at dinner… filled with "you knows" and "that machine" and "those guys"… and I had to laugh because I saw myself in her. Funnier yet, the kids knew exactly which news story she was referring too… ahhh, those sharp young minds!
Katie teaching my mom how to pose for photos! Arm on hips, shoulders turned…
Skyping with my brother Rich in Japan then placing the camera in the living room so he could watch us "virtually" unwrap the presents… how I wish he and Rie were actually with us.
My Dad the ever masterful chef alongside my mom in the kitchen.
Marie-Claire and I reflecting on our first Christmas with Nick and Katie and how tiny they were in their little onesies… now we have big families with full-grown children… How did that happen so fast?
My beautiful niece, Nicole, Matt and their pretty little  Annie.. and watching her fall asleep curled on her side on her makeshift bed in the kitchen.
How much baby Julia has grown, just in the last month and how her smile could light up the darkest day in winter… and does
My brother-in-law George… rushing for a trash bag to scoop up the wrapping paper before it could hit the floor, exactly like his brother (my husband) Dave (Ahhh, so it's a family trait, then…). Paula saying, "There's a rule in our house, if you can't find it George threw it out."
How the person that adamantly specified that she not be given Christmas presents this year, was the one who was most delighted with her gifts… (Nanna!)
I recall looking around the room and wishing that I could freeze time, that I could keep everyone here, together.. safe, happy, healthy…
And I resist the urge to lock my son in his room so he can't leave again… to tuck Katie in so tight that the sheets hold her there and nothing could ever harm her…
How fortunate I am to love and be loved by so many, for no particular reason other than because we are family…
Christmas always make me feel a touch of melancholy… I think it's because I look around and am astonished to think..  "What in the world did I ever do to deserve to have these wonderful people in my life?" And I remember those that were once with us… grandparents, friends…  and especially Georgie…
"What do I want for Christmas?" you might ask.  Well.. this moment, right here, right now… is my Christmas gift, this year, every year…
And in the morning I get to wake up, put the coffee on, put the "Christmas Morning Wife Saver" in the oven and cut up fruit for the fruit salad… another simple tradition.
Then I think about the incredible number of hours and the preparation that goes on world-wide just for this one day and how it's over in a camera flash and the crush of wrapping paper.   Then I think…
The world could be completely transformed if every single moment of this human energy and intent was directed towards changing the world for the better…
What if we all came together with one common goal?  That all we need to do would be to calculate the hours spent in the mall, the hours baking and blogging, the time spent wrapping and decorating and then we could choose to dedicate these same number of hours to that one cause..
our world would be irrevocably changed… 
But such are dreams of one little blogger, typing away in my chilly little corner of Canada…
So, instead,  I guess it's time to pour the coffee and slice up the Wife Saver… and wake up my children… and give hugs all round… how lucky am I?
To print a copy, click here: Christmas Morning Wife Saver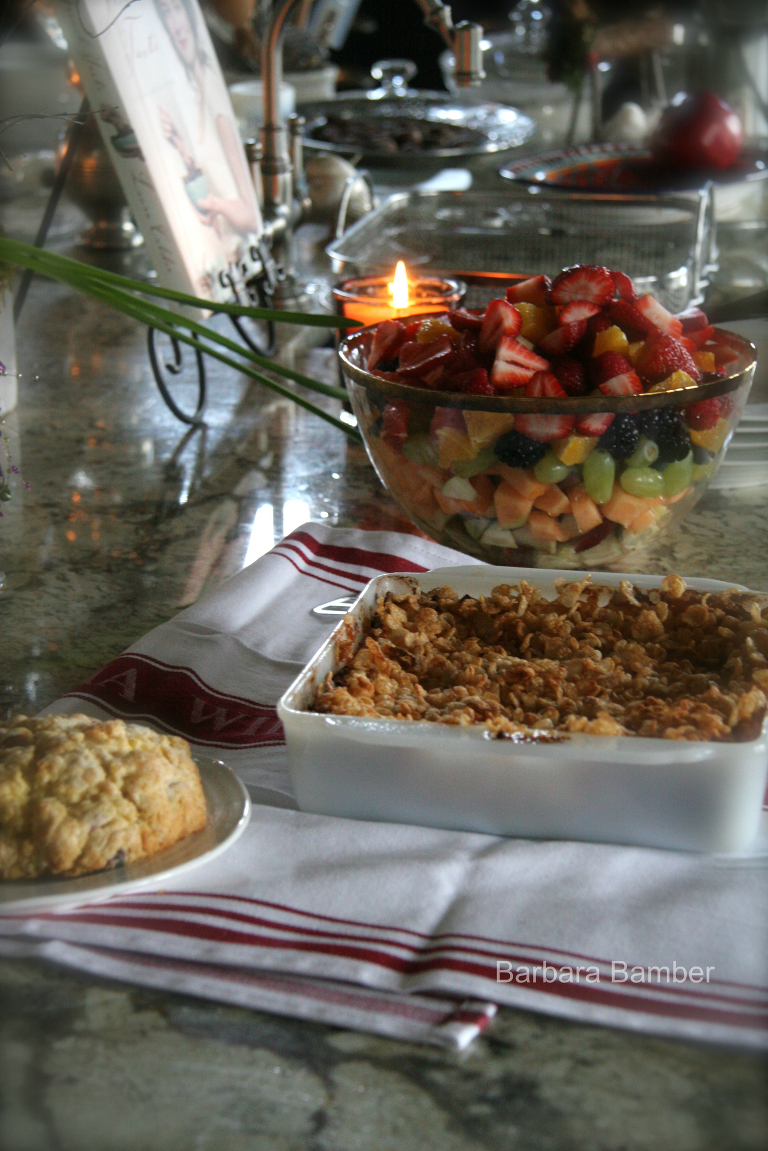 Christmas Morning Wife Saver
Christmas Wife Saver
Ingredients
8 slices white bread, crusts?removed
4 large or 8 small slices Canadian
back bacon or? ham
4 large or 8 small slices sharp
cheddar cheese
3 eggs
1/4 tsp pepper
1/2 dry mustard
1/8 cup minced onion
1/8 cup finely chopped red pepper
1 tsp. Worcestershire sauce
1 1/2 cups milk
1/4 cup butter
Special K or crushed Corn Flakes
Instructions
Set 4 pieces of bread into a 9? x 9" buttered, glass baking dish. Cover bread with slices of back bacon (about 4 large). Lay 4 slices of cheddar cheese on top of bacon and then cover with remaining slices of bread to make it like a sandwich.
In a bowl, beat eggs and pepper. To the egg mixture add dry mustard, onion, green pepper, Worcestershire sauce, and milk. Pour over the sandwiches, cover with plastic wrap and let stand in fridge overnight.
In morning, preheat oven to 350 F.
Melt butter and pour over top. Cover top completely with Special K or crushed Corn Flakes.
Bake, uncovered, for 1 hour.
Let sit 10 minutes before serving.
Serve this with fresh fruit and hot cinnamon rolls.
By Best of Bridge