un·der·stud·y/ˈəndərˌstədē/
Noun:

(in the theater) A person who learns another's role in order to be able to act as a replacement at short notice.

Verb:

Learn (a role) or the role played by (an actor): "he had to understudy Prospero".
some wish to be a
★
but i am content to be…
the understudy
for aren't we are all "understudies" in life….
not for the purpose of replacement
but
to learn a new part
something just out of reach…
and so we grow
we understudy with our partners
it's a constant dance of almost knowing
my children are my understudies
they study my every move
i understudy in music
surrounded by talent
and my friends…
(smile)
i am surrounded by a beautiful circle of friends
that i
"study under"
but first…i was my father's understudy
when it came time to fix or build and learn
i was my mother's understudy, in the garden and the kitchen
and in art
sometimes the role of the understudy is challenging
because there is so much aspiration..
so much inspiration
that the dream seems impossible
so i am content just to begin
with a cup of tea
made from leaves and a slice of lemon
paired with a recipe
from a new friend.. Sweet Pea…
for a delicate, nutty orange-spice banana bread
and a wee little
sketchbook, brush and box
i take one stroke of burnt umber
… and that's all the courage
needed to begin
who knows.. one day
who might become our understudy?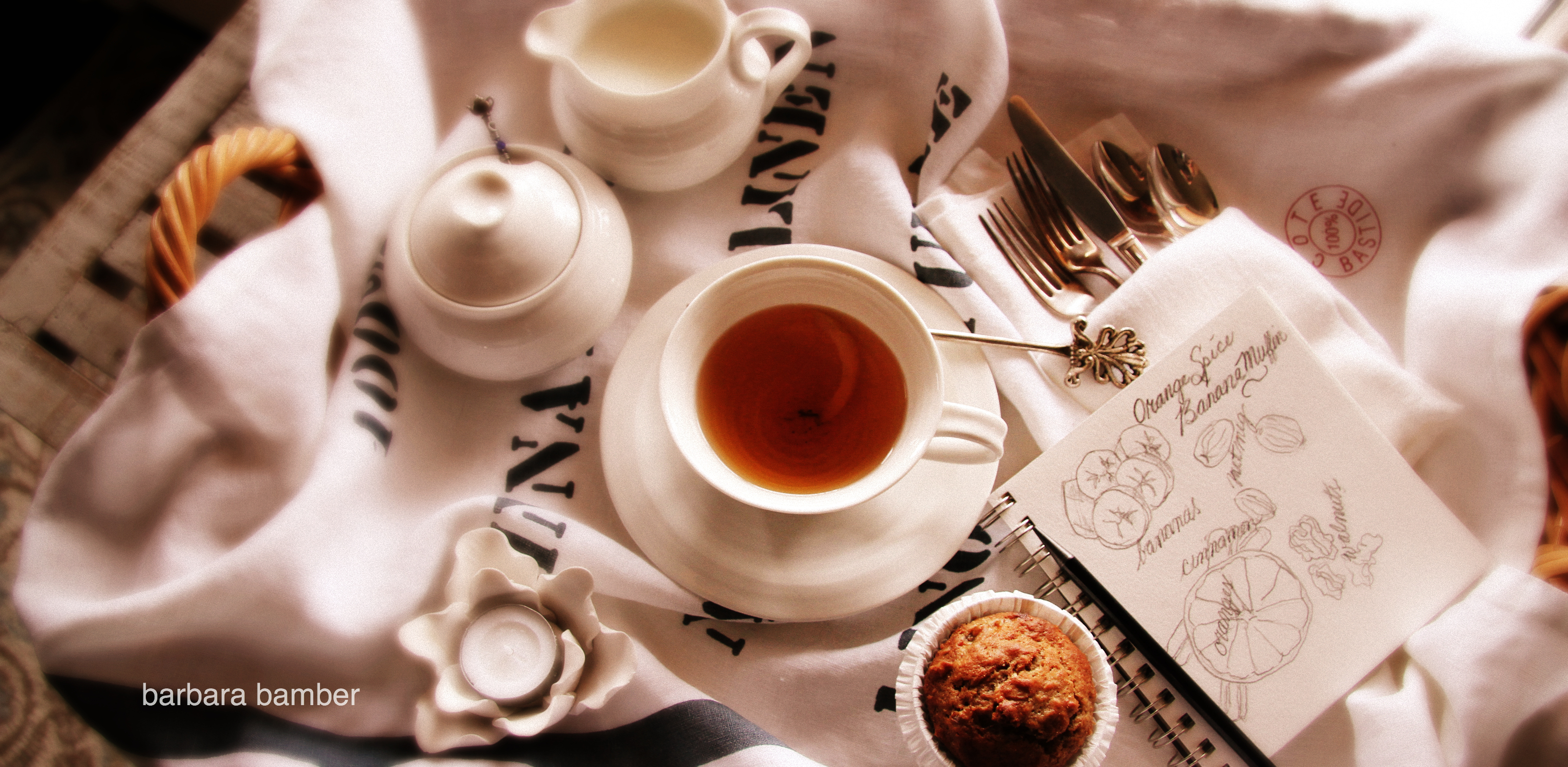 These crunchy, fragrant and not too sweet muffins started out as an Orange-Spice Banana Bread on Christina's blog. If you haven't visited the lovely 
Sweet Pea's Kitchen
 I suggest you pop in for a visit.. you'll be impressed with her extensive recipe list… amazing… just like these muffins…
Understudied Orange-Spice Banana Muffins 
Ingredients
2 cups all-purpose flour
3/4 cup sugar
3/4 tsp baking soda
1/2 tsp salt
1 1/4 cups walnuts, toasted and chopped
1 tsp ground cinnamon
1/4 tsp fresh ground nutmeg
2 tbsp orange zest
3 ripe bananas, mashed
1/4 cup plain yogurt
2 large eggs, lightly beaten
6 tbsp unsalted butter, melted
1 tsp vanilla extract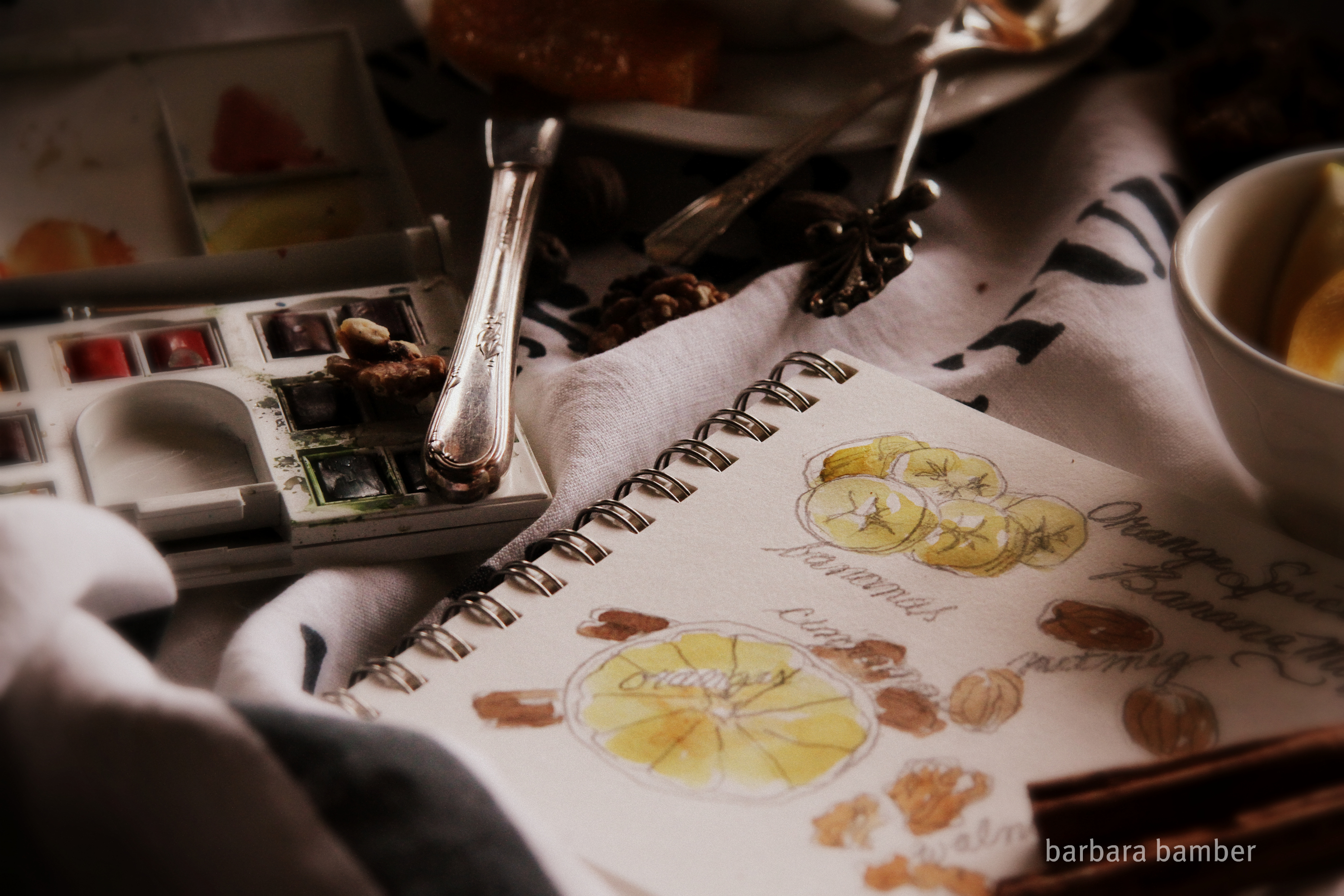 Directions
Heat oven to 350 F.
In a large mixing bowl, sift together the flour, sugar, baking soda, salt, cinnamon, nutmeg and orange zest. Stir in walnuts to coat them in the flour mixture.
In a medium bowl, stir together the bananas, yogurt, beaten eggs, cooled butter and vanilla extract.
Working gently, fold the banana mixture into the dry ingredients, just until completely mixed. The batter will be very thick and lumpy.
Scoop batter into prepared muffin tins (silpat or paper lined). It will make 12-15 muffins.
Bake for approximately 10-15 minutes, until muffins are golden brown and baked through the center.
To print a copy, click here: Understudied Orange-Spice Banana Muffins