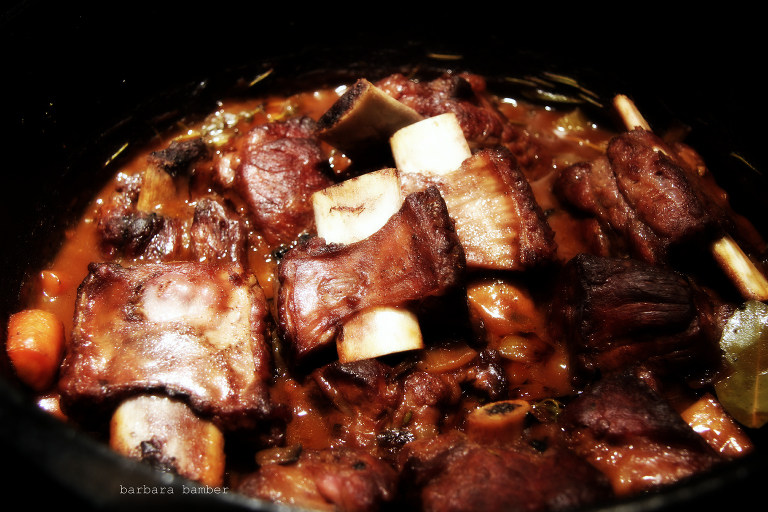 ♥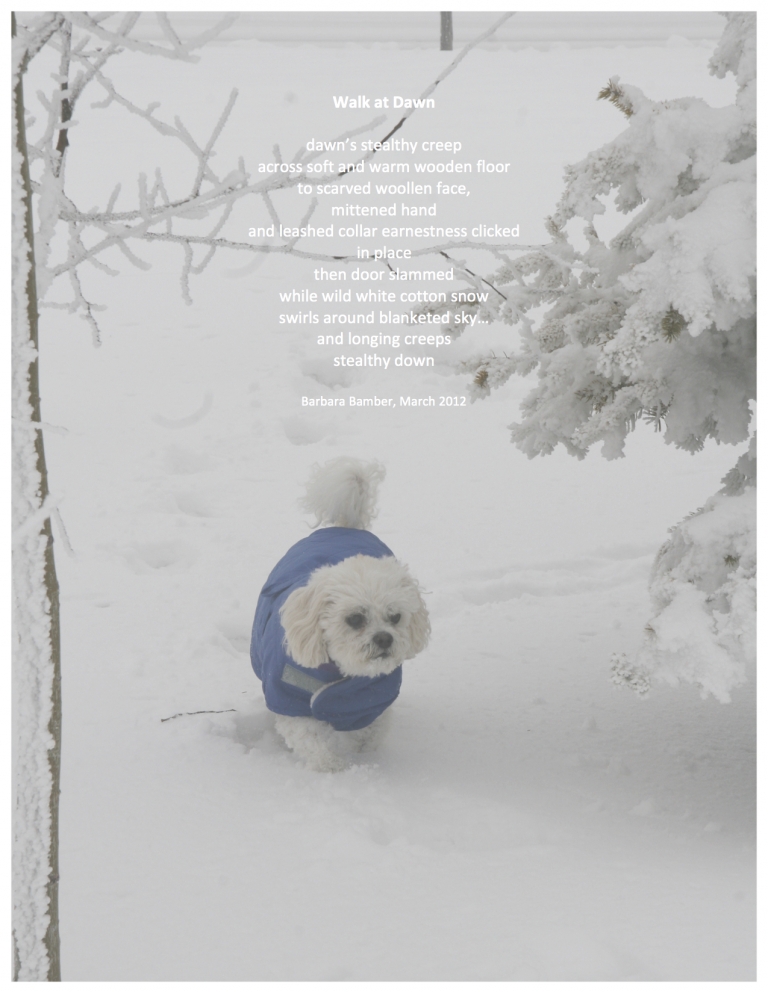 ♥
A day like this calls for comfort food…
perhaps a Bartolini Bone-In Braised Beef Short Rib recipe.
There couldn't be a better recipe than this one…
Searing sides of the short ribs then saute the veggies, deglaze, add fresh herbs to season…
Tucked into the oven… while tucking into a Super-Tuscan…
(I dare you to say that one fast!)
Castello di Romitorio, Romito di Romitorio Sant'Antimo Rosso 2004
♥
Here are the ingredients… but you'll have to head over to see John at the Bartolini Kitchens in Chicago… to get the detailed, step-by-step instructions…
and his wickedly good Horseradish Sauce Recipe.
I think you should make one and a half times the recipe so you have plenty of left-overs,
in case it's still snowing tomorrow.
♥
Bartolini's Bone-In Braised Beef Short Ribs
Borrowing Bartolini's Bone~In Braised Beef Short Ribs
Ingredients
3 – 4 lbs beef short ribs — 6 to 8 rib pieces
2 tbsp olive oil|
1 large onion, roughly chopped
2 carrots, roughly chopped
2 celery stalks, roughly chopped
3 cloves garlic, smashed
3 tbsp all-purpose flour
1½ cups red wine
1½ cups low-sodium beef broth
¾ cup balsamic vinegar
3 tbsp tomato paste
3 or 4 fresh thyme stems
2 fresh rosemary stems
1 bay leaf
salt & pepper, to taste
Instructions
Pre-heat oven to 325?F (160?C).
Heat oil in a Dutch oven or heavy-bottomed pot with a lid over med-high heat.
Meanwhile, use paper towels to pat dry the short ribs, season liberally with salt & pepper, and place into the now hot oil. DO NOT CROWD. You will probably need to brown them in 2 batches. Once the meat has been placed into the pot, do not disturb for about 3 minutes. Check one to see if it has browned. If so, turn each piece to brown another side, If not, continue cooking for another 2 minutes before checking again.
Brown all sides of each rib before removing them to a platter and repeating the process with the rest of the ribs.
Pour off excess grease, leaving 3 tbsp in the pot. Add the celery, carrots, and onion to the pot and begin sautéing. Season with salt & pepper.
When the onion is translucent and the vegetables have softened, add the garlic and continue sautéing for about a minute.
Add the flour to the pot, stir, and cook for two minutes.
Use the red wine to deglaze the pot. Once finished, add the balsamic, beef stock and tomato paste. Season with salt and pepper and stir well.
Add the thyme, rosemary, and bay leaves. Return the ribs to the pot, bring to a boil, cover, and place in pre-heated oven.
Continue to cook for 2½ to 3 hours or until meat is fork tender and falling off of the bones. Carefully remove the ribs to a platter and cover with foil to keep warm.
Pour the braising liquid through a strainer and place resultant liquid into a grease separator. Wait a few minutes to allow the grease to rise and then pour off the sauce.
Depending upon your preference, you can
Serve the sauce as is.
Place the sauce into a small pan so that it can be further reduced and thickened.
Add more wine or beef broth and then reduce.
No matter the choice, be sure to taste the sauce to see if additional seasoning is needed.
The sauce may be used to cover the ribs before serving or left on the side.
Serve immediately with mashed potatoes, buttered broad noodles, or polenta, as pictured.
Horseradish Sauce
Combine equal amounts of plain yogurt (Greek pref.) and sour cream. Add horseradish to taste, some brown, whole grain or Dijon mustard, a dash or two of Worcestershire Sauce, and salt & pepper to taste. Mix well and refrigerate until needed. Be sure to make extra for the cole slaw.