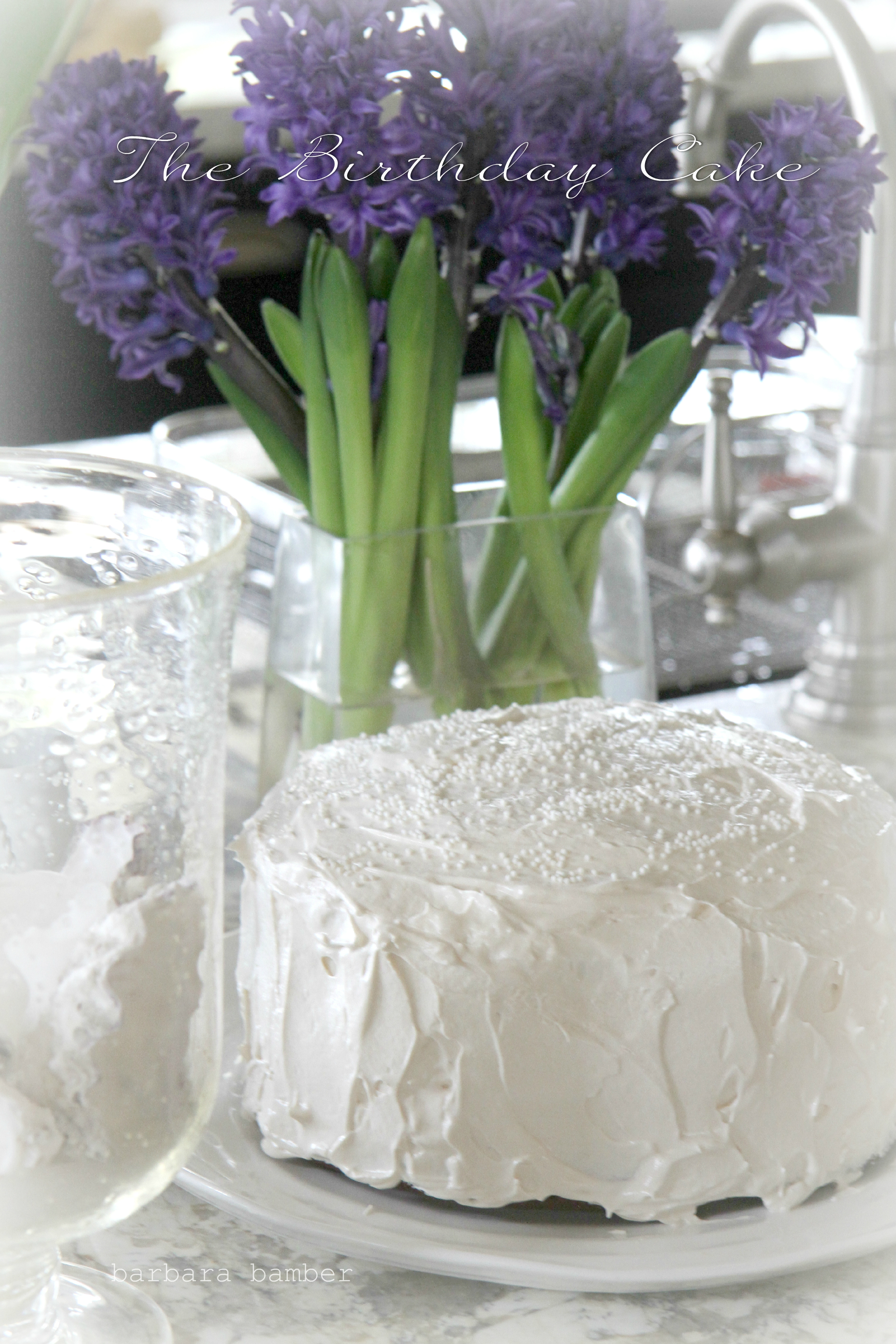 ♥
The cotton apron slips with comforting familiarity over her flaxen hair
and she firmly ties the strings in place.
Niggling doubts eddy through her mind as
she reaches down and tenderly lifts out her chipped mixing bowl.
Methodically, the golden butter is measured, scraped
and scooped in.
Followed by white sand sugar that she sweeps up, spills
and then levels.
It spills… along with every memory and hope
and dream that she has ever carefully measured into this recipe.
She draws in a deep breath, grasps the worn wooden spoon
and begins to slowly beat..
Every turn round the bowl, the rhythmic
thrum of her own heart.
She pauses…
and pushes back earnest wisps of her hair that have fallen,
hindering her gaze.
Then resolutely she cracks three sharp eggs but
their slippery contents elude her, tumbling down.
More beating of heart with spoon follows… and she frowns.
The soft, troweled flour bowls are laced with bitter cocoa
and the 
sharp bite of vanilla suffuses the butter.
"Will the eggs and salt be enough to leaven the cake this time?"
she wonders.
Instinctively, intuitively, she reaches for a thick, tall glass of creamy, sweet milk
and pours it in…
and there is a transformation, as it blends betwixt butter and chalky flour.
"Will it be enough to temper this cake?"
…and she smiles to herself as she imagines it could.
With final tender folds of the cake batter, the ingredients begin to meld…
creating something altogether new.
A single muted tear of grace escapes… between lash and cheek it falls
adding a flavor unlike any other.
It will be that "something else"
they will ask her about when they take the first bite of her cake.
♥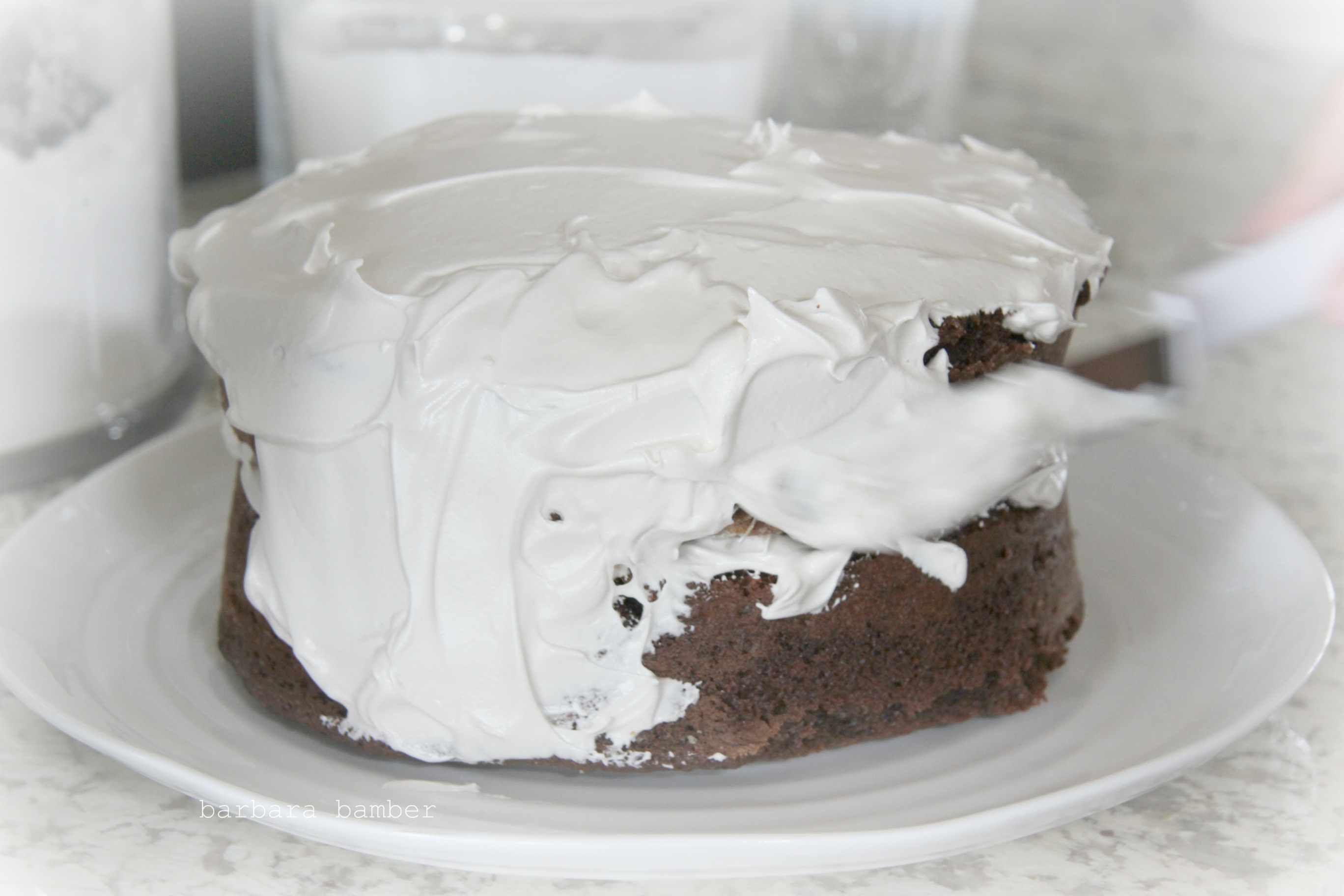 A version of this cake has been in our family since my own mom's high chair days of sticky Birthday Cake-Face. Short on time, we found a quick chocolate cake to get things going and then whipped up our family's traditional icing.. I'm sure it has a "technical" name.. we just call it "Sea Foam Icing". This is "The Birthday Cake" and we usually hide foil-wrapped coins in the middle. This cake is always made with love to celebrate the birth of someone very special in our lives..

The Birthday Cake
Ingredients
1 cup margarine, softened
1 3/4 cup white sugar
3 eggs
1 1/2 tsp vanilla extract
2 1/2 cups all-purpose flour
6 tablespoons unsweetened cocoa powder
1 1/2 tsp baking soda
1 tsp salt
1 1/2 cups whole milk
Directions
Preheat oven to 350° F. Grease two 9″ round cake pans. Line with wax paper and grease and flour the pans.
Sift together flour, cocoa, baking soda, and salt in a medium bowl.
In a large mixing bowl fitted with a paddle, cream together the margarine and sugar until light yellow and fluffy. Beat in the eggs, one at a time. Beat in the vanilla.
Beat in the flour mixture, alternating with the milk, mix just until incorporated.
Pour batter evenly into the two prepared cake pans.
Bake in the oven for 40-45 minutes or until a skewer inserted in the center comes out clean. Allow to cool somewhat then remove from pans, remove wax paper and place on wire rack to cool completely.
Sea Foam Icing
Ingredients
3/4 cup light brown sugar
3/4 cup white sugar
1/3 cup hot water
1 tsp vanilla
Directions
Combine the first three ingredients in a medium saucepan and cook until a small amount poured into a cup of cold water makes long "threads".
Meanwhile, beat 3 egg whites until stiff peaks form.
Keeping the mixer beating on a medium speed, add the hot syrup very slowly. Do not scrape down the sides of pan or bowl as this adds grainy crystals to the icing.
Beat until stiff peaks form again and then beat in 1 tsp vanilla.
Ice the cooled cake.
{Printable Copy} The Birthday Cake