Don't you love these wee
tasses à fleurs…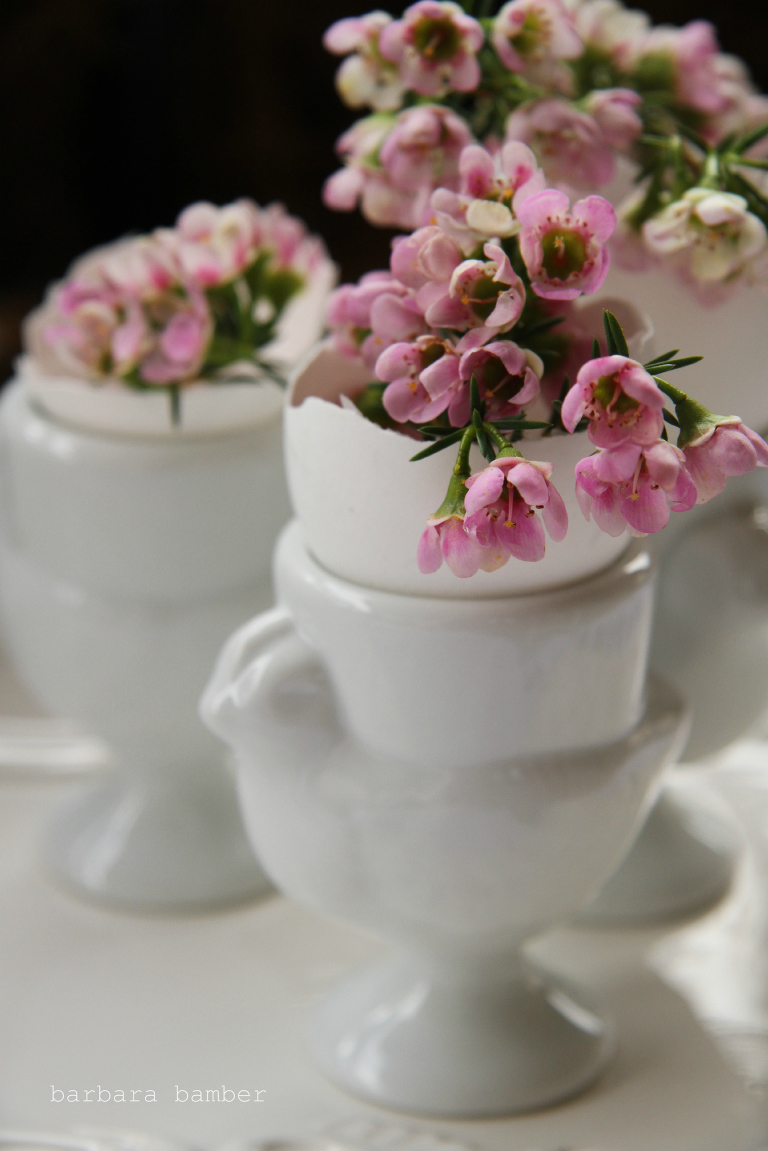 They make pretty little centerpieces. (Thank you Martha Stewart!)
Just be frugal and save your eggs after baking or scrambling.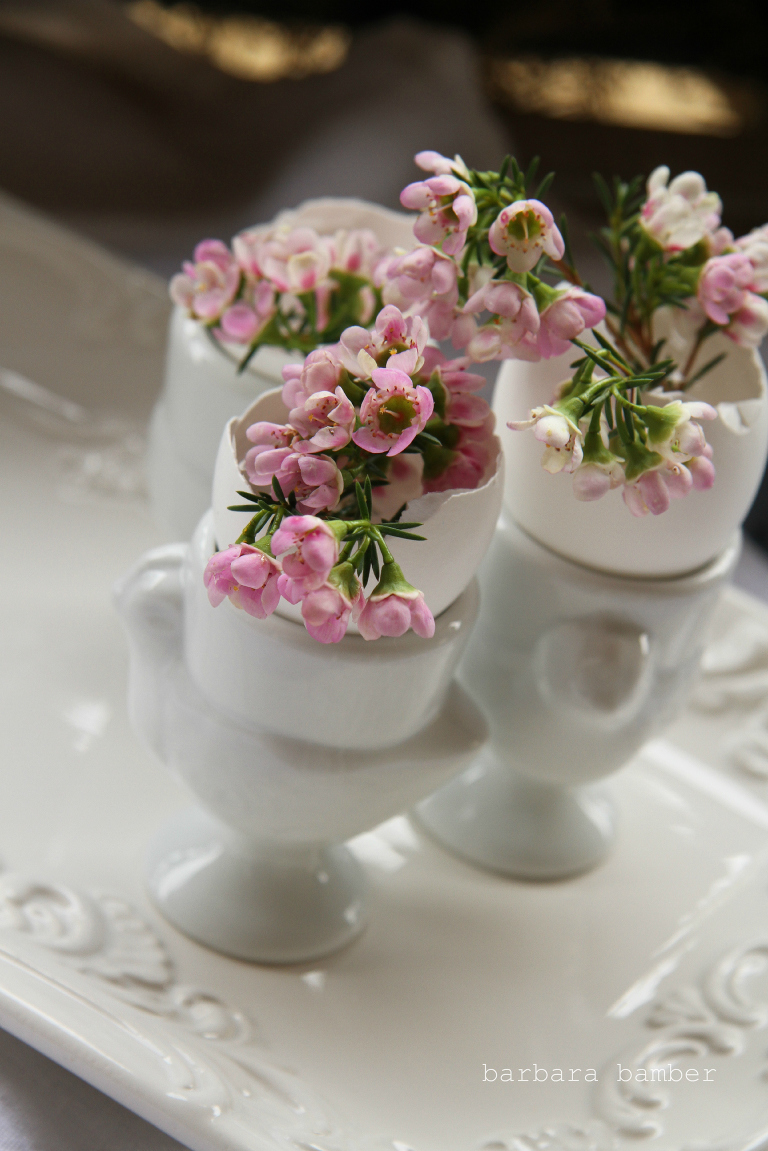 Or after you've dyed your eggs for Easter…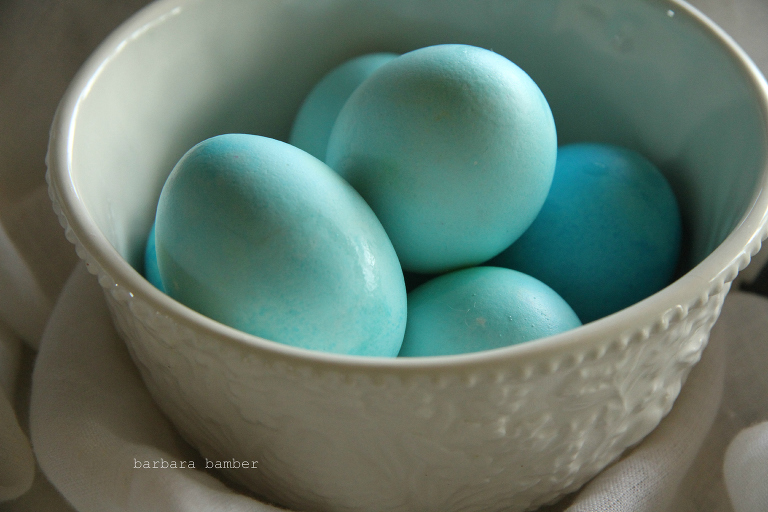 Then you can play with them… (I know).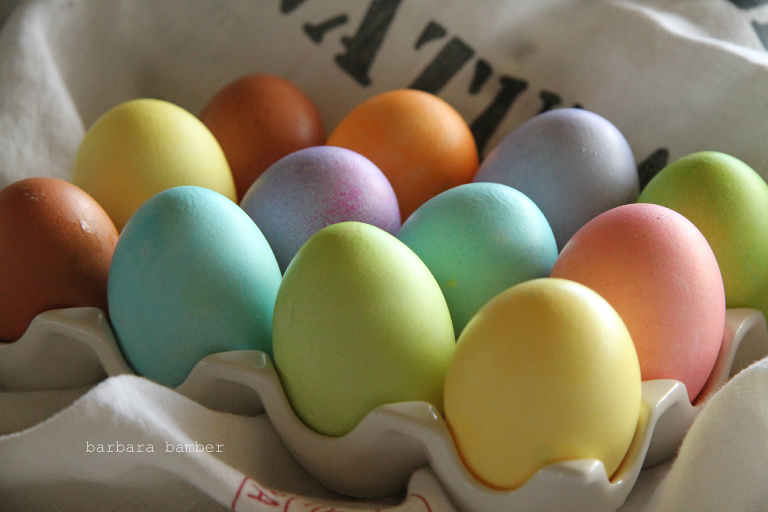 Perhaps design a color palette.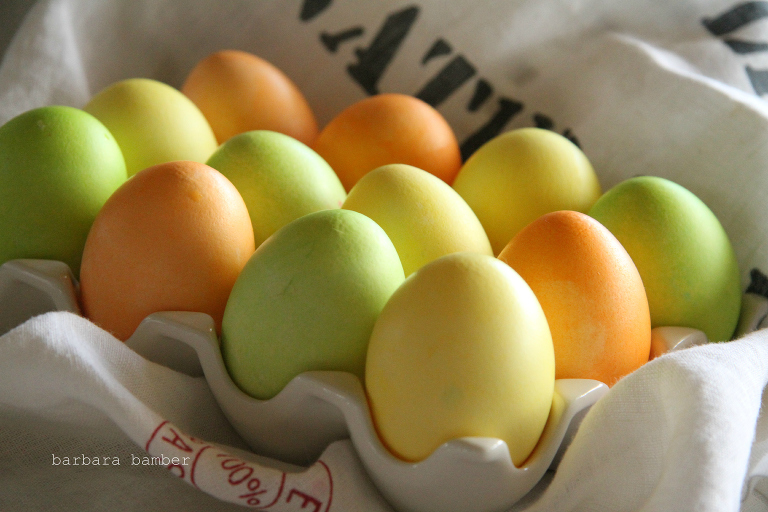 Or surprise your family when they decide to have an egg for breakfast.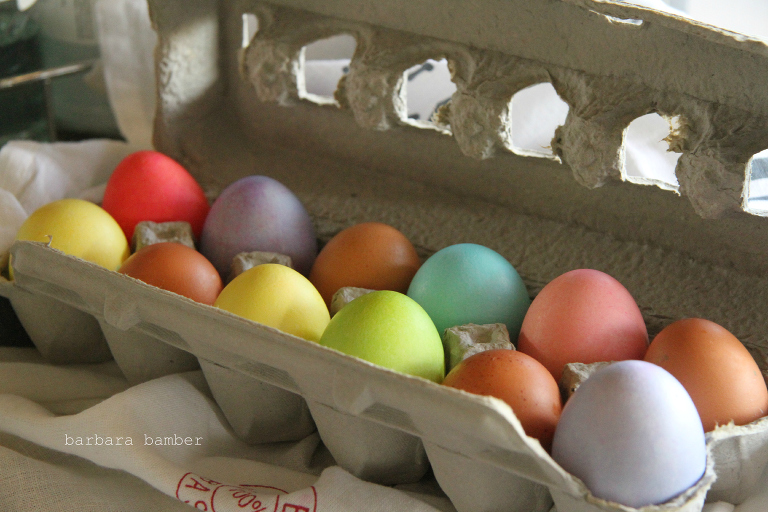 Haven't you heard of Momofuku's Milk Bar yet?
It's my new favorite cookbook.
(you're supposed to ask why)
This book is just filled with page after page of wild, crazy and pretty sweet new ideas!
(kind of like my head, lol)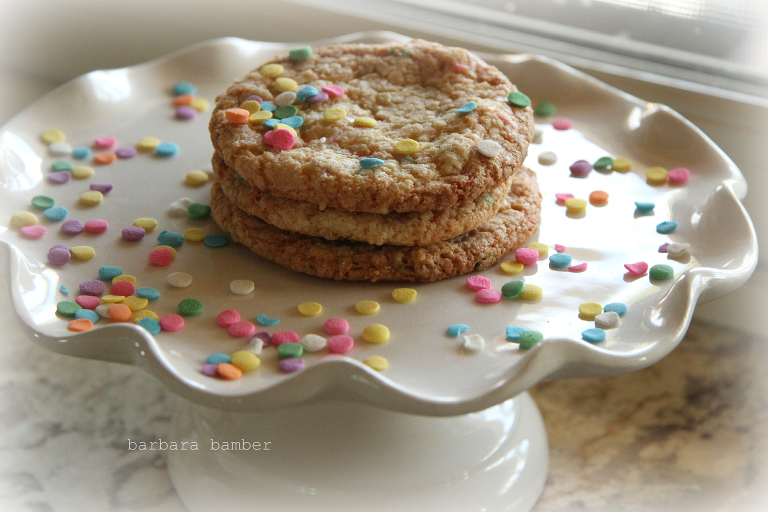 These cookies were so colorful I thought they would go perfectly with my Easter Eggs
but wouldn't they also be perfect at a Baby or Bridal shower filled
with pastel funfetti?
♥
They use some pretty unique techniques that piqued my curiosity and upped my baking skills…
but nothing any of you couldn't handle!
First you whip up a batch of these cool "Birthday Cake Crumbs"…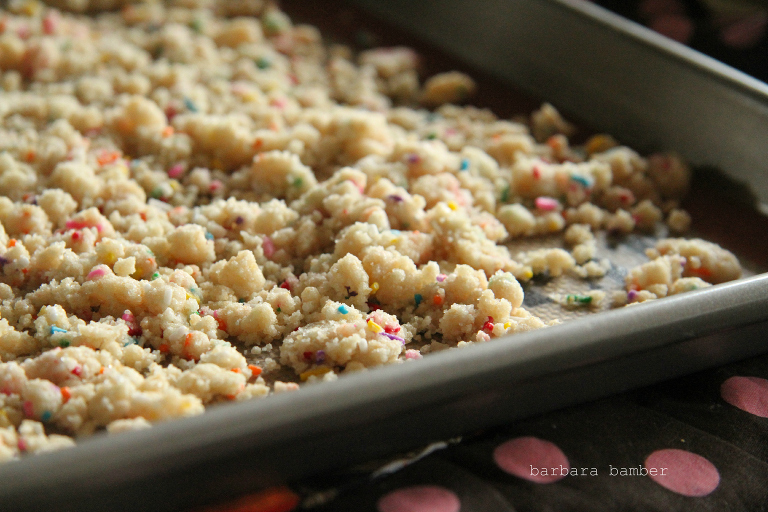 and bake them until crunchy and browned.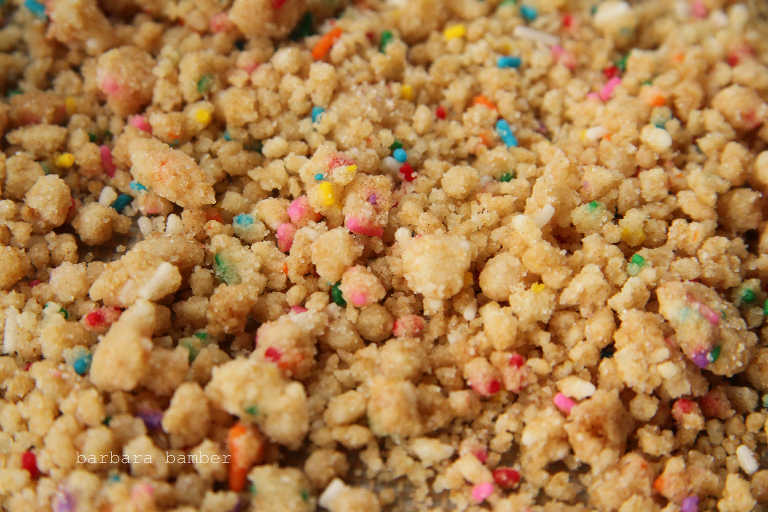 Then you whip.. and whip… and whip.
If you don't have a mixer.. come borrow mine.
(you'll be glad you did)
and stir in those Cake Crumbs you've just made.
Scoop…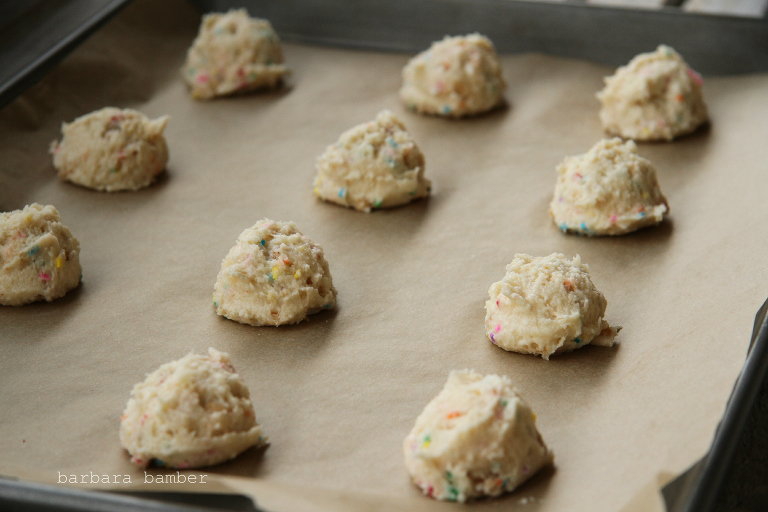 Play "Pat-a-Cake, pat-a-cake, Baker's man…"
and "Put them in the oven for baby and me…"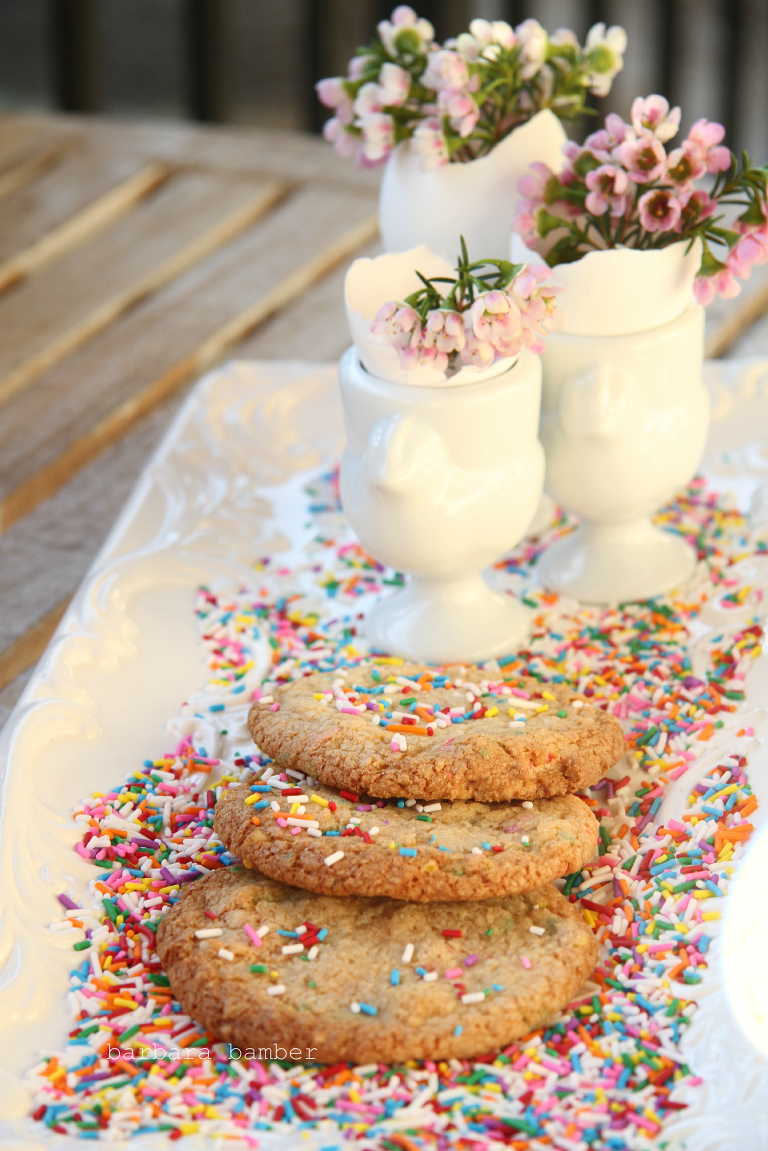 Yum.. it's a Party in your mouth!!
You're still here?
Now get baking… Easter's just around the corner!!
Momofuku Funfetti Cookies
Momofuku Funfetti Cookies
Ingredients
1 cup butter, softened (2 sticks)
1 1/2 cups sugar
2 tbsp corn syrup or glucose
(I used glucose.. found at hobby shops or specialty cooking stores)
2 eggs
2 tsp clear vanilla extract
2 1/2 cups bread flour*
2/3 cup milk powder
2 tsp cream of tartar
1 tsp baking soda
1 1/4 tsp kosher salt
1/4 cup rainbow sprinkles (jimmies)
Instructions
Combine butter, sugar and corn syrup or glucose in the bowl of your mixer, fitted with a paddle attachment. Cream together on medium high for 2-3 minutes, scraping down the sides of the bowl.
Add in the eggs one at a time and then add in the vanilla. Beat for 7-8 minutes. This is an important step… the dough needs to "rise" and fluff".
Reduce the mixer speed to low and add the bread flour (*bread flour is used because of its high protein content.. it helps when large amounts of butter are used), milk powder, cream of tartar, baking soda, salt and rainbow sprinkles. Mix only until the dough comes together.. overmixing the dough makes one tough cookie! It will come together very quickly, so don't leave it alone. Scrape down the sides of the bowl.
Still on low speed, add the Birthday Cake Crumbs (recipe below) and mix in for 30 seconds – just until they are incorporated.
Using any size scoop you wish, (they use 1/3 cup), portion the dough onto parchment lined cookie sheets. Pat the tops until the domes are flat.
*Wrap up the pans with plastic wrap and store in the fridge for a minimum of one hour or up to one week. Do NOT bake these cookies straight away as they will flatten in the oven.
Heat the oven to 350° F.
Arrange chilled dough with a good space between them (they still spread) on a parchment or silpat lined cookie sheet. Bake for 18 minutes (I baked for only 12… so watch them closely according to your oven's temperature). The centers will be just beginning to color and the edges will have browned. Overcooking makes a crunchy cookie.
Cool the cookies on the sheet completely then transfer to a rack or airtight container for storage. At room temperature these cookies will keep for 5 days.
Birthday Cake Crumb
Birthday Cake Crumb
Ingredients
1/2 cup granulated sugar
1 1/2 tbsp tightly packed light brown sugar
3/4 cup cake flour
1/2 tsp baking powder
1/2 tsp kosher salt
2 tbsp rainbow sprinkles
1/4 cup grapeseed oil
1 tbsp clear vanilla extract
Instructions
Heat the oven to 350° F.
Combine the sugars, flour, baking powder, salt, and sprinkles in the bowl of your mixer, fitted with a paddle attachment. Mix on low speed until combined.
Add the oil and vanilla and mix. The wet ingredients will help the dry ingredients form small clusters. Mix until this happens.
Spread the clusters on parchment or silpat lined cookie sheet. Bake for 20 minutes, breaking them up occasionally if needed. The crumbs should be still slightly moist to the touch when down, they dry and harden as they cool off.
Cool the crumbs completely before using in a recipe. If not using, store in an air-tight container for up to 1 week at room temperature or freeze.