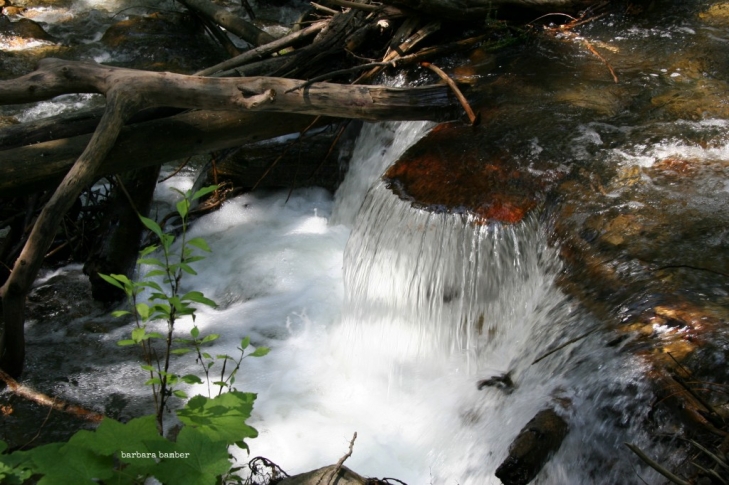 Lakeside Dream
Twittering fourths awaken me from
This sweet yawning dream, no
Static hum to chafe
Or rouse
The stealth of lake sand's touch
Beckons and my life led in
Longing bark stands creaks,
Entreats
A hushed life drawn on trailing forest floor
Under a sky's silver blanket, aerial
Strands of sunlit breezes
Over head
Hikes slow and settles down
Pausing, it waits for me
To near
To shift to wake, to set adrift again
Near shore on water's shallows
The steady swirl of smooth paddle
Carving down
This water's longing wave moves
And possibility entreats, it lures,
This song that buoys limbs wide
To float
Lift windows wide, draw in and heed
This stirring morning's lilting notes
And lift, an amoroso
Half cadence
Barbara Bamber, 2012
♥
Our Mabel Lake cabin is accessible only by boat..
So mom's kitchen is always well-stocked and food is home-made and planned in advance..
As you know, necessity is the mother of invention.. and should ingredients be lacking, a walk down the beach will often procure the required cup of something.. or recipes are tweaked to suit what's on hand.
♥
♥
Together, we watch the sun rise over the shimmering lake… and if you were with us,
we would offer you one of these, warm straight from the oven..
Mabel June's Oat Cakes
Ingredients
3 cups rolled oats
2 cups spelt flour
1/2 tsp baking powder
2 tsp fine-grain sea salt
1/4 cup hemp hearts**
3/4 cup chopped pecans, lightly toasted
3/4 cup chopped dried figs
1/3 cup coconut oil
1/3 cup butter, unsalted
3/4 cup maple syrup, No. 3 dark
1/2 cup natural cane sugar
2 large eggs, lightly beaten
Instructions
Preheat oven to 350°F. Grease l8 muffin cups or line with silpat liners.
In a medium saucepan, stir together the coconut oil, butter, maple syrup and cane sugar then heat on low until sugar has melted. Set aside to cool.
In a large mixing bowl, mix together the oats, spelt flour, baking powder, sea salt and hemp hearts. Add chopped pecans and dates, using hands to mix together.
Whisk the two eggs into the cooled coconut oil mixture. Gently pour this mixture into the dry flour mixture and fold to thoroughly blend. Do not overmix.
Scoop into greased or silpat lined muffin tins. Bake for 25-30 minutes or until a toothpick inserted in the center comes out clean.
Serve hot out of the oven or cool on racks and store.
Adapted from H Swanson's Oat Cakes recipe.
Notes
** Hemp Hearts are made by shelling the hemp seeds.. they have a nutty flavor and are loaded with vitamins, protein, omegas, minerals and fiber. They come ready to use in a package, usually sold at Health Food shops and Whole Food type grocers. Hemp Hearts can be sprinkled on yogurt, salads, cereal.. Substitute with flax seed if you don't have access to Hemp Hearts. Here is a link for a Canadian Brand I used, but I'm sure there are others: Manitoba Harvest Hemp Hearts
http://justasmidgen.com/2012/04/22/mabel-junes-oat-cakes/
** Hemp Hearts are made by shelling the hemp seeds.. they have a nutty flavor and are loaded with vitamins, protein, omegas, minerals and fiber. They come ready to use in a package, usually sold at Health Food shops and Whole Food type grocers. Hemp Hearts can be sprinkled on yogurt, salads, cereal.. Substitute with flax seed if you don't have access to Hemp Hearts. Here is a link for a Canadian Brand I used, but I'm sure there are others: Manitoba Harvest Hemp Hearts