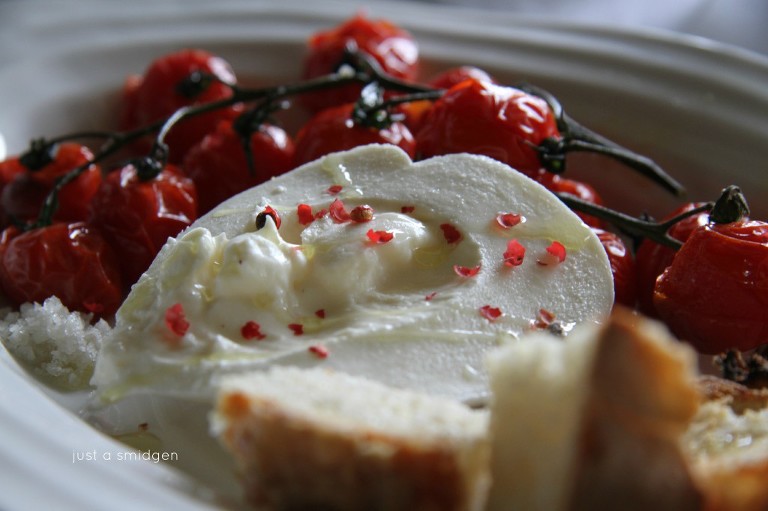 I'm so happy to see you!
xoxoxo
I thought we wouldn't make a big dinner tonight
since it's just the two of us…
♥
Maybe we'll just snack
come…  stand here next to me
while I unpack these paper bags.
Let's spread everything out on the counter,
and see what we've got to work with.
♥
I've tried to find the freshest
"comestibles"
(there's a big word for ya'!)
and all we need are
appetites and imaginations!
♥
Let's start with these sweet wee on the vine tomatoes, shall we?
You turn on the oven and I'll splash them avocado oil.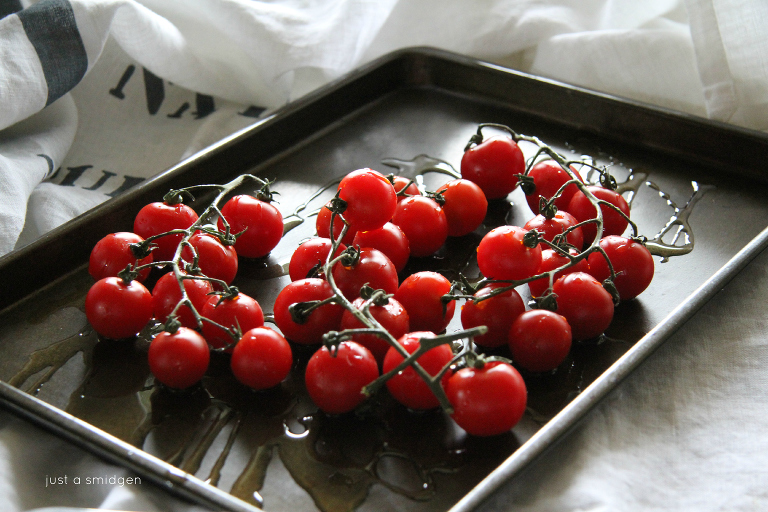 Could you sprinkle them with a little grey sea salt..
I love that stuff!
I found this new cheese at Mercato West..
it's called Burrata Cheese!
It's so cool.. I read that it was the "it" cheese a while back.. *sigh* I'm always late discovering "food trends"!
It's a soft mozzarella filled in the center with soft cream and curds..
It always comes wrapped in a plastic bag.. a small ball and a larger one..
and it's then knotted…
and sometimes packaged in a leaf or in this whey way!?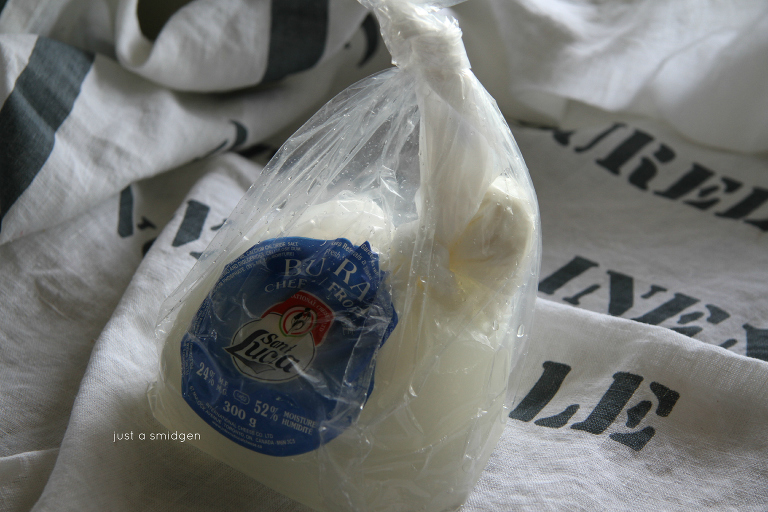 So awesome, don't you think? There's a
Mama Cheese and Baby Cheese!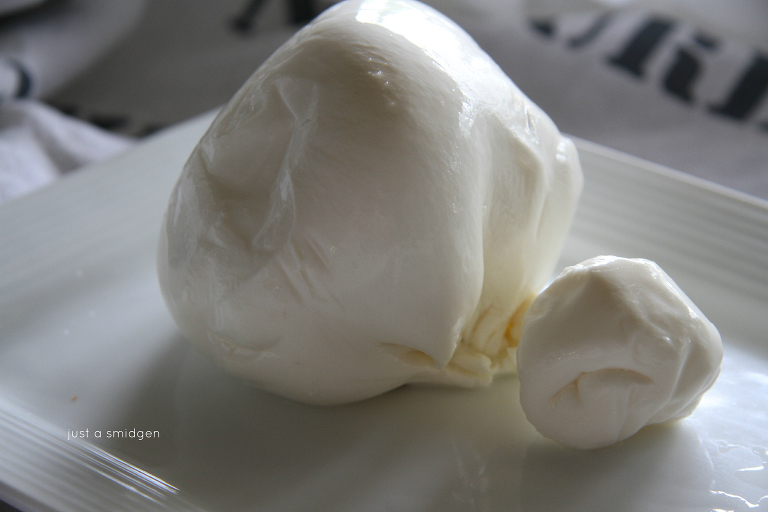 All of have to do is cut that bigger piece in half.. and let the soft melty center ooze out…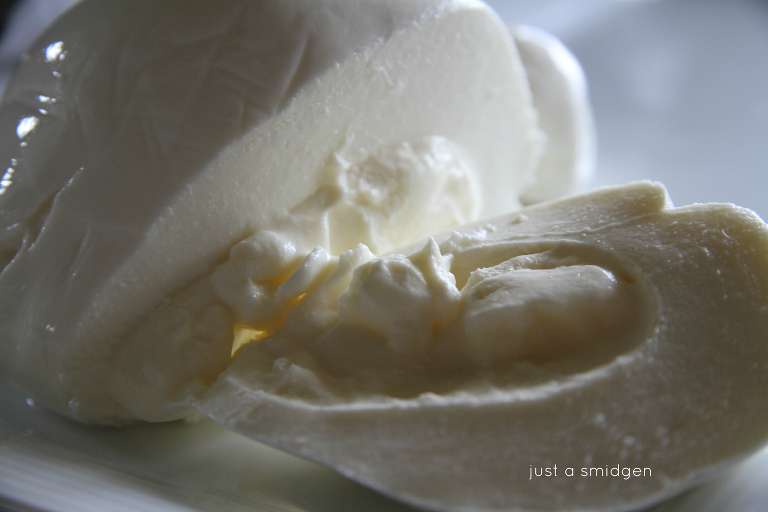 I'll get those tomatoes out of the oven and make things all pretty for us!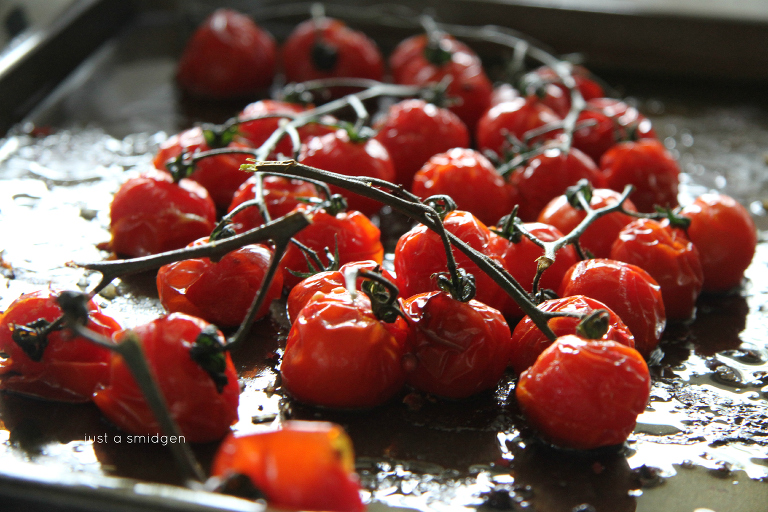 ♥
Tomatoes on the side, cheese in the center.. shall we drizzle with a teensy bit more of that avocado oil?
I'll smash up the pink peppercorns with the pestle and mortar.. I think that would be pretty, eh?
Look.. it's almost heart-shaped!
♥
A few crostini on the side..I picked up a fresh Pear Walnut loaf from Wildegrainz Artisan Bakery in Inglewood..
Voilá!
Burrata Cheese Crostini
Ingredients
small red tomatoes on the vine
avocado oil
grey sea salt
pink peppercorns, crushed
Santa Lucia Burrata cheese
Crostini/baguette/fresh bread
Instructions
Preheat oven to 375F.
Keeping tomatoes on their vines, lay on an oven proof baking sheet. Drizzle with
olive oil. Sprinkle with sea salt.
Bake until skins are softened and have begun popping, approximately 20 - 25
minutes, depending on your oven temperature.
Place on side of serving plate. Remove Burrata cheese from the bag, slice in half and lay on the plate next to the tomatoes.
Sprinkle with Pink Peppercorns. Dollop a small spoonful of grey sea salt on the
side.
Serve with toasted crostini or toasted bread slices.
♥
Now we've got a bit more toasted slices left.. let's make a sandwich and salad all-in-one go, shall we?
I'll loosely mash some avocado and spread it over the crostini..
Then you top it with chunks of blue cheese, maybe Bleu d'Auvergne from Janice Beaton Fine Cheese?? Yum!!
Maybe we should broil it and let it get all soft and runny?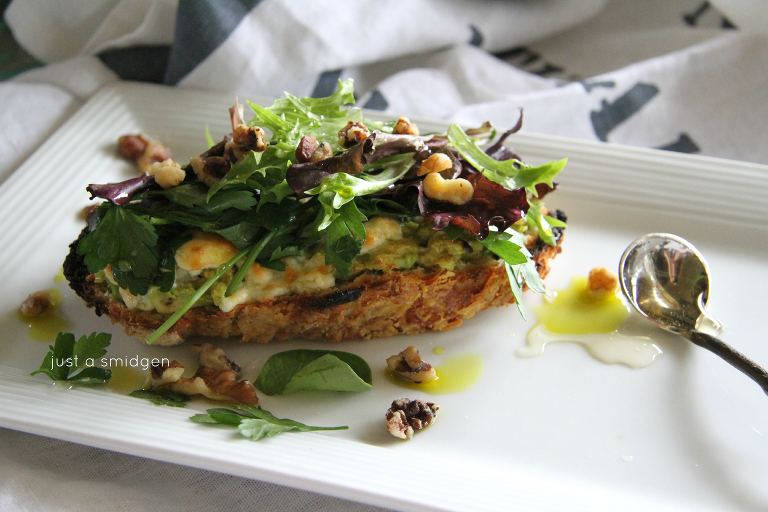 Could you put a handful of fluffy greens and italian flat-leaf parsley on top..
and I'll drizzle with the avocado oil..
grey sea salt and pink peppercorns again..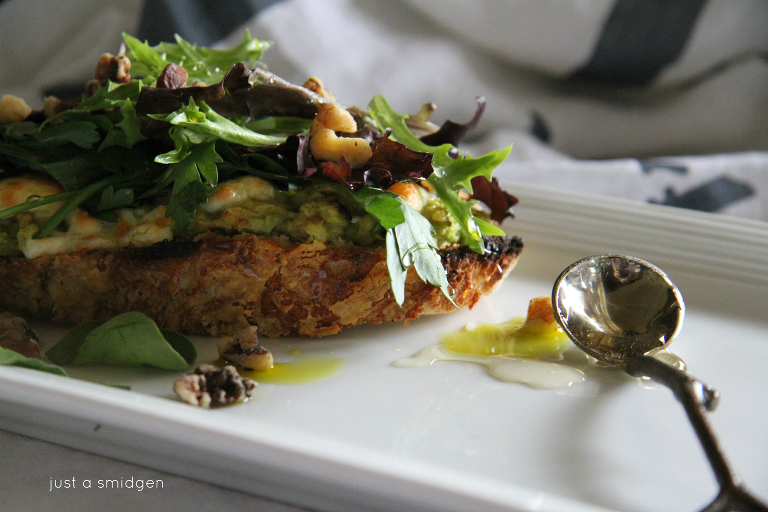 Hmmm.. something's missing…
What's that?
Well, that's an excellent idea!!
You go ahead.. drizzling with some organic apple blossom honey..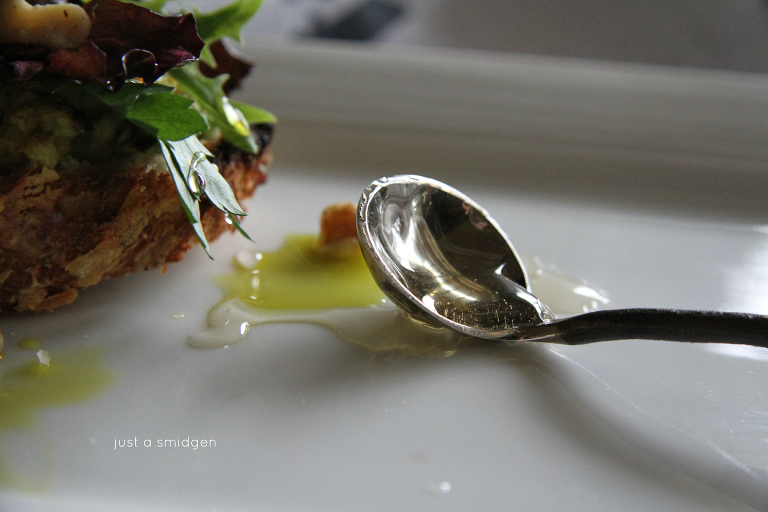 and topping with a handful of walnuts is perfect with blue cheese.
I agree, no need for a slice of bread on top.. it would be a shame to hide all of this honey loveliness!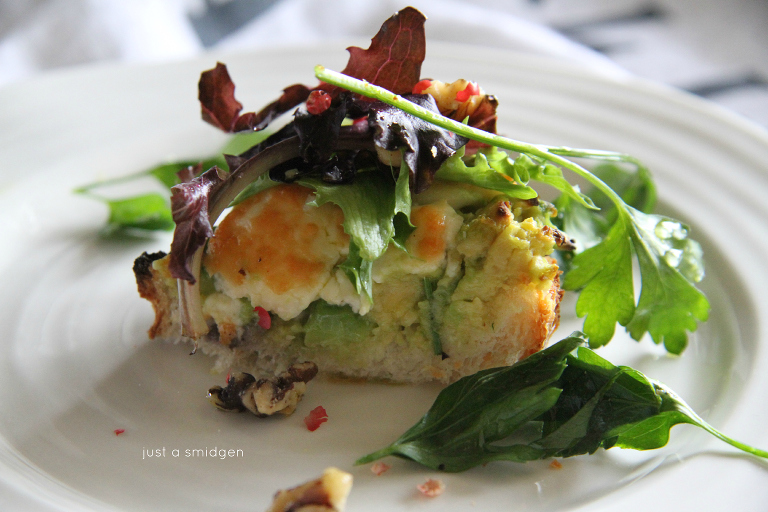 ♥
Here, you take the first bite..
Oops.. we almost forgot the wine…
Spring Salad Crostini
Ingredients
Crostini/baguette/bread slices
2 ripe avocado
blue cheese (such as Bleu D'avergne)
honey
avocado oil
fresh salad greens
fresh
Italian
parsley
chopped walnuts
grey sea salt
pink peppercorns, crushed
Instructions
Slice bread and lightly toast one side under the broiler of your oven.
Meanwhile, scrape out the flesh from your avocados and mash roughly with a fork, leaving larger chunks. Remove toasts from the oven, flip over and spread with the avocado.
Spread/dollop blue cheese over top of the avocado and return to the broiler. Broil
until blue cheese is lightly browned and melting.
Remove and top with salad greens and parsley. Drizzle with avocado oil, then drizzle with honey and sprinkle with walnuts.
Season to taste with grey sea salt and crushed pink peppercorns.
♥♥♥