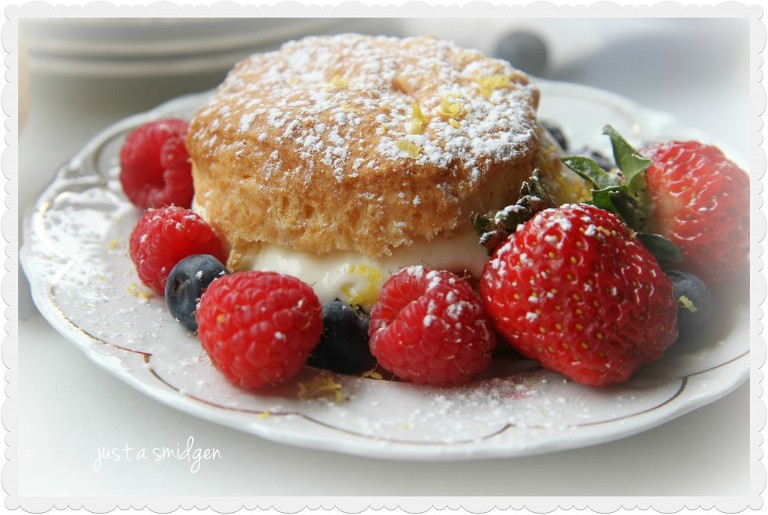 there is a promising (or taunting?) stream of sunlight pouring in my window this morning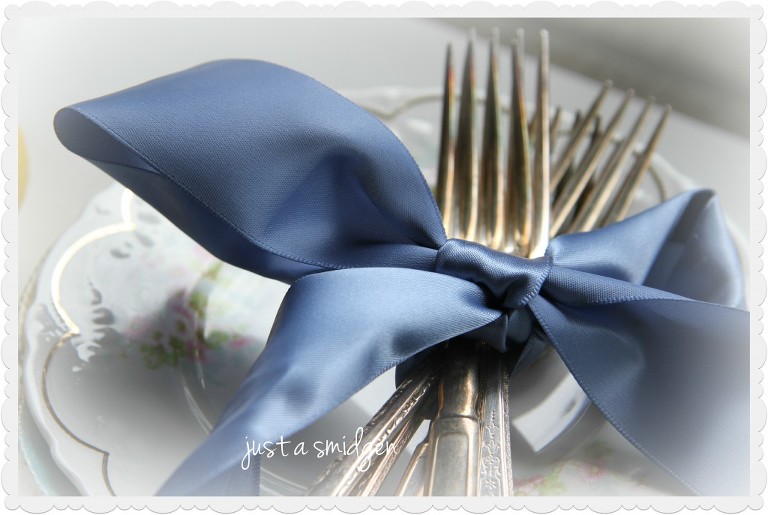 and i thought i'd
just quickly pop in with one of my favoritest recipes for spring  summer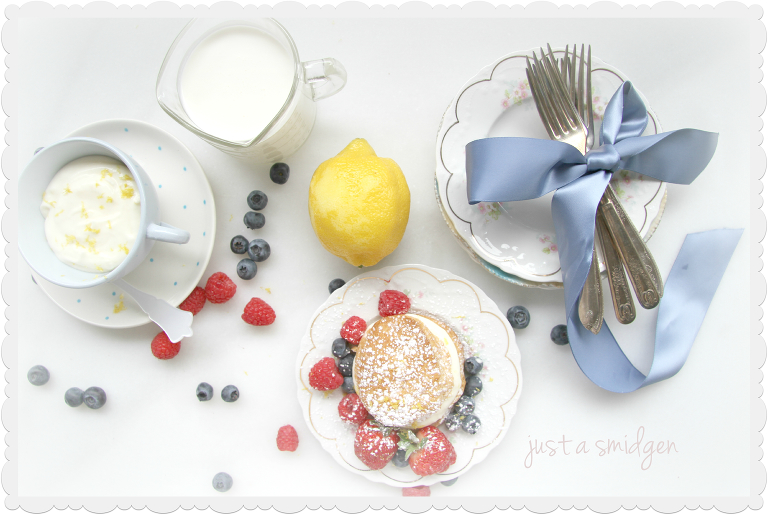 ♥
it seems
our planet has tipped and skipped over the solstice
and we've fallen headlong into summer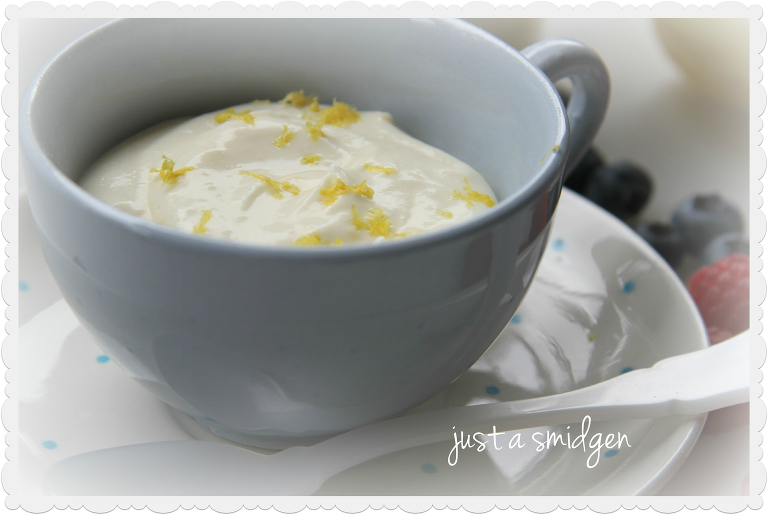 and that conjures up memories of popsicles, ice cream, sorbet
and running through sprinklers
♥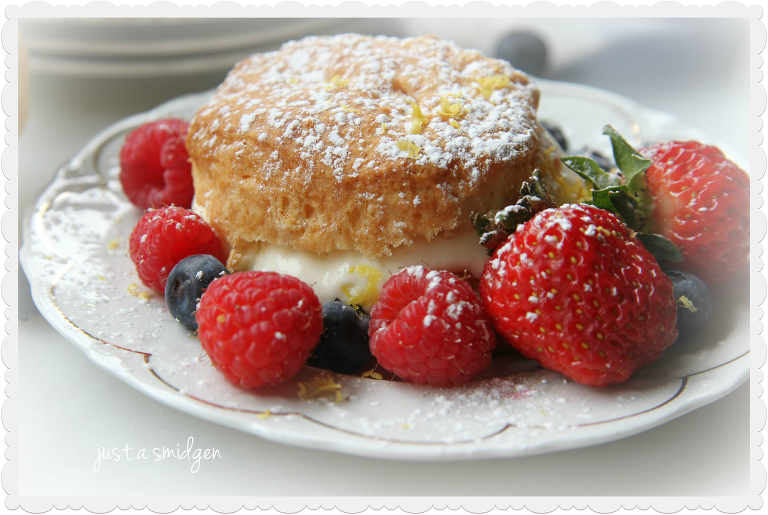 i know some of you in other parts of the world
are wallowing in scorching heat and humidity
so i thought i'd send you some cool, tart and whipped lemony filling
squished in a creamy scone center
topped with berries so it just might
cool you down
♥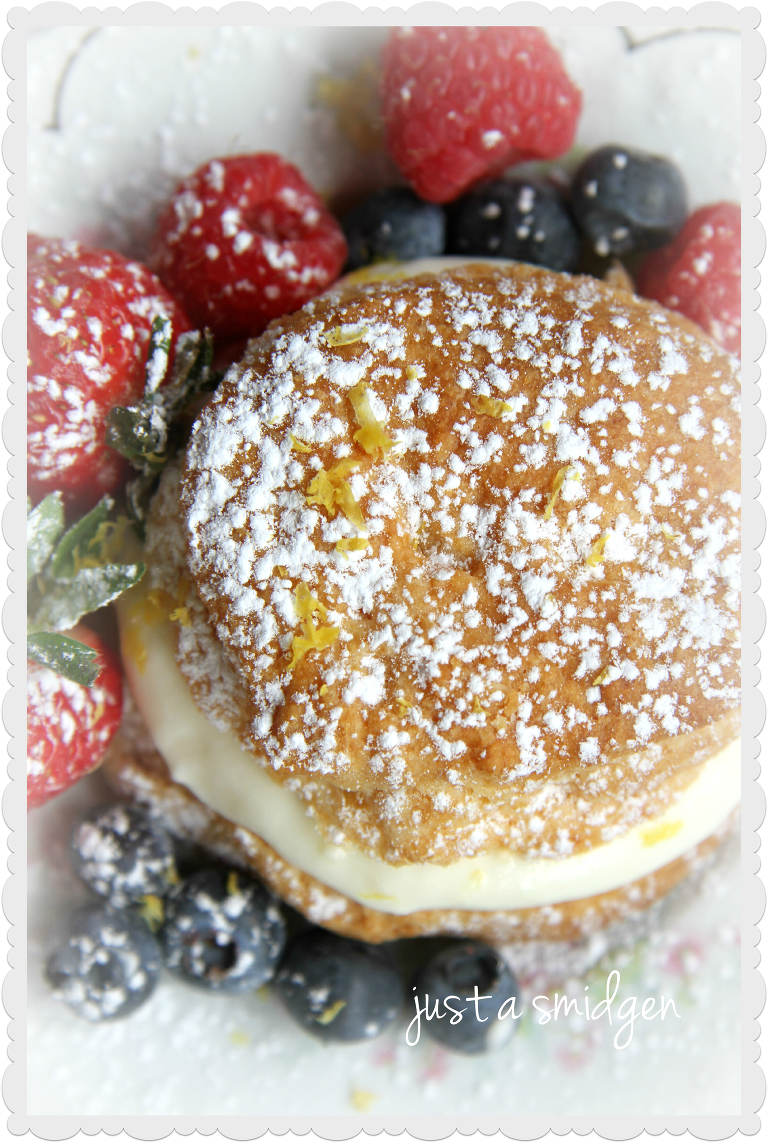 i first made this dessert out at the lake in Kelowna, BC
so this tried-and-true recipe always conjures up images of long days on the boat, wakeboarding, friends, wine, and even longer nights out on the deck..
music softly playing and the sun falling all lazy from the sky..
♥
I served this on Father's Day..
but it would be nice for a luncheon or end of year graduation party
i haven't changed much in this one
(of course it's Best of Bridge)
except that it's not technically Strawberry Shortcake
because i like adding blueberries and raspberries too
and since Barry is my maiden-name… i took a few liberties with the name..

Summertime Barry Shortcakes
Ingredients
Biscuits
3 cups flour
1 tbsp white sugar
1 tbsp baking powder
2 tsp cream of tartar
1 tsp baking soda
1 tsp salt
3/4 cup cold butter, cubed
1 1/4 cups light cream
Filling
2 eggs
2 tbsp butter
1 cup sugar
juice of 2 lemons
grated lemon zest
1 cup whipping cream
mixed berries, washed and sliced
Instructions
Biscuits
Preheat oven to 375° F.
Mix all of the first dry ingredients, from the flour to the salt in a large mixing bowl. Cut in butter with a pastry cutter or two knives until the mixture looks like coarse meal.
Stir in cream using a fork. Then shape the dough into a ball and knead on a floured surface 8 times. Roll out to a 1? thickness and cut with a round glass or cookie cutter.
Place on a baking sheet and bake for 12-14 minutes or until biscuits are golden brown and the centers are cooked through (might just have to break one in half to test it.. a few times;)
Filling
Meanwhile, combine eggs, butter, sugar, juice and zest in a small saucepan and bring to a boil over medium heat. Reduce heat and cook, stirring constantly for about 15 minutes until it thickens. Set aside to cool.
When ready to serve, whip the cream until stiff peaks form, then gently fold the lemon mixture in. Cut each biscuit in half and dollop with lemon filling. Place the tops back on and set on your prettiest dessert plates then cover with a handful of berries. Using a small sieve, sprinkle icing (powdered) sugar over the plate.