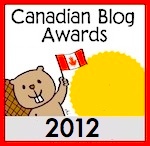 I have entered the Canadian Top Blog 2012 Awards
Please, please, please click this link:
Then click on the top left hand tab for
"Best Blog about Arts, Crafts, Cooking and Other Creative Activities".
Scroll down to
"Just a Smidgen"
Select it then scroll down to click Vote!
Egad!! Just saw I was Nominated in the Best Food and Drink Blog category as well..
So you can click and Vote for "Just a Smidgen" there too, please:D
It's that simple.. no crazy registration or forms.
Everyone gets one vote.. so please vote now!!
I will be ever so grateful!!
This is only Round One.. so hopefully I make it through:D
Fun!!
xx Smidge