Harriet's back!
 with another of her, my, our  favorite family recipes! She made this one up and laughed when I asked her to write it out for 16-year-old me because she didn't know what to call it..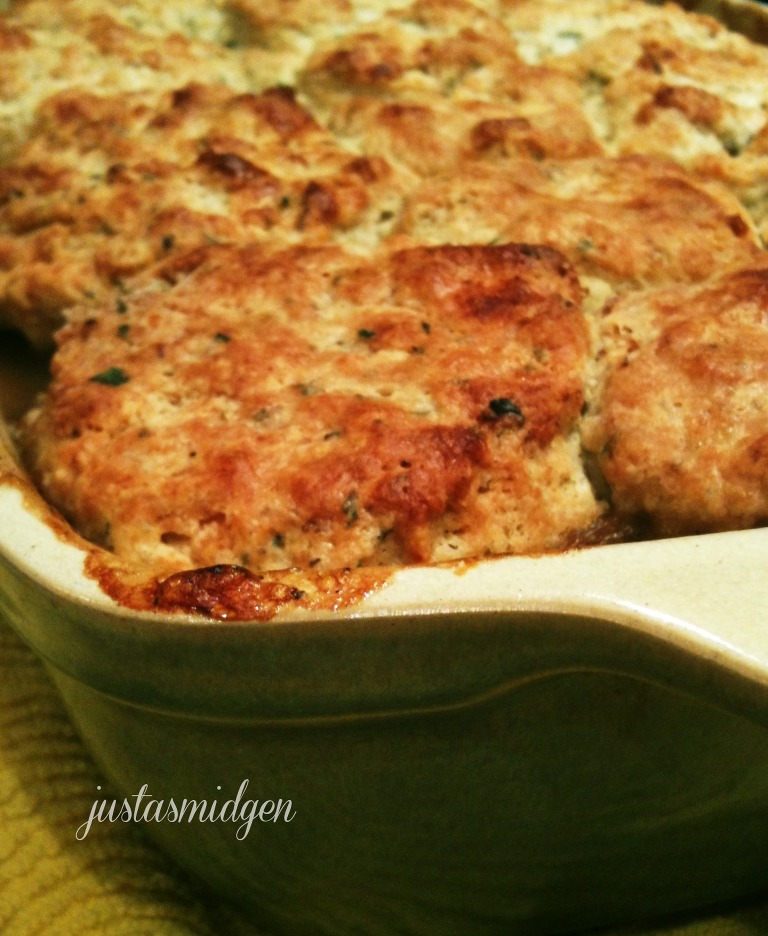 "Gran's Veg Delight"
she proclaimed.. she thought that made the dish sound pretty special!  It was.. it is!  You've probably made or had something like it.. in a pinch Gran would use a tin or two of Vegetable Soup for the filling. If you have left-over peas and carrots.. feel free to toss them in.
I couldn't resist changing up the biscuit topping. I added seasonings from this vintage
song..  " Parsley, Sage, Rosemary and Thyme " 
It's like Thanksgiving all over again, in every bite!
BTW, these are the best photos I could pull off with my iphone app. It gets dark so early now.. and I rely on natural light. It was fun to improvise!
A Gentle Reminder.. if you've not had the chance to vote.. you can find my blog under both "Best Blog About Arts, Crafts, Cooking and other Creative Activities" and "Best Food and Drink".. here's the link.. thanks so much!!
http://cdnba.wordpress.com/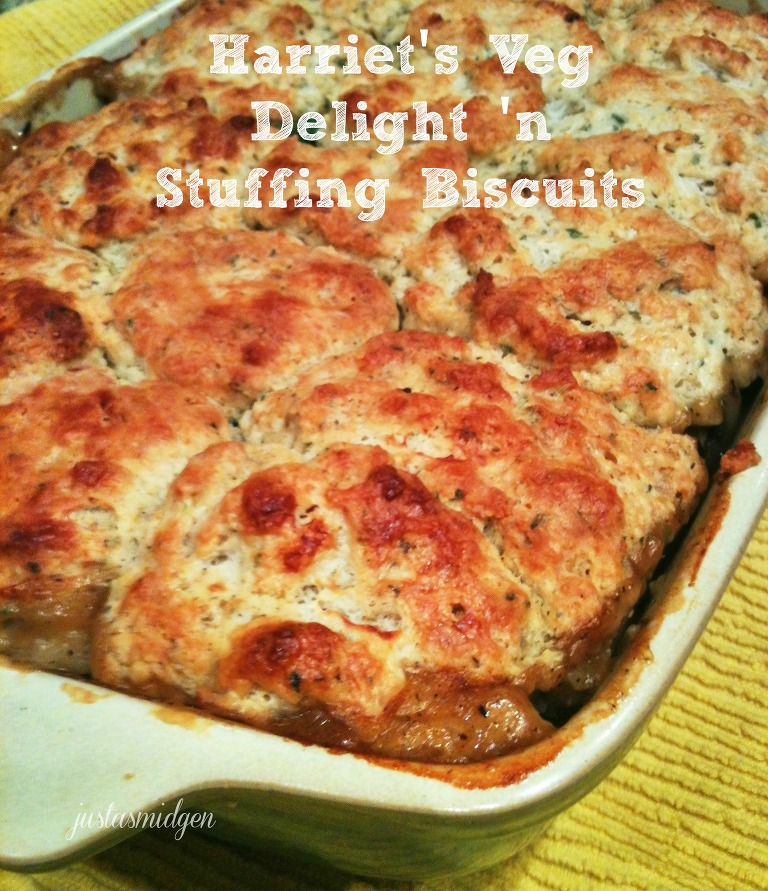 Harriet's Veg Delight with Savory Stuffing Biscuits
Ingredients
Filling
drizzle of olive oil
2 tbsp butter
1/2 medium onion, coarsely chopped
3-4 medium carrots, coarsely chopped
2 celery ribs, coarsely chopped
1 tsp parsley
1 tsp sage
1 tsp rosemary
1 tsp thyme
16 oz (450 g) button mushrooms (already sliced)
2 tbsp bisto *
3 cups chicken stock
1/8 cup all-purpose flour
1/2 cup chicken stock
3-4 cups cooked turkey or chicken, cubed
1 cup fresh or frozen peas
Biscuits
2 cups all-purpose flour
2 tsp baking powder
1 tsp baking soda
1/2 tsp salt
1/2 tsp pepper
2 tsp parsley
1/2 tsp sage
1/2 tsp rosemary
1/2 tsp thyme
3/4 stick (6 tbsp) unsalted butter
1 cup well-shaken buttermilk
Instructions
Preheat oven to 400°F.
In a heavy-bottomed pot, melt the butter and oil together. When it starts to foam, add the onions, carrots and celery together. Stir in the seasonings (parsley, sage, rosemary and thyme) and cover. Simmer over medium heat, stirring occasionally, until vegetables are somewhat softened and lightly browned (about 10-12 minutes). Uncover, add the mushroom slices and cook, stirring until they are tender (about 5 to 7 minutes). Add the 2 tbsp Bisto and stir well to incorporate. Pour in 3 cups of stock and bring to a simmer. Shake 1/8 cup flour together with 1/2 cup chicken stock in a jar and add to thicken as needed. Continue to bring back to a boil until the mixture has thickened. It should have the consistency of a stew. Stir in the turkey or chicken and the frozen peas. Bring back to a simmer.Pour the mixture into a 9×13 casserole dish.
Make the biscuits
In a mixing bowl, whisk together the flour, baking powder, baking soda, salt and pepper, parsley, sage, rosemary and thyme. Cut in ¾ stick butter until the mixture resembles coarse meal. Using a fork, quickly stir in the buttermilk until a dough forms. Lift the dough out onto a flour sprinkled counter. Gently knead 4-5 times, adding flour as needed to handle (the dough is quite sticky). Gently press the edge of the dough with the palm of your hand, cut out a biscuit round and place on top of the turkey filling. Continue, using both a medium and small biscuit cutter so you can cover the top of the pan.
Place in the oven at 400°F for about 20 minutes. Reduce to 350°F and continue baking until the tops of the biscuits have browned and they have cooked through (about 10 more minutes, depending on your oven.)
* Bisto is a Savoury Gravy Powder for Poultry that adds flavor and thickens gravies.