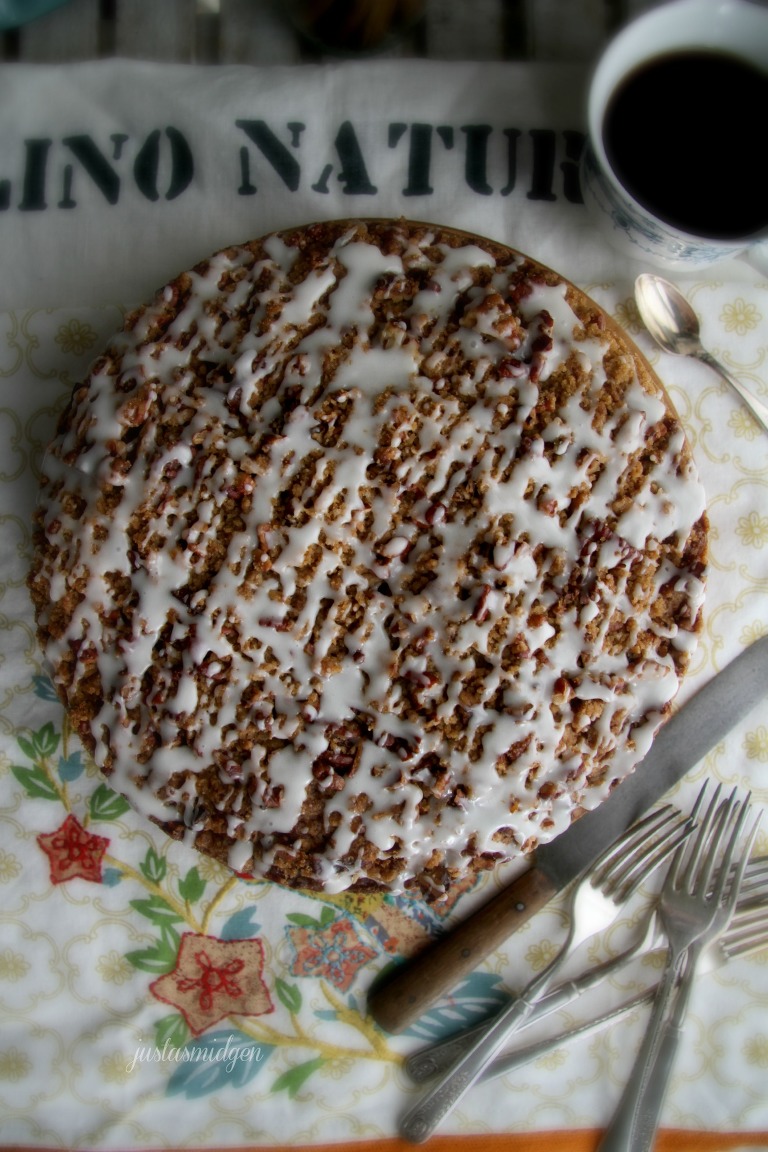 ♥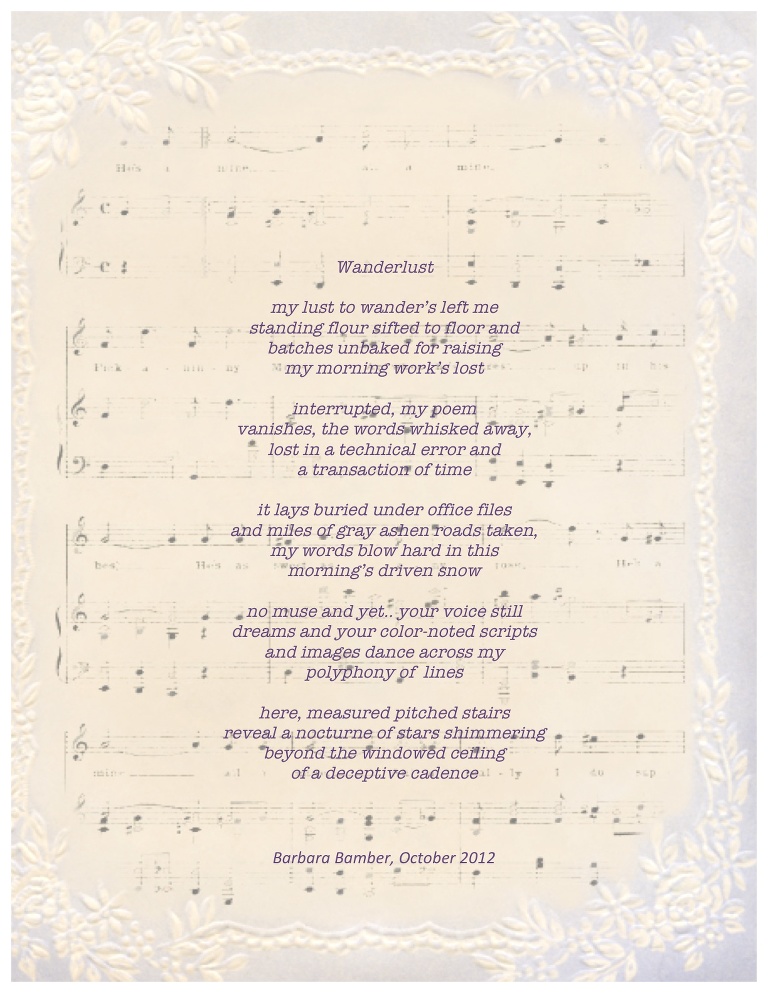 "gâteau au café     café cake    caffè torta      císte caife      kaffe kaka"
this coffee cake by any other name would smell as sweet..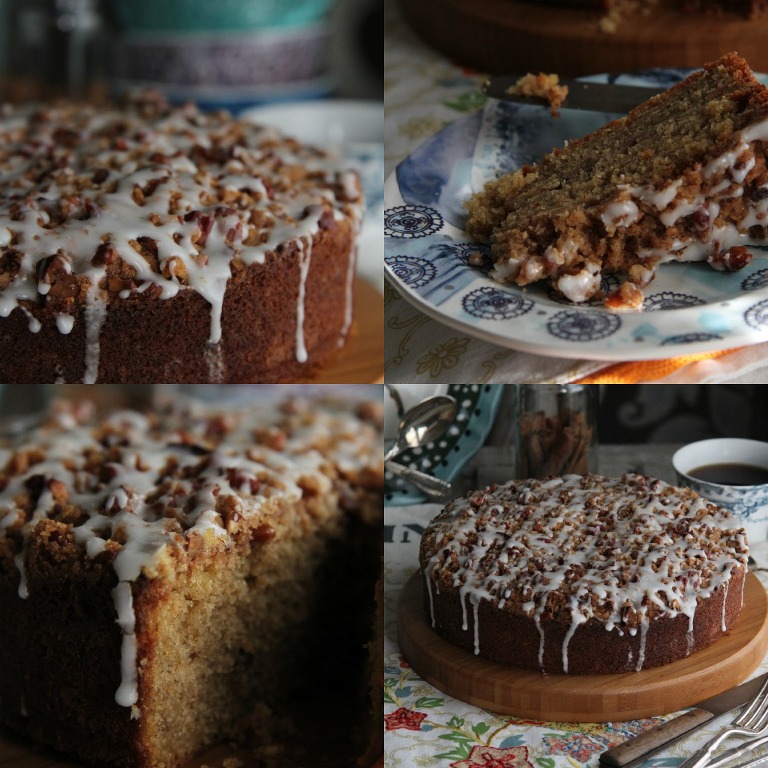 though I'd much rather be wandering through a town in Europe this morning,
visiting on a bistro chair, bundled against the chill air,
in a tiny café with any of those words written in chalk..
♥
This one popped up in my Inbox from the Two Peas and their Pod blog.
The original source is gently adapted from Williams Sonoma.
I doubled the recipe so I could freeze the second cake,
unglazed, for my EO meeting on Tuesday.
If you want less, just cut the quantities in half.
I think I might try a new glaze for the second cake,
a blend of confectioner's sugar and maple syrup.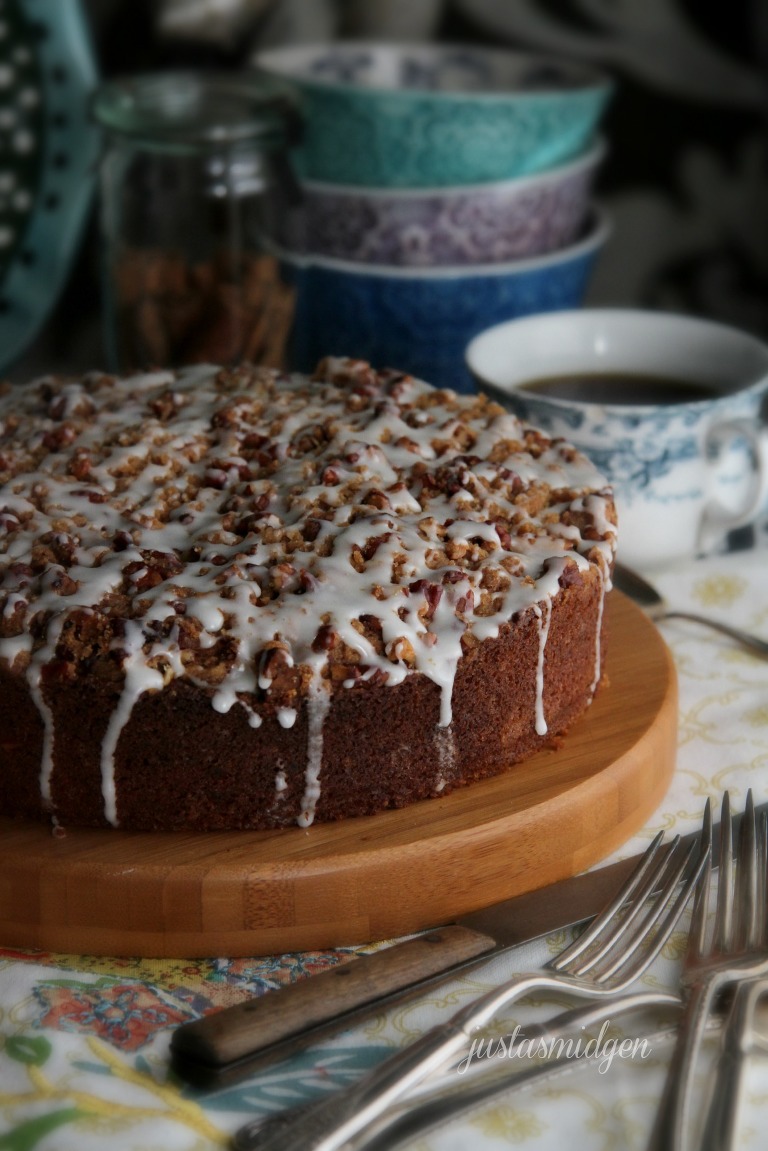 Cinnamon Streusel Pumpkin Coffee Cake
Cinnamon Streusel Pumpkin Coffee Cake
Ingredients
Cake
3 cups flour
4 tsp baking powder
1 tsp baking soda
3-4 tsp Saigon Cinnamon powder
1 tsp ginger
1/2 tsp nutmeg
pinch of cloves
1 tsp salt
1 cup butter, unsalted (two sticks)
2 cups brown sugar
4 large eggs
1 cup pumpkin puree
1 cup plain full-fat yogurt
1 tsp vanilla extract
Streusel
1 cup flour
1 cup brown sugar
2 pinches salt
12 tbsp butter, cold cut into chunks
2 tsp cinnamon
2 c toasted chopped pecans, toasted*
Glaze
1 cup powdered confectioner's sugar
pinch of Saigon Cinnamon powder
4 tsp whole milk
2 tsp clear vanilla extract
Instructions
Preheat oven to 350° F.
Butter two 9-inch spring form pans or 2 9-inch round cake pans.
Make the streusel first, combining the flour, brown sugar, cinnamon and salt in a medium-sized mixing bowl. Add the butter cubes and cut in with a pastry cutter or two knives until your mixture looks like coarse oatmeal. Stir in the toasted pecans.
Then make the batter by sifting together the flour, baking powder, baking soda, cinnamon, ginger, nutmeg, cloves and salt.
In the bowl of an electric mixer fitted with a paddle, beat the brown sugar and butter together on medium speed until light and fluffy. Beat in the eggs, one at a time, scraping down the sides with a rubber spatula as you go.
If using homemade pumpkin puree, press the puree through a fine sieve to reduce the amount of moisture in the pumpkin. If using tinned pumpkin puree, this step isn't necessary.
Then add the pumpkin puree and yogurt and mix together with a spatula. Stir in the flour mixture. Your batter will be thicker than most cakes.
Spoon half the batter in the bottoms of each prepared pan. Sprinkle over half of the streusel. Spoon the remaining batter over top, smoothing as best you can to cover. Sprinkle the remaining streusel over top both pans.
Bake for about 50 minutes, or until a toothpick inserted in the middle of the cake comes out clean. Move to a wire rack, allow the cake to cool for at least 15 minutes. Remove the sides if using a spring form pan and slide the cake off the bottom. If using a cake pan, run a knife gently around the edges and lift out. Allow to cool further.
Meanwhile, make the glaze by whisking together all the ingredients in a small bowl. When the cake is completely cooled, drizzle the glaze first vertically then horizontally across the top of the cakes.
Cut into thick wedges to serve.
Makes 2 9-inch cakes.
*To toast pecans, spread the nuts on a non-stick frying pan or in the oven at 325°F. Move constantly until fragrant and lightly toasted, about 10 minutes.
Notes
adapted from Williams Sonoma