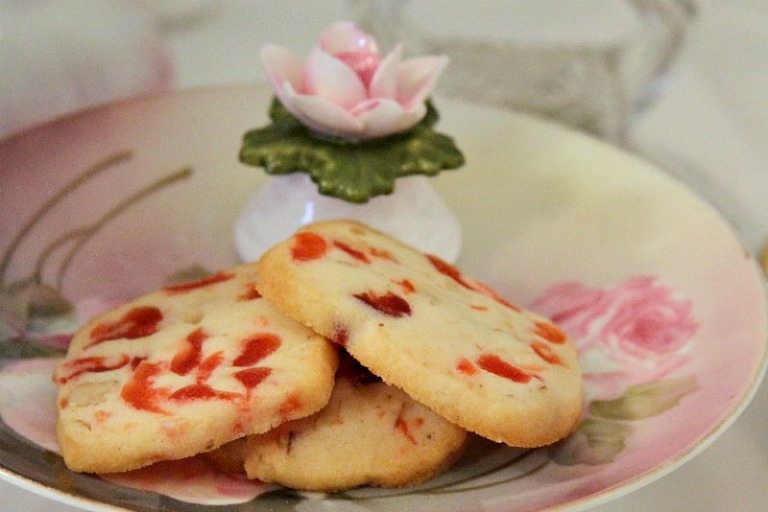 With Christmas coming up.. there are Craft Fairs and Art Markets
popping up all over our city!
The Telus International Christmas Market began just this past weekend
and takes place again next weekend from November 23-25th.
The 2012 Cochrane Ranche House Christmas Market takes place Saturday, November 4 from 10-6.
November 29 – December 2 is the Festival of Crafts Art and Craft Sale down at the BMO Center on the Stampede Grounds.
Another favorite is the Kensington Market Collective Sale 
which is to take place in the old Ant Hill Building
on Saturday, December 1 from 10-6 and Sunday December 2 from 10-5.
They had planned for three events but were told to curtail the festivities to one weekend
because of the competition felt by some local shop owners. I'm not sure about that one..
I think I'd be making a day of it, wandering out from the Collective and into the local stores.
In any event, there are all sorts of smaller craft sales taking place in various venues throughout the city,
so check on-line for one in your community!
♥
My own fingers were itching for a little bit of frugal crafting.
This time I turned to Pinterest for inspiration and found it at Martha's Craft Department.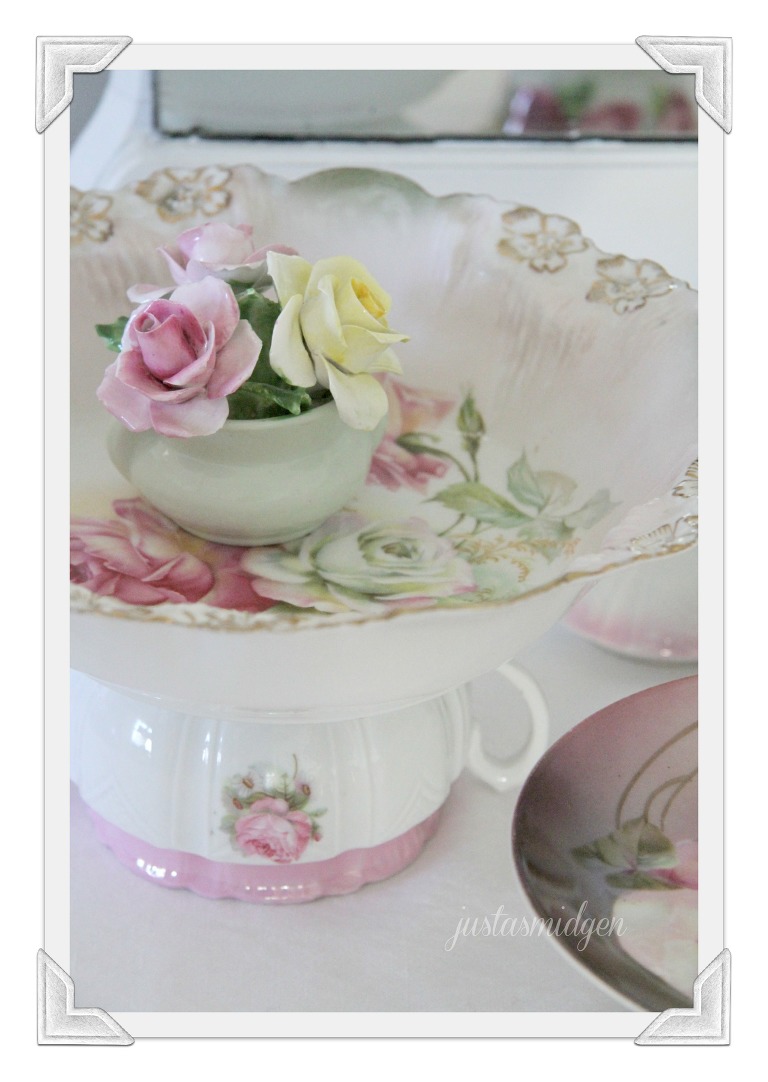 It's a simple craft, repurposing various soup cups, saucers and plates to make
cake and cookie plates and jewelry stands.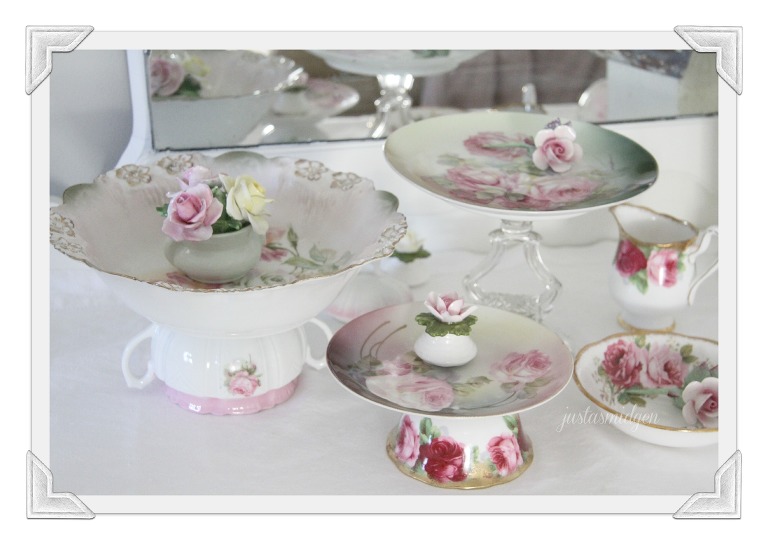 I toured my favorite shops in town..
Cozy Cottage Interiors
is my favorite new go-to place for all things vintage!
I picked up a glass candlestick and a few pieces of transferware
that reminded me of dishes my Gran used to have.
They're affordable because, although they're vintage, they're not really
collectible antiques.
From there I went to Inside Avenue Antiques
to find cute little inexpensive porcelain roses, sugar bowls and tiny salt and pepper shakers.
You'd find all sorts of contemporary, seasonal and affordable dishes at Home Sense.

I think a Christmas set or pure white would be gorgeous!
♥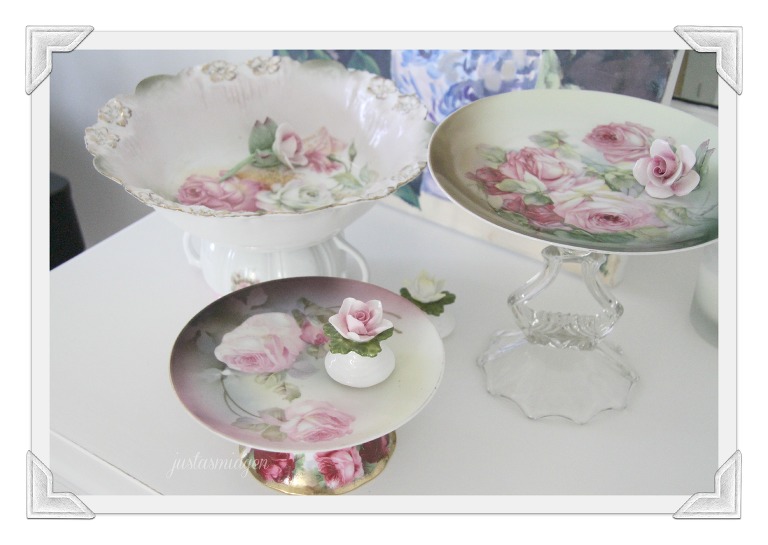 I could have used my glue gun, but to be honest, I thought I'd use poster putty for a temporary fix.. because the combinations and variety possible for the dishes I'd
found were endless.
I'd recommend heading over to Martha's to read the Commenter's suggestions
if you're planning on making a more permanent bond,
…which you'd want if you are making these as Christmas presents.
♥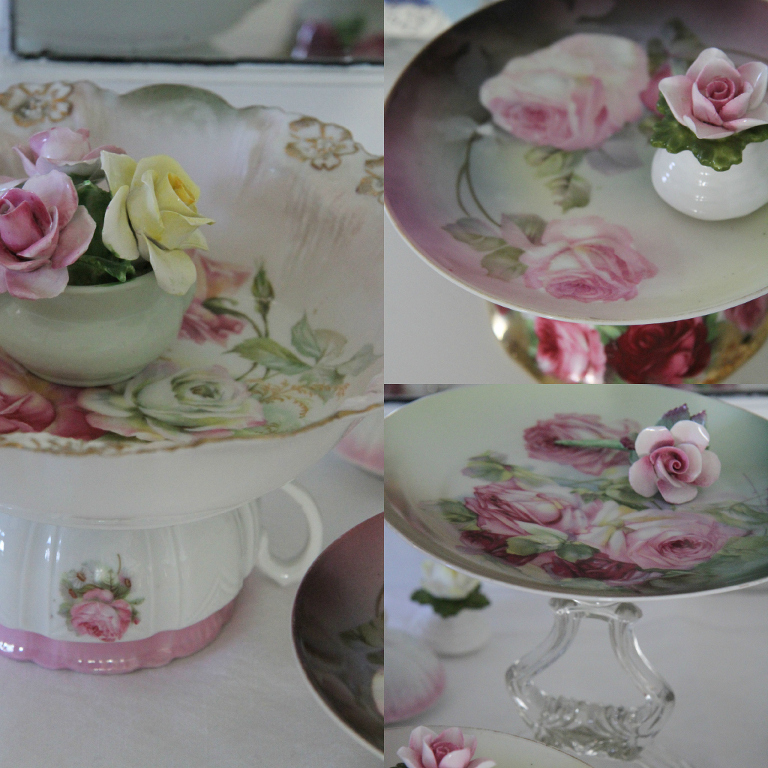 ♥
They're awfully pretty for a wee cookie dish for a few …
Cherry Walnut Cookies
Cherry Walnut Cookies
Ingredients
1 cup unsalted butter
1 cup confectioner's (icing) sugar
1 egg
1 tsp vanilla extract
2 1/4 cups all-purpose flour
1/4 salt
2 cups candied red cherries, diced
2/3 cup walnuts, chopped
Instructions
In a large bowl or in the bowl of an electric mixer fitted with a paddle attachment, beat together the butter and confectioner's sugar until smooth. (This dough becomes quite stiff, I found the electric mixer very helpful.) Beat in the egg and the vanilla extract.
In a medium bowl, sift together the flour and salt. Add to the butter mixture and mix well.
Stir in the cherries and the walnuts.
Divide the dough between three pieces of plastic wrap, parchment, or wax paper. Roll into a log. Leave as a round roll or flatten each edge slightly for the squared look I have here.
Refrigerate for a minimum of 3 hours before baking or freeze for later use.
Preheat the oven to 325° F.
Remove and slice, placing slices on a silpat or parchment lined baking sheet, about 1 inch apart. Bake for about 8 to 10 minutes, or until the edges have just slightly browned. Remove to a rack and cool.
Makes about 4 dozen cookies.