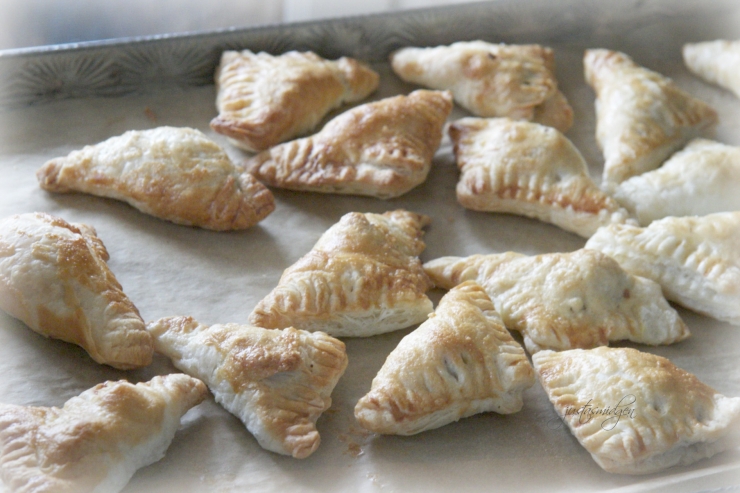 Step away from the butter tarts..
I promised my Facebook friends to post this recipe before New Year's Eve. These little pockets of heaven are so easy to make and very popular with the guys.. I made a savory Tourtiére Recipe last year, so when I saw these little hand pies over at Simple Bites, I knew I had to try them! If you have left-over Tourtiére filling, they're so quick and impressive looking. I cooked up a new batch of filling just so I could bake these little ones.. and it was so worth it. Recipes like this are awesome for visitors on Boxing Day and New Year's Eve house parties because they can be made ahead and served hot right from the oven.
This filling makes a full recipe so you could cut it in half.. or freeze the left-over filling for another time… or buy more puff pastry and make more Tourtiére Pies!
[amd-zlrecipe-recipe:94]
Roll out the puff pastry until it is about 1/8″ thick, using enough flour to keep the rectangle from sticking to the counter. It should be just thick enough that you can still "handle" the squares and won't tear when filling. Score in 3″ squares, mine made 4 x 6 squares.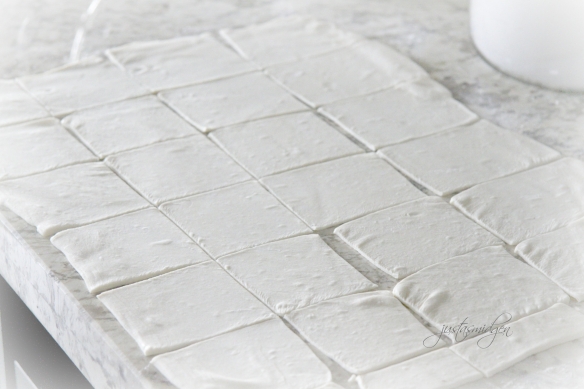 Spoon a small (quite small) amount of filling into the center of each square.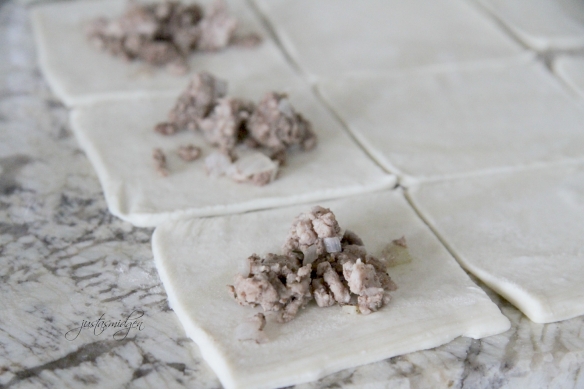 Lightly brush the two sides with beaten egg, fold over on a diagonal and press closed with a fork to make it pretty!
Refrigerate for half an hour before baking. Alternatively, cover and pop into the freezer until frozen. Transfer to a freezer bag or air-tight container and store frozen until ready to serve.
Preheat the oven to 375°F.
Place pastries on a silpat or parchment covered baking sheet. Brush the tops with beaten egg.
Bake for about 15 minutes, or until pastries are golden brown. Serve warm or at room temperatures.
I'm so happy to have all of my Christmas decorations up to savor, without the added stress of Christmas preparation and shopping. It feels like -26°C outside today, but it's sunny enough for a walk… but this guy just isn't interested… I think he got into the butter tarts, too.
If you're headed out to the mall today..
God help you bless you!