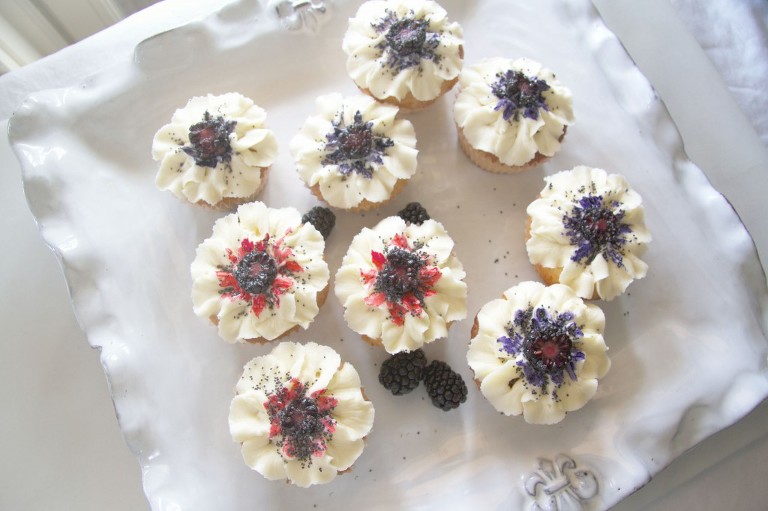 It was a magical day, half of our wee family gone on a road trip, the other soundly sleeping. Just the pupster and I were drowsy awake with a steaming cup of coffee and all the time in the world to play in the kitchen.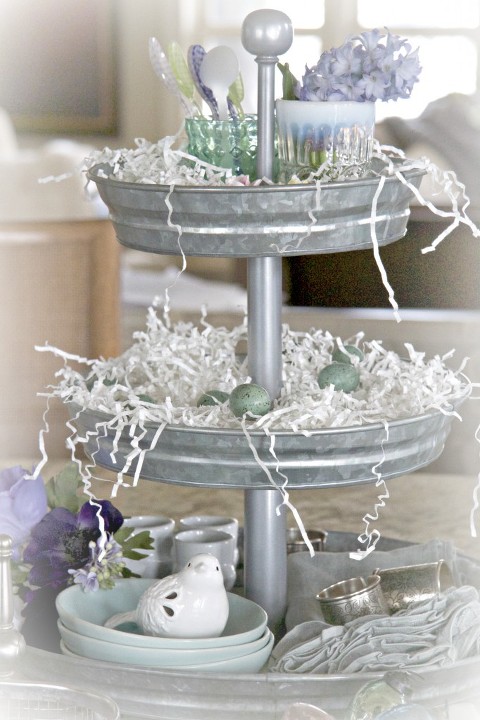 There was a hushed quiet as the mixer hummed and eggs were cracked. Looking out the window, I reflected that I should appreciate the beautiful view out to our backyard more often.. its trees, the sky, bird song, the church steeple above, protecting us.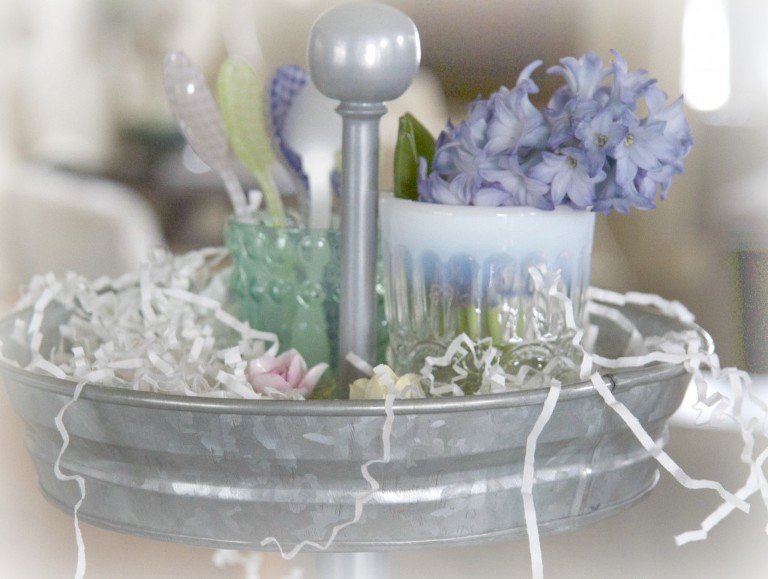 Snow had lightly fallen through the night, just a skiff, but enough to make the landscape pristine. As I submitted to a quiet moment of gratitude,  a soft wind gently stirred and whipped the flakes up into the air, where they soared, swirling like sparkling diamonds. The flakes danced, a shaken winter snow globe as we looked out from inside. I felt as though those glittering flakes seemed to be laughing, it was a joyous movement of song. Of course, a photograph couldn't capture it, though I tried.. it was an ephemeral, fleeting message..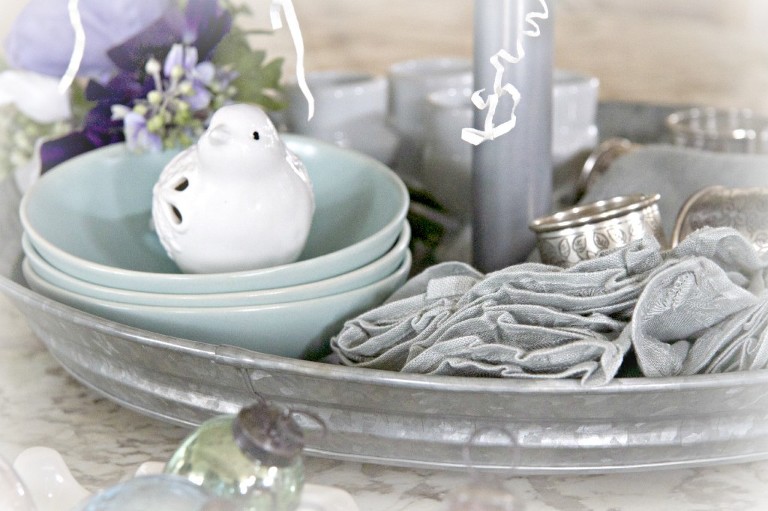 It took my breath away and then I knew, these little cakes were the perfect cups to bake… because someone had approved.
Later that morning, cupcakes in hand, I rang the bell and was ushered into a lovely home, candles lit, the quiet murmur of voices and warm hugs. We were celebrating, not a birthday this time, but the life of one precious mother who had gone on before us. This mother who in the last years of her life, when she could, still tucked her daughter in bed at night to keep her warm. We celebrated her lifetime of  adventure, baking, loving and cherishing, we heard stories and reminisced. We reflected on the gift of a good death, of a life well lived, better still… a life well loved.
I think I will always be my mother and father's child.. even though I've become the mother who tucks my own children in bed at night.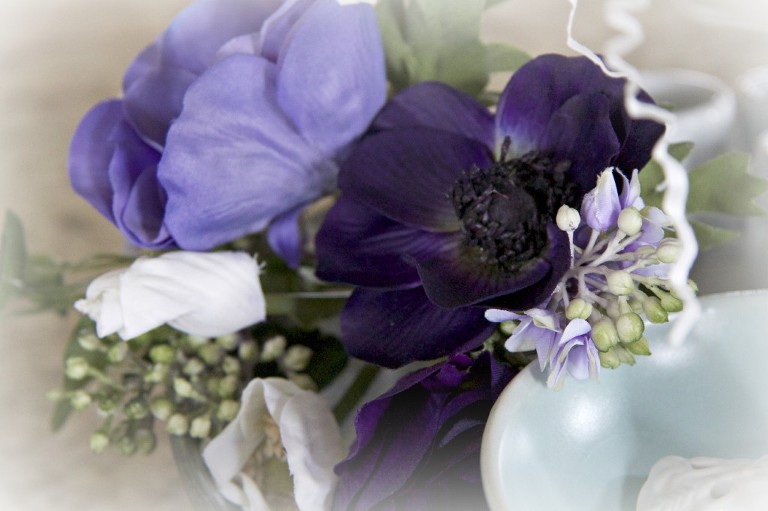 ♥
These cupcakes caught my eye because they resemble Anenomes, something like the little one in the photograph above (although these are silk). They're one of my favorite flowers, I never could resist the charm and allure of a wild flower.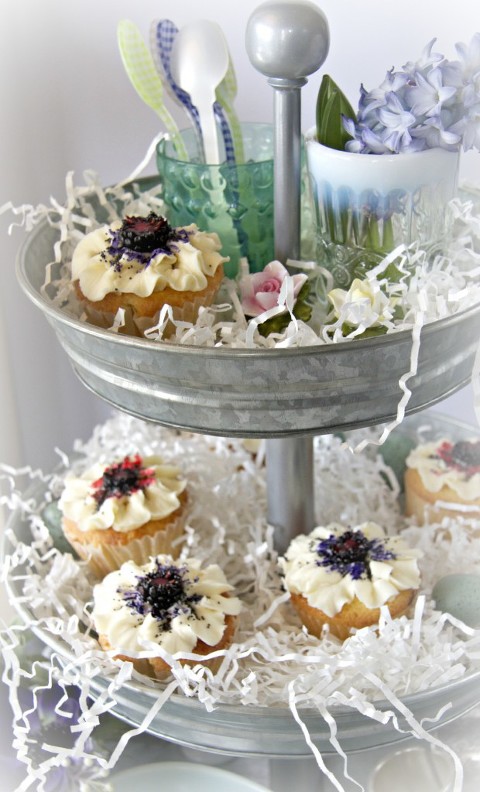 These were inspired by Martha Stewart's "cake and cupcakes" magazine, they were pretty to make with a little blackberry halves popped in the center of piped petals.
with a sprinkling of poppy seeds, finished with a little brush of diluted food coloring gel.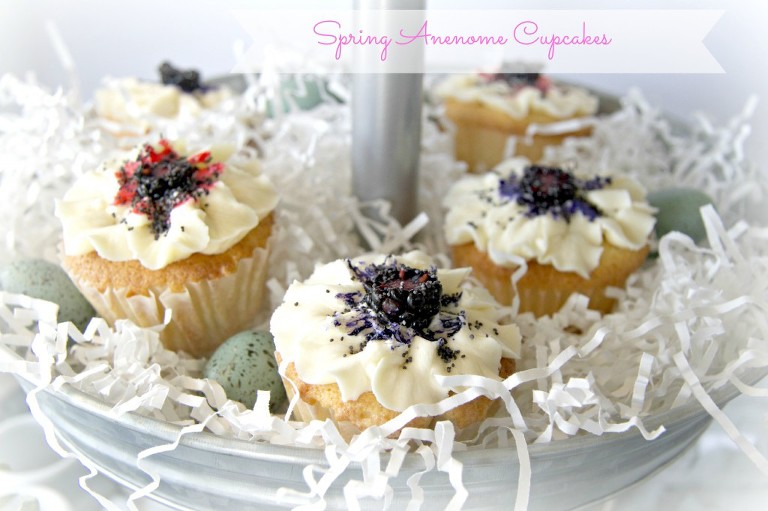 Their wee faces were so cheerful.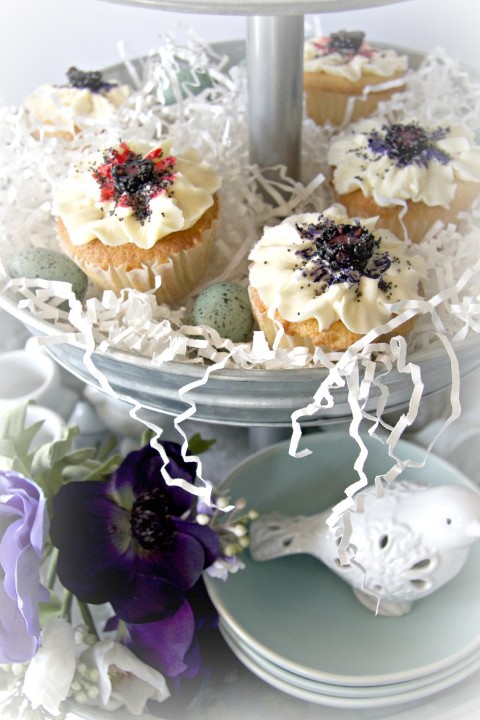 ♥
 Spring Anenome Cupcakes { for Emily }