This brilliantly colored dip is just a bright burst of Spring in your mouth!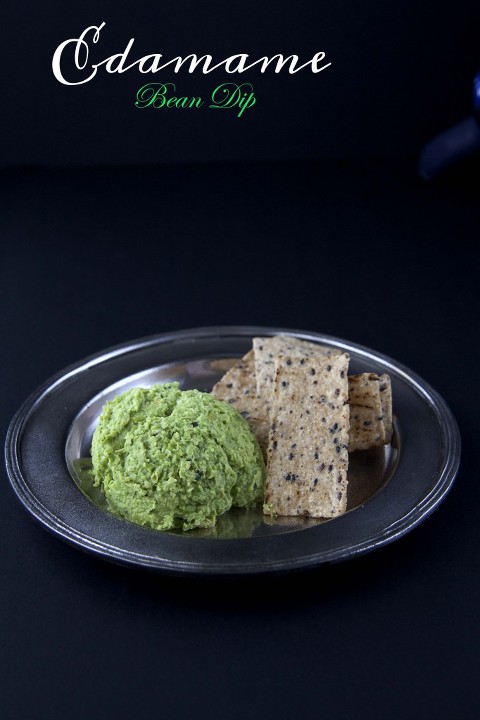 My daughter wanted to bring something healthy to her friend's birthday party so we knew we wanted to start with Edamame and some sort of dip.
Emerald is the Panatone color for this year, so Smidge's kitchen worked out a recipe
that is colorful, healthy and, of course, really yummy!
Edamame Dip
Emerald Green Edamame Dip
Ingredients
1 16 oz (454 grams) edamame beans, frozen
1/4 cup pine nuts
1 1/2 avocados
1/2 cup (handful) basil leaves
1 shallot
2 cloves garlic
juice from 1 lime
juice form 1/2 lemon (lemon & lime juices combined made just under 1/4 cup liquid)
1 1/2 tsp sriracha hot chili sauce (or to taste)
3 tbsp olive oil
1 tbsp camelina oil (or olive oil if you don't have)
Instructions
Heat up a pot of salted water until boiling. Add the edamame beans and cook for 5 minutes or until softened.
In a food processor, add the edamame and the pine nuts. Pulse and blend until smooth.
Add avodacos, basil leaves, shallot, garlic, lime and lemon juices, and hot chili sauce. Pulse until you have a smooth consistency and everything is incorporated.
Scrape down the sides. With the processor running, drizzle in the oils. Once the oils are incorporated, scrape down the sides again, taste and adjust for seasoning.
*Camelina Oil is a new oil
  from
three farmers
that now is available at
Sunterra Market
. They describe it as "nutty flavored" but to me it smells more like sweet spring freshly picked peas. It is made from an ancient grain and filled with Omega-3 and Omega-6 fatty acids and Vitamin E. Being made from an ancient grain means it isn't a modified grain and, as such, has many health benefits for consumption. It is quite versatile, cooking well at high temperatures and will not "congeal" when in the fridge. If you can't find it, just replace the quantity with a good olive oil for this recipe.  As always, I wasn't asked to review this oil by anyone, nor was I compensated.. I just sampled this one at
Sunterra
on the weekend and loved it. I like introducing new products to my readers! Have an awesome day!