Since Emerald Green is the Pantone Color of the Year,  I expected to see it showing up everywhere. From household decor to clothing and paint, green is the color to envy. Truthfully, Emerald isn't a color I'd ever really considered. Blue, gray, white or pink would always win if I had to choose. But I am warming up to the greens I've been seeing. Grayed Jade is another shade that is supposed to be big in fashion, but to be honest, I haven't seen much of it around. Perhaps that's because my fashion radar would skim right over it and go straight to my favorite colors.
I thought I'd take a little peak online at the color green and was pleased with what I found, I would love to have any one of these outfits!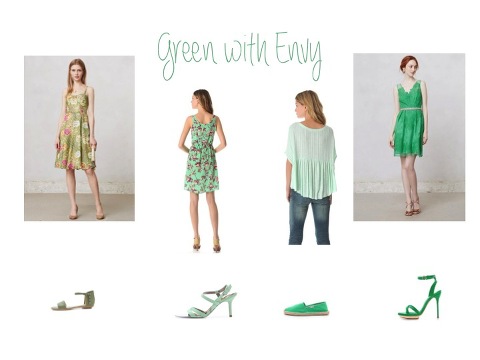 The first outfit is an Anthropologie Rose Bramble Sundress with flat sandals from Moschino.
Next is a pretty Joie Verdon Printed Dress with strappy sandals by Sam Edelman.
The third outfit is a Free People Embroidered Top with Soludos Espadrilles.
The fourth dress is Anthropologie again, their Cloverlace dress with Alice and Olivia sandals.
Green is popping up in kitchens as well!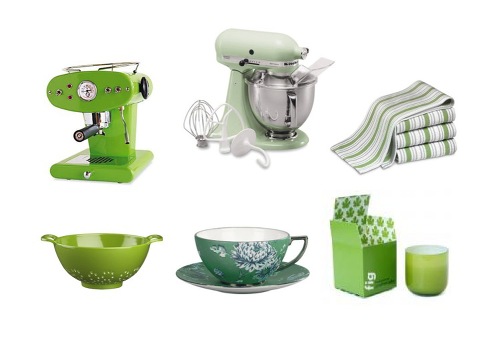 I love this cute little Francis Francis Espresso Machine, pretty in pistachio colored Kitchenaid mixer,William Sonoma tea towels, Jonathan Adler Fig Pop Candle,  Wedgewood's Chinoiserie green cup and saucer, and this sweet mini melamine colander from Crate and Barrel.
Here is a little verdant green peaking out from under a bridge in Florence.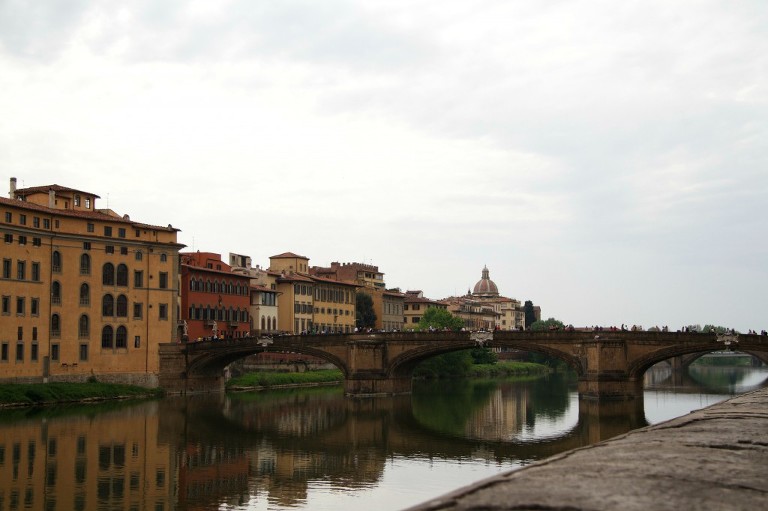 One green that left a big impression all through our trip was pistachio.. the sweet Pistachio Green of the Gelato flavor found on every street corner. It was my husband's favorite and it was sampled at every stop in our journey.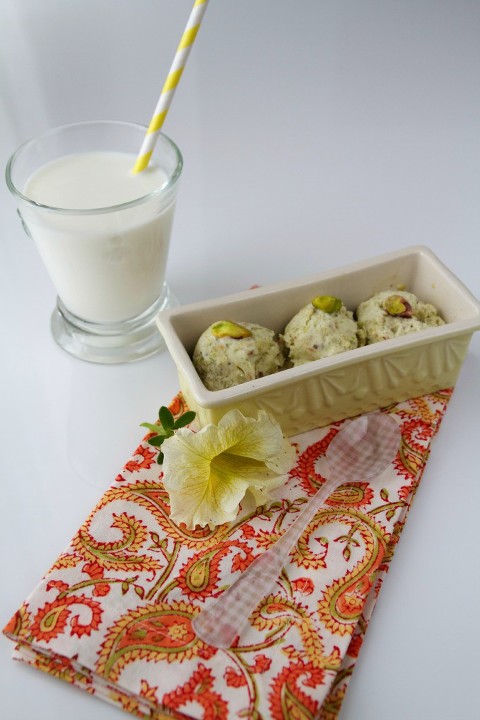 As a surprise, I decided to make some Pistachio Gelato for dinner one night. Not having tasted Pistachio Gelato, (I know.. what was I thinking?)  I took the suggested amounts of Pistachios from an Epicurious Recipe  (3/4 cup) and increased it to 1 cup. I also used roasted, salted pistachios. My taste testers and I felt there was an overabundance of pistachio in the recipe, so I knew some important research was required.
I happily went for a drive and sampled Pistachio Gelato at Amato Gelato in Kensington. They've taken over an old Dairy Queen location and it's now a bright, contemporary shop with an extensive selection of gelato. Showing some restraint, I ordered a single scoop of Pistachio and was surprised to find the flavor very subtle and a complete absence of any pistachios for texture.
So, if I were to make this gelato again, I would reduce the pistachios and the almond flavoring by half. But feel free to keep the quantities suggested in the Epicurious recipe if you prefer.
Pistachio Gelato
Ingredients
1/2 cup salted and shelled pistachios
1/2 cup sugar
2 cups whole milk
1 cup heavy cream
1/2 tsp almond extract
4 egg yolks
1/4 cup sugar
Instructions
Rub the shelled pistachios with a paper towel or tea towel to remove excess salt. Place in a food processor with 1/2 cup of sugar and process until the pistachios are quite fine.
Add the whole milk and cream to a large saucepan. Heat on medium temperature until the edges of the milk begin to slightly bubble. Meanwhile, whip 1/4 cup sugar and 4 egg yolks in a mixer fitted with a whisk attachment. Beat until light and frothy.
Once the milk and cream has heated, with the mixer running on low, slowly pour in about 1/4 cup of the warm milk mixture into the yolk mixture. Use a small measuring cup and pour down the side of the metal mixing bowl to allow the milk to cool as it is added. Continue to gradually incorporate all of the milk.
Once blended, pour the egg yolk and milk mixture back into the saucepan. Heat on medium temperature until it just begins to thicken, coats the back of a wooden spoon, or begins to gel a bit. Stir in the pistachio mixture. Cool completely or refrigerate overnight.
Pour into an ice cream machine and turn on as instructed for your machine.
Notes
Gelato is meant to serve quite soft to allow the flavors to be heightened. You may wish to make the milk mixture the day before, then blend and serve immediately. Alternately, you can make the gelato ahead, freeze then thaw in the fridge for a while before serving in order to soften it to the right consistency.