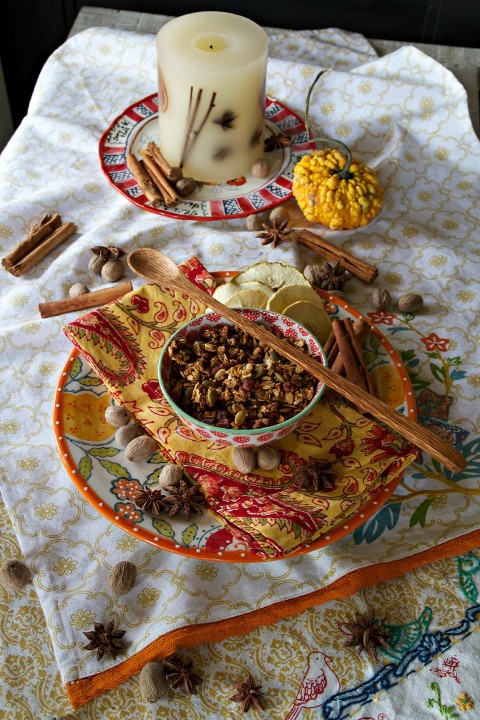 I love the seasonal change over to fall recipes,
I think it's the contrast of all the deep earthy flavors after the cool, light salads of summer…
like in this Gluten Free Pumpkin and Applesauce Granola recipe.
♥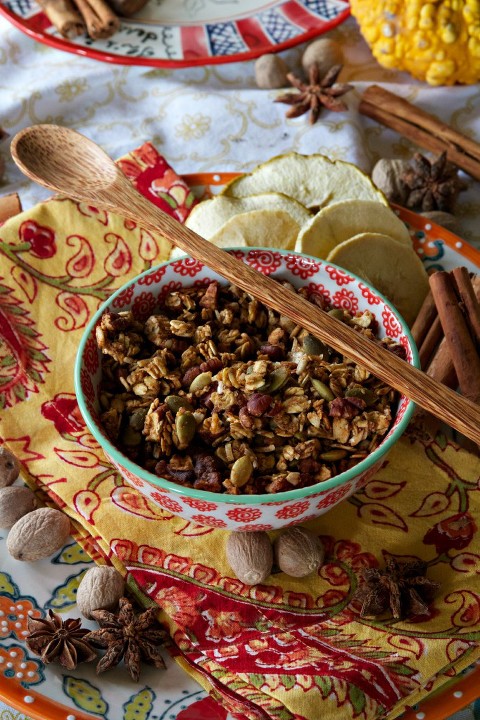 This is my newest favorite granola creation. There isn't actually any star anise in the recipe, but I think it would be an interesting addition.
I just liked how it looked in my photographs;)
♥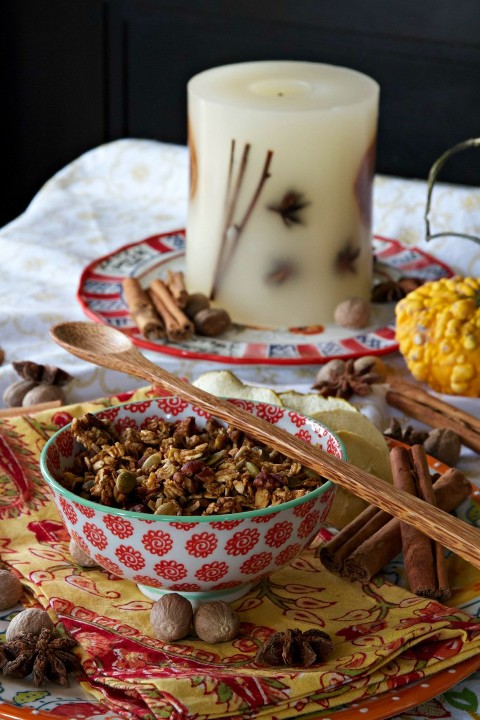 Here's a little poetically inclined version of my Gluten Free Pumpkin & Applesauce Granola..
I was reflecting that, with each bite, all of the flavors of swirl around and conjure up some classic images of fall!
♥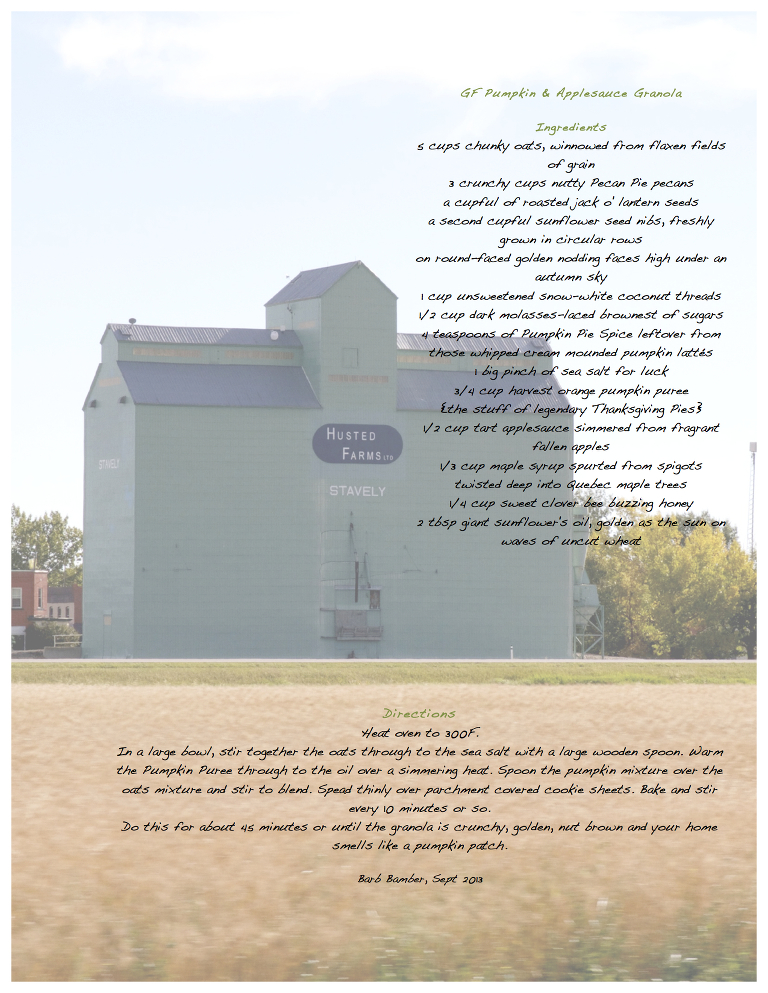 And here is the recipe in a printable format.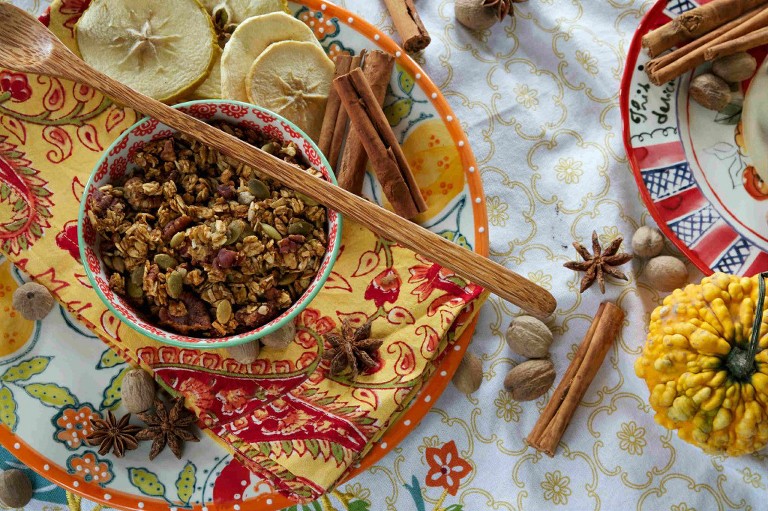 ♥
Gluten Free Pumpkin ~ Applesauce Granola
Ingredients
5 cups of large flake oats, uncooked
3 cups chopped pecans
1 cup roasted pumpkin seeds
1 cup sunflower seeds
1 cup unsweetened coconut
1/2 cup dark brown sugar
4 teaspoons Pumpkin Pie Spice
1 teaspoon sea salt
3/4 cup pumpkin puree
1/2 cup unsweetened applesauce
1/3 cup maple syrup
1/4 cup honey
2 tbsp sunflower oil
Instructions
Heat the oven to 300F.
In a large bowl, stir together the oats through to the sea salt.
I a medium sauce pan, mix together the pumpkin puree through to the oil. Warm just until mixture is heated through and honey is melted.
Spoon the pumpkin mixture over the oats mixture and stir to blend.
Spead in a thin layer over parchment covered cookie sheets.
Bake until golden brown and crunch, for about 40-45 minutes. Make sure to stir every 10 minutes or so.
Store in an air tight container or freeze in airtight plastic bags.
Notes
If doubling the recipe, use 1 kg bag of large flake oats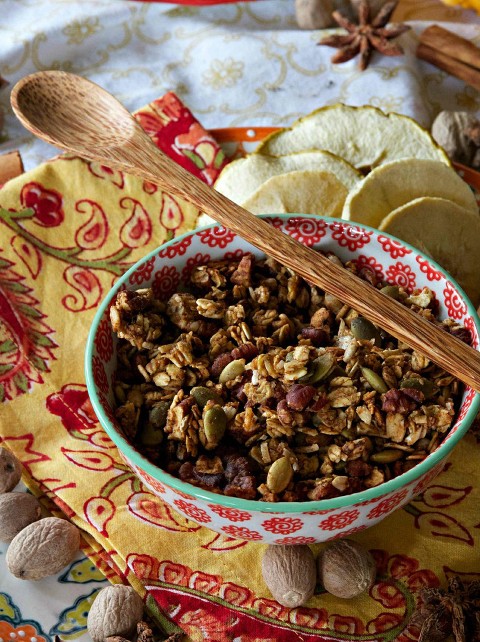 ♥
Guess who I had the pleasure of meeting?
Mar from Life Through the Kitchen Window!
It's not often I get the opportunity meet a fellow blogger.. Mar is as wonderful in person as I imagined! Mar has a lovely blog and if you pop in you'll see her photography, apart from being mouth-watering, is unique in that each dish is precisely balanced on a ledge, table's edge or a rail somewhere with an incredible background view. Sometimes it's a beach setting, other times a garden and the recipes always entice you to try them yourself, just so you can feel like you're on the beach with Mar!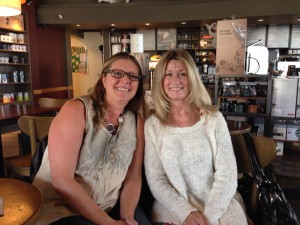 ♥
Fellow bloggers.. I've been mucking around again.. trying to follow all of you on Pinterest! If you're there, please pop me a note with your profile link in the comments section so that I can find you and follow! I've become quite fond of waking up, clicking on Pinterest.. and seeing this splendid visual array of everyone's latest work!