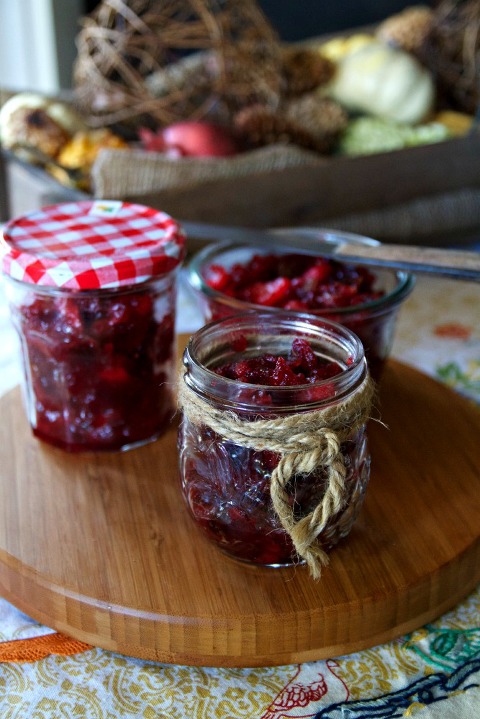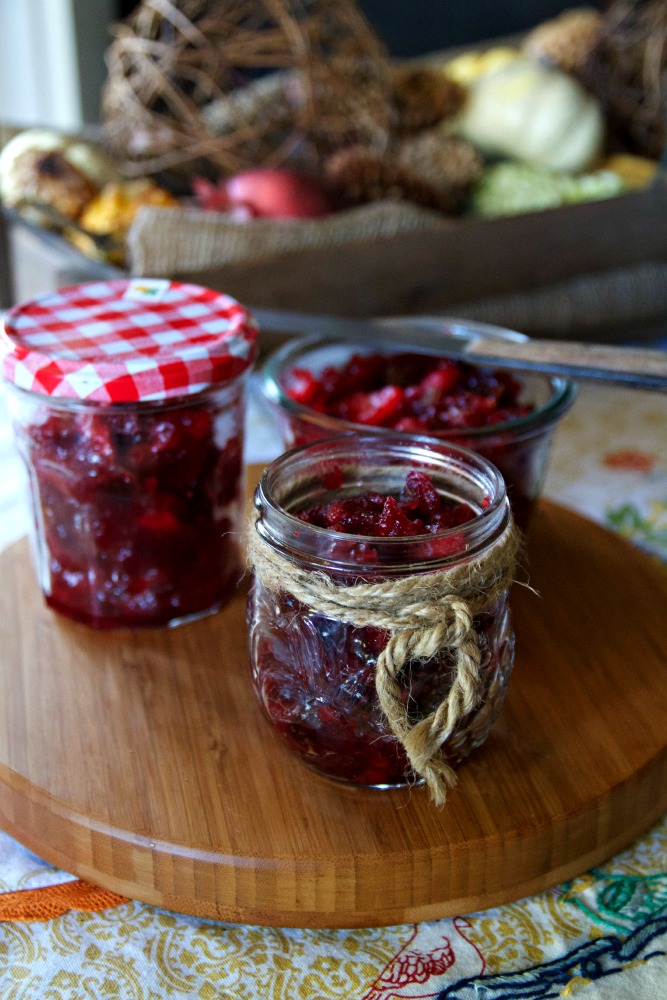 I'm always delighted to discover sparkling jars of my Chunky Cranberry Apple Chutney hiding behind the apricot jam!
Dollops of ruby red chutney smeared over thick slices of bread, sandwiched amidst slices of aged cheddar
then grilled in all its melted molten loveliness..
has to be one of my favorite comfort foods.
So even if Thanksgiving is long past or just ahead, even if you don't celebrate Thanksgiving or have a Christmas turkey,
you should give this a try..
you'll be sure to take a shine to this bright jar of felicity!
♥
This recipe gains so much texture from the addition of hefty Sun Maid Mixed Jumbo Raisins and knobby chunks of walnut.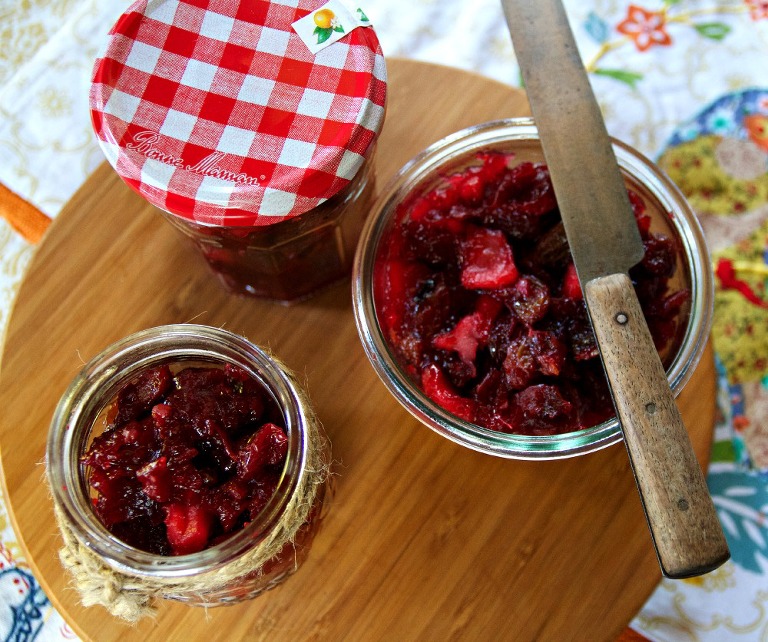 Chunky Cranberry Apple Chutney
Ingredients
1 orange, peeled, white membrane, removed and chopped *
1/4 cup orange juice, freshly squeezed
1 package (12 oz) fresh cranberries
1 3/4 cups sugar
1 large golden delicious apple, peeled, cored, chopped
1/2 cup jumbo raisins
1/4 cup chopped walnuts or pecans
1 tablespoon apple cider vinegar
1/2 tsp ground ginger
1/2 tsp ground cinnamon
Instructions
Combine all ingredients in a large saucepan and bring to a boil over medium heat. Reduce heat and simmer, stirring occasionally ,for 5 to 8 minutes or until cranberries are bursting. Remove from heat and let cool. Chill in fridge until serving. Extra may be frozen in small containers.
This makes about 4 cups of chutney.
Notes
* Using a sharp paring knife, cut the bottom and top off of your orange. This allows it to sit steady on your cutting board. Carefully cut the peel off, from top to bottom all around. Then carefully, holding your orange in your hand, slice just next to the membrane of one orange slice and again on the other side. Using the knife, pop out the orange slice, catching the juice in a cup. Repeat for the entire orange and at the end, squeeze the remaining orange membranes to get the last of the juice out.
 ♥