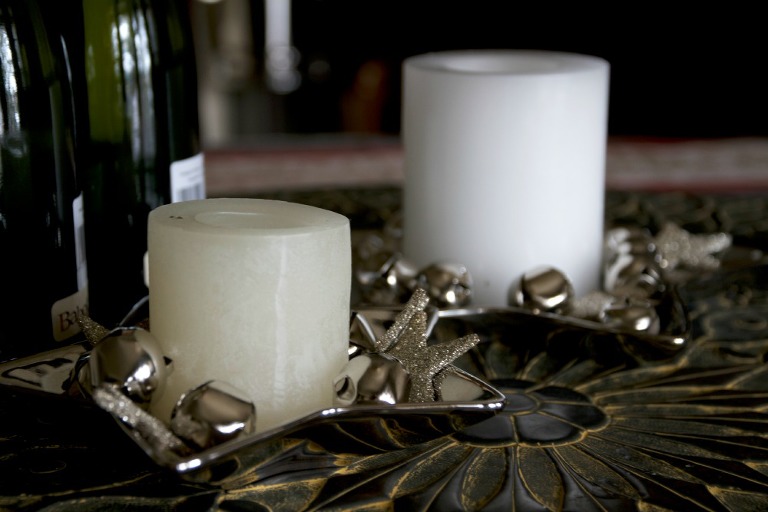 I love all the sparkle that metallic colors add to holiday and Christmas decor,
like the twinkling star and silvery bells around these candles.
I light candles everywhere around my home at Christmas!
My silver and gold Christmas Tablescape has a darker, antiqued, vintage look, I think it adds character and warmth to an intimate gathering of friends and family.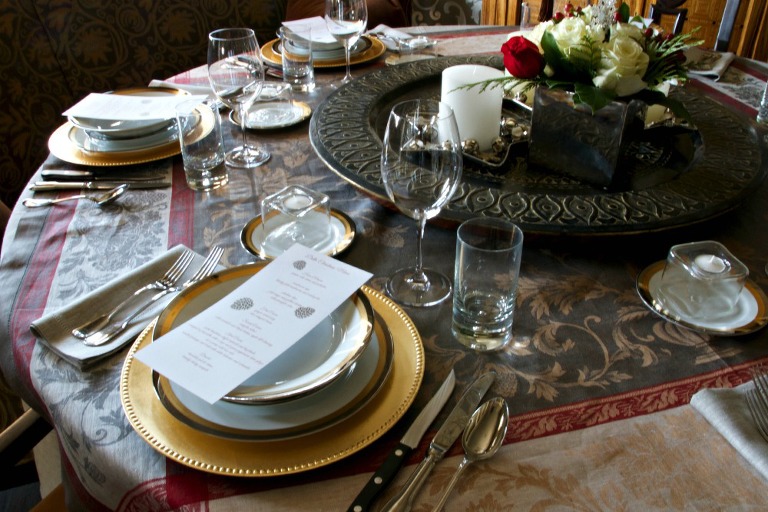 Our table is a handcrafted wood slab, but I decided to add two layers of tablecloths this year for a more festive look.
I found these tablecloths at the only shop in town that sold one this size..  inspirati and I have to tell you that Wendy Brownie's shop is the most beautiful, warm, inviting and inspiring shop I've been in for a long while. The service is impeccable, she wants you to stay a while, and browse while you sip on a cappuccino and sample a Poor Boy Fle ur de SelCaramel. Her staff all have decorating expertise and show you such a myriad of options.
The bottom cloth is a base that is changed by adding a different square top for a layered look.
The square linens all flip over so there will be a second, lighter look for spring.
I selected some white with a few red roses and berries that were hand-tied for a simple winter bouquet.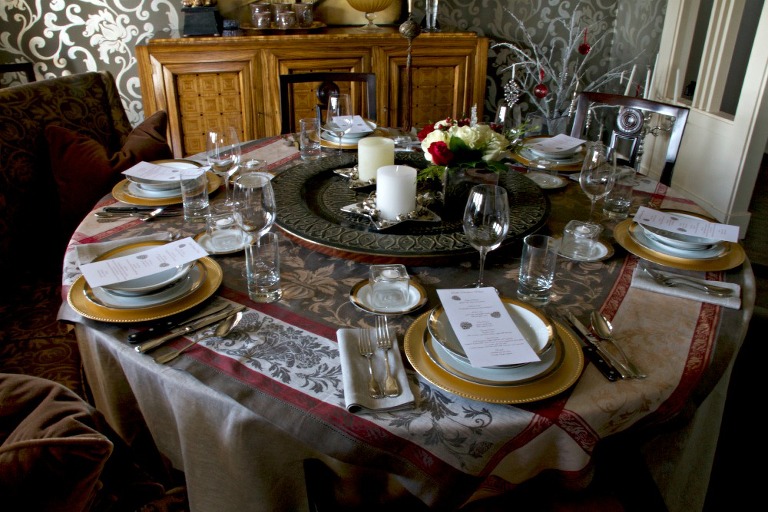 I offered to host our group's Christmas dinner this year and couldn't wait to decorate for the event.
With ten of us, it was easy to create a warm space where we could all join together.
I was happy to use the gold chargers from Christmas past and our china has gold and silver bands.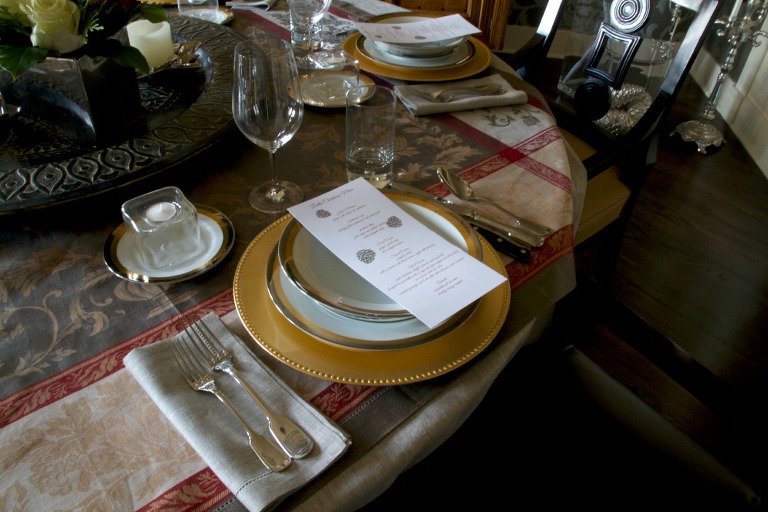 Originally, I had both tables decorated.. you may remember my white, silver and red table..
But in the end, our caterer suggested we move our bench aside and bring in additional chairs so we could all toast the Christmas season together. This was so much better than sitting in different rooms.
Chris Halpin's company Manna Online created a beautiful menu with amazing flavors..  and excellent service.
It was a first for me to have a dinner catered and it was such a treat to be a guest in my own home!
We started the evening with sparkling glasses of Babot Cava Brut, Chris' recommendation.
It was fantastic, a silky and not intrusive and very affordable bubbly that is now my new favorite.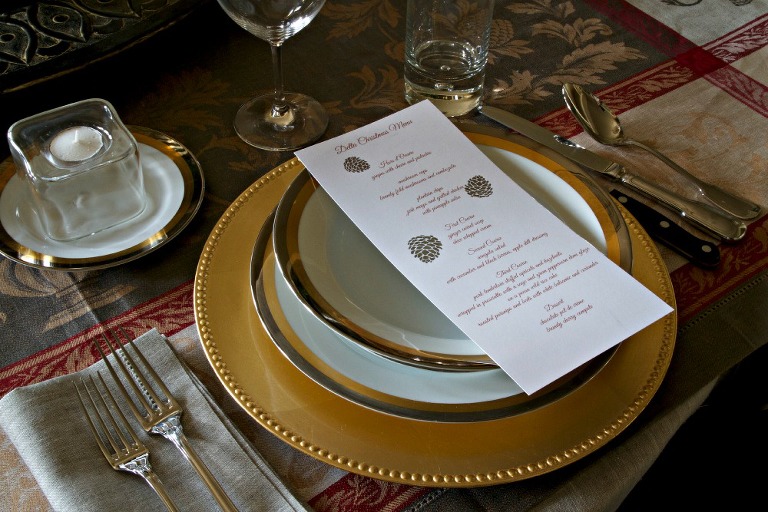 I decided to cut and paste the menu as a keepsake onto an 8×10″ Design page in Picmonkey, added a few graphics then printed them at home on card stock. I trimmed the sides and laid them on the place settings.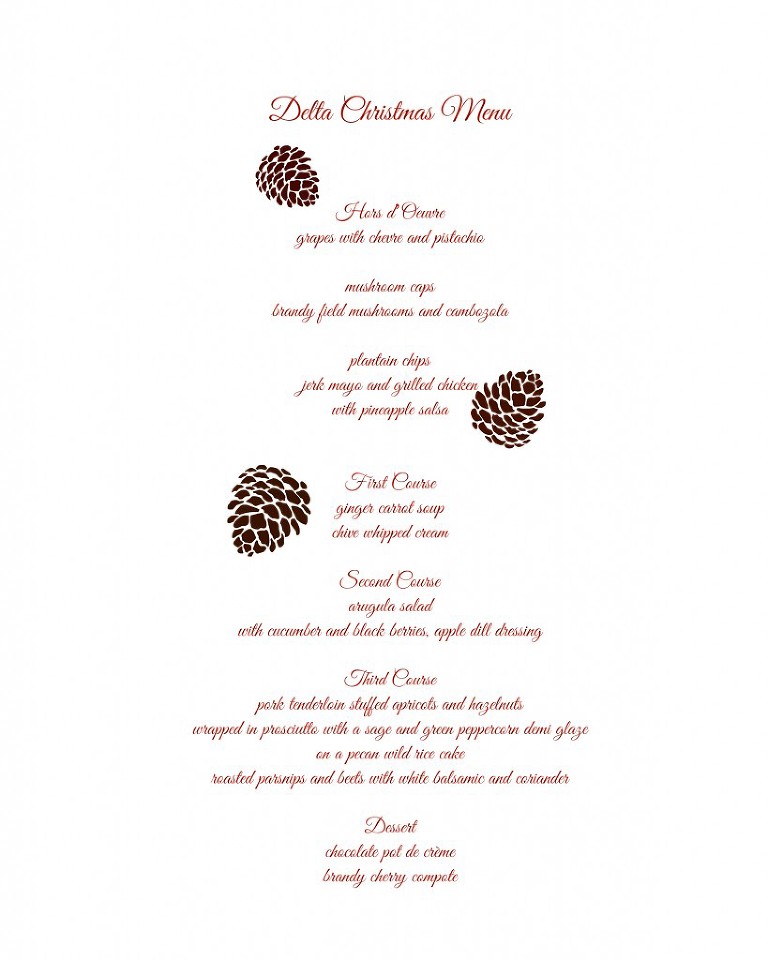 But as always, the evening was made perfect by the company of my beautiful friends and their spouses…