I know, I was supposed to be back with a pretty mason jar craft but my little pup, Bella, won't let me out of her sight for even one minute! Then we had a lovely afternoon visit from great friends that lasted for a cheery afternoon of catching up and meeting the new puppy and telling stories of Sochi and Prague and "did you know they make an 85" clear glass television " and how you'd have to move just to have enough space for your tv but who needs furniture anyway? We noshed on Gwyneth Paltrow's Sweet Potato & Five Spice Muffins and as I made them that morning, I mused that at that very moment, Gwyneth was probably meandering around some ranch in southern California, in that sundress and Hunter boots from her cookbook, gathering eggs from her chickens, tossing her blonde hair back as she shielded her eyes and fanned her face from the hot sun and wondered why I live in this god-forsaken Prairie city in -41 C weather, what the hell were we thinking?
I suppose I could have gone to gather up the mason jar supplies after they left and for one brief moment, I had a spark of optimism and energy and I could hardly wait to head out! And then I looked outside, decided I should fill the bird feeder first and noticed that the heater for the birdbath had frozen solid and the plug outlet was making an odd snapping noise. So I unplugged that cord before it all caught on fire and burned our house down just because I think birds should have water when it's -41 C too.
Then that was so demanding, it was time for a wee nap, so said pup and I cuddled together under the rays of sun streaming in from the upstairs window, sunlight that cruelly taunted us with promises of heat and spring but no such luck. Then came dinner time and I wanted to try a new Bowl recipe that surprisingly came from a cookbook that's a few years old and I wondered if they were the first to invent The Bowl.. and that recipe was entirely too heavy and so stuffy overfilling that I thought I might need to curl up and read a book while I digested such a heavy meal.
Before you knew it, it was time for bed and I could hardly keep my eyes open. I wonder in this weather if we humans were really meant to be hibernating and that being awake at all was some big mistake made by one of the first humans who buckled under the pressure to multitask. Multitasking is overrated.
So instead, I have for you a recipe my daughter and I made a few weeks ago. It's quite a delightful chocolate pudding best eaten cold, straight from the fridge. It's raw, it's vegan and made with chia seeds.. which by now you all know is a super food.. which means you could probably have seconds.. which you should because they're quite lovely.. even if they're a cold dessert and by all logic you should be sipping on a hot mug of chocolate instead.
You could replace the cocoa powder with ground raw cacao nibs, but we didn't have them on hand.
Maybe today I'll pick up those supplies for the Mason Jar craft, it's only -24C.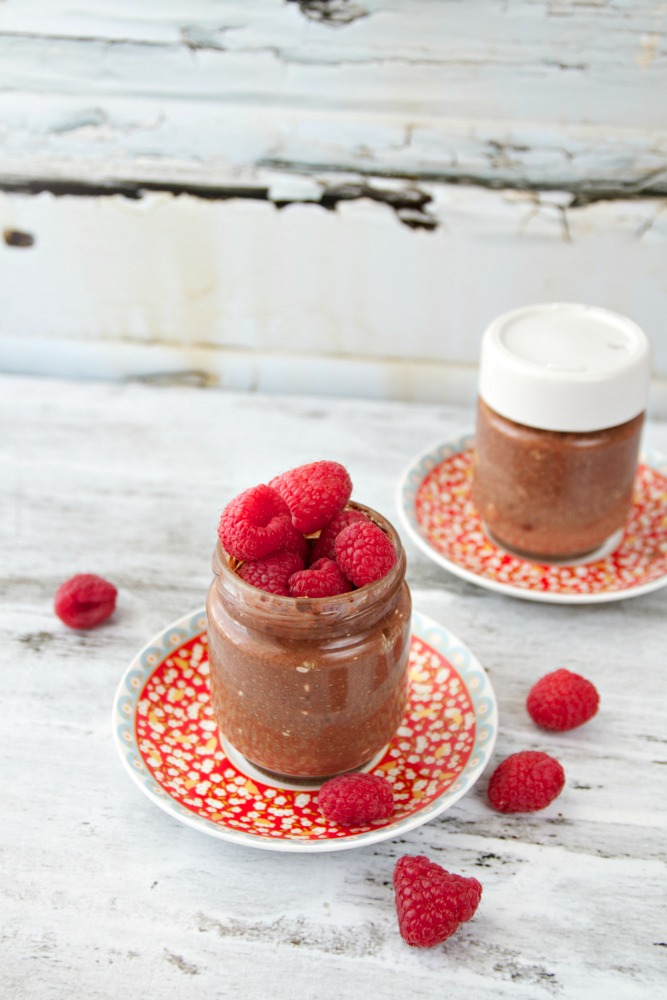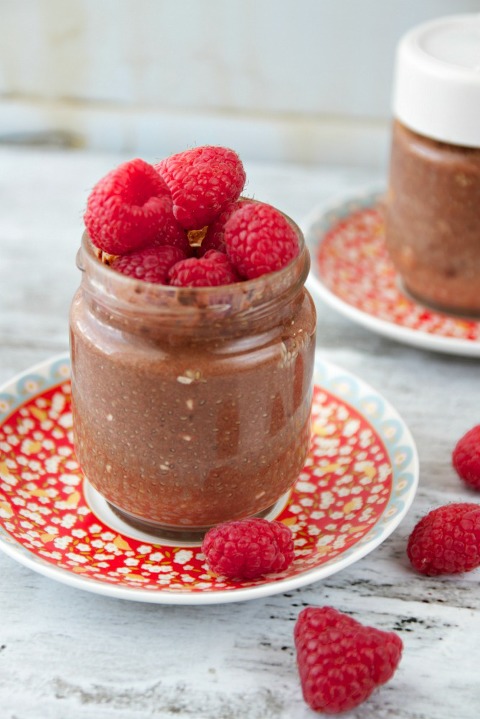 Vegan Raw Chocolate Chia Pudding
Ingredients
1/2 cup coconut milk (light)
2 tbsp white chia seeds
1 tbsp cocoa powder
1 tbsp maple syrup
Instructions
In a small cup, pour in 1/2 cup coconut milk (make sure to shake the can well before pouring). Stir in the remaining ingredients. Screw the lid on and shake vigorously.
Refrigerate, shaking or stirring every now and then.
The pudding could be set within three hours or so, but we left ours in the fridge overnight to set.
Notes
I prefer using white chia seeds because they allow the creamy white to shine, but you can using any chia seed color in this recipe.