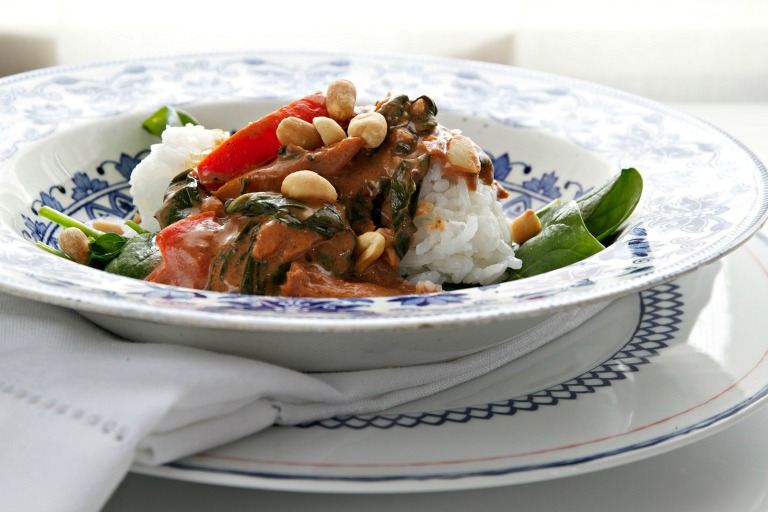 One of our favorite dishes at The King and I restaurant is their Pad Kai Long Song.
Traditionally this dish, also know as Swimming Rama,
is made with succulent strips of tender chicken sauteed in a peanut sauce then served on a bed of spinach.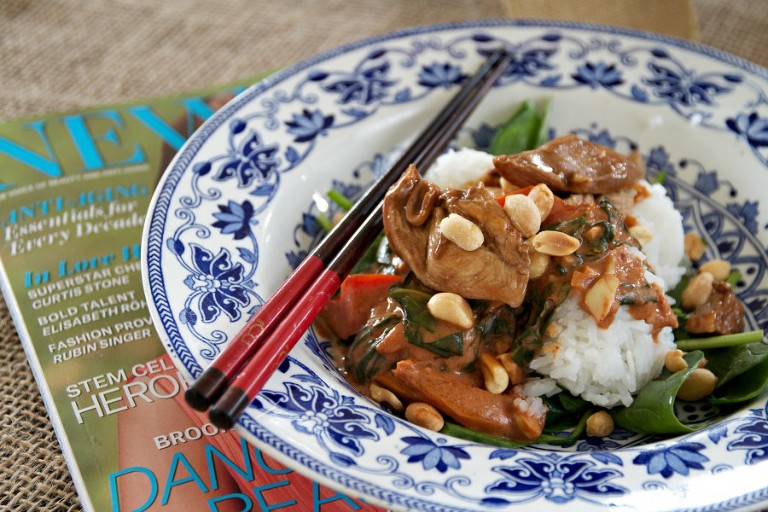 It's got something to do with the savory peanut sauce and the way it softens the spinach, I think.
Or maybe it's because it's just so dang awesome?
Like every dish Mel's kitchen creates.. every single one, perfect.. every single time we visit.
And Mel is always there to greet us.. every single time..  as he has since the day he opened his restaurant.
♥
We've been "Veganizing" everything around here lately.
I couldn't wait to make Swimming Rama bowls for dinner. As a back up for our Tofu version, I quickly sauteed some chicken pieces for the guys.. who also sampled the tofu!
So, it looks like this Veganish Dish is a hit!
After tense moments of experimenting and adding this and that, I landed on a combination that we all loved.
And.. then discovered that Mel already has this version on his menu, aptly named
Pad Tofu Long Song
I know what we'll be ordering next time!
♥
The first time this dish was made, all of the spinach was piled on top of the sauce in the saute pan.
We stirred and let the spinach wilt and simmer into the sauce. We all agreed that, while it tasted wonderful, it was a bit rich. So the next bowl was made with a nest of lightly sauteed and wilted spinach with a spoonful of coconut rice over top, tofu or chicken pieces added and the spicy peanut sauce drizzled over to taste. Sprinkle a few roasted peanuts sprinkled over top to garnish.
♥
Pad Tofu Long Song
Ingredients
Protein
1 block medium firm tofu, cut into 1/2" cubes
splash of tamari sauce
splash of sesame oil
3 (.50 kg) chicken breasts, cut into bite sized strips* (optional for Pad Kai version)
1 tbsp olive oil or grapeseed oil
Peanut Sauce
2 bell peppers, slivered
4-5 cloves garlic, minced
1 inch knob fresh ginger, minced
1-2 tsp red chili flakes
1 400 ml can lite coconut milk
2 tbsp red curry paste
1/2 cup peanut butter
1 tbsp sesame oil
284 kg (10 oz) (or less as needed) baby spinach
Cooked basmati rice with unsweetened coconut stirred in.
Roasted peanuts for garnish.
Instructions
Place the tofu pieces in a bowl, splash over tamari sauce and sesame oil to taste. Refrigerate occasionally stirring to make sure all pieces are coated.
Optional, non vegan: Add the oil to a large wok or frying pan over medium high heat. Add the chicken pieces and saute until they begin to brown and are cooked through. When they have almost finished cooking, Set the chicken aside in another bowl.
Working quickly add a little more oil to your wok and saute the peppers, garlic, ginger and chili flakes.
Once the peppers have softened, stir in the lite coconut milk, red curry paste, peanut butter, and sesame oil. Whisk all ingredients together until heated through and blended. Set sauce aside.
Wipe the wok clean or in another skillet, heat a tiny bit of olive oil over medium high heat. Saute the spinach for a few minutes until it is slightly wilted but still holding its shape.
Heap spinach in each bowl, top with basmati rice, tofu or chicken, drizzle with peanut sauce and garnish with roasted peanuts.
♥
I feel like a Swimming Rama.. under water, I'm still up to my neck in editing my real estate webpage. If you'd like to take a peak, it's at Barb Bamber Realty
It's so much work filling up a new blog with content!