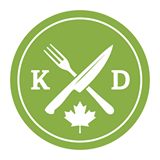 Kitchen Daily Canada is live and it's officially time to spread the word! Tell your family, tell your friends, tell your fellow bloggers! Join the celebration online and help us make this launch successful and exciting! When I was approached to see if I would like to be a contributor Kitchen Daily I couldn't refuse. Best of all I'm in great company, just look at the line up of other contributors! I've got plans to visit each and every one before this weekend is out and I hope you do as well.

Many of you may know Kitchen Daily so this newest website for Canada is going to be a thrill to work with! To top things off there is a group of Guest Editors that will make an appearance on the website as well via interviews and special events. Check out the interview with Chef Susur Lee,  our first Guest Editor!
Come meet the other Guest Editors and Contributors here (you'll have to click on View All to see everyone). Then head over to fill your plate at our Virtual Potluck dinner, just click through the slideshow to find some great new recipes to try.
You can make your own Recipe Box where you can stash the recipes you'd like to try, it's so easy. I love being able to open these up when I'm at the grocery store, it makes list making and shopping so much easier!
Watch our awesome videos, explore KD 101 for knife cutting skills and more. KD Kids has some kid-friendly and fun recipes, cute pinterest picks and a story about an 8 year old pastry chef (I knew I should have started baking earlier). Get inspired by the delicious recipes and useful articles you'll find already available on this new site.
Like us on Facebook, follow us on Twitter, and Pinterest, and add us on Google+! We're even in Instagram @kitchendailyca
Did I mention the Guest Editors? Watch for features with Fabio Viviani, Cat Cora, Kathie Lee Gifford, Wolfgang Puck, Jessica Seinfeld and.. well, you get the picture, it's going to be fun!!
I'll still pinching myself, I'm a luck gal and can't wait to share some of the fun with you too!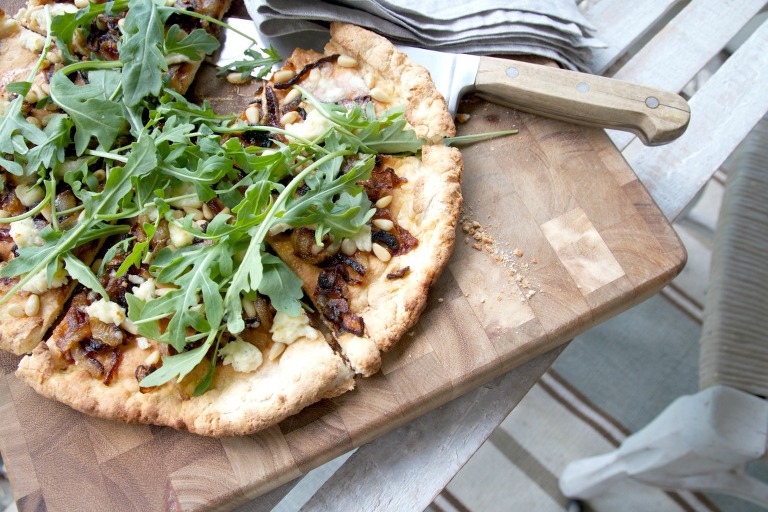 Well, now that's the most text I've ever had in a blog post.. I promise it won't happen again;)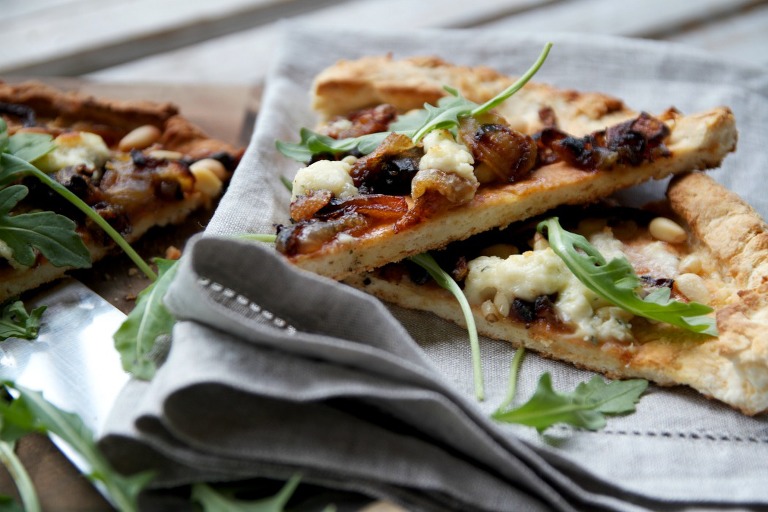 Today I've got two Gluten-Free Pizza almost-not-a-recipe recipes for you that were so easy and quick to make. This one is a Boursin, Honey and Caramelized Onion GF Pizza.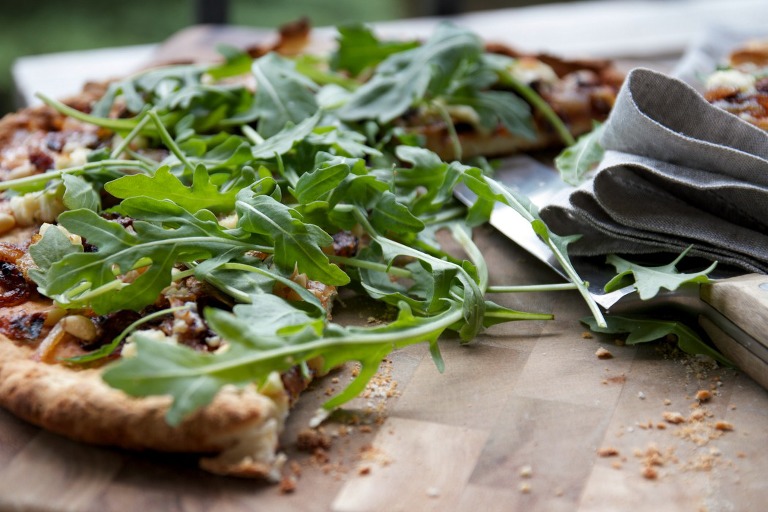 I know not all of you have access to Cup4Cup, but you can order it online. I love the convenience of opening up a packet and making two pizzas in no time at all. One of the pizzas was a dairy-free, meat lover's pizza for my son who has an intolerance to dairy.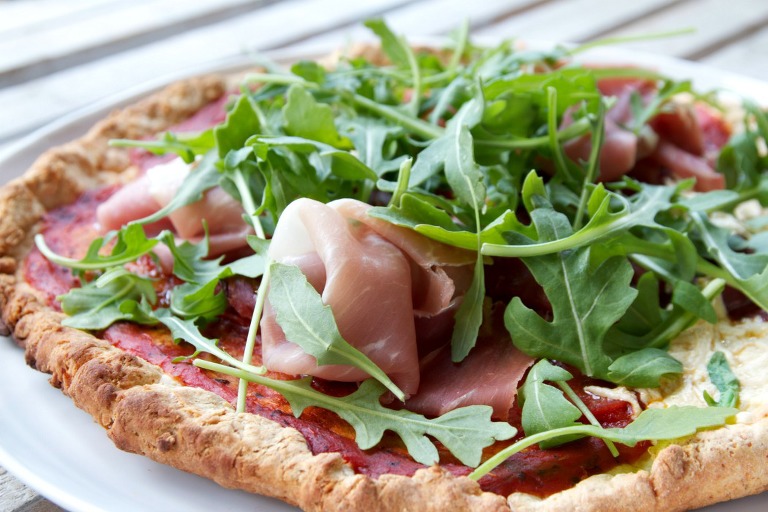 Yup, that's proscuitto tucked in there.. And a few slices of Spicy Genoa Salamai.. a little Daiya cheese and that's it! I told you these really aren't a recipe..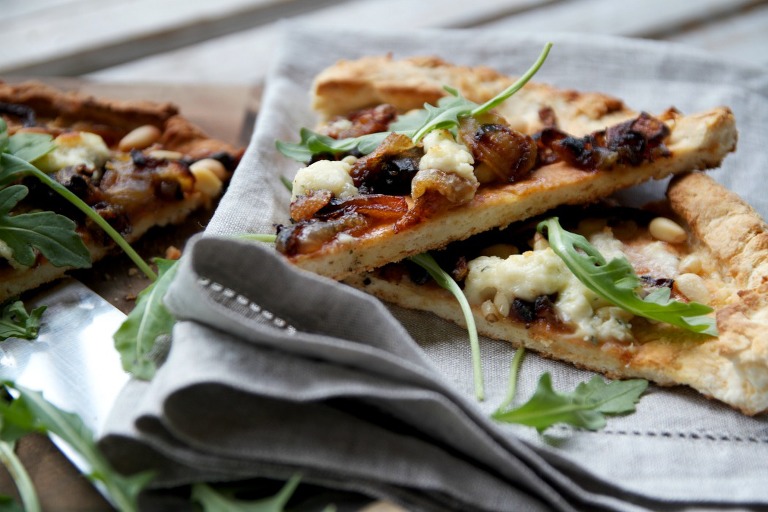 Gluten-Free Boursin & Caramelized Onion Pizza & Meat Lovers Pizza
Ingredients
1 Cup4Cup Pizza Crust Mix, prepared and baked as directed
Boursin Pizza
1 sweet yellow onion, sliced thinly
pinch salt
pinch sugar
1 package Garlic and Fine Herb Boursin
Honey, any mild variety
pine nuts
Meat Lovers
5 slices or more spicy Genoa Salami
1 package thinly sliced proscuitto (about 8 - 10 slices)
1 jar prepared pizza sauce
1 package shredded Daiya Cheese
1 package of Arugula
Instructions
Prepare and pre-bake the pizza crusts as per the instructions on the Cup4Cup package.
Meanwhile, add 1 tablespoon of olive oil to a frying pan or skillet. Heat over medium high heat and stir in the onion slices. Reduce the heat to medium or medium low and stir frequently until the onions soften and slightly brown. Sprinkle a pinch of salt. Continue to cook, adding a splash of water if needed to keep the onions from sticking. Sprinkle over a pinch of sugar if you wish to deepen the flavors. Cook until the onions have caramlized and completely softened and browned.
Spread the onions over the crust. Put larger chunks of boursin dotted around the crust, sprinkle pine nuts over top that slash the pizza with lashings of honey across the entire top. Bake until the cheese has softened then cool slightly and top with handfuls of arugula.
For the Meat Lover's Pizza, spoon a generous amount of pizza sauce over the prebaked crust. Layer the genoa salami over then add about 4-5 slices of proscuitto, twisted into little mounds over top. Add little mounds of Daiya non-dairy cheese over top. Bake until the cheese has melted. Cool slightly and add handfuls of arugula.