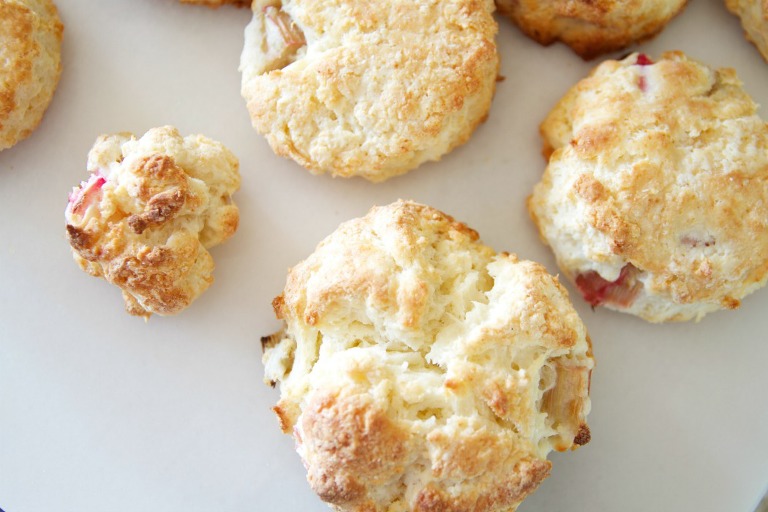 And just like that, the morning after a week confined to a rain-smothered earth..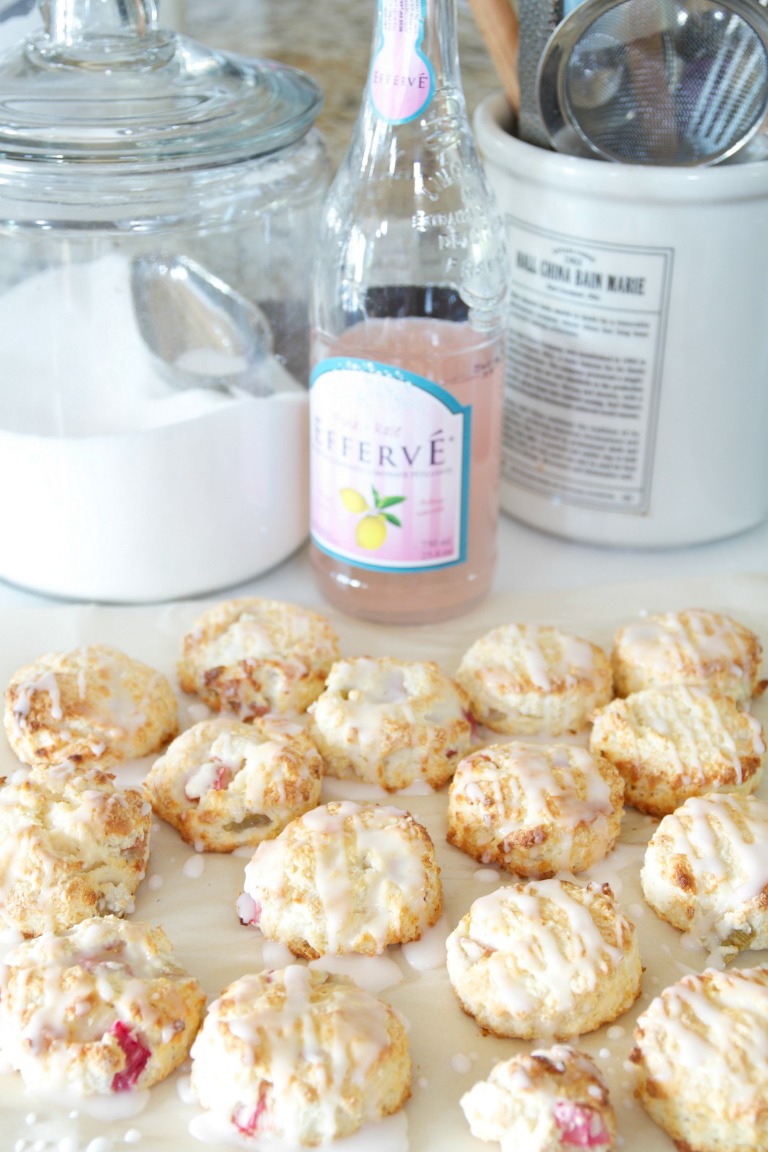 we're roused by the weak but determined rays of sun breaking through the cloudy morning skies.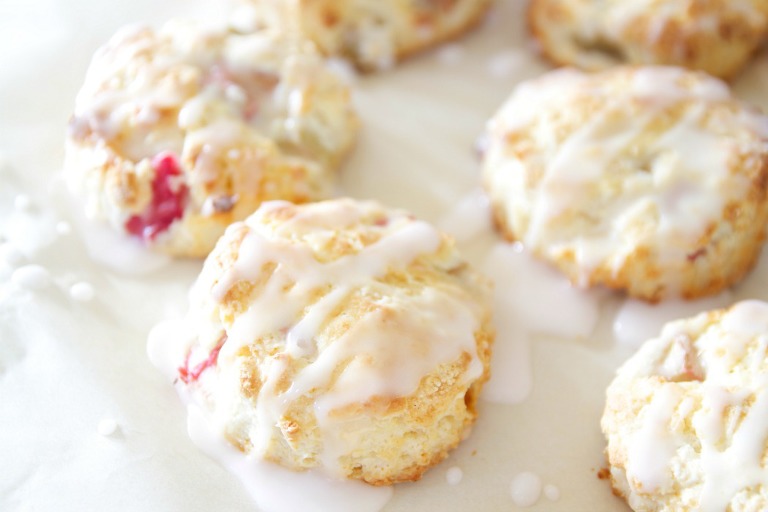 Fragrant wet grass breathes as we celebrate.. the last of the rain moving off into the distance
by the cool wind's gentle nudging of clouds.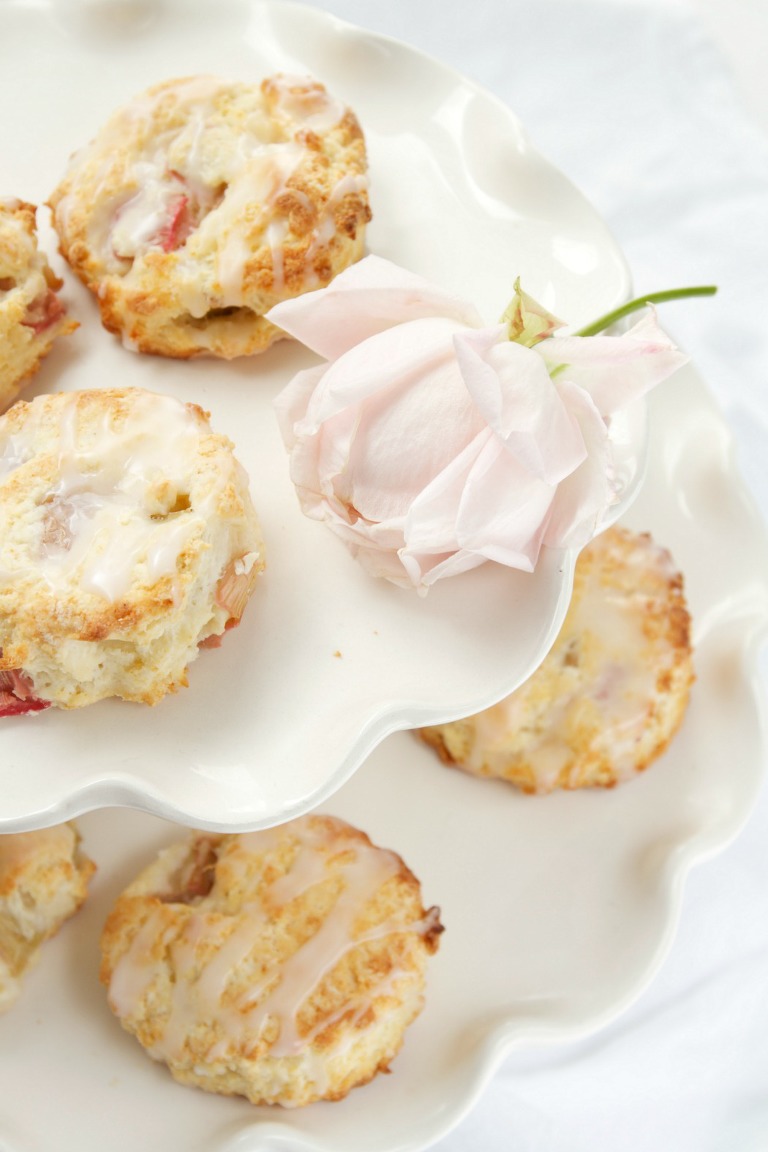 Time to take Bella to the off-leash park.. but not until I've played a bit in the kitchen.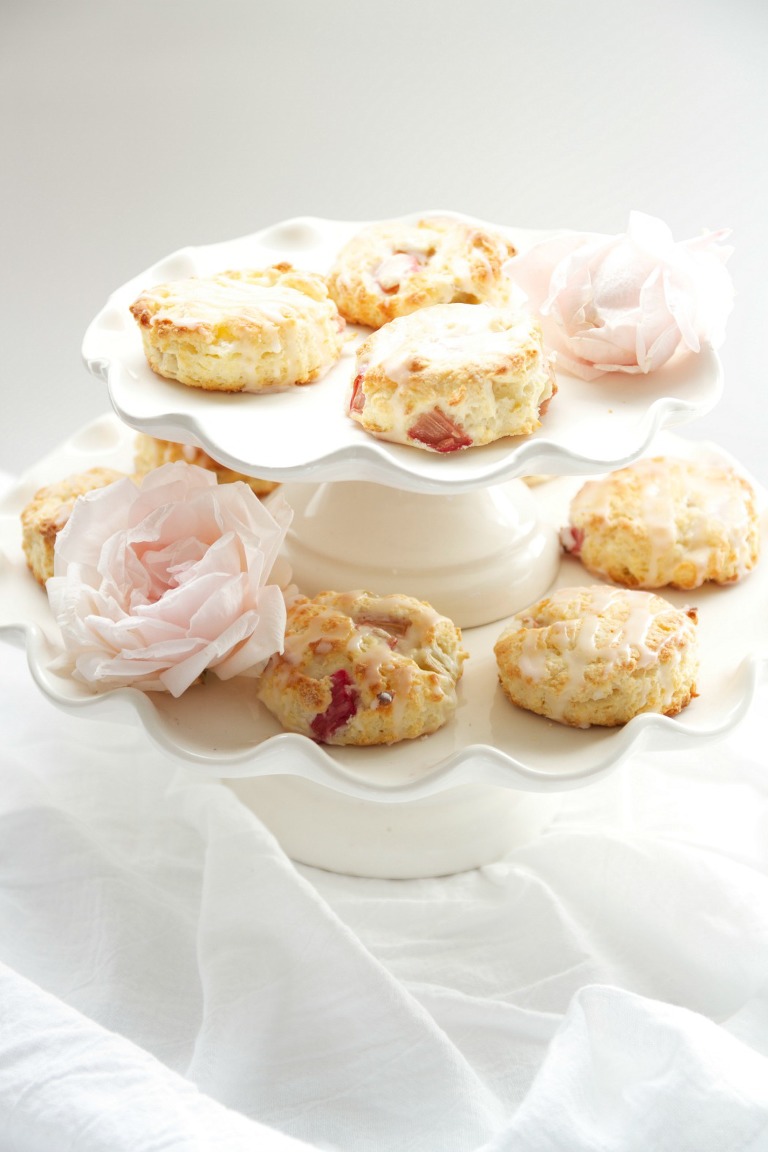 I'm not 100% but getting better by the day and the sun can make all the difference in the world!
Have a wonderful weekend!

I had a craving for some gluten-free scones but found our fruit drawer empty save for
one lonely 12″ chunky stalk of rhubarb.
The much maligned rhubarb is often paired with strawberry and overpowered by its sweet flavor.
I figured it was time to give rhubarb center stage.
I diced the stalk into little 1/4 – 1/2″ pieces to get a scant cup and tossed them in 2 tsp sugar.
I found an opened bottle of pink lemonade in the fridge and used 2 tbsp of it to make the glaze.. it's always great making something out of nothing.
♥
I loved the combination of tart with sweet and you could definitely taste the "lemonade" in the glaze.
They have a nice delicate flavor, a little crunch on the outside and creamy crumb in the center.
What would I do differently? Probably add a bit more rhubarb and tint the glaze a little more pink… I'd definitely make them again!
Don't need gluten-free? Just reduce the milk to 1/2 cup + 1 tbsp vinegar and use regular all-purpose flour.
Wouldn't these be pretty in a little dollar store straw basket lined with a tea cloth.. they'd make a lovely and affordable teacher's gift!
Gluten-Free Rhubarb Scones with a Pink Lemonade Glaze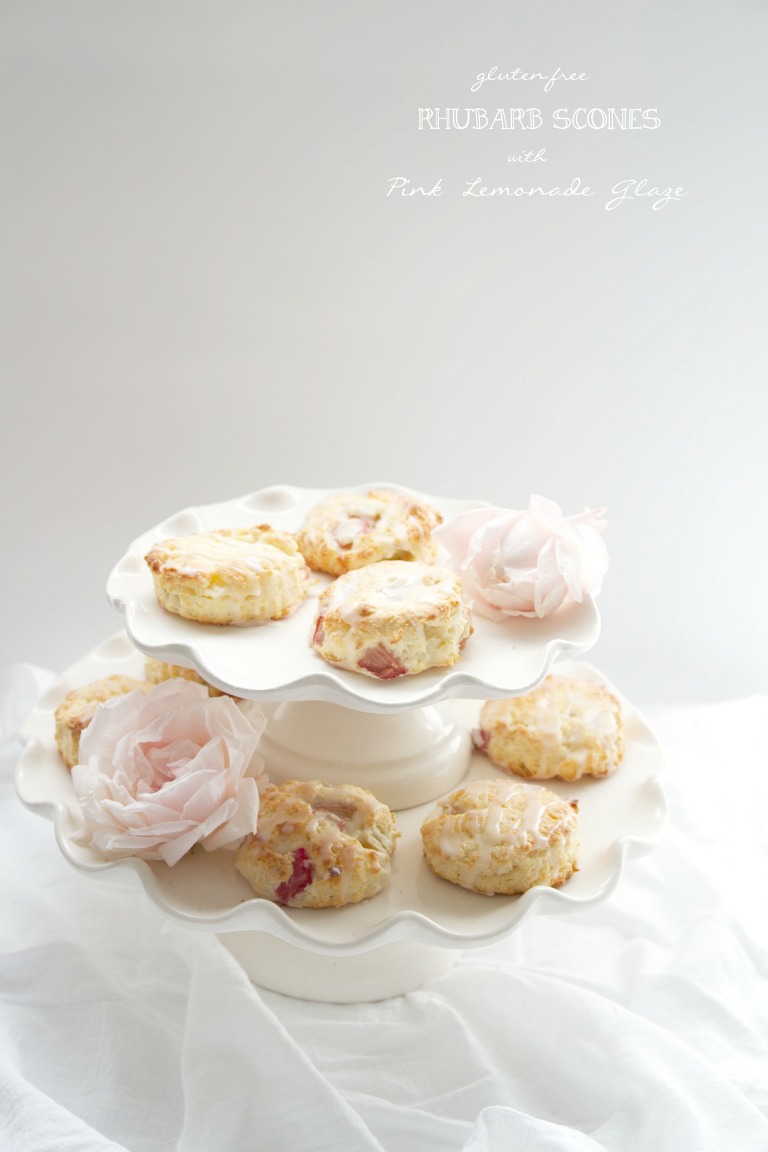 Gluten-Free Rhubarb Scones with a Pink Lemonade Glaze
Ingredients
Scones
1 cup rhubarb (about one 12" thick stalk)
2 tsp granulated sugar
3/4 cup milk + 1 tbsp vinegar*
1 egg whisked
2 cups Cup4Cup*
2 tsp baking powder
2 pinches kosher salt
2 1/2 tbsp sugar
1/3 cup unsalted butter
half and half cream
Glaze
1 cup icing (confectioner's) sugar
2 tbsp pink lemonade
pink food gel
Instructions
Preheat the oven to 400F. Line a baking sheet with parchment or a silpat liner.
Slice the rhubarb stalk vertically into 3-4 pieces then slice horizontally into 1/2 inch pieces to make about one cup. Stir in 2 tsp sugar and set aside.
In a measuring cup add 3/4 cup milk and 1 tbsp vinegar, alternatively use 3/4 cup buttermilk.
Whisk one egg and add it to the sour milk/buttermilk. Set aside
In a large bowl, sift together the Cup4Cup, baking powder, salt and sugar. Slice the 1/3 cup stick of butter into chunks then cut it into the flour using two knives or a pastry cutter, continue until you have a coarse crumb.
Make a well and stir in the milk/egg mixture. Then fold very minimally just until blended. Turn out onto a lightly floured (with Cup4Cup) surface. Pat gently into a thick 12" circle. Cut with a sharp scone cutter as you may need to cut through the raw rhubarb. Place on your prepared sheet about 1/2" apart or so. Push remaining scraps together and continue until you've made all of your scones.
Brush the tops with the cream then bake for 8 minutes then turn and bake an additional 8 minutes or until the scones are lightly browned. Remove and set aside to cool.
Meanwhile, stir the icing sugar and lemonade together, creaming with the back of a spoon to remove the lumps. Add a tiny dot of pink gel food coloring and blend.
Using a spoon, lightly drizzle the scones with the glaze.
Notes
* if you are not making Gluten-Free and wish to substitute with all-purpose, just reduce the milk to 1/2 cup + 1 tbsp vinegar.