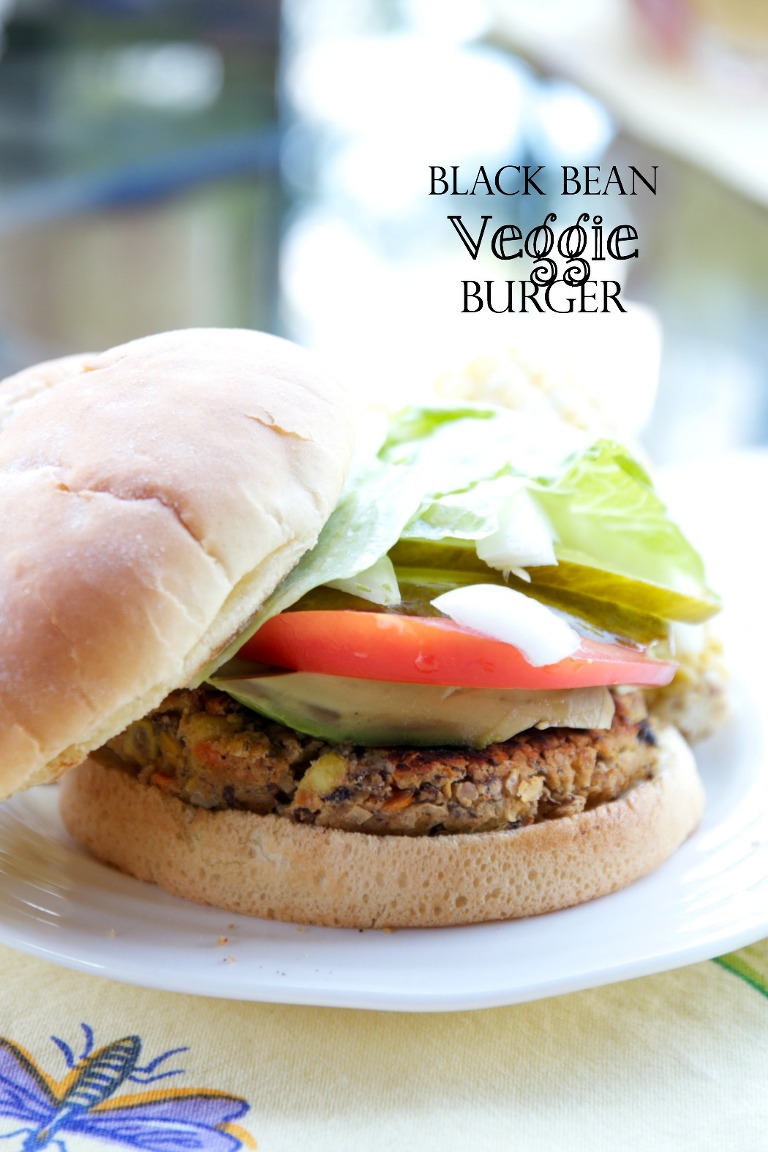 The July long weekend is coming up and everyone will be firing up their grills for Canada Day!
What to do if you're Vegetarian or Vegan? You can quickly mix up a batch of these patties..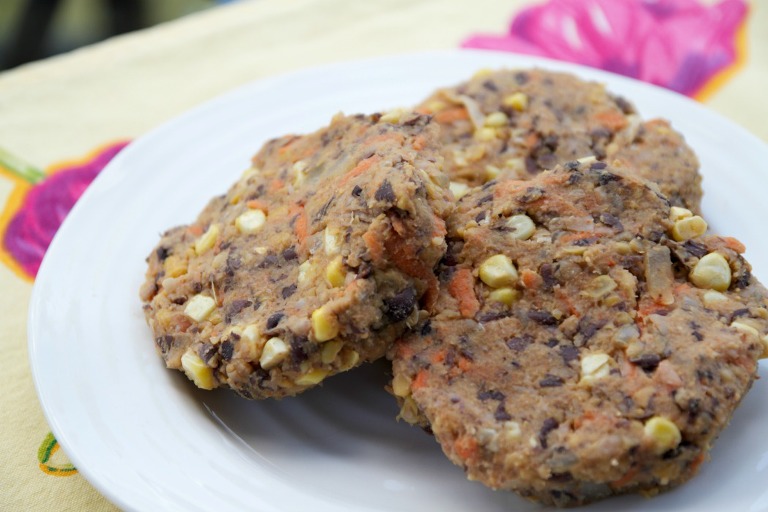 and a quick fry later.. they're ready!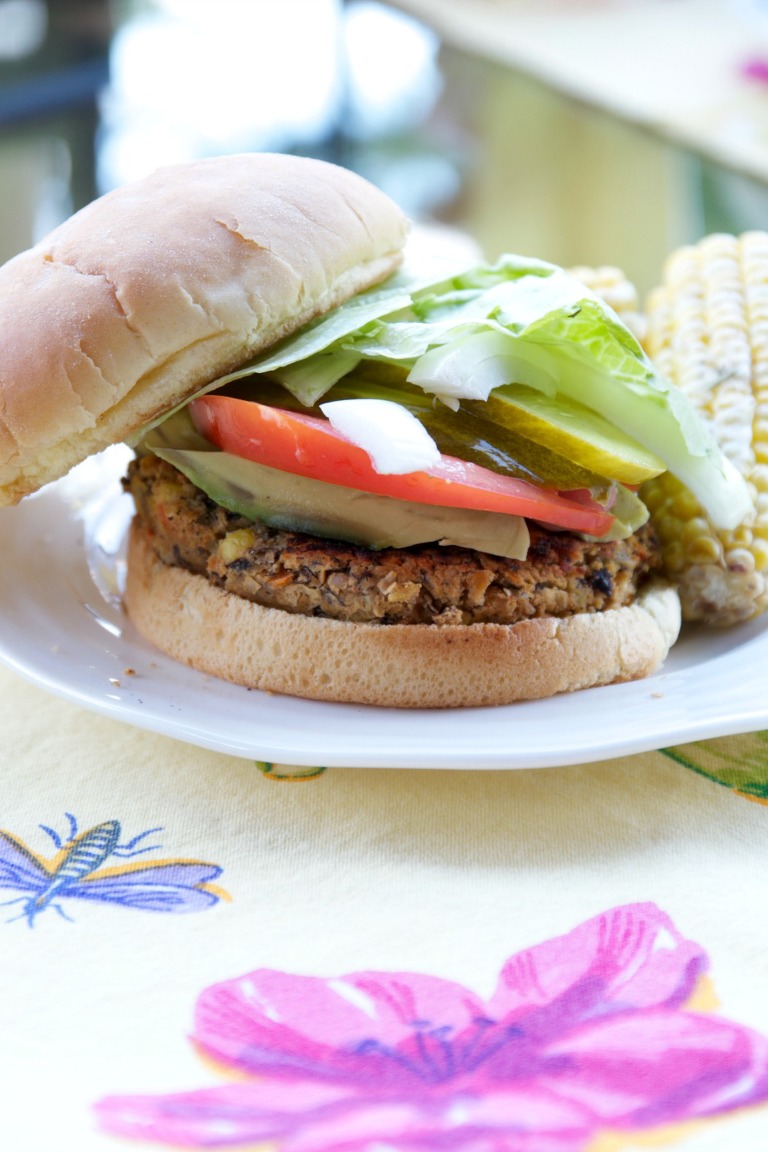 Try our Black Bean Burger Recipe or a Vegan Black Bean Burger Recipe!
or pop over to Sally's "Bewitching Kitchen" and try her Black Bean and Pepper Jack Burger"!
You just might not go back to a regular burger again:D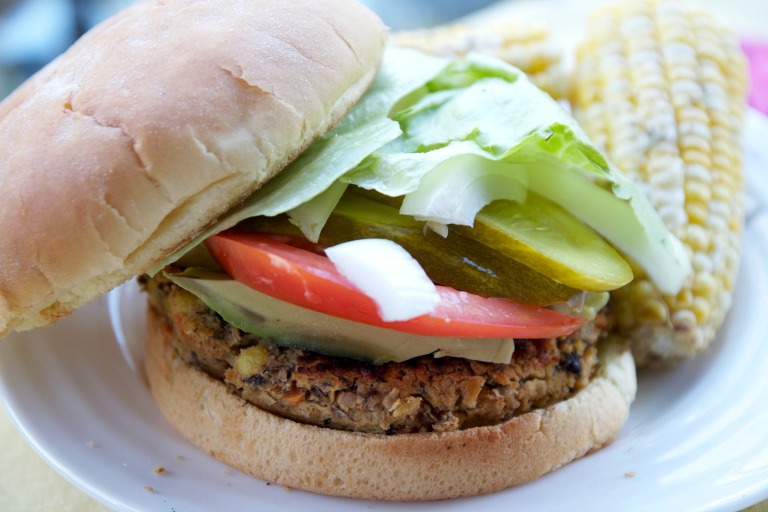 I received a cookbook called "Vegan Beans from Around the World" and my daughter took their Vegan Black Bean Burger and changed it up… We loved the original recipe so I'll post it below as well.
We made a Black Bean Veggie Burger based on this recipe and found the addition of an egg white helped hold everything together. Also, it didn't help that the blades on our food processor are a little dull.. I used to make handmade paper in it back in the day when I taught Grade School 😀
Our version didn't hold together too well once frozen, so our burgers are best made and devoured the same day.
Black Bean Veggie Burger
Ingredients
1 small cob of sweet corn
1/4 sweet yellow onion, diced
3 cloves garlic, minced
olive oil
1 can Black Beans, drained and rinsed
1 can Chick Peas, drained and rinsed
2 carrots grated
1 egg white** (omit for Vegan)
2 teaspoons ground cumin
pinch salt
black pepper
3/4 cup panko breadcrumbs
Instructions
Set a small pot of water with a pinch of salt to boil over high heat, add the cobb of corn and cook until tender. Drain, let cool and slice off the corn.
Meanwhile, add a splash of olive oil to a small frying pan and heat on medium high. Add the onion and garlic and saute until softened, about 7 minutes. Set aside and let cool.
In a food processor, add the black beans, chick peas and egg white. Pulse to combine and beans and peas become a paste. Transfer to a bowl, add the onion and garlic mixture, corn and grated carrot and stir to combine. Add the panko bread crumbs and the seasonings: cumin, a pinch of salt and pepper or more to taste, then mix well. Form into patties about 1/2 inch thick.
Heat a splash of olive oil in a non-stick or cast iron frying pan over medium high heat. Add the patties, frying until lightly browned, then flip to brown the other side. Serve as you would any hamburger.
Notes
**We had difficulty with our food processor so needed to add the 1/2 egg white to get the beans blended. If you have a sharp blender or processor, you won't need the egg white and this would make a Vegan recipe.

These do NOT freeze well, the texture becomes crumbly once thawed so these are best made and eaten the same day.
Here is the original Vegan recipe that we made and loved as well. I've been quite impressed with this cookbook. It's a little paperback with recipes that use commonly found ingredients. There's lots for us to try here as we want to have lighter fare for the summer.
Vegan Beans from Around the World by Kelsey Kinser is a "new cookbook offering 75 adventurous recipes for the most delicious, nutritious and flavorful dishes ever."
Black Bean Burger Recipe
Ingredients
1/2 green bell pepper, chopped
1/2 onion chopped
1 tablespoon vegetable oil
3 cloves garlic peeled
1 pound black beans, soaked overnight then drained and rinsed
2 tsp ground cumin
1 tablespoon seasoned salt
1 teaspoon sriracha
3/4 cup breadcrumbs
Directions
In a medium-sized pan on medium-high heat, sauté the bell pepper and onion, stirring occasionally in the oil until softened, about 7 minutes. Add the garlic and cook another minute. Set aside and allow to cool.
In the bowl of a food processor, chop the black beans into a thick paste. Add the onion, bell pepper, garlic, cumin, seasoned salt, and sriracha and pulse until the onions and peppers are small pieces and the spices have been blended in. Transfer this mixture to a bowl.
Add the breadcrumbs and stir the mixture with a spatula or wooden spoon. Shape this batter into patties approximately 1/2 inch thick, freeze and bake frozen at 375F for 10 minutes on each side or fry on medium-high heat in vegetable oil for approximately 8 minutes each side.