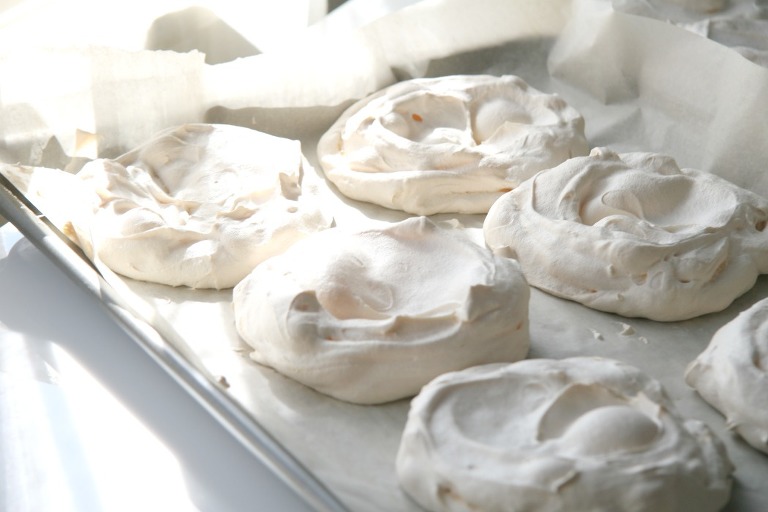 Aren't these the cutest little Pavlova's?
I'm certain most of you know these were named after Anna Pavlova, the Russian ballerina. She must have been such an entrancing dancer!
I'd love to have a dessert named after me.. something so lightly sweet and airy as these ones. These little treats are to have a crunchy outer shell and soft, marshmallowy centers. Mine were a bit chewy, apparently my convection oven may have been too hot a temperature for these delicate little lasses and it could be I forgot to use FINE sugar!
♥
Smidge's Proverb: There's nothing worse than being given the perception that someone something is so "nice and sweet" on the "outside", only to discover out they aren't who what you think they are in the inside!
sigh..
Notwithstanding, one should never be deceived daunted nor defeated by such an unseemly person predicament,
One will find such a dilemma quite easily overcome when one just picks them up and devours them whole!
Not very ladylike at all, I know, with whipped cream and lemon curd smudged all over one's face..  tut tut,
..it is so much fun!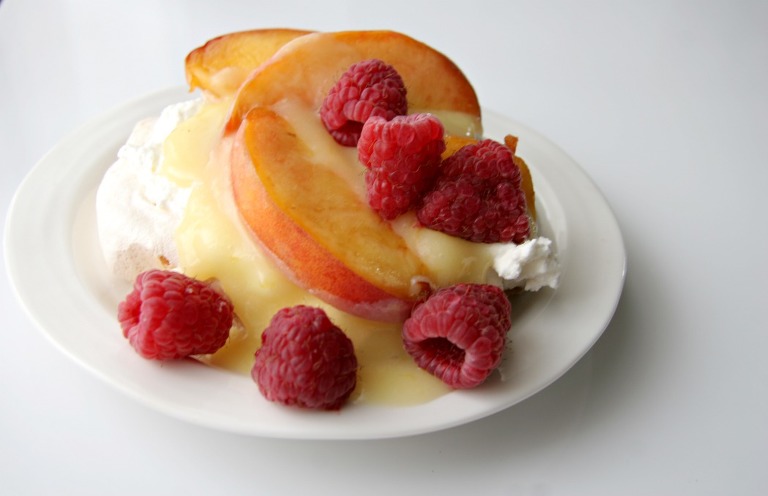 ♥
 Ode to Pavlova
Shall I compare thee to a summer's day?
Thou art more lovely and more temperate:
Rough hands do shake the darling buds of raspberries,
And an evening's lease hath all too short a slice of peach:
Sometime too hot the oven of mine doth shine,
And often is Pavlova's gold complexion dimm'd ochre;
And every bit by bit sometimes devours,
By chance, or dinner's changing last course, untrimm'd;
But thy eternal lemon curd shall not fade,
Nor lose possession of that fair mouth thou owest;
Nor shall breakfast brag thou wander'st in its shade,
When in eternal tummies in time thou goest;
So long as women can breath, or eyes can see
So long lives Pavlova, and this gives life to thee.
Shakespeare, Sonnet 18
♥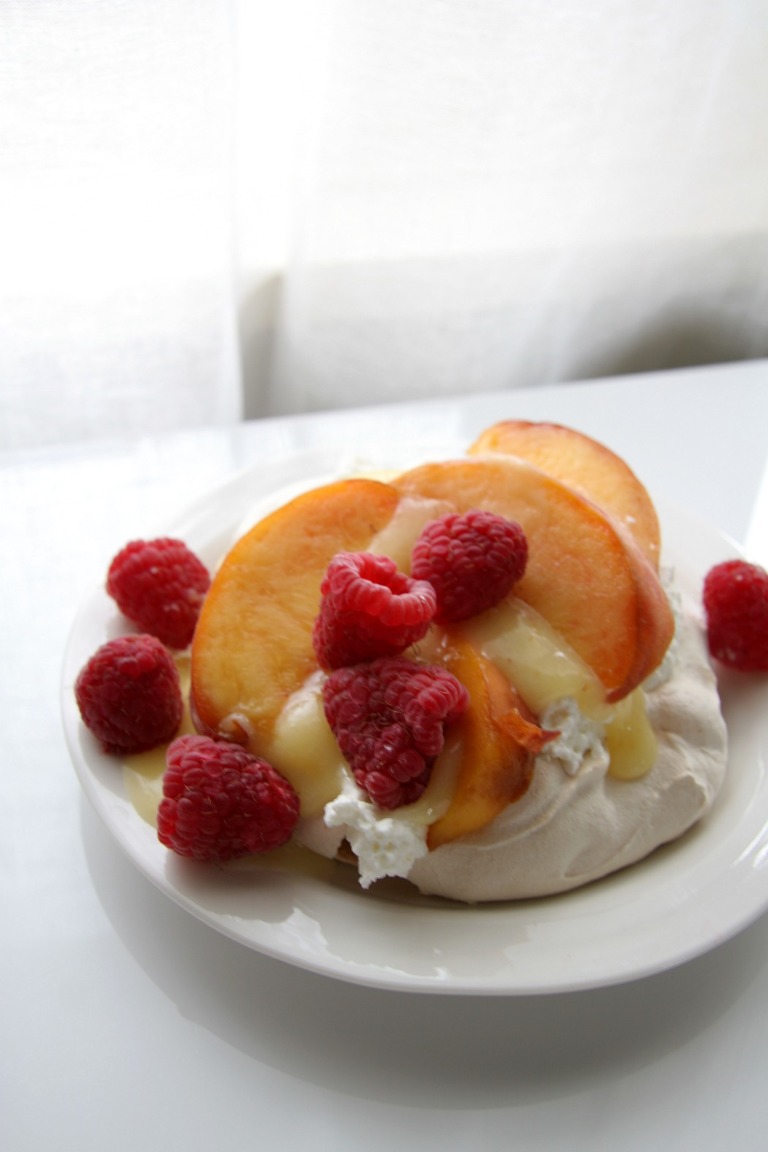 Pavlova with Lemon Curd and Peaches
Ingredients
4 egg whites, room temperature
1/4 tsp salt
1/4 tsp cream of tartar
1 cup FINE granulated sugar
4 tsp cornstarch
2 tsp white wine vinegar
1 tsp vanilla extract
1 cup heavy cream, chilled
1 batch luscious lemon curd http://justasmidgen.com/2012/02/14/mini-sunkissed-linzer-cookies/
fresh peach slices and berries
Instructions
Preheat oven to 275F.
Beat egg whites, salt and cream of tartar in a mixer fitted with a whisk attachment on high speed until the whites hold a stiff peak. Add the sugar, tablespoon by tablespoon until it is stiff and glossy and sugar is dissolved. Beat in the cornstarch, then the vinegar then the vanilla.
Line baking sheets with parchment paper. Dollop a hefty spoonful of meringue and the smooth into a nest with the back of your spoon.
Bake for 1 to 1 1/4 hours, or until meringue is firm and only lightly browned. Pavlova will be moist on the inside. Cool slightly, then move Pavlovas to individual serving plates. Fill centers with whipped cream, spoon over lemon curd and scatter with peach slices and raspberries.
We've just received a nice box full of ripe peaches from the cottage at Mabel Lake, so I think I shall try my hand at a peach pie next!