"Above all, be alone with it all,
a hiving off, a corner of silence
amidst the noise, refuse to talk
even to yourself, and stay in this place
until the current of the story
is strong enough to float you out."
Excerpt from "Coleman's Bed" by David Whyte
Very few days afford me any sort of substantial allotment of this "corner of silence",
but I look for it everywhere..
in that first moment of waking, wrapped in sheets that seem designed to fit so perfectly warm around my body,
I safeguard the only truly relaxed moment I will experience in the day ahead..
carrying Bella downstairs, as I have ever since she was a tiny puppy, my arms now heavy with the grown weight of her,
in cohoots, we pretend she's still small..
drinking in.. that first cup of blistering coffee, I look out over the yard and beyond the fence to the rising sun,
wondering what is ahead and whose presence will bless my day..
taking a moment to check in on my favorite Facebook and Instagram friends, hoping to find all is well,
finding instead that their inspiration and encouragement awe and lift me..
finally driving to work, loving a new piece of music I've stumbled across,
letting the rhythm carry my mind and heart away from the here and now lists I will have to get through.
I can never get enough of that "corner of silence", while others fete the racous tumult of the day,
mine is far more Barber's Adagio for Strings, a Jaqueline du Pré Élégie in C minor or Elgar's Nimrod.
I can roll with it like the best of them, I love that too.. but if I don't answer you right away
it's because I've gone away in my head, looking for my "corner of silence"…
thinking about how I can put those thoughts into a poem I can share with you here,
so thank you for being my "corner of silence" in my Poet's Corner.
♥
Usually I have some sort of reasonable segue between my writing and the recipes that makes sense.. but today I've got nothin'! Except, perhaps, that this recipe came from a lovely friend who always leaves my heart feeling lighter when we meet on Monday mornings over coffee.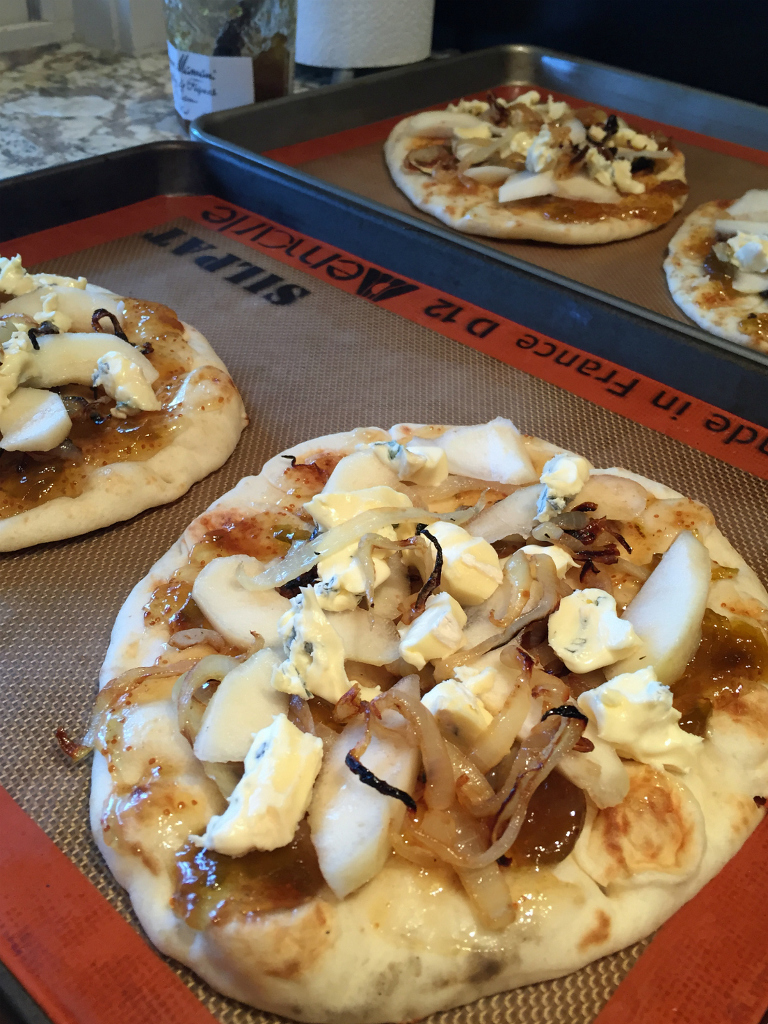 I've spent two days clearing out my pantry and fridge, a further commitment to eating healthy. Fear not, Smidge is still alive and well but blogging healthier, simpler fare. With less time to spare I was thrilled when Sharon gave me this appetizer recipe for my Book Club.
Nothing is better than getting a new recipe a few hours before an event, having to buy only 5 ingredients and then throwing it together 30 minutes before you have to be there! I love this one, every spring I seem to discover a new recipe that gets recycled for every function I have to attend.. but just in case you won't be at one of them, here is the recipe. My slippery lips made it pretty clear this recipe isn't one of the healthiest ones, but maybe just have a slice on your "Cheat" day.. you won't regret it;)
Here is a photo of the pizza with waaayyy too much cheese on it:
And this is a photo where they were "just right":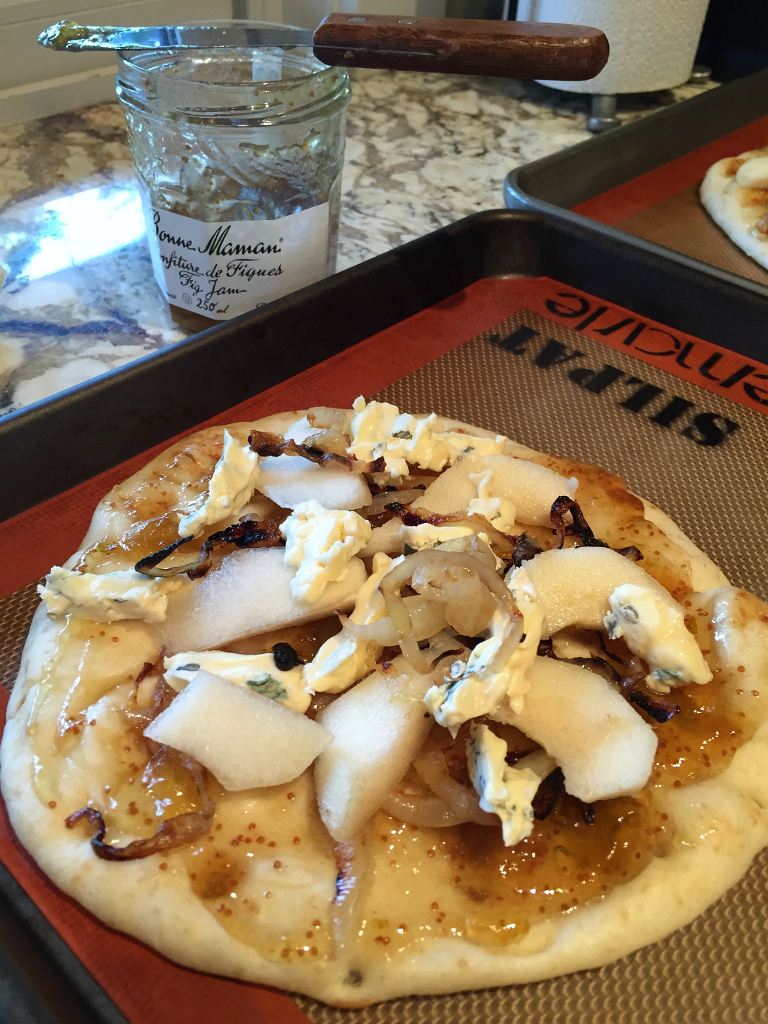 Disclaimer: All photos taken on my iphone and I haven't quite figured out how to edit those decently.. but you get the idea..
I've since made Byblos Mini-Naan, they turned out way too adorable:) Here are some photos: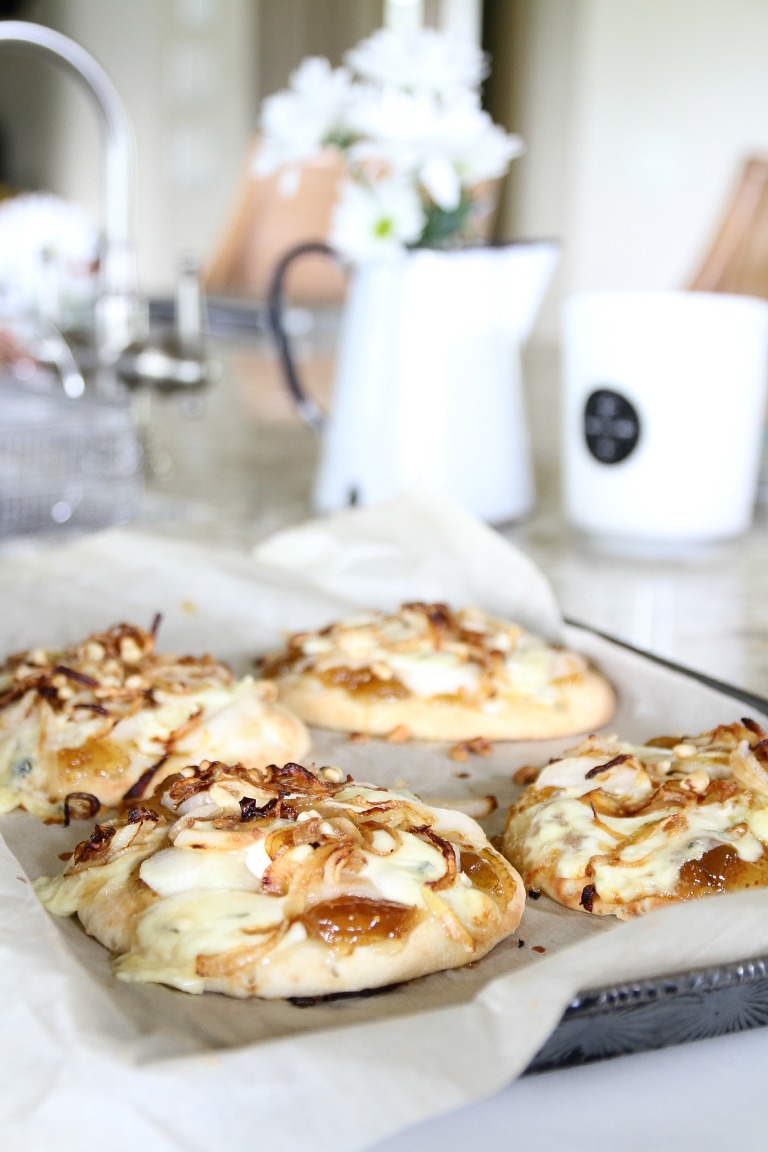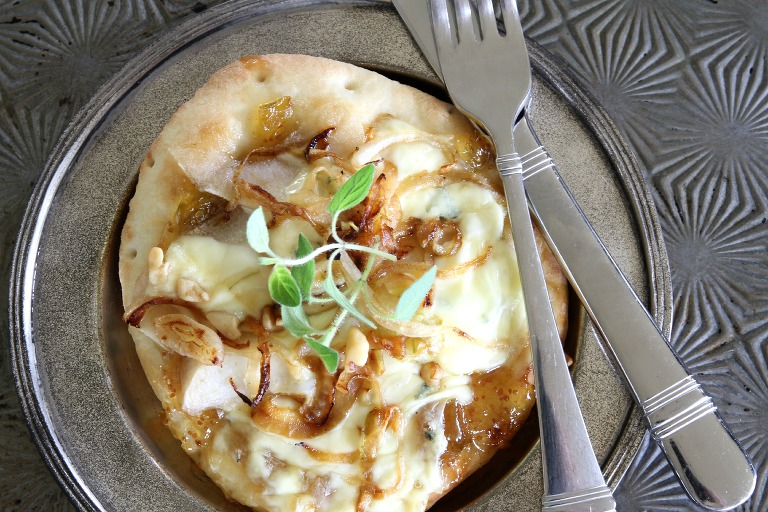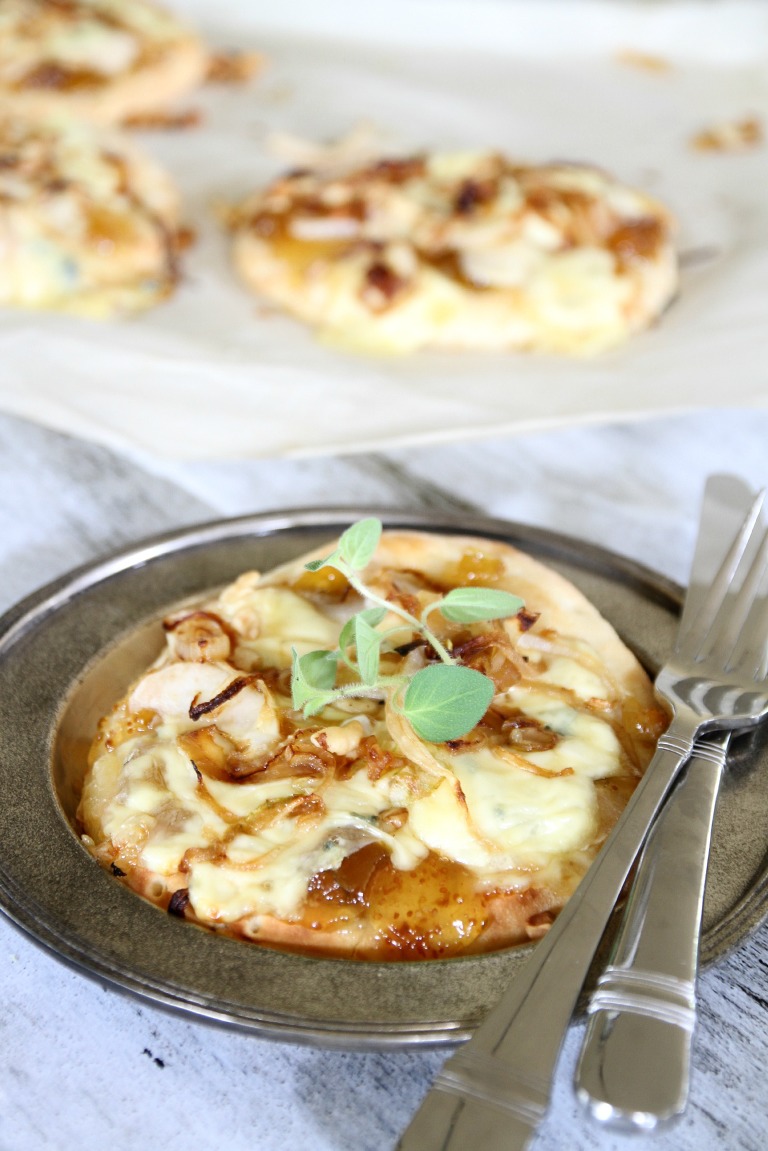 ♥
ps.. if you loved that quote, you'll love the rest of David Whyte's poetry. I find I discover something new about myself or life itself whenever I read his work. I think it's quite refreshing to be able to read an inspirational author who expresses his thoughts through poetry.
Here are the links to his website: David Whyte, Many Rivers Company and here is his Facebook page: David Whyte, Author
Fig, Pear and Cambozola Slice
Ingredients
4 6-8" premade Naan Bread (about 100 grams each)
1 jar of Fig Jam (I used Bonne Mamañ from Sunterra Market)
1 large white onion
knob of butter (about 1-2 tablespoons)
sprinkling of granulated sugar (optional)
pinch of salt (optional)
2 ripe pears of any kind
1 good wedge of cambozola cheese
Instructions
Preheat the oven to 375 F.
Slice the onion into thin rings. Heat the butter over medium heat, add the onions and cook slowly, stirring regularly, until browned and caramelized. If you wish a sprinkling of sugar and a pinch of salt, but they are fine without. Watch that they don't burn.
Lay the Naan bread out on baking sheets lined with parchment or silpat.
Spread a thin layer of Fig Jam over each Naan bread.
Scatter the onions scantily over the Naan.
Peel if you wish, then slice slivers of pear and scatter over the Naan.
Peel then dot a few chunks of cambozola cheese over everything... less is more!
Bake for 10-12 minutes or until the cheese has melted and the slice is heated through.
Remove and slice into squares and serve.
I've made these twice, the first time I spread everything over four Naan, the second time I used everything on only two.. just to use up the ingredients. The second slices were far too rich for my taste.. so try not to be too liberal with the cheese and pears.