Ok, maybe it won't change your life, but I think the colour pink could definitely liven things up a bit.
♥
It's been forever since I've posted an interior decor DIY project.. not that I haven't been busy doing tons of that lately, but I just haven't had the time to share it with you here, it's about time I did something about that..
♥
Sometimes moving into a rental can have its decorating challenges, especially if the rental comes furnished. It's easy to change out wall art and bedding, but you can often be left with furniture that just isn't quite to your liking. Take this this dining room set at my girlfriend's new home, for instance, the very dark pattern looks dated and it just didn't suit my friend's bubbly personality. It was time for a makeover!
Remember my sweet little raspberry velvet footstool that I recovered a while back?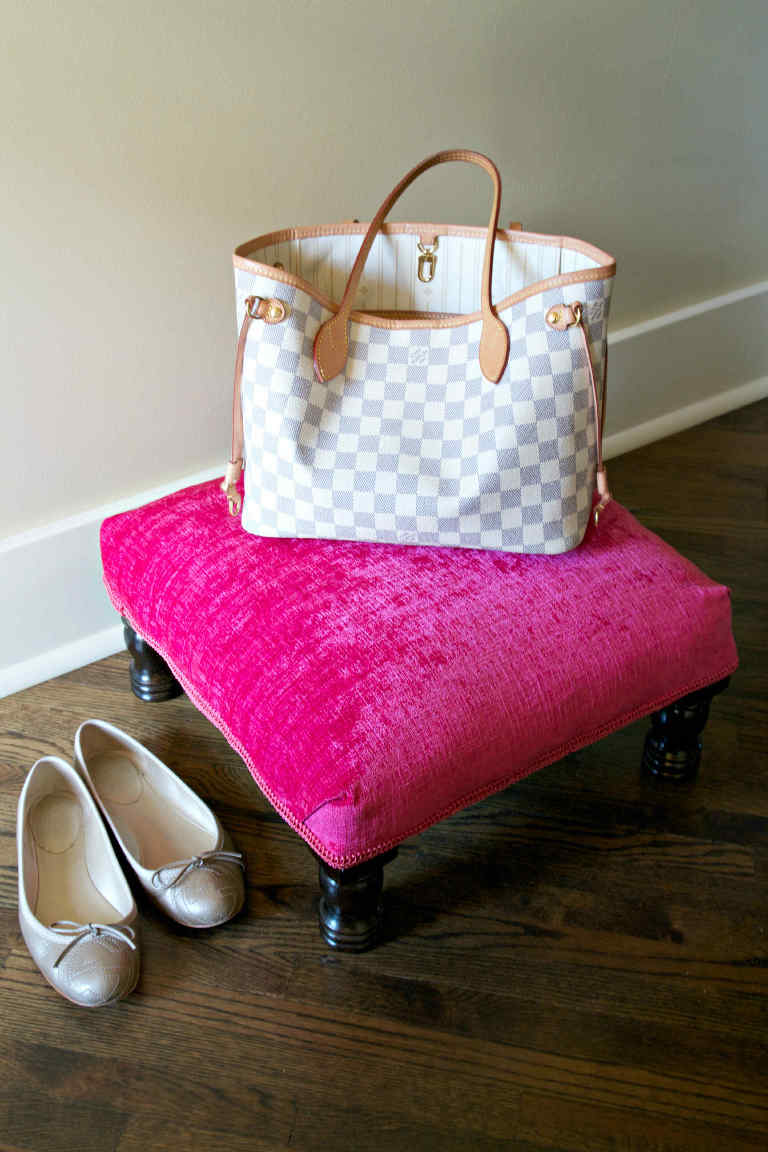 Fortunately, I discovered that the last remnant of this fabric was on sale, so I picked it up for only $30. I love a good deal!
♥
First things first, before you buy your fabric, flip your chair over to ensure the seat is actually bolted. If it's glued down, you're out of luck.. one must check into these things before renting, don't you think?
I flipped my chair over on a bench, making it easier to work on. Then, use a simple screwdriver to remove the four bolts holding the seat to the chair.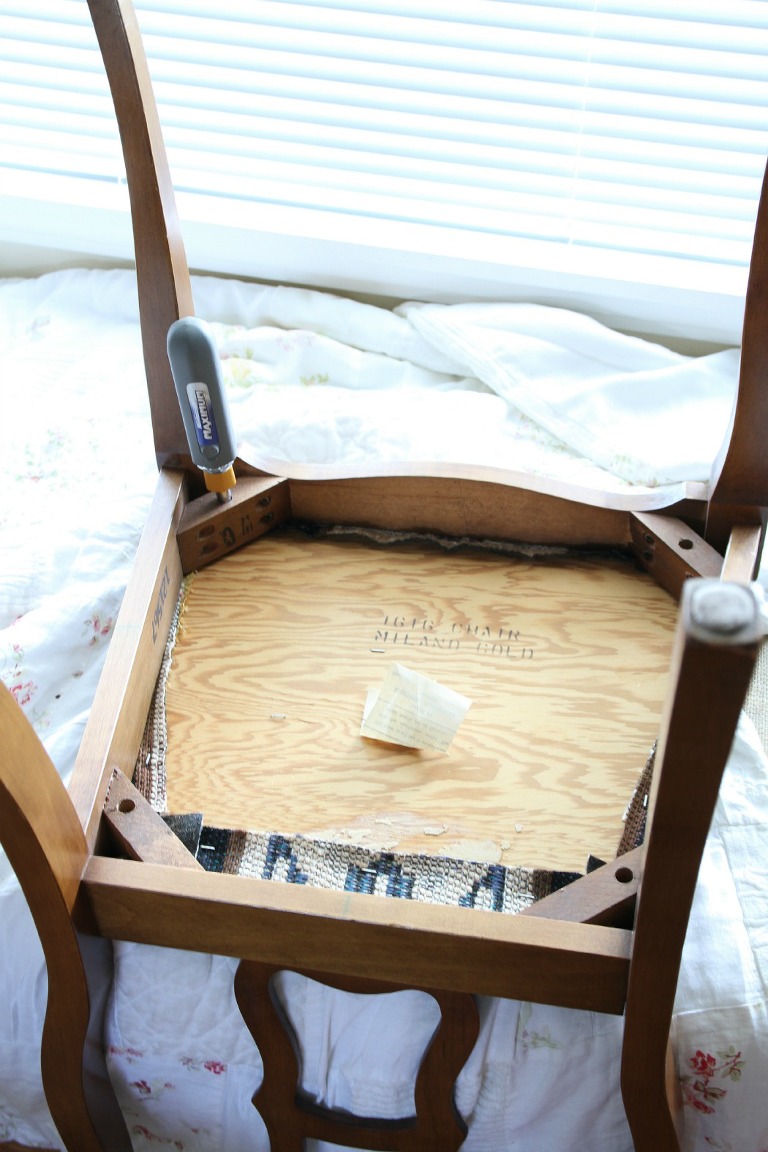 Smooth out your fabric, iron if needed, then make sure the grain or "nap" of the fabric is going the direction you want and is facing down. Lay the seat face down and leave a wide border of fabric around, then cut out a square. The old fabric is left in place so that the pink can be removed if needed when returning the rental back to its former state.. plus it adds a little extra cushioning:)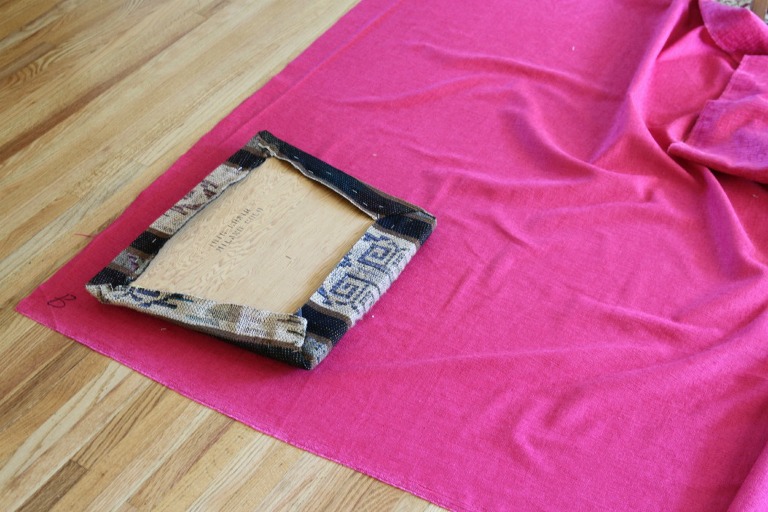 Pull the fabric taut, staple once in the center of each of the four sides. Then pull in the corners. Finish by adding staples here and there along the sides. It's that easy! I borrowed my Dad's staple gun, no point in buying something that is used so infrequently.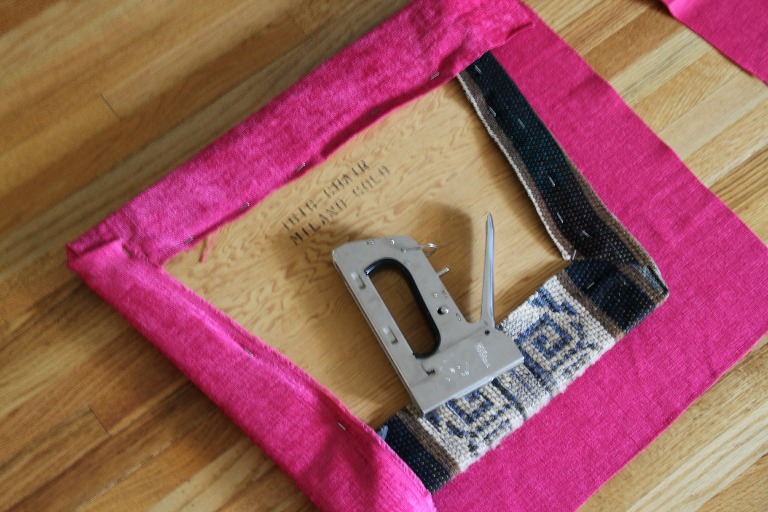 Here's the best way I found to tackle the corners.
1. Pull the inside up and staple firmly into place like this:
2. Pull and tuck one side over and staple.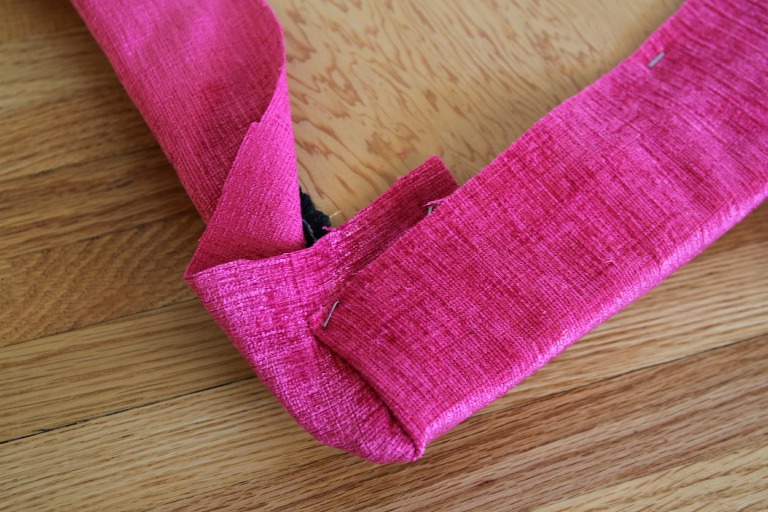 3. Pull the other side up, tighten and staple.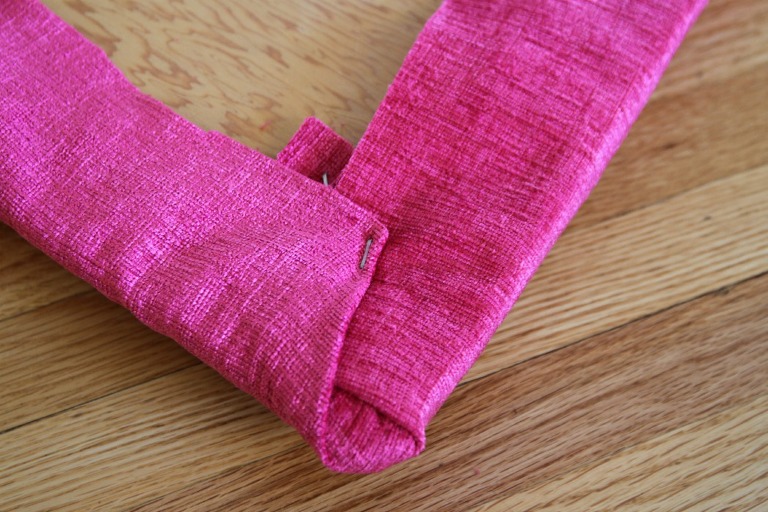 You may be worried about the little corners "jutting" out a bit, not to worry, it's much less noticeable when flipped right side up: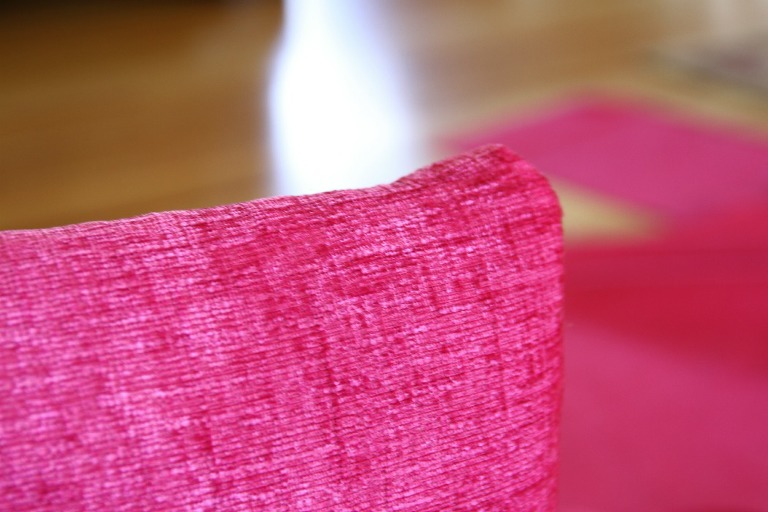 Repeat for all remaining chairs. I recovered the seats one at a time, so that each seat went back onto the same chair, just in case the screw holes needed to line up or match the original screws.
Then just tuck your seat under the chair, lining up the sides so they are even. Screw the bolts in tightly to hold the seat in place..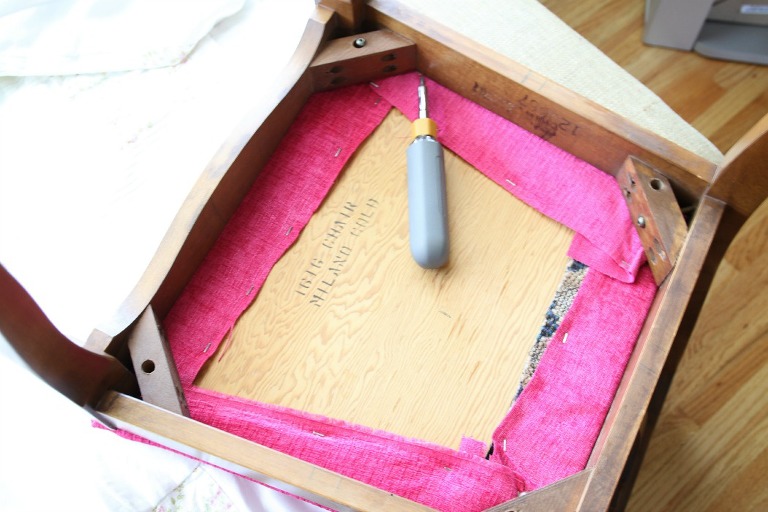 And voilá!! Doesn't it look pretty?! Pink is my favorite color, in case you didn't know!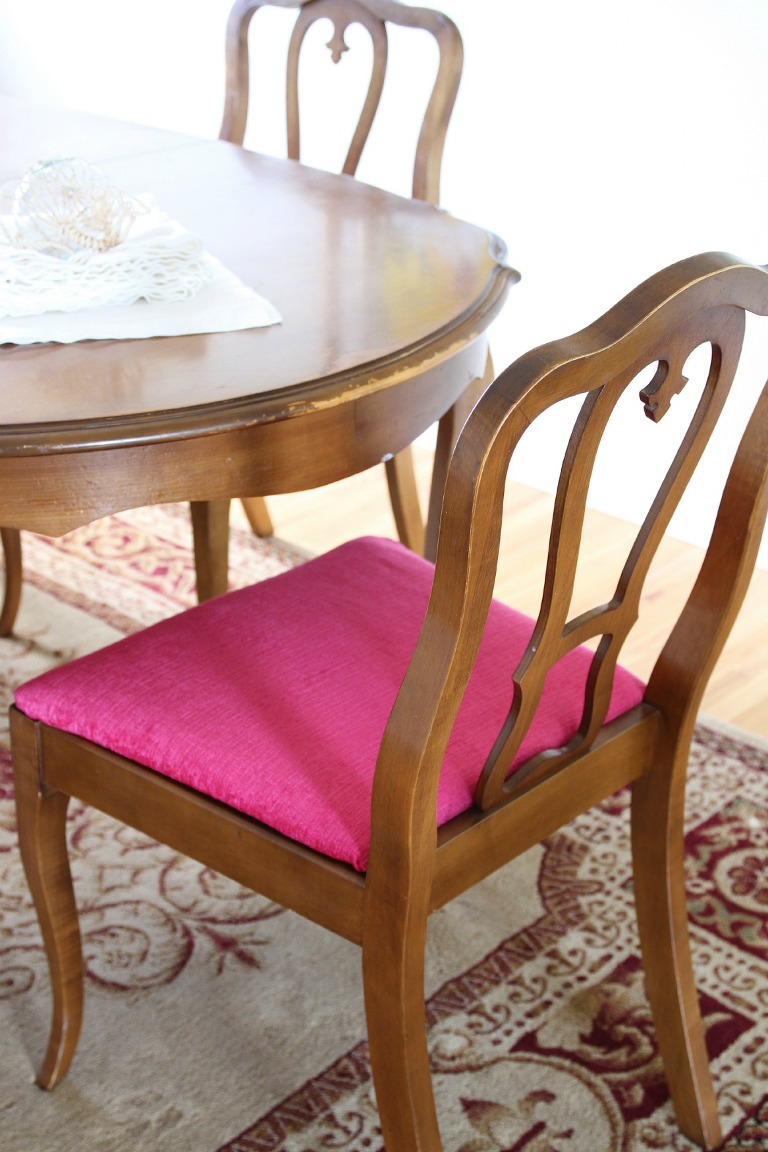 There was even an armchair to recover, exactly like the other three chairs, just a little more awkward to prop upside down when removing and reattaching the seat.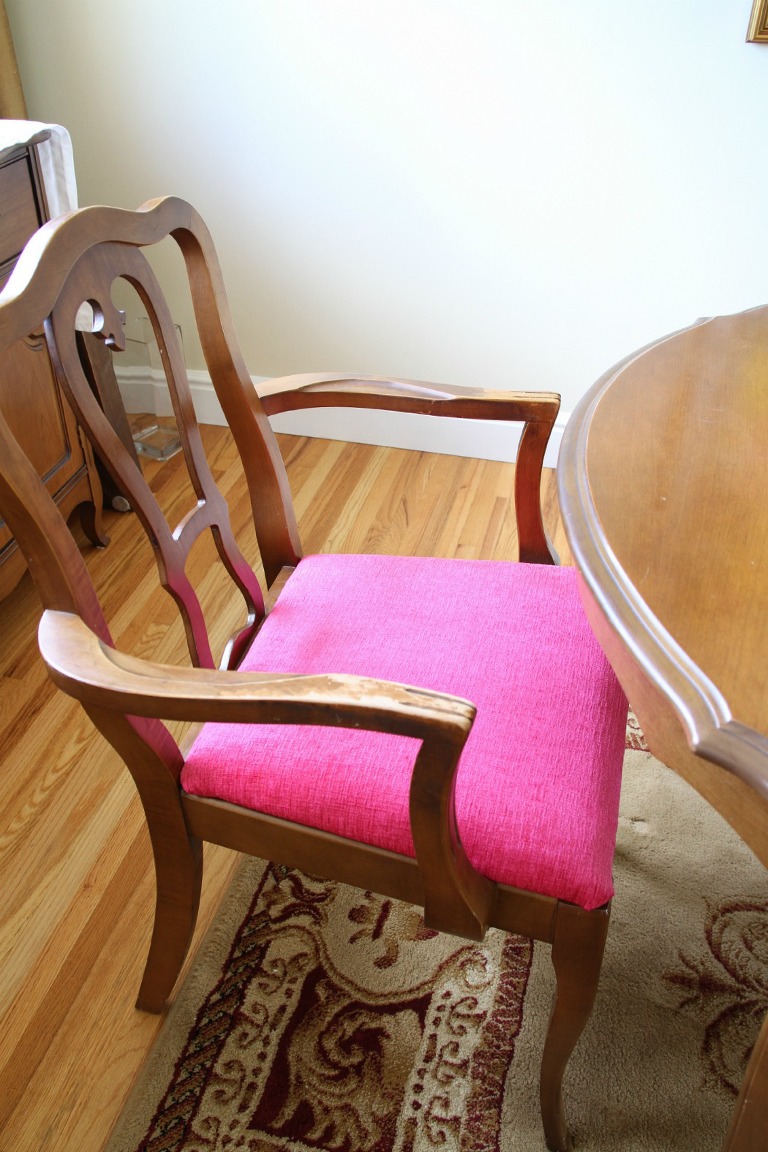 And here's the set..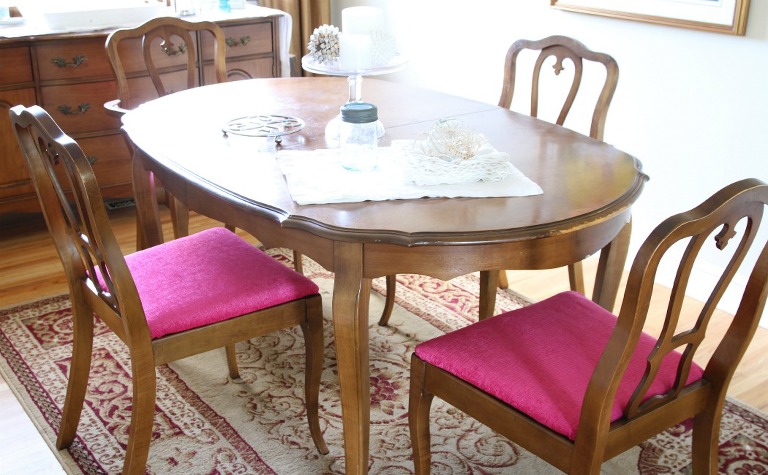 I think the lovely pink colour adds so much vitality and passion to the room, don't you?!
I dare you to add a little pink to your life 😉