It's been quite a while since I've shared a recipe with you, bet you've been wondering what Little Smidge has been nibbling on lately..
well, you know that I love devouring anything that is robust, fresh and vegetarian and this dish was the perfect fit!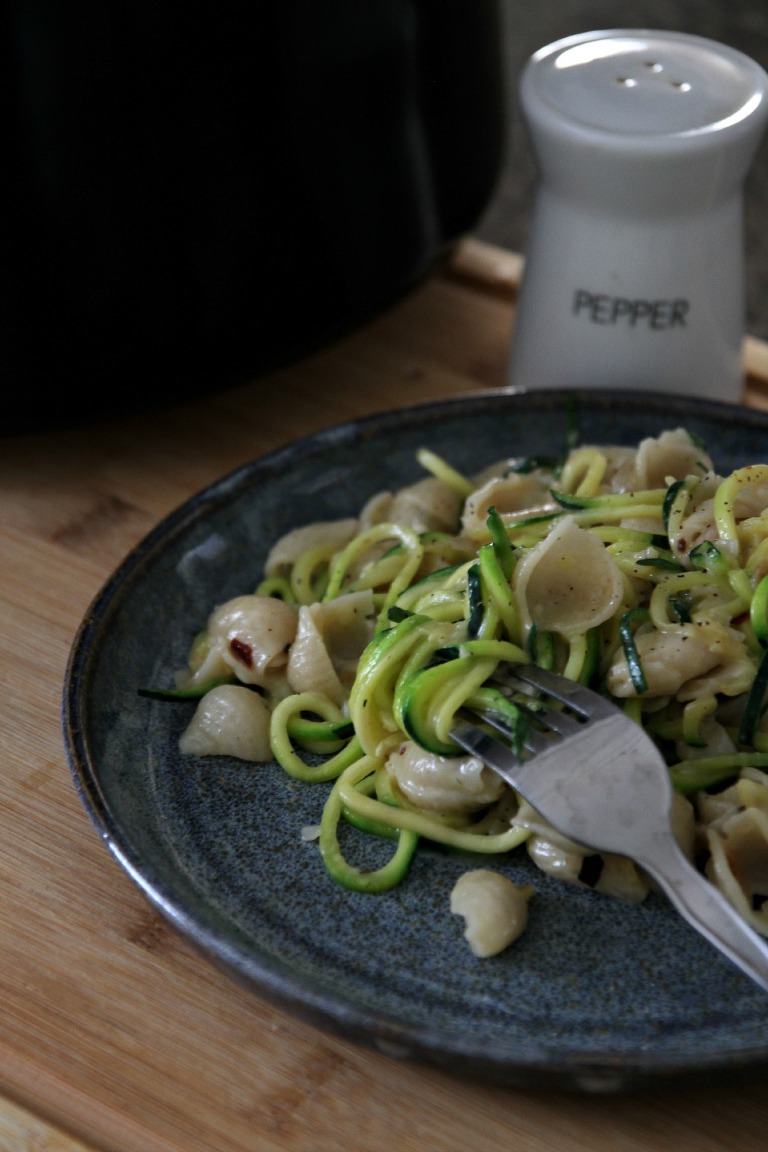 Sometimes you need a small bite for one or two, nothing too complicated but definitely something fast, easy and on the "too" healthy side is always welcome in Smidge's kitchen.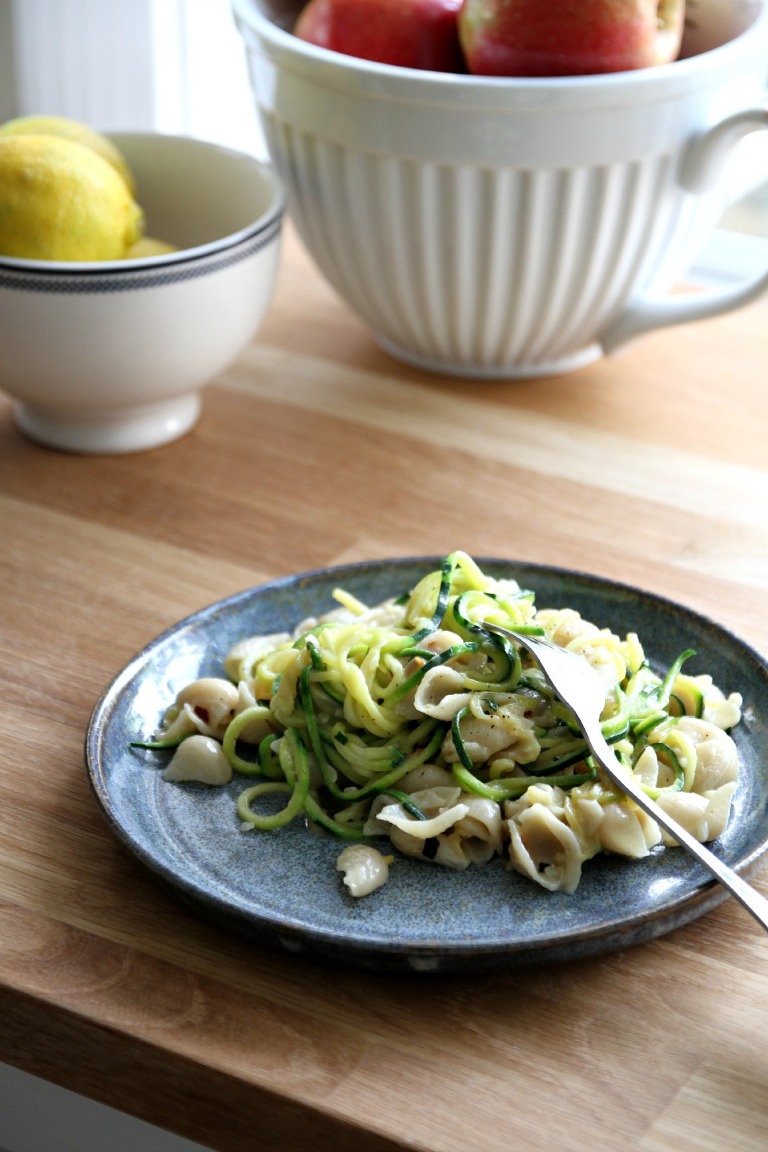 I've just recently been introduced to the Spiralizer, a gadget that can make sweet noodles out of any crunchy veg.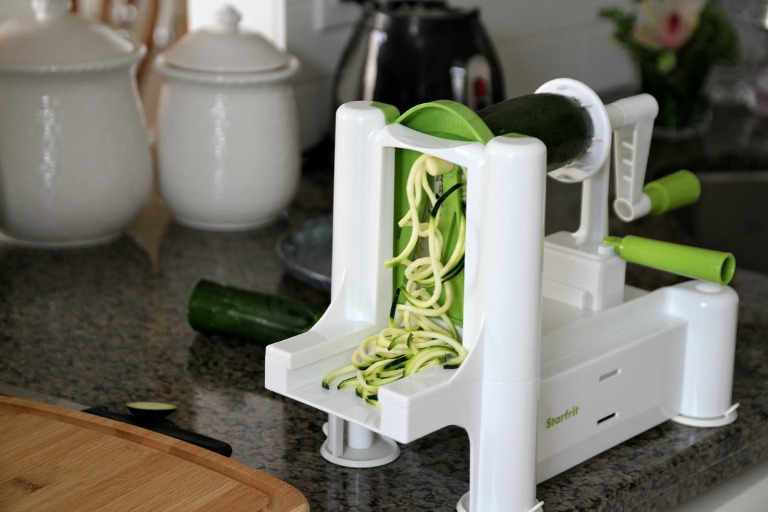 I found an affordable Starfrit for $24 that is quite a large version, it will stay right where you want it to and can crank out anything with ease. Don't even think about investing in any of the expensive versions, this one is a way more practical alternative and will serve you just fine!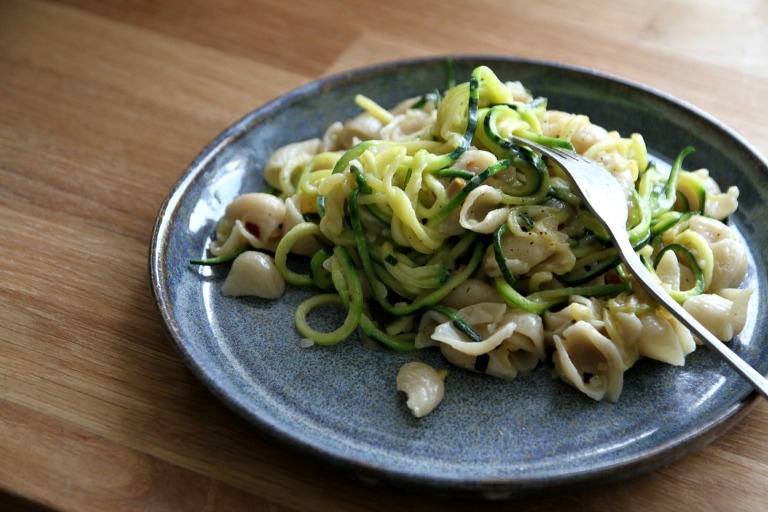 So.. just set a handful of brown rice shells over high heat, brown minced shallot and garlic in a splash of olive oil and butter, perhaps turn up the heat with red pepper flakes.. toss in the shells and zucchini and heat to serve. Top with fresh grated parmesan and you've got a new update on the traditional Aglio e Olio Italian dish.
Note: I found this a bit rich and loved it with a squeeze of fresh lemon over top.
Then it was ever so scrumptious!!
♥
After a this meal and lunch at The Coup.. I'm seriously considering becoming a vegetarian..
Thank you to my daughter for introducing me to the Spiralizer and the world of Zoodles!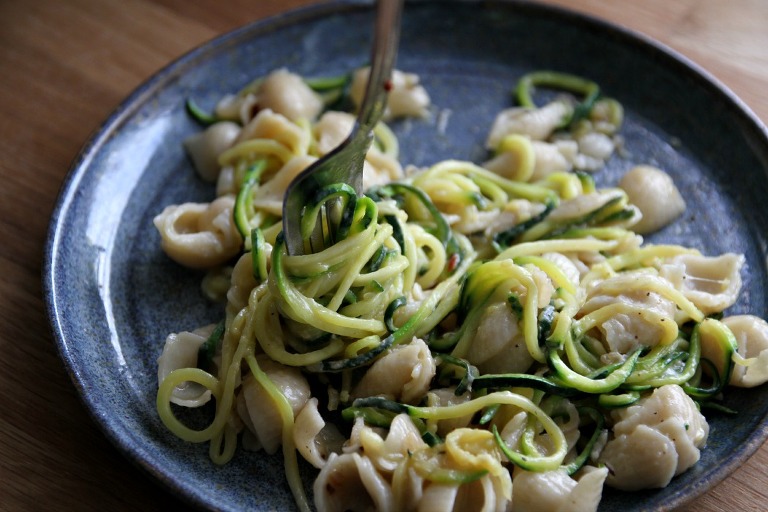 Zucchini Noodles Aglio e Olio
Ingredients
2-3 handfuls brown rice pasta shells
1 zucchini
splash of olive oil
2 tsps butter
1 shallot
1 garlic clove
1 tsp red pepper flakes
parmesan cheese, fresh
lemon wedge
Instructions
Set a pot of water over high heat and bring to a boil. Toss in the brown rice pasta. I used shells but any pasta will do. Cook until al denté.
Meanwhile use your spiralizer to make zucchini noodles and mince the shallot and garlic clove.
Drain the cooked pasta, reserving some cooking liquid.
Heat the olive oil and butter and brown the shallot, clove and red pepper flakes. Stir in the pasta and zucchini noodles and heat through. Grate fresh parmesan over and season with salt and pepper. If you need, add a splash or two of the reserved cooking liquid to thin out the dish.
Serve with a squeeze of fresh lemon over top.