I'm back from a brief escape to Vernon in the Okanagan Valley,
where I had the loveliest time to write and reflect.
♥
I enjoyed a sunny lunch with my parents and my brother Richard, who is visiting us from his home in Hong Kong.
♥
Thankfully, I was also able to practice my Alvin the Chipmunk coloring skills with my new little friend Tate,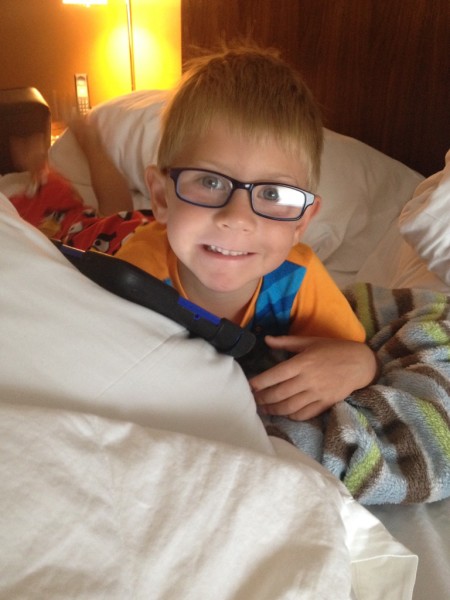 then had dinner and my hair restyled by my other little friend Sienna.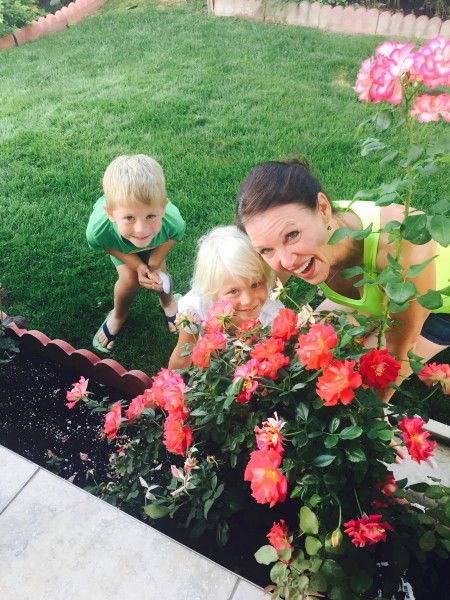 Gail and I ran the BX Trail and I made this video to entice you to do the same. It's one of the my favorite runs/hikes and it always inspires the poet in me. It's a magical, otherworldly combination of trees, cedar forest scent, babbling river and dappled shade.. and because it runs low in a gorge, is always cool even on the hottest of days, I always leave refreshed.
We did a tough 40km bike ride to the end of Lakeshore Road with the gang, lunched at the new Cactus Club restaurant by the lake, then went shopping with Jane, Lisa and Gail.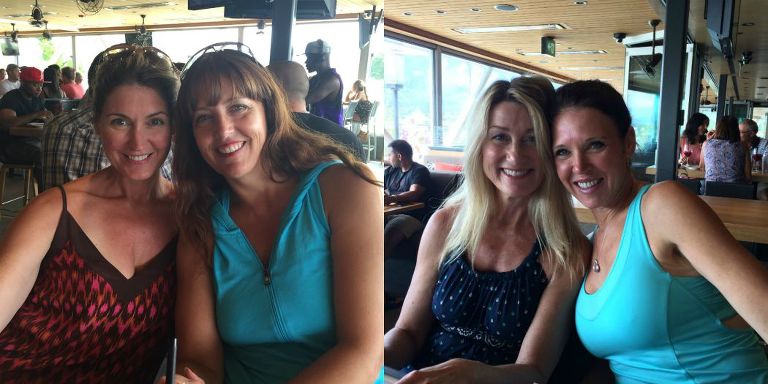 Everything was made all the more perfect by a dinner prepared together back at Jane and Marty's with great conversation while watching the sun set over the Okanagan Lake.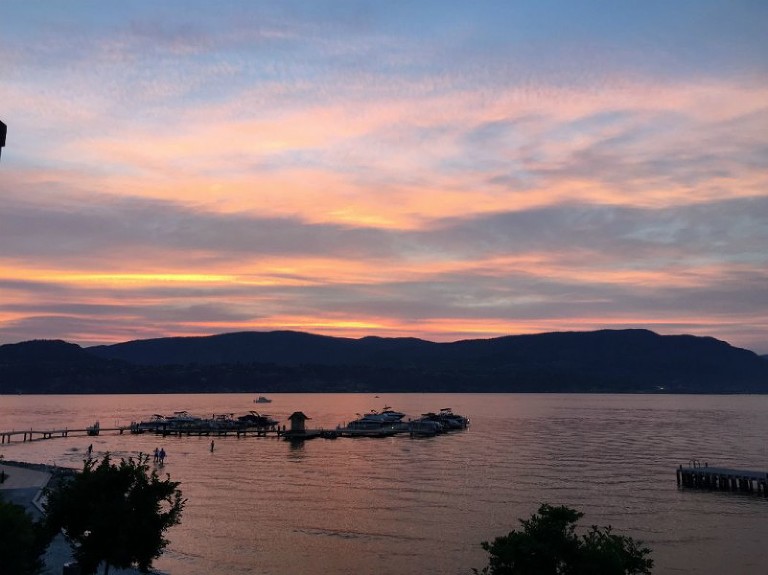 ♥
But before I left on my trip, I promised you this recipe for a Strawberry Rhubarb Pie..
I must confess.. a big slice of this pie was my lunch before I left!
Here is the finished pie, waiting to be wrapped and frozen.
I've learned a very important step in making fruit pie is to freeze it before baking. This allows you to make the pie well in advance, bonus! When you bake it, you'll find the crust won't shrink as much or "deform" and the bottom of the fruit pie won't become soggy.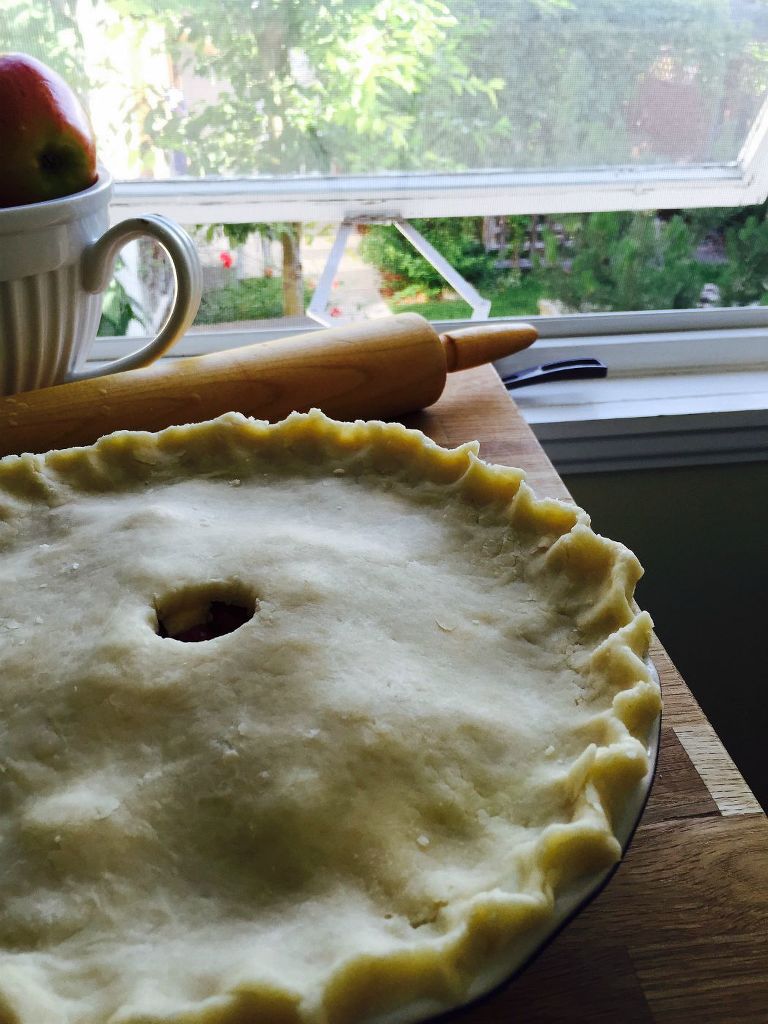 It takes about 45-50 minutes longer to bake, but is so worth it because just look how beautiful it turned out!
I also learned that the pie can be baked earlier in the day, then set aside to rest. This allows the juices and filling to "reset" so that your pie filling doesn't run out when you slice it to serve. I also poured off the juice after defrosting the rhubarb. Then set aside the filling in the fridge overnight, then poured more juice off. This made a thicker filling, something that is hard to achieve when baking with rhubarb.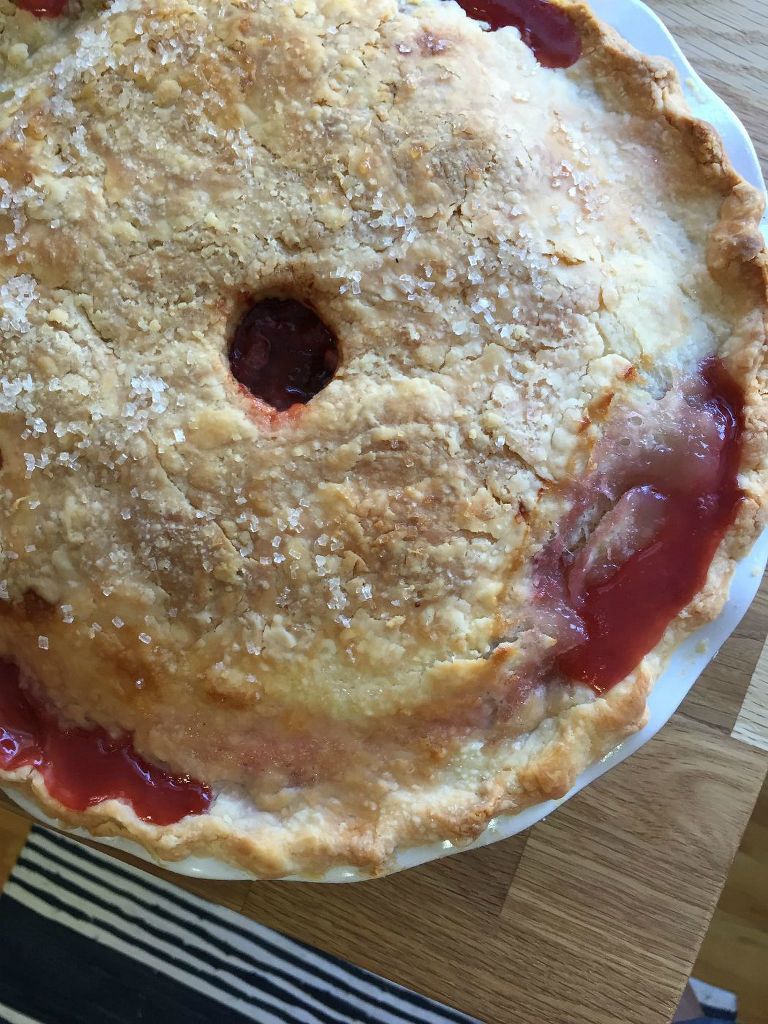 **I also learned that most glass pie plates won't go straight from the freezer into the oven, so a metal pie plate is best. Fortunately, I have an Emile Henry glass dish that is able to go straight from freezer to oven.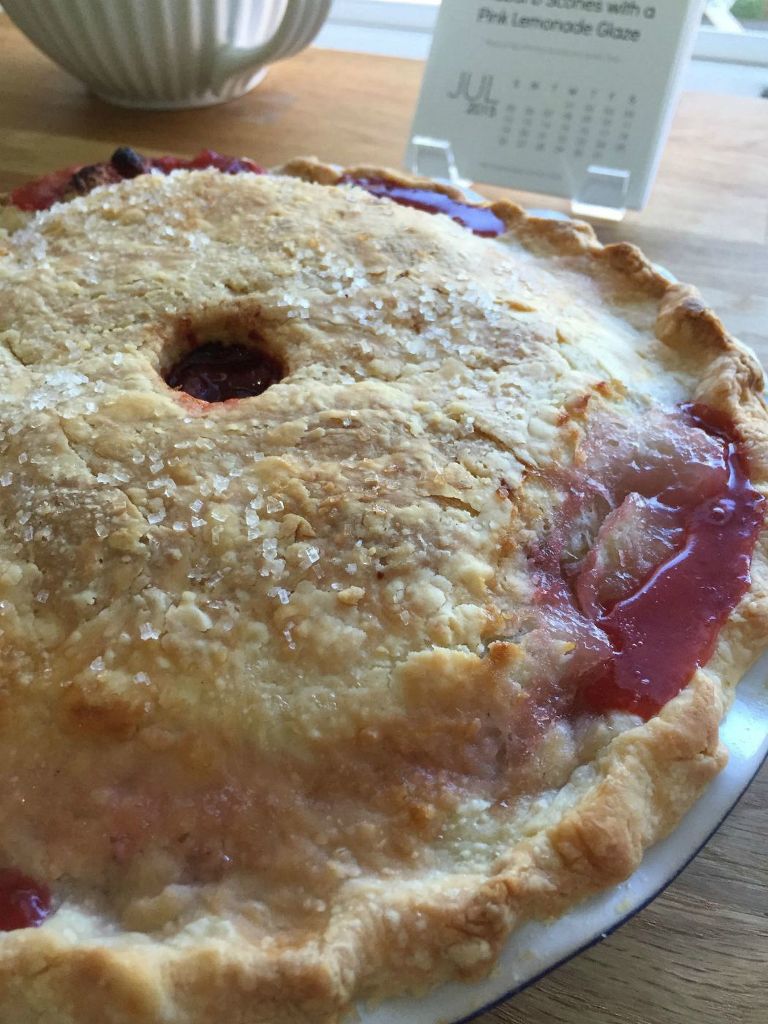 It's not my own but I've changed it up a little bit. Click here for the link to the original recipe.
Strawberry Rhubarb Pie & Blessings
Ingredients
Crust:
2 cups all-purpose flour
1/2 cup cake flour
3 teaspoons confectioner's (icing) sugar
pinch salt
1/2 cup shortening (butter flavored if you have), cold
1/4 cup salted butter, cold
1 egg
2 teaspoons white vinegar
1/4 cup water, ice cold (add ice then remove, measure out 1/4 cup)
1 egg white beaten with 1 teaspoon water
Filling:
2 1/2 cups frozen rhubarb, thawed and drained
2 1/2 cups strawberries, stemmed and sliced thick
1 1/4 cups granulated sugar
3 tablespoons Minit Tapioca
1 tablespoon all-purpose flour
1/2 teaspoon lemon zest
1/2 teaspoon lemon juice
1/2 teaspoon ground cinnamon
3 tablespoons cold butter, cubed
large granulated sugar
Instructions
Crust:
Measure both flours, icing sugar and salt into a large bowl and whisk together well. Using a pastry cutter or two knives, cut in the shortening and butter until you have "pea-sized" pieces. In another bowl, whisk together the egg, vinegar and water. Pour over the flour/shortening mixture and stir to combine. Using your hands, gently push the dough until it forms a ball and all the flour is incorporated. I found that the dough seemed on the "dry" side, but pushed it together without overworking it. Then wrap it in plastic wrap and refrigerate. When ready to make the pie, remove from the fridge and allow it to come to room temperature. Using your hands, work the crust a bit more to warm up slightly. Cut in a little more than half so that you have a larger piece for the bottom of the crust. Roll out on a floured surface, flouring the rolling pin and surface as needed. Roll the pastry loosely over the rolling pin then lay in the bottom of your pie plate. Fill with the Strawberry Rhubarb filling then roll out the top of the pie crust. Roll loosely over the pin and center on the pie. Brush the edge of the pie crust with the egg white mixture then pinch the two crusts together using your fingers and thumb. Cut a small hole in the center and insert a foil tube or pie bird so that the filling can rise up in the center without spilling over the crust as it bakes.
Filling:
Stir together the rhubarb, strawberries, sugar, tapioca, flour, lemon zest, lemon juice and cinnamon into a large bowl. I refrigerated overnight and was able to pour off some of the extra liquid that had separated. This made a firmer pie filling. Pour the filling into the bottom crust and dot with the cubed butter. Finish as described above. Sprinkle with the large granulated sugar.
Preheat the oven to 425F. Wrap the edges of the crust with foil and bake for 15 minutes. Decrease the oven temperature to 375F and bake for an additional 45-55 minutes, removing the foil once the center starts to brown. *If baking from frozen you will need to add an additional 45-50 minutes baking at 375F time.
♥
I'm back home where it's raining and giving myself a little push to get going and into the gym this morning. I've got a new listing and will have photos for you by this Thursday, I can't wait to show you.
And.. I brought these back with me.. I see a Peach Pie in my future.. and yours!
Until then, have a day full of Blessings!!