turn towards
let me
turn towards
you,
on this river's bed of craggy
shore and whorled
shoals that offer
promise
let me
stride along
your
sandy margin of smooth drift white
trunks until I
reach your wandering
edge and step
in
let me
wade steady over tumbled
stones, my legs
pulled under into
your cold, dark eddies
that insist I relent,
lay back and float
to see the vow written
in the overhead
sky
let me
be lifted, carried
over you
with you..
rising on gentle
rippling strobes of icy cool
streaming ribbons
that fuse us
as one
Barbara Bamber, Nelson 2015
On our first day of retreat our women's group went White Water Rafting along a portion of the Kootenay River. As we finished passing through one shorter section our guide suggested this was the perfect spot to walk the shoreline, wade in and swim/float down the rapids. It was significantly cold and overcast so my immediate response was to stay warm and safe in the raft. As I sat there contemplating whether to go, the guide gently nudged the raft to shore.. which also "gently nudged" me to say yes.. and Jennifer said she would go with me if I wanted to go.
I soon realized that this opportunity would never come my way again. I may be on another river rafting and of course I will have my friends, but never again would I be together with every one of those friends, on this particular river and on this particular day.
In that moment, I set aside all fears and was the first to say I would go in. The water, while freezing cold at the start, was much warmer once you got used to it.. and the first feeling of that numbing cold gave me an incredible sense of being alive and utterly present in the moment. As some of our group joined me, a wonderful memory with my friends was made that day.. I've vowed that, from now on, my answer should always be "yes"and turn towards life!
♥
On another note, some readers have informed me that they find it difficult to read my poem when superimposed on a photograph. So while that format makes it easier to download my poem and print, writing it out this way makes it easier to read on a small phone or tablet. So I'll be posting both ways, so you can still right click and save the ones you wish.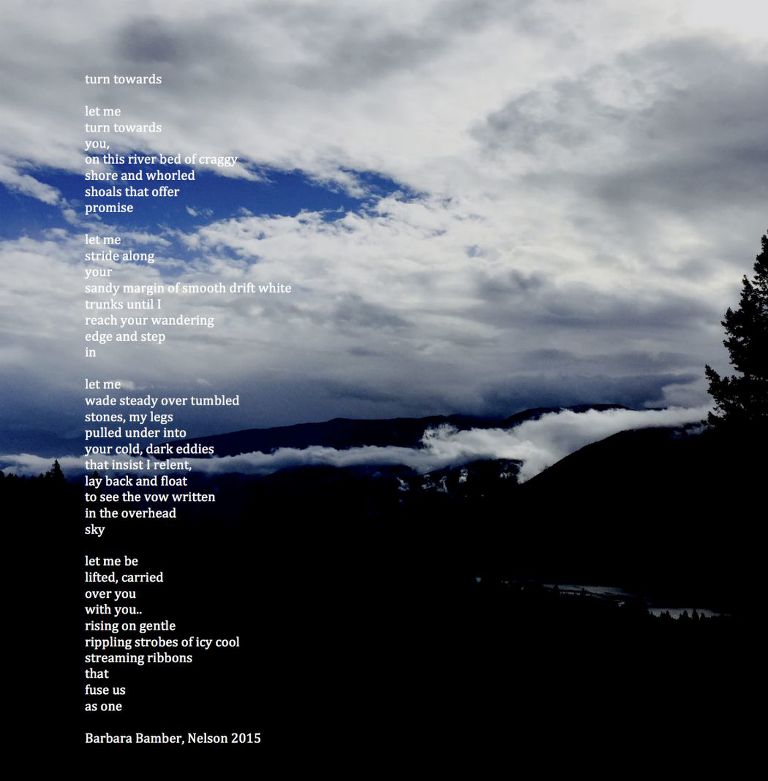 ♥